A good iced tea recipe is a must during these summer months!
This adult version is a take on the gold rush cocktail and boy is it good!
The BEST Iced Tea Recipe!
I don't know why sun tea was a big thing with my sisters when I was growing up. They seemed to be forever setting out pitchers of water with tea bags on the patio. After 24 hours we would we would sip on the earthy, sun-kissed Lipton tea. My sisters raved about it while I quietly rolled my eyes. It was just tea after all.
I finally understood the whole tea thing when I became an adult and realized that tea was one amazing beverage. You could mix it with almost anything and it is good hot or cold. A year ago I shared this Iced Mint Pomegranate Green Tea (still awesome) and a year before that I tried out this Blackberry Basil Iced Tea Recipe. Both were flavorful and both were refreshing.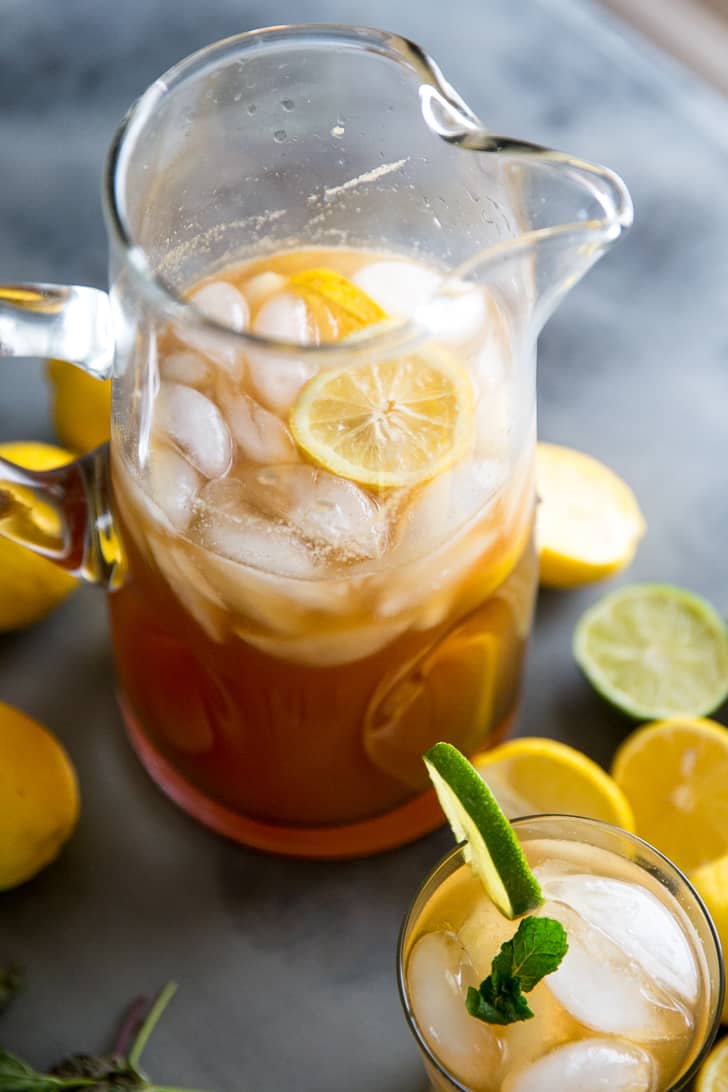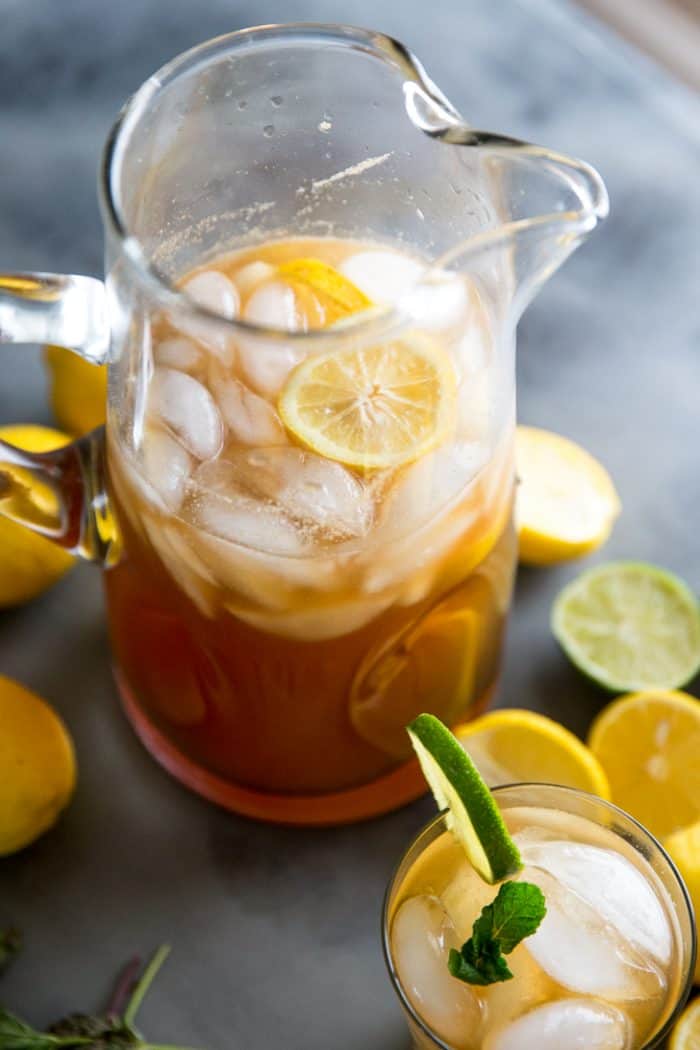 About This Gold Rush Iced Tea Recipe
Fruit is a natural flavor enhancer for iced tea but so is booze. This iced tea recipe is based on a Gold Rush Cocktail which is a variation of a whiskey sour, except it is made with bourbon, lemon juice, and honey syrup (in place of simple syrup). Individually, each one of those ingredients will make any iced tea taste great, but to use all three makes your iced tea taste like a home run.
I do use lemonade in place of straight lemon juice as it adds another dimension to the iced tea, plus it plays on the sweetness from the honey syrup. Speaking of honey syrup, this is nothing more than water and honey that has been boiled together and reduced to concentrate the flavor of the honey. Straight honey will not dissolve as it is too thick to put into the cold liquid, so I would definitely recommend the honey syrup. And I would add, you should make extra honey syrup because I am confident that one pitcher of this iced tea recipe will not be enough for you and your friends! I found the best way to make ice tea cold brew, which can be used for this cocktail too!
Yield: 8
Gold Rush Iced Tea Recipe
A good iced tea recipe is a must during these summer months!
This adult version is a take on the gold rush cocktail and boy is it good!
Ingredients
4 cups brewed iced tea
⅔ cup honey syrup
1 cup bourbon
1 cup lemonade
Lemons, limes, mint for garnish
Instructions
To prepare the honey syrup, combine 1 cup of honey and 1 cup of water in a small saucepan, stir, and bring to a boil. Reduce heat and simmer syrup until the honey has dissolved and mixture has thickened and reduced. Cool syrup completely.
In a pitcher, combine the tea, syrup, bourbon, and lemonade; stir. Garnish with fresh lemon and lime slices as well as fresh mint.
Notes
Syrup can be stored in an airtight container for 1 week.
Nutrition Information
Amount Per Serving
Calories

0
Total Fat

0g
Saturated Fat

0g
Cholesterol

0mg
Sodium

0mg
Fiber

0g
Sugar

0g
Protein

0g