Black and blue steak takes center stage in this easy Panzanella salad! The steak is perfectly seasoned, the veggies are cool and the dressing is simple! Sounds like just what you need, right?
Black and Blue Steak Salad For Summer
I eat A LOT of salads! For one thing, it is my favorite (easy) way to pack vegetables into my diet and secondly, salads are easy meals that often require little cooking, which is just what I want on these hot summer days.
Salads can be made with anything. Some of my favorite salads are this Bourbon Glazed Salmon Salad, Italian Chopped Salad with Tortellini, and this easy Taco Salad Recipe with Steak. All have ingredients that I love, are flavorful, yet quick and easy.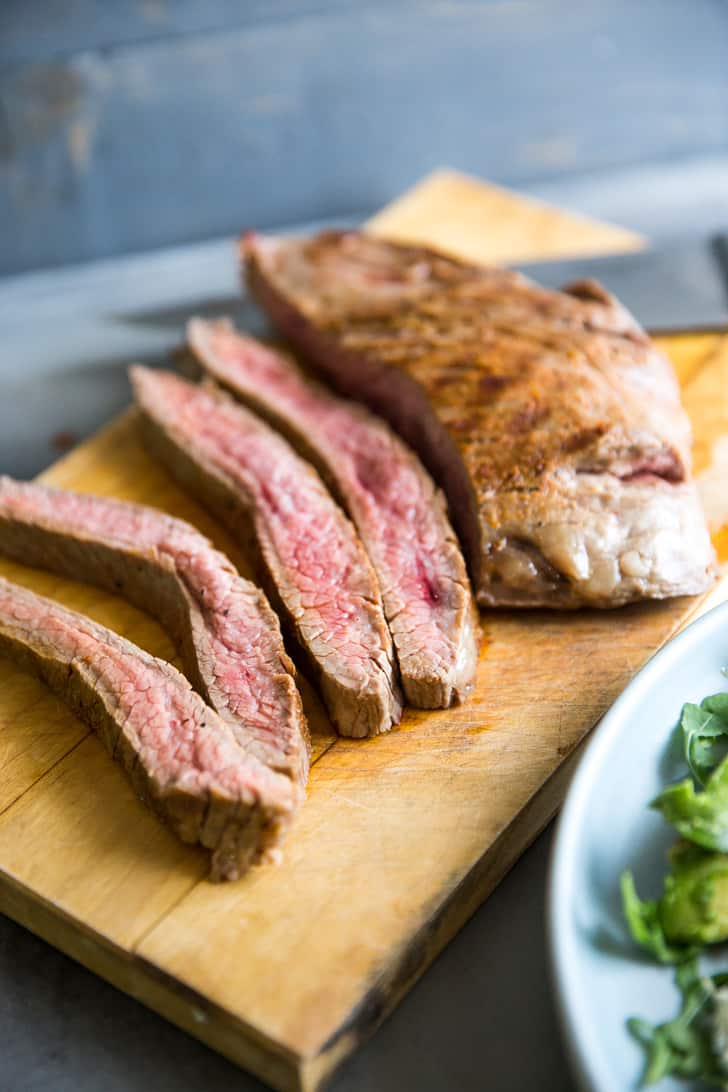 What Is A Panzanella Salad?
At its core, a Panzanella salad traditionally consists of stale bread, fresh tomatoes, basil and oil and vinegar. For this to be a filling, hearty, dinner salad I included blackened steak, avocados, cherry tomatoes, arugula and of course, blue cheese.
About Black and Blue Steak
This recipe was inspired by a trip I took to Colorado with the Ohio Beef Council. While in Denver, we had the opportunity to meet with the National Cattleman's Beef Association where we picked up grilling tips from their chefs, learned about beef's nutrition (Calorie-for-calorie, beef is one of the most naturally nutrient-rich foods), its sustainability, and about production. But the most intriguing part of the whole trip was getting up close and personal with the ranchers.
I feel so fortunate to be able to see the stories behind the food I eat. Ranchers, whether they are raising cows or working on feeding cows, are a passionate bunch who love the animals and love what they do. They are committed to us, the consumer to deliver the best beef and at an affordable price. Ranching is a lifelong commitment that takes complete dedication, but if you asked any rancher yourself, they would say it is worth all the work. In Ohio, the beef community includes more than just farmers! Small business owners, community leaders, animal caretakers nutritionists and environmentalists are all dedicated to producing safe, wholesome, nutritious beef.
And now, on to a few grilling tips:
The average serving of beef per person is 1 pound.
Ideal cuts of beef for the grill are tenderloin, strip steak, sirloin, flank, ribeye and filets.
Grill your burgers to 160 degrees and your steaks to 145 degrees (for medium rare). Allow your beef to rest for 5 minutes before serving.
Use a good, calibrated meat thermometer to check for temperature, that really is the best way to check for doneness.
Salting your steak adds flavor, but can pull moisture from your beef during grilling
While grilling your steaks, only flip them once. You'll know your steaks are ready to be flipped when you are able to lift them up off the grate without pulling.
Looking to be named the Grill Master this summer? Be confident in your skills when following handy these beef grilling guidelines
I hope these tips help you as make this black and blue steak salad! The method is simple, the ingredient list is short, but the meal is outstanding!
Yield: 4
Black and Blue Steak Panzanella Salad
Black and blue steak takes center stage in this easy Panzanella salad! The steak is perfectly seasoned, the veggies are cool and the dressing is simple! Sounds like just what you need, right?
Ingredients
1 ½ lb flank steak
1 teaspoon paprika
¾ teaspoon cracked black pepper
½ teaspoon garlic powder
½ teaspoon salt
1 small whole wheat baguette, chopped and toasted
2 cups arugula
1 cup halved cherry tomatoes
1 avocado, sliced
4 oz blue cheese, crumbled
⅓ cup olive oil
2 tablespoons red wine vinegar
Pinch of salt
Instructions
Spray an outdoor grill with non-stick spray and heat grill to medium heat.
In a bowl, combine the paprika, black pepper, garlic, powder, and salt. Rub both sides of the steak with the spice rub and grill steak for 5-6 minutes a side or until the steak reaches 145 degrees (or desired degree of doneness). Remove steak and allow it to rest for 5 minutes before cutting into slices.
Divide the arugula between 4 plates. Top salad with tomatoes, avocado, steak, blue cheese and toasted bread cubes.
In a bowl, whisk together the olive oil, vinegar and salt. Dress salad with dressing before serving.
Nutrition Information
Amount Per Serving
Calories

0
Total Fat

0g
Saturated Fat

0g
Cholesterol

0mg
Sodium

0mg
Fiber

0g
Sugar

0g
Protein

0g