Hot dogs smothered with a homemade beef chili sauce and then piled high with cheddar cheese!
An American classic!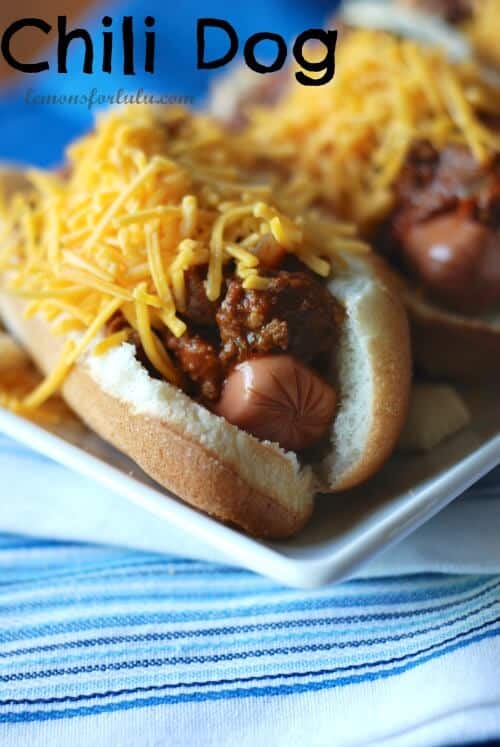 I made chili dogs over this Memorial Day weekend.  They reminded me of  the 4th of July, which is now right around the corner.  Let me tell you two things about the 4th of July.  One, it's independence day and it just happens to be my birthday.  I'll be turning 35 for the 6th year in a row.  I'm a freak of nature I guess.    But the 4th is also Nathan's Famous International Hot Dog Eating Contest!  If you thought baseball was the nation's favorite past time, you are so wrong: it's eating!    In case you  are unfamiliar with this little event, swarms of people will gather at Brooklyn, New York's famous Coney Island to watch 30 eaters attempt to consume as many hot dogs and buns as they possibly can in 10 minutes!  Sounds like fun doesn't it?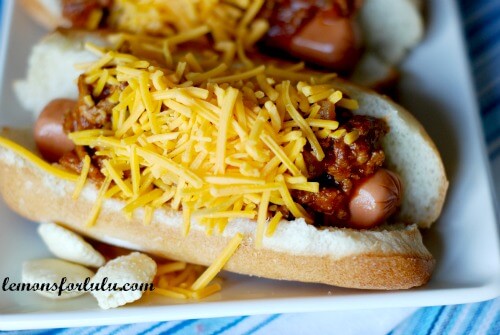 I'm not sure what's worse really, the fact that grown men and woman will actually shovel massive amounts of food down their throats in the hopes of being crowned the food eating champ or the fact that we actually gather to watch and therefore encourage this whole event.  To me, it's like a horrifying science experiment, you don't want to watch, but you can't stop yourself.  You become so invested, you just have to see the outcome.   Just how many hot dogs can one man really consume??? Inquiring minds want to know!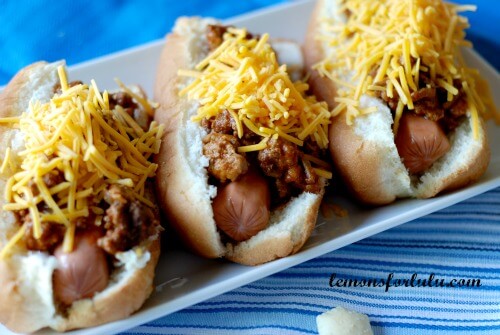 Joey Chestnut, the 5 time hot dog eating champ, ate 68 hot dogs last year.  Let me repeat that, he ate 68 hot dogs AND 68 buns.  What on earth does that do to your stomach?  What no one tells you is what happens the next day?  That's the real story if you ask me.   That cannot be good for one's digestive tract.  Can it really be worth the $10,000???  And how does one train for this sort of thing?  There are so many unanswered questions.
Is there a food contest YOU would win?  I might be able to devour 68 Peppermint Mocha Cupcakes or 68 Milk Dud Nutella Cookies…over the span of 3 or 4 days of course.  But I truly could not make myself eat that much food in one sitting, nor would I want to!  It truly takes a very special person.
Back to these chili dogs.  This whole entire food eating contest was swirling in my head as I was preparing these.  I totally think they are food contest worthy.  I may just write a letter to the International Federations Of Competitive Eating.   Lets make this year's hot dog eating contest a REAL challenge, lets smother each of those puppies with chili!  If you are going to eat that many hot dogs they may as well taste great!  I personally am not a big fan of hot dogs, but smother them with a thick, spicy chili piled high with a mound of cheddar cheese and I'm one happy eater!  Try them for yourself, I think you will be a very happy eater too!
SOME MORE CHILI RECIPES FOR YOU: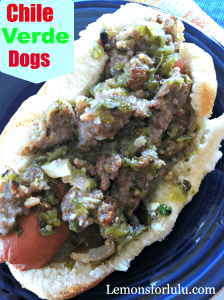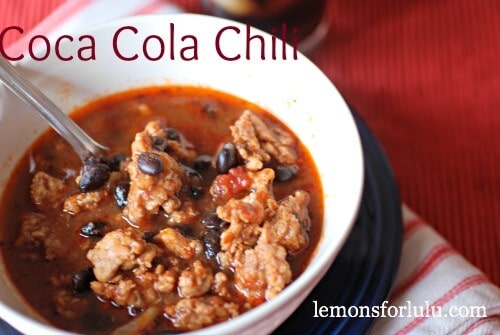 NEVER MISS A RECIPE!  SIGN UP FOR MY EMAILS TODAY!
FOLLOW ME:
FACEBOOK | RSS | TWITTER | GOOGLE +| BLOGLOVIN
Ingredients
1lb

ground beef

2

cloves garlic, chopped

1/2

cup chopped onion

15oz

tomato sauce

1T

apple cider vinegar

1

T Worcestershire sauce

1/4

t cocoa powder

1

t salt

2

T chili powder

1/2

t cumin

1/2

t cinnamon

1/4

tsp red pepper

1/8

tsp cloves

1

cup water

1 15

oz can chili beans, drained

8

hot dogs

8

buns

2

cups shredded cheddar jack cheese
Instructions
Brown beef in a large, deep skillet until no longer pink. Add in garlic and onion, sautéing until soft. Add in tomato sauce, spices, water and beans. Bring to a boil. Cook on medium low for an hour or until chili begins to thicken.
Prepare hot dogs according to package directions. Ladle chili over hot dogs. Pile high with cheese.