This quick chili recipe starts with pork, chicken, two kinds of beans and a whole lot of spice!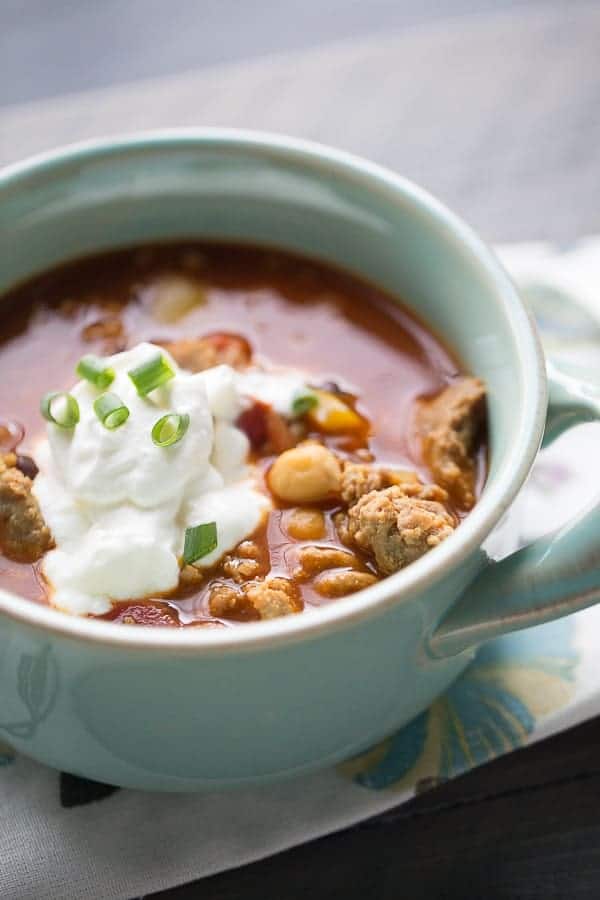 Out of all the savory foods out there, I'd say chili is one of my favorites. I think it's because chili is easy, quick and comes in any flavor you want. I make Creole chili, pumpkin and black bean chili, Buffalo chicken chili, and Cincinnati-style chili just to name a few.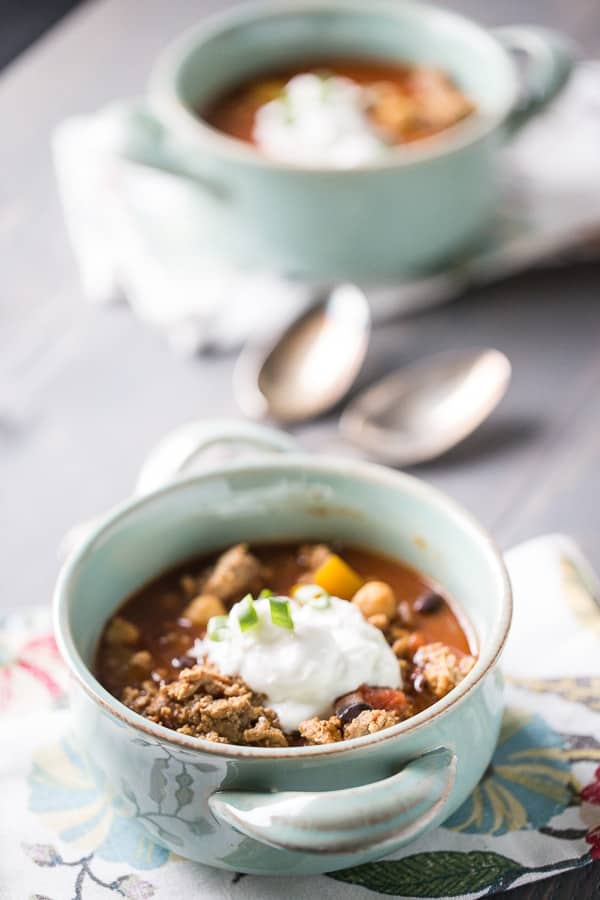 My mom thinks my love affair with chili is directly related to her pregnancy. She claims she craved chili the whole time she was pregnant with me. I have not looked to see if there is any scientific research that supports the notion that your kids tastes are formed because of a mother's craving. I hope her theory is all a bunch of fluff because that would mean my kids would be non-stop Flaming Hot Cheetos eaters, and that would be bad.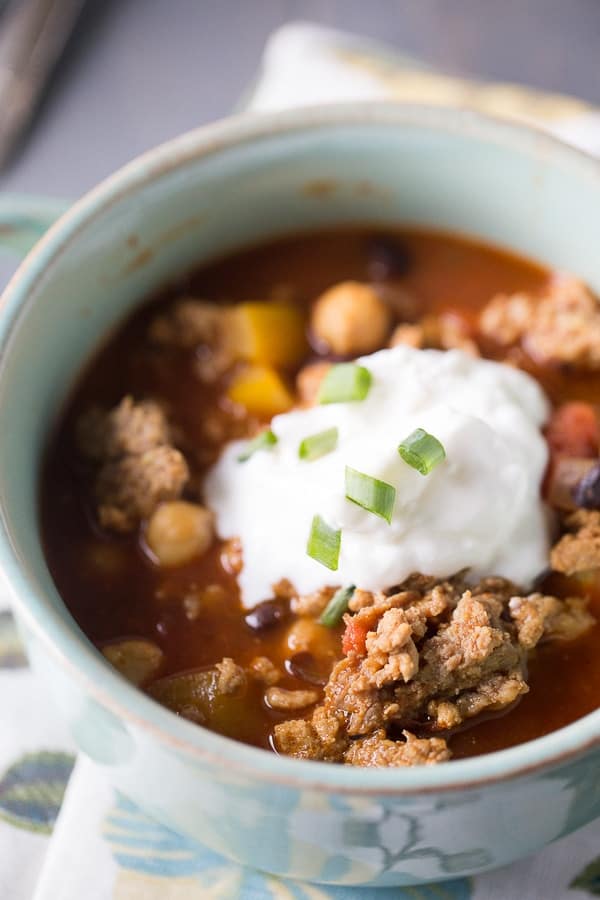 The cool, crisp, chilly fall days beg for a big pot of chili. The spices and broth warm you up in an instant. Chili is comforting and soothing just like a warm fuzzy blanket. This Indian spice chili is a quick chili recipe that has so many flavors melding together in each bite. This batch of chili is loaded with both black beans and garbanzo beans. And then there're the spices. Oh, the spices! We have ginger, coriander, cumin, turmeric, and of course, chili powder! My secret ingredient to this quick chili is Frank's Red Hot Rajili Sauce. This tangy sauce adds a little sweet heat that jazzes up this chili and turns it into something very unique. This recipe calls for both ground turkey and ground pork. You could omit one meat and double up the other if you prefer or you could even leave out meat altogether and add more beans for a simple vegetarian version.
This Indian spice quick chili is as versatile as it is tasty; it's a little spicy, a little sweet, but completely delicious!
*I used all Simple Truth canned goods and broth for this recipe*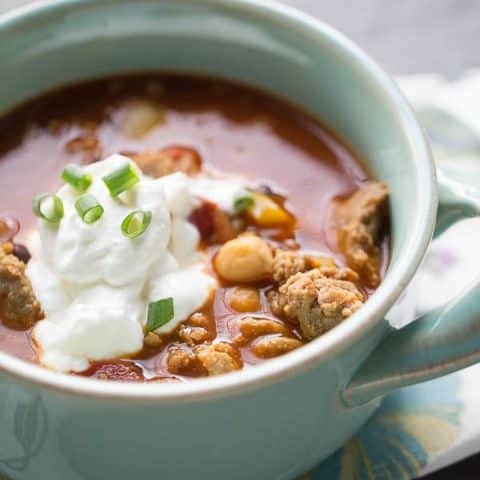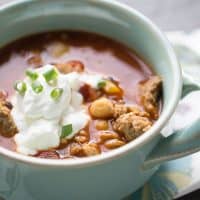 Indian Spice Quick Chili
Yield: 6

Prep Time: 15 minutes

Cook Time: 40 minutes

Total Time: 55 minutes

A quick chili recipe with beans, pork, turkey and lots of good Indian spice!
Ingredients
1 teaspoon olive oil
1/2 cup diced onion
1 lb ground pork
1 lb ground turkey
1 cup diced yellow pepper
1 teaspoon jarred ginger
1 teaspoon cumin
1/2 teaspoon coriander
1/2 teaspoon turmeric
1 tablespoon chili powder
1 teaspoon salt
1 14 oz can garbanzo beans, rinsed and drained
1 14 oz can black beans rinsed and drained
1 14 oz can diced tomatoes
1 14 oz can tomato sauce
2 tablespoons or to taste Franks RedHot Rajili sauce
2 cups chicken broth
Instructions
Heat a stockpot over medium heat. Add olive oil and onions. Cook onions for 2-3 minutes or until soft. Add ground pork and turkey. Cook until meats are crumbled and cook through. Stir in yellow pepper and cook until it just begins to soften, about 2 minutes.
Stir in ginger, cumin, coriander, turmeric, chili powder and salt. Add beans, diced tomatoes, tomato sauce and Franks Red Hot Sauce. Stir in chicken broth.
Bring chili to a slow boil. Reduce heat and simmer for 30 minutes.
Nutrition Information
Yield 6 Serving Size 1
Amount Per Serving Calories 644 Total Fat 33g Saturated Fat 10g Trans Fat 0g Unsaturated Fat 19g Cholesterol 153mg Sodium 1811mg Carbohydrates 39g Fiber 13g Sugar 10g Protein 50g