My favorite quick bread is chocolate zucchini bread!
Use your fresh from the garden zucchini to make the moistest bread you've ever tasted!
Freshly squeezed orange juice is added to the chocolate icing for a surprise burst of flavor!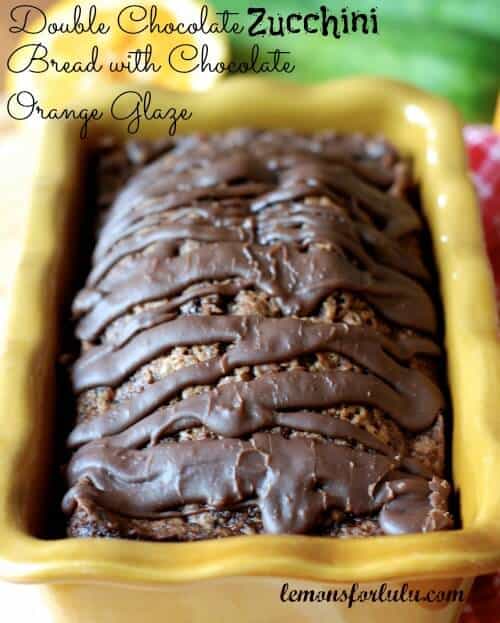 I do not have a green thumb. Which is strange, because I come from a very green family. My mom can literally stick a branch in the ground and a few weeks later, its sprouting flower buds. My sisters both have gorgeous bushes, blooms and lush gardens with happily thriving plant life that is continually feeding butterflies, birds and nature of all sorts. It's just perfect ecosystems everywhere. Me, well, I do not have this horticultural gift. I absolutely obliterate everything in my path. House plants literally wither within moments of being in my presence.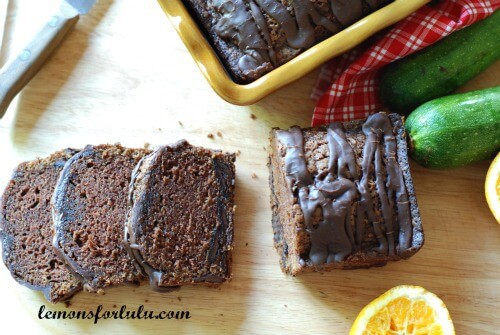 My mother has had to come to terms with the fact that her youngest daughter did not inherit the agricultural gene. She has tried on numerous occasions to convince me that I NEED to have a garden! I have told her point blank that I do not enjoy gardening. With the most bewildered expression, she will ask "what is wrong with you?" To which I respond that I simply prefer to spend my time and talent in the kitchen. A feeble excuse in my mother's opinion.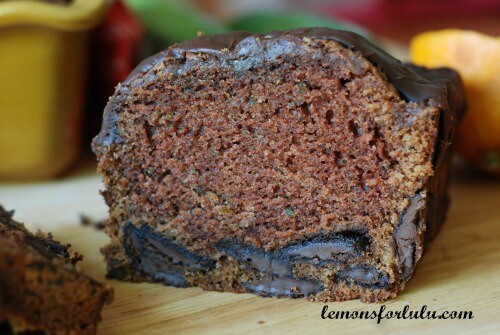 Then the day will come when I crave zucchini bread. Darn those cravings. Because of course I am painfully aware that if I had my OWN bountiful garden, I would be plucking perfectly green and sizable zucchini to make as many loaves of chocolate zucchini bread as my heart desired! I would be eating THIS moist, delicious zucchini bread all the time! Alas, I'm left to purchase sad little zucchinis the size of bananas from my grocery store instead.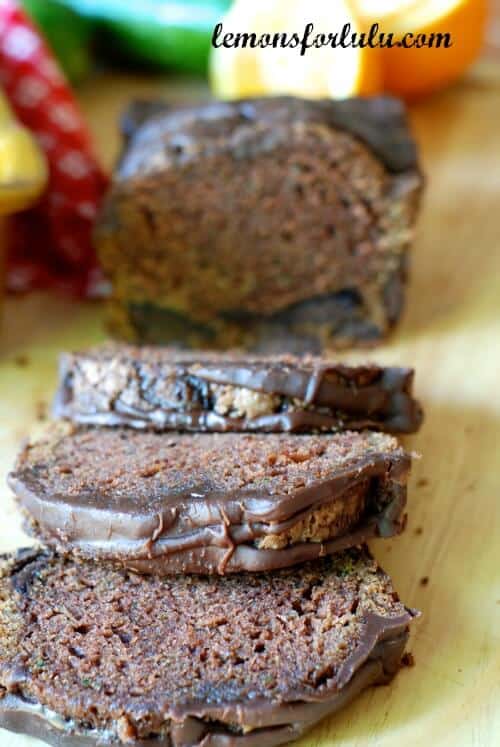 If you are lucky enough to have a garden full of zucchini right now, then I hope you double this recipe and share with friends! Regardless of where you actually get your zucchini, I can tell you this is such a moist quick bread. I love that you can see all the little bits of zucchini peaking through all that chocolate. I folded in Hershey's melting chips, which were the loveliest chunks of chocolate. Unfortunately, they chose to rest themselves on the bottom of the loaf. Next time, I'll toss them with flour before adding to the batter. Each loaf is drizzled with a rich chocolate glaze that has been infused with freshly squeezed orange juice . A fresh, lively, summery combination!
NEED MORE?
NEVER MISS A RECIPE! SUBSCRIBE TO MY EMAIL TODAY!
FOLLOW ME:
FACEBOOK | RSS | TWITTER | GOOGLE + | BLOGLOVIN | INSTAGRAM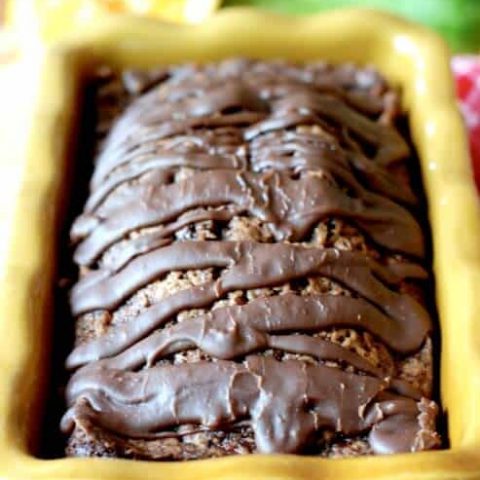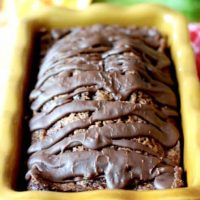 Double Chocolate Zucchini Bread with Chocolate Orange Glaze
Total Time:
1 hour
15 minutes
Use your fresh from the garden zucchini to make the moistest bread you've ever tasted!
Ingredients
2 1oz squares of unsweetened chocolate
3 eggs
2 cups sugar
1 cup vegetable oil
2 cups grated zucchini
1 teaspoon vanilla
2 cups flour
1 teaspoon baking soda
1 teaspoon salt
1 teaspoon cinnamon
2 cups chocolate chunks
1/2 cup mini chocolate chips
1 tablespoon butter
4 tablespoons of heavy cream
1/2 cup powdered sugar
juice from 1/2 orange or 1/4 cup
zest from one orange
Instructions
Preheat oven to 350. Grease two 9x 5 in loaf pans. In a microwave safe bowl, heat chocolate until melted and smooth. Let cool.
In a bowl, combine eggs sugar, oil, zucchini and vanilla. Stir well. Mix in melted chocolate. Gently stir in flour, baking soda, salt and cinnamon. Stir in chocolate chips. Pour batter into prepared loaf pans and bake for 1 hour or until toothpick inserted comes out clean. Let pans cool completely.
For the glaze:
Melt chocolate and butter in a saucepan over low heat. Carefully stir in heavy cream and blend until smooth. Stir in powdered sugar, orange juice and zest and blend until smooth. Place glaze in a small ziptop bag and snip the corner. Drizzle chocolate glaze over each loaf.
Nutrition Information
Yield

24
Serving Size

1 slice
Amount Per Serving
Calories

334
Total Fat

18g
Saturated Fat

6g
Trans Fat

0g
Unsaturated Fat

11g
Cholesterol

31mg
Sodium

173mg
Carbohydrates

41g
Fiber

2g
Sugar

30g
Protein

4g