Zucchini cookies that are soft and tender will be all the rage this spring! These cake-like cookies have fresh zucchini, lemons and a secret ingredient that makes them extra special!
Zucchini Cookies With A Surprise
I love these zucchini cookies. I was so excited to have my family taste this recipe, I was especially pleased with the flavor of these cookies and I thought they looked absolutely beautiful. I had all the cookies lined up on the kitchen counter as if they were on display.
Each little cookie just sat there waiting for someone to devour them. As each member of my family reached for a cookie, I stood there, inches from their faces waiting for their reaction.
My family is no stranger to my intense stairs. When they see this look their immediate question is "wait, what did you do to the recipe?". They know that I like to swap out ingredients in a recipe and see if anyone can detect the change.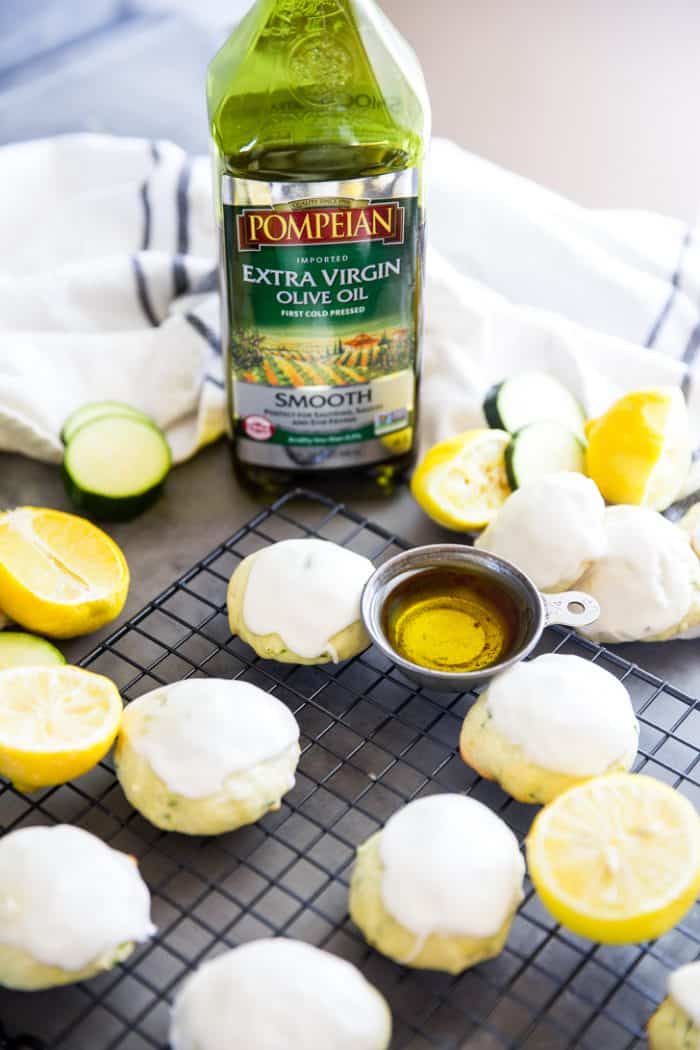 About Zucchini Cookies
Despite their name, zucchini is not the predominant flavor. What you taste most in these cookies, is the bright, fresh lemon flavor. These cookies are made with both lemon zest and lemon juice.
While you see the vibrant green flecks of zucchini, the vegetable does not take over the taste. It provides moisture and a subtle organic quality to each cookie.
Olive oil is the secret ingredient to these cookies. Olive oil is rich in monounsaturated fat and anti-inflammatory qualities. Plus it is heart healthy, loaded with antioxidants and vitamin E. Despite what you may think, the olive oil does not stand out and overpower. The lemon flavor is a natural complement to the olive oil and together they make a soft, tender cookie that tastes tart and sweet all at once!
You could use olive oil in many baked goods, it won't necessarily change the flavor or the texture and you only need half the amount of oil to replace the butter in many recipes.
The family could not guess the secret olive oil ingredient in my zucchini cookies and even if they did, it wouldn't have mattered. They loved these cookies and it took less than 24 hours for the entire batch to disappear!
I may have to add olive oil to this Double Chocolate Zucchini Bread, Lemon Frosted Zucchini Cake Zucchini Pancakes, or these Sugar Cookies with Lemon and Poppy Seeds next!
How To Make Zucchini Cookies
STEP ONE – This recipe starts like most cookies, by beating together fat and sugar; in this case the fat is olive oil. The mixture will not cream together like butter, but that is no reason for alarm.
STEP TWO – Beat in baking powder and salt. Beat in eggs until combined. Stir in shredded zucchini (no need to peel the zucchini), lemon zest, and lemon juice.
STEP THREE – All-purpose flour is the last thing to get mixed into these cookies.
STEP FOUR – Place the cookies about an inch apart onto a lined baking sheet. I find a small cookie scoop works best for this.
STEP FIVE – The cookies will take about 12 minutes to bake up nice and soft. The cookies are done when they spring back when touched. The edges will be golden or light brown.
Allow the cookies to set on the baking sheet for 2 minutes, before removing to wire racks to cool completely.
Zucchini Cookies with Lemon Frosting
These zucchini cookies can be frosted in a number of ways. You could use a buttercream frosting, like these Key Lime Sugar Cookies. A cream cheese frosting would also be amazing with these soft cookies.
However, I chose to keep things simple and coat this cookies in a lemon glaze. To make the glaze, all you need is powdered sugar, lemon juice, and heavy cream that is whisked until creamy.
I find it is easiest to dip the tops of the cookies into the bowl rather than frost the cookies with a knife. Make sure the cookies are at room temperature before dipping into the frosting.
Allow the frosting to set completely before storing.
How To Store Zucchini Cookies
Store the zucchini cookies in single layer in an airtight container. These cookies will last 1 week properly stored,
Yield: 36
Olive Oil and Lemon Zucchini Cookies
Zucchini cookies that are soft and tender will be all the rage this spring! These cake-like cookies have fresh zucchini, lemons and a secret ingredient that makes them extra special!
Ingredients
½ cup Extra Virgin Olive Oil
1 ¼ cup sugar
1 tablespoon baking powder
½ teaspoon salt
2 eggs
1 1/2 cup finely shredded zucchini
2 lemons, zested
Juice of 1 lemon
3 1/4 cups flour
Glaze
2 cups powdered sugar
3 tablespoon lemon juice
2 tablespoons heavy cream
Instructions
Preheat oven to 375 degrees. Line 3 baking sheets and set aside.
In the bowl of a mixer, beat together the olive oil and the sugar (mixture will not be creamy).
Mix in baking powder and salt.
Mix in eggs one at a time, beating well after each addition. Stir in the zucchini, the lemon zest, and the lemon juice.
Slowly beat in the flour, a cup at a time until fully incorporated.
Use a small cookie scoop to place drops of batter on prepared baking sheets. Bake for 12 minutes, or until cookies spring back when touched.
Allow cookies to rest for 2 minutes before removing to a cooling rack. Allow cookies to cool completely before covering in the glaze.
For the glaze, whisk together the powdered sugar, lemon juice, and cream until glaze is thick and creamy. Dip the tops of each cookie into the glaze. Allow the glaze to set before storing cookies.
Nutrition Information
Yield
36
Amount Per Serving
Calories

132
Total Fat

4g
Saturated Fat

1g
Trans Fat

0g
Unsaturated Fat

3g
Cholesterol

11mg
Sodium

75mg
Carbohydrates

23g
Fiber

1g
Sugar

14g
Protein

2g