Zucchini cake bakes up and tender and soft then gets topped with a tart lemon buttercream.
This is the perfect cake when you need something simple, fresh but show-stopping.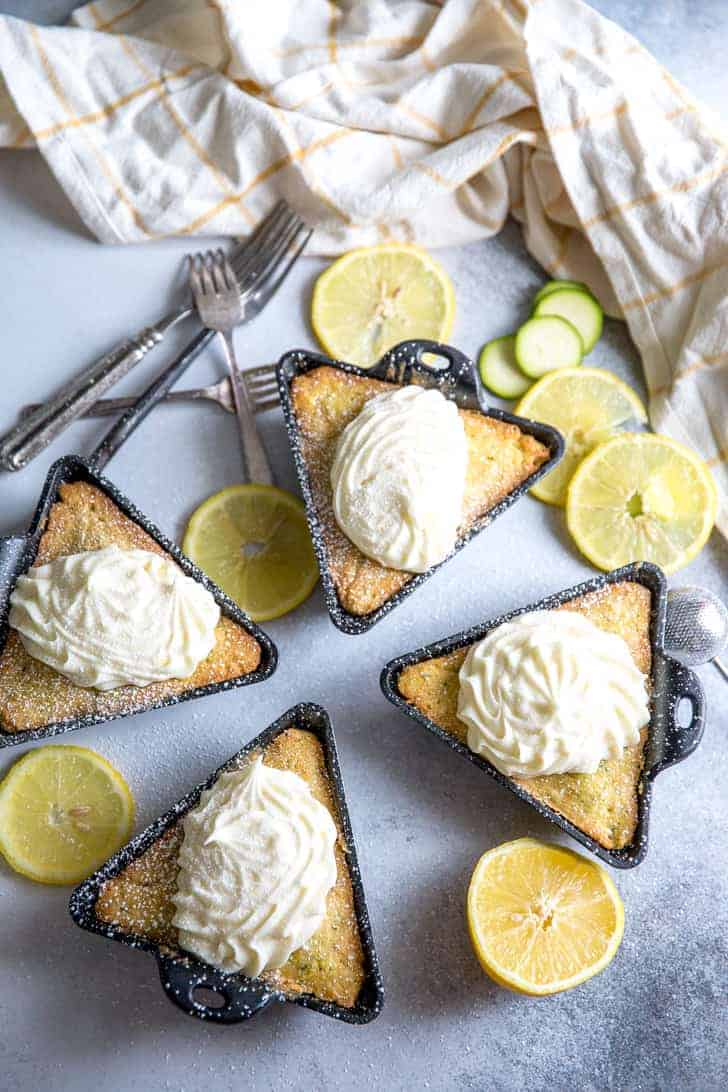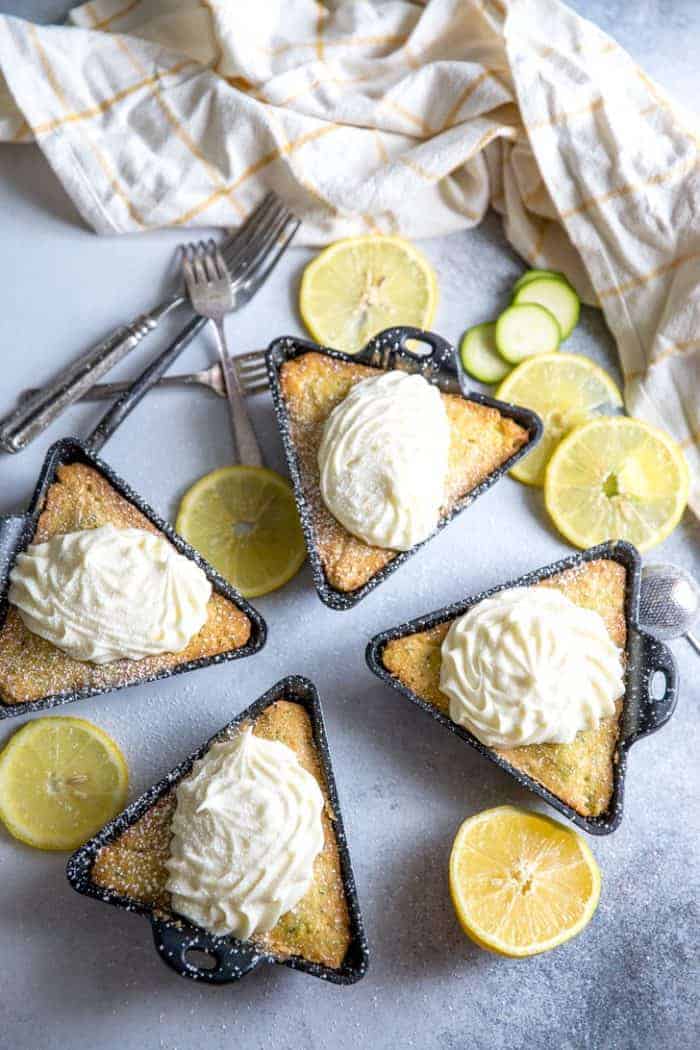 Zucchini Cake with Fresh Zucchini
My son and I have been waging a silent war over vegetables.  I want him to eat more while is trying to avoid eating them all together.  So far, I think he is winning. You see during the school year, he knows he is expected to pack fruits and vegetables in his lunch every day and of course, he has to consume whatever I serve with dinner.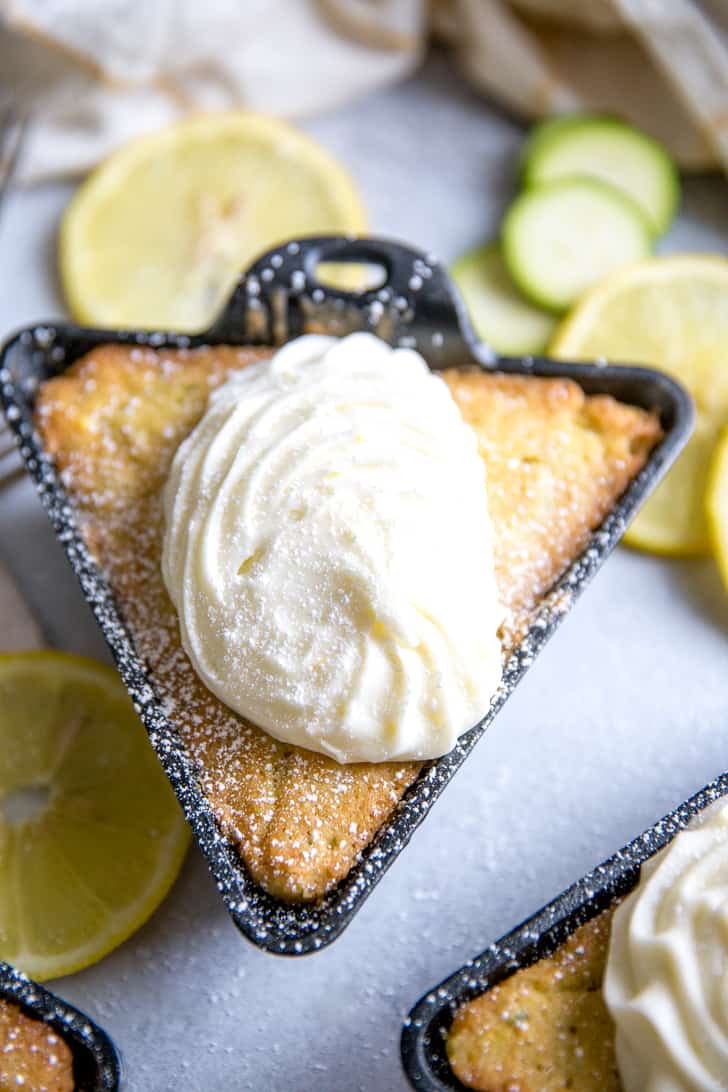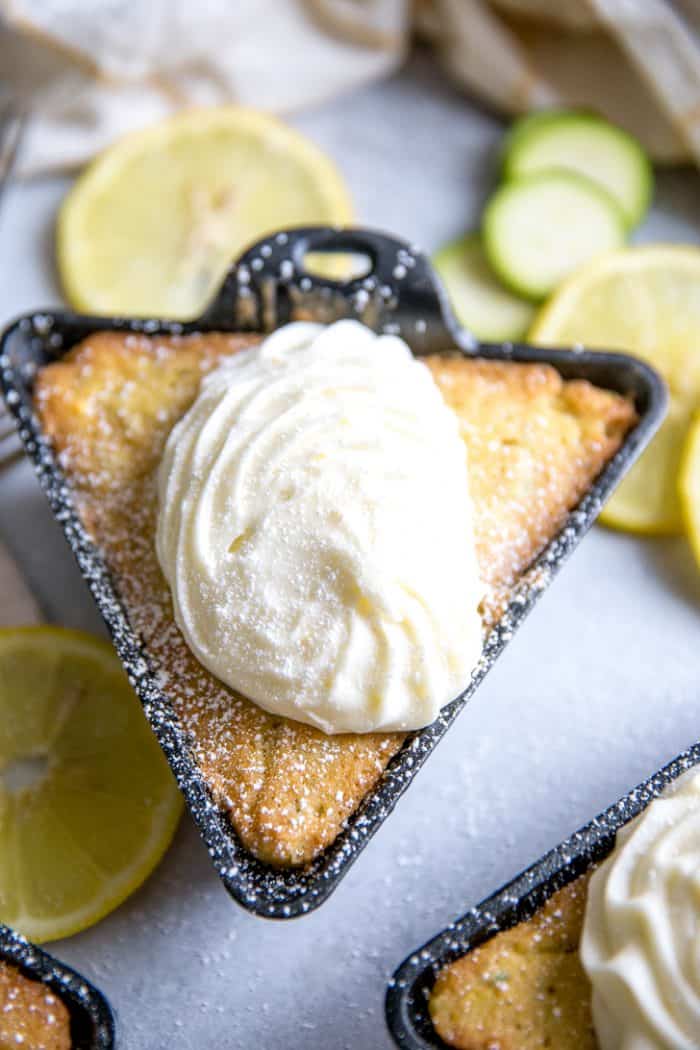 Summer break has turned everything upside down.  He sleeps until late morning, has cereal for breakfast and lunch and then is off playing with friends until dinner.  You cannot exactly force a much-taller-than-you 13-year-old boy to eat his veggies, so I am left to adding them into all sorts of foods instead.
I know it's a stretch but if he'll eat some of the supreme pizza dip, then I know he's getting a few green peppers and if he is eating these lemon zucchini cookies or this fabulous zucchini cake, well then I know he is ingesting fresh zucchini as well.  As I said, it's a stretch at best.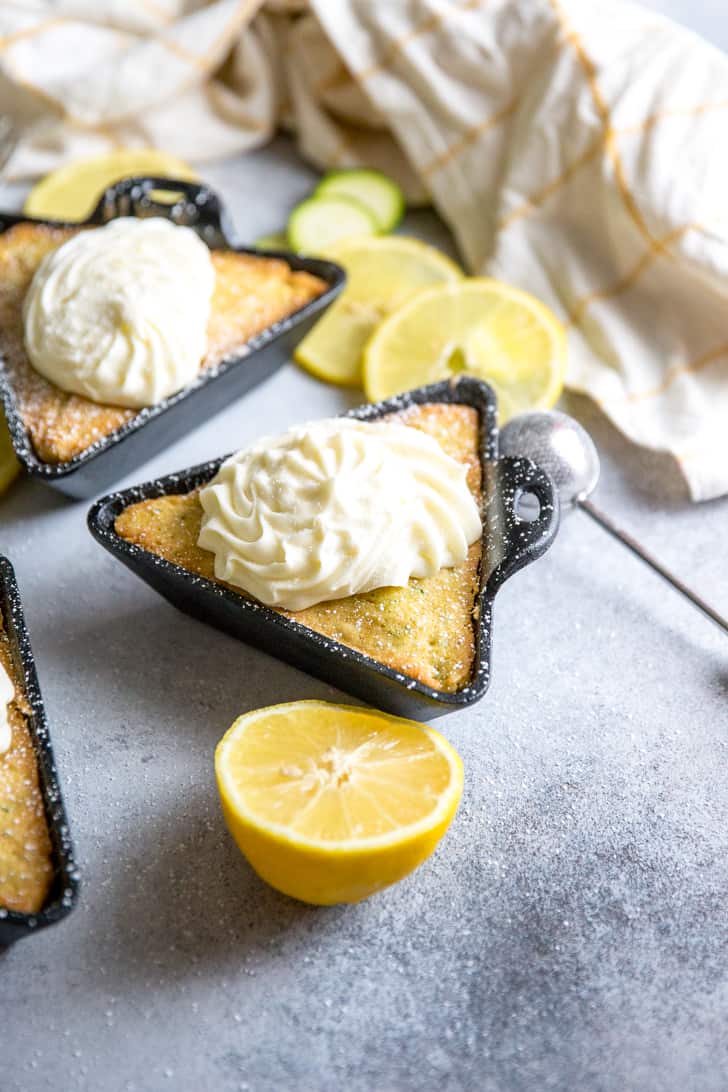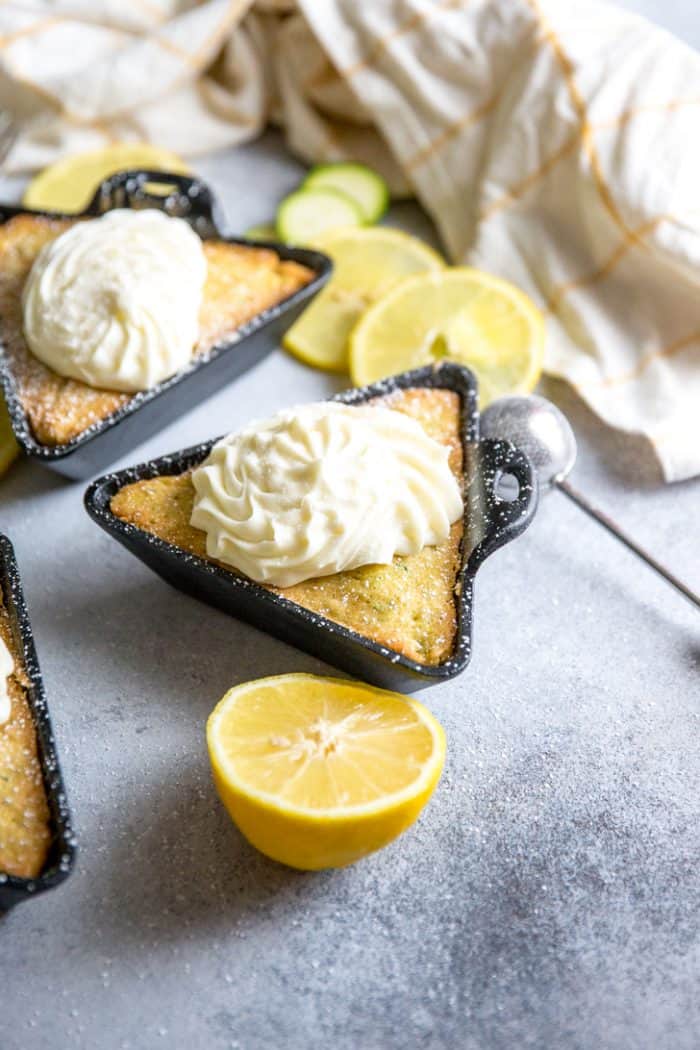 About This Zucchini Cake
I made this zucchini cake in these adorable cast iron Mini Triangular Servers from Lodge.  These servers made 4 cakes; each is enough for two people to share (or not, that is up to you).  The cake itself is very simple to make; the zucchini flavor is subtle but the cake is sweet and delicious.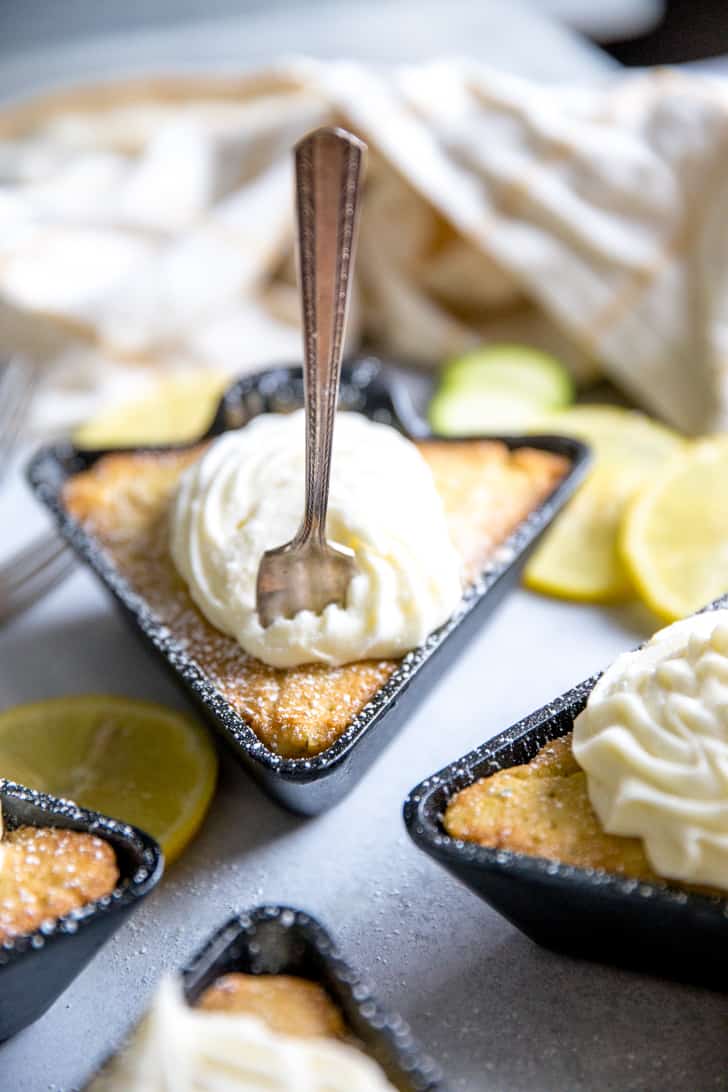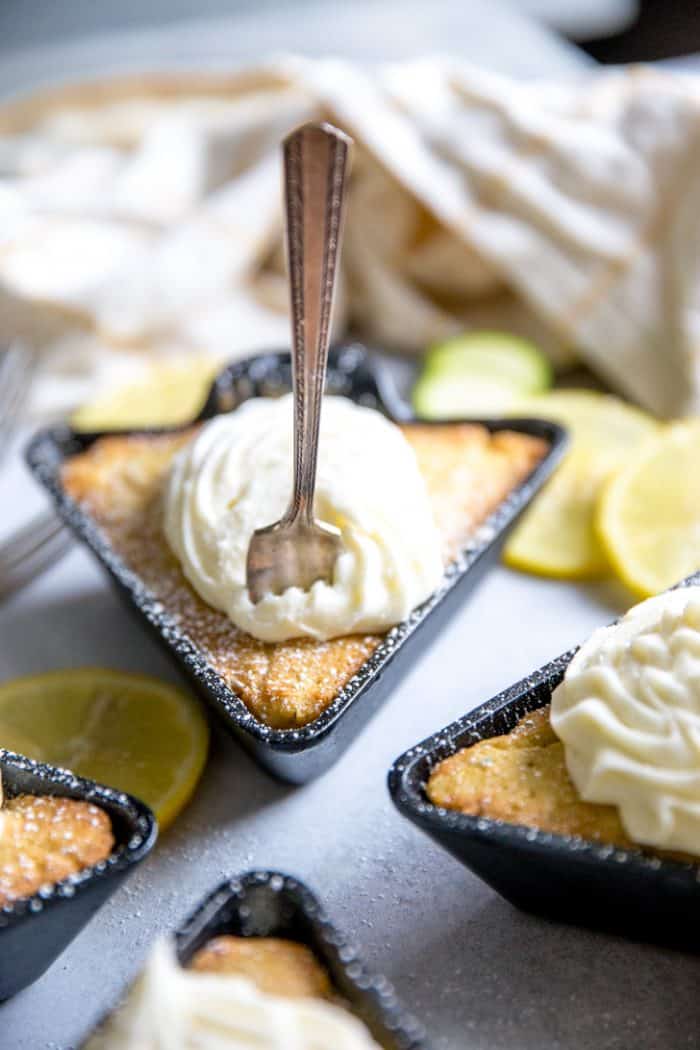 Since I am a lover of all things buttercream AND zucchini and lemons pair so nicely, I topped each cake with a generous swirl of homemade lemon buttercream.  Cream cheese frosting or a lemon glaze would also work if you find buttercream to be too much.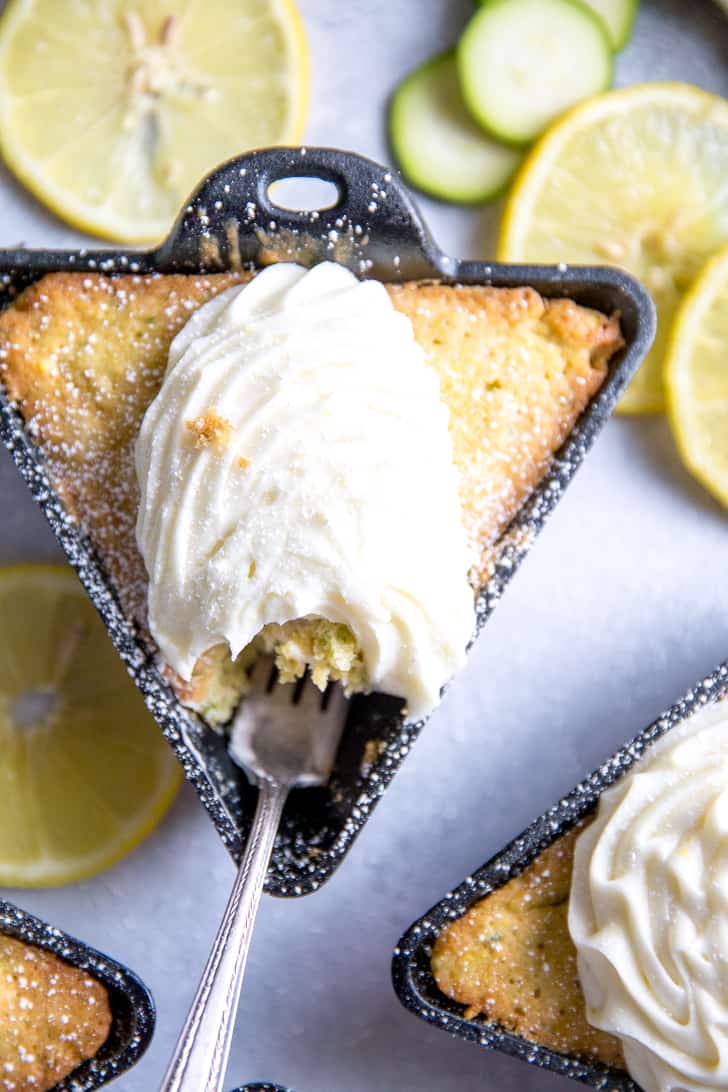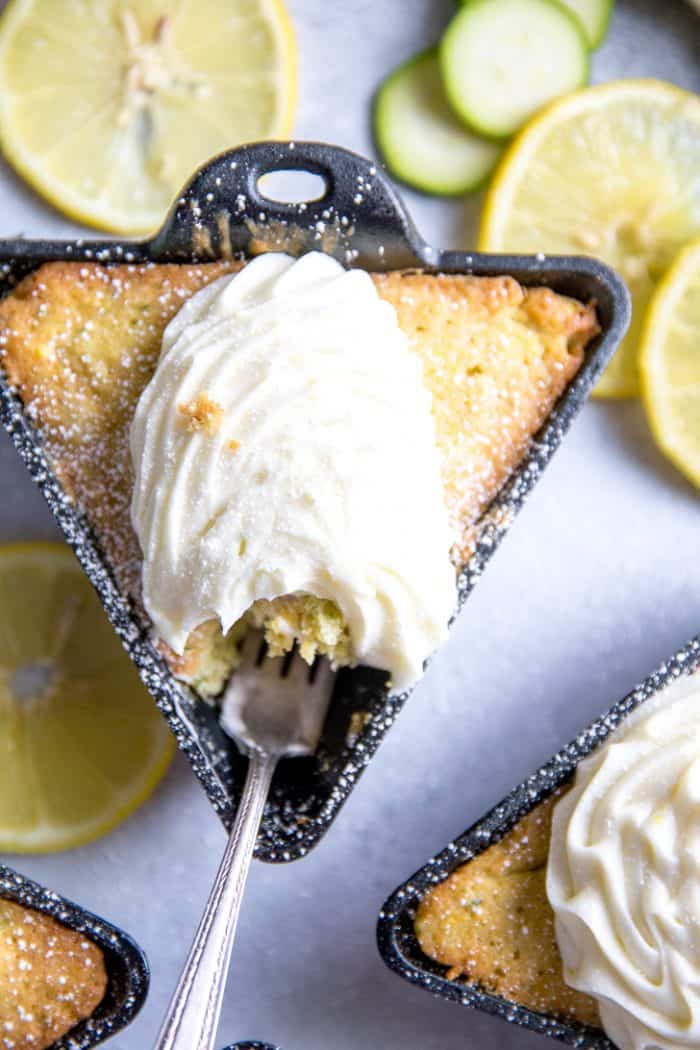 This cake is a great way to use up that garden zucchini and it while I'm not advocating serving your family cake to increase their vegetable intake, zucchini consumption IS a by-product of making this cake (wink, wink).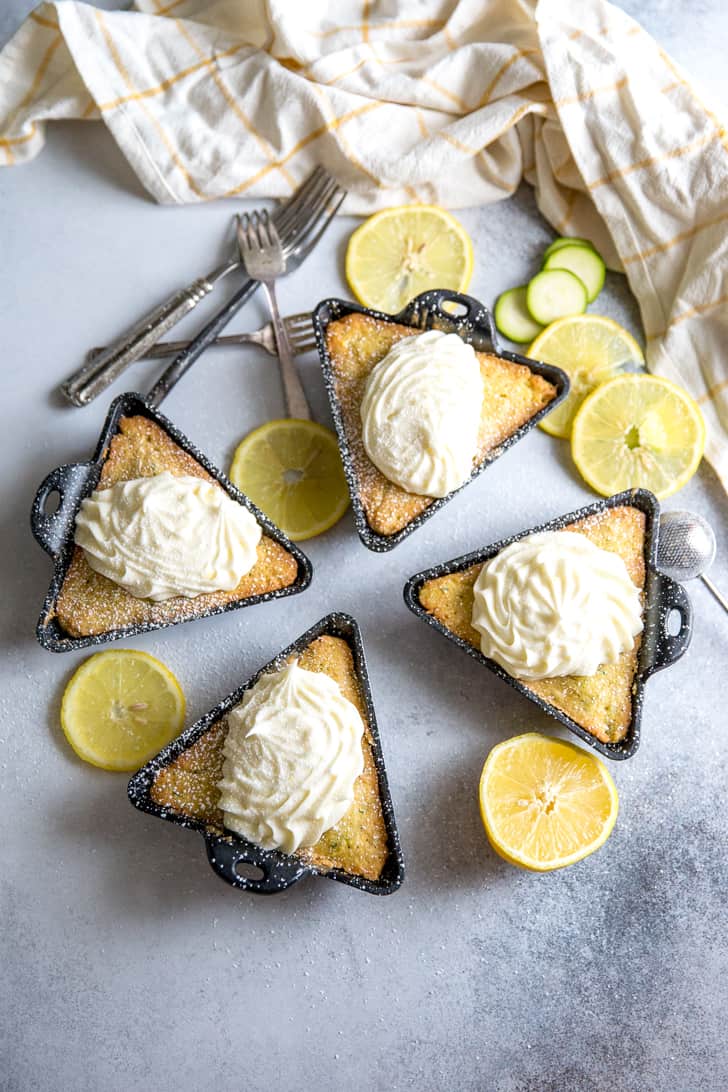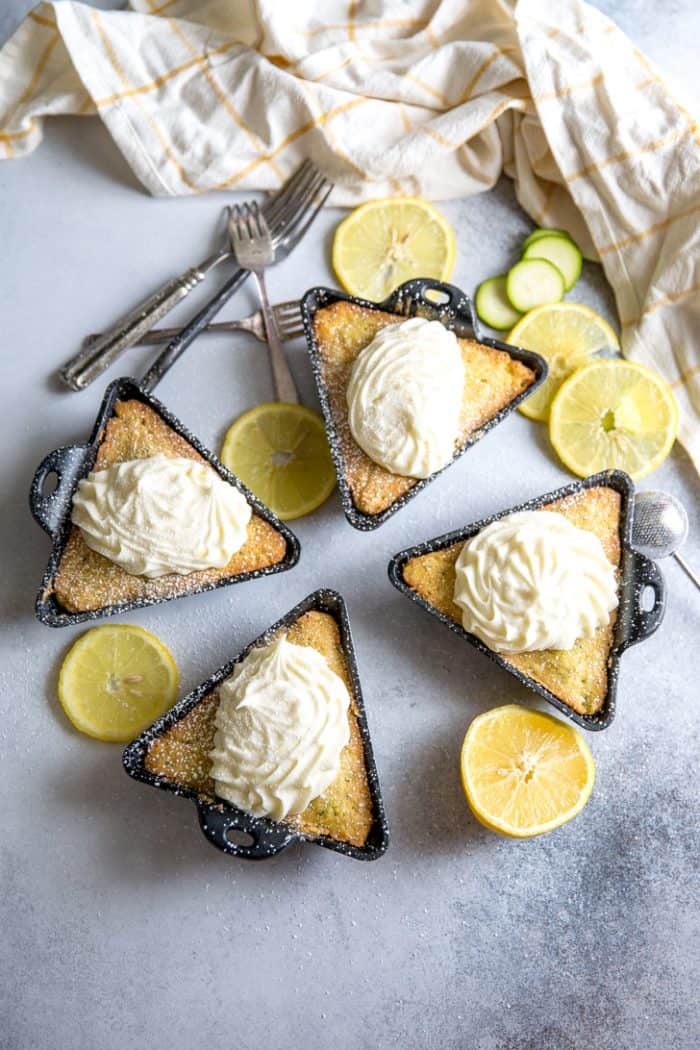 Zucchini Cake Tips
An 8 x 8-inch pan will work in place of the cast iron, or a cast iron skillet will work as well.
You can use half butter, half shortening or even cream cheese. for the frosting to cut the sweetness of the buttercream.
Add more lemon juice or powdered sugar to the frosting until you get the consistency you are looking for.  I piped a generous swirl onto each cake, but spreading the frosting in either a thin or thick layer would be nice.  It is up to you.
These cakes freeze well.  I would wrap them in plastic wrap and then foil before you frost them. Add the frosting just before serving.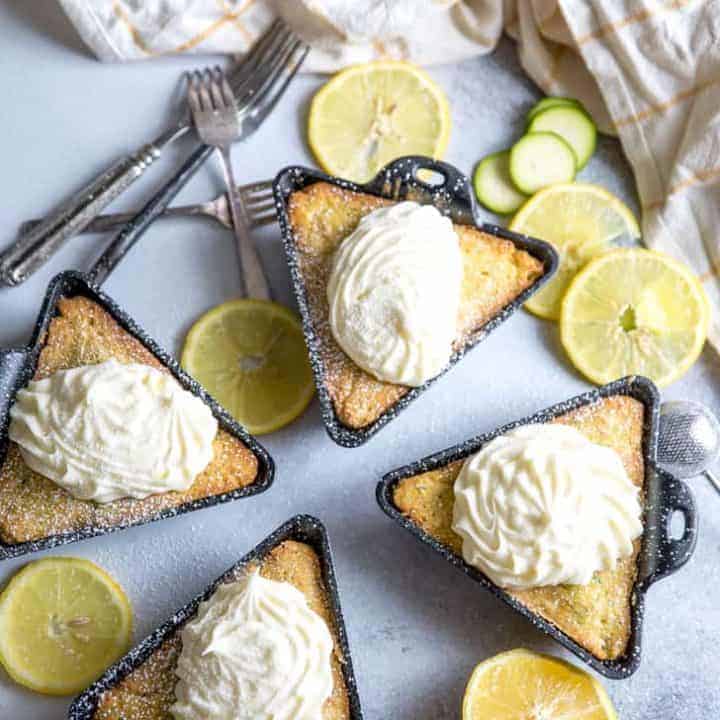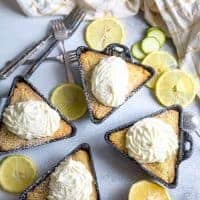 Lemon Frosted Zucchini Cake
Zucchini cake bakes up and tender and soft then gets topped with a tart lemon buttercream. This is the perfect cake when you need something simple, fresh but show-stopping.
Ingredients
1 cup of sugar
1 cup shredded zucchini
1/2 cup butter melted
2 eggs
1 teaspoon vanilla
1 1/4 cup flour
1/2 teaspoon salt
1/4 teaspoon baking soda
1/4 teaspoon baking powder
For the Frosting
1 cup softened butter
the zest of one lemon
2-3 cups of powdered sugar
2 tablespoons lemon juice
Instructions
Preheat the oven to 350 degrees. Spray cast iron servers or an 8 x 8-inch baking pan with non-stick spray and set aside. In a mixing bowl, beat together the sugar, zucchini, butter, eggs, and vanilla until combined. Slowly beat in the flour, salt, baking soda, and baking powder. Pour batter into baking dish(es) and bake for 25-30 minutes or until a toothpick inserted comes out clean. Remove the cake from the oven and allow them to cool.
To make the frosting cream the butter add the lemon zest. Slowly beat in the powdered sugar adding the lemon juice a tablespoon at a time. Beat until the frosting is piping consistency. Add more lemon juice or more powdered sugar until the frosting is as desired.
Nutrition Information
Amount Per Serving
Calories

0
Total Fat

0g
Saturated Fat

0g
Cholesterol

0mg
Sodium

0mg
Fiber

0g
Sugar

0g
Protein

0g