Intensely mocha chocolate cookies with a thick, rich chocolate frosting!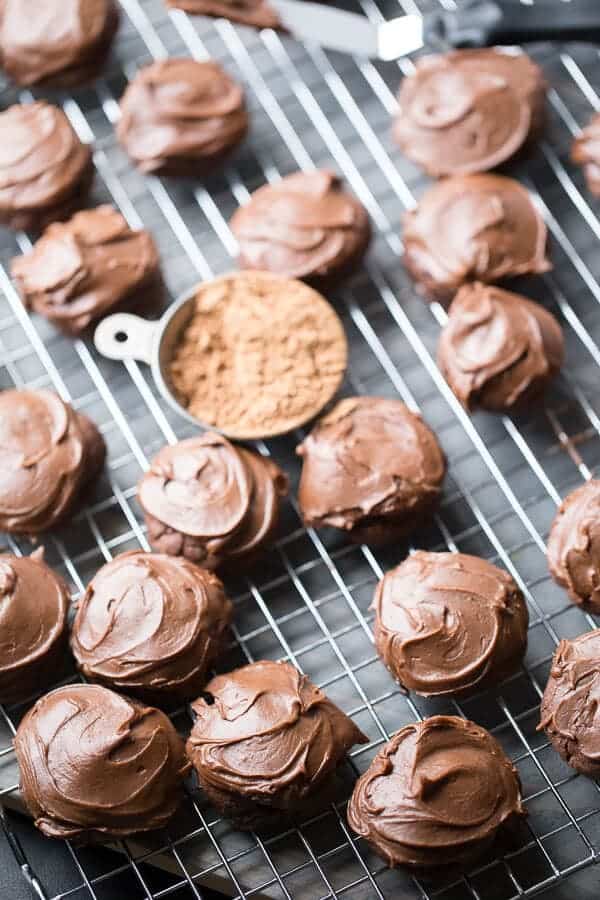 We needed cookies, plain and simple.  I had it in my head that I wanted to make these mocha cookies.  I love the taste of chocolate and coffee, and these particular cookies have a really wonderful frosting that reminds me of Texas Sheet Cake with a hint of mocha.  The cookies are soft and moist with chocolate chunks filling each bite.
I had received a gift card to Sur La Table for my birthday and have been itching to spend it.  I got online to stake it out and thought I knew what I wanted to buy.  I was planning on buying some fancy pants chocolates just for these particular mocha cookies!  I was so happy, I was a woman with a plan!
There is a store near our church, since I was going to be volunteering on Sunday, I figured I could take the opportunity to shop BY MYSELF!!!   You don't know how rare that is!!!  I love my kids dearly, I really do, but I hate shopping with them!  They are extremely impatient and nag me incessantly until I just give up and rush through my shopping, inevitably forgetting half my list!  Sometimes they just hustle me for stuff like candy or silly toys.   I couldn't have them dragging me down on this trip, I needed total concentration!
Usually, when I receive gift cards, I spend so much time deliberating as to what to by myself, that I get flustered and end up making poor decisions.  Well, I fear it happened again.  Sure La Table is so dang overwhelming!  Where do I look first????  Do I want pink, frilly little cupcake wrappers?  Do I want a mini tart pan?  An extra-large pizza cutter?  How about a pastry brush?  Perhaps I need ice cream molds?   Crap, it's just all too much pressure!  I glanced at the Guittard Chocolates for the mocha cookies but changed my mind.  Thought about espresso powder, but knew I could use coffee for my cookie recipe.  The ladies who worked there repeatedly asked if I needed help.  I either looked completely lost or very suspicious.  After milling inside there for well over an hour,  I left with a sifter, a bowl, a spatula and another set of measuring cups.   I got in the car feeling a bit deflated.  Once again, I purchased poorly.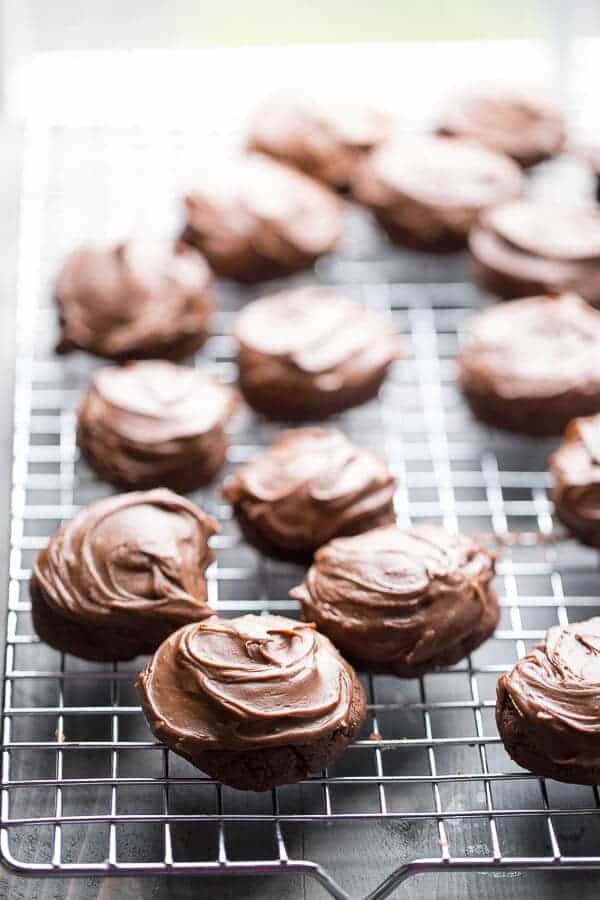 I made my mocha cookies when I came home and I am happy to report that they tasted divine!  I am sure it's because they were made in my new bowl, with ingredients measured in my new pink cups and mixed by hand with my new rubber spatula!  Perhaps it was a successful trip after all!

Chocolate Chunk Mocha Cookies
48
adjust servings
Chocolate cookies with chocolate chunks and a hint of espresso are topped with a rich mocha frosting.
Ingredients
2 1/2

cup flour

2/3

cup unsweetened cocoa

1

t baking soda

1/4

t salt

1

cup unsalted butter

3/4

cup sugar

2/3

cup packed brown sugar

1

t vanilla

2

large eggs

1 11.5oz

chocolate chunks

For the frosting

1/4

cup unsweetened cocoa

1/4

cup hot brewed coffee

1/4

cup butter, melted

1

t vanilla

3

cups powdered sugar.
Instructions
Combine flour, cocoa, baking soda and salt in a bowl and set aside. In a large mixing bowl, mix butter and sugars until smooth. Add vanilla Mix in eggs one at a time, until completely blended. Slowly add in flour mixture and beat until incorporated. Fold in chocolate chunks.
Drop by large tablespoon fulls onto a lined baking sheet. Bake at 350 for 10 minutes. Cool on baking sheet for 2 minutes before removing to a wire rack. Frost with mocha frosting.
For the frosting
Combine first 4 ingredients in a bowl. Stir. Slowly whisk in powdered sugar stirring until completely smooth and thick enough to spread.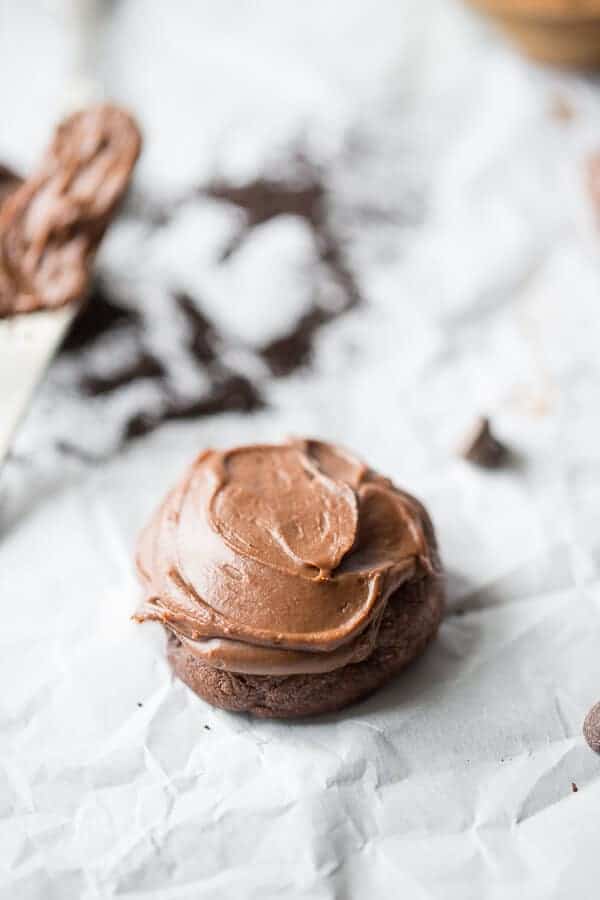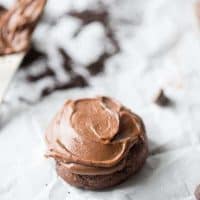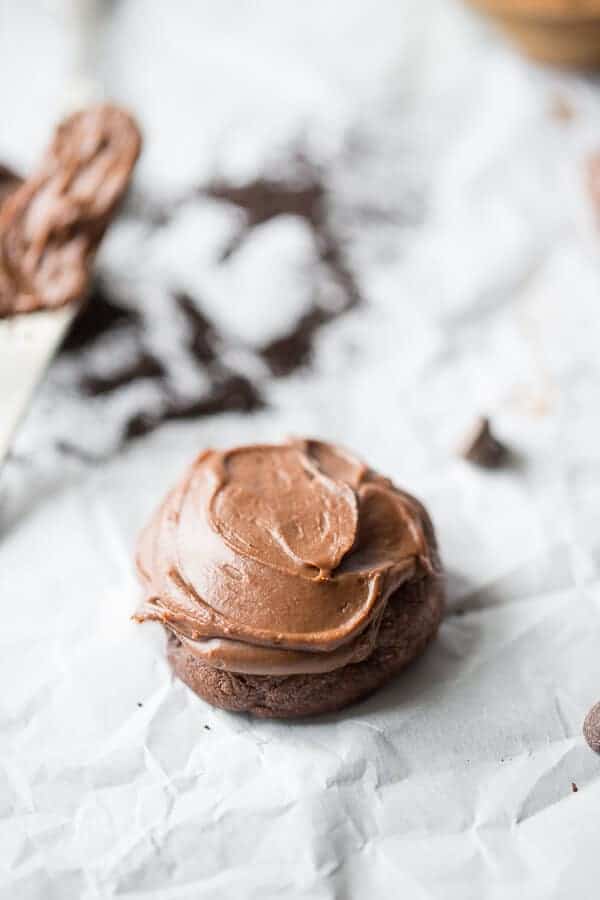 Recipe adapted from Southern Living