Beer in a milkshake?  You bet!
 Thick and hearty Guinness beer is blended with smooth Bailey's Irish Cream, Creme de Menthe and creamy vanilla ice cream!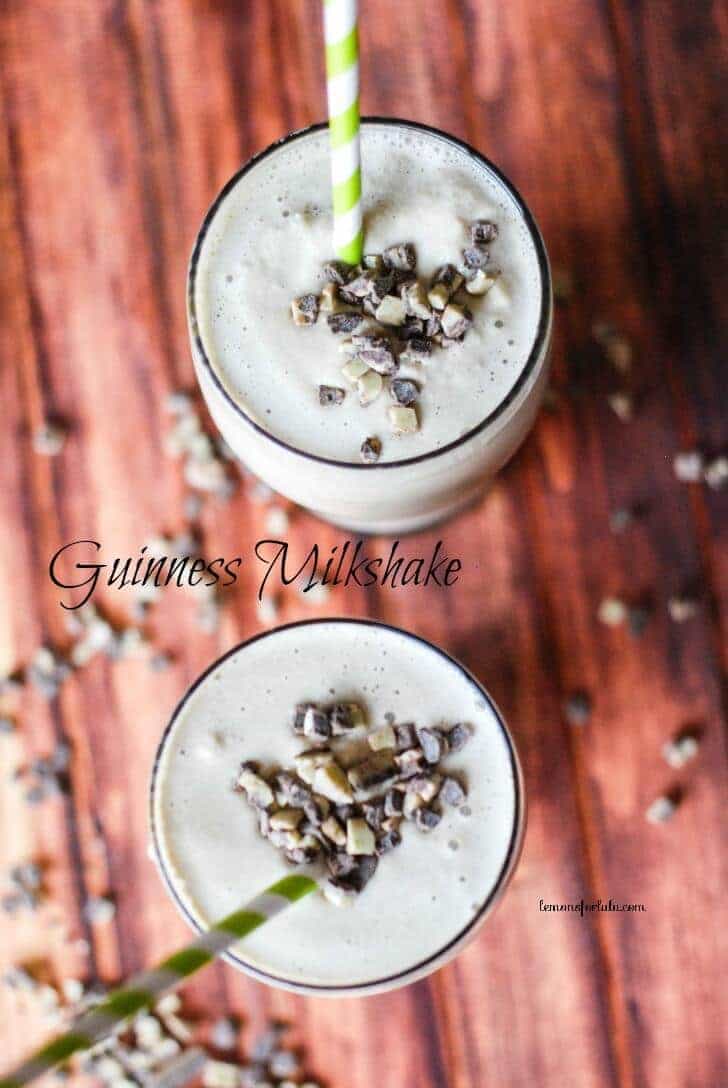 Every once in a while a unique recipe idea comes to mind and I think "eh, why not?"  Some things are successful, like these potato chip cookies.  Some, like this fudge are…not as successful.  But I enjoy the challenge no matter what the outcome may be.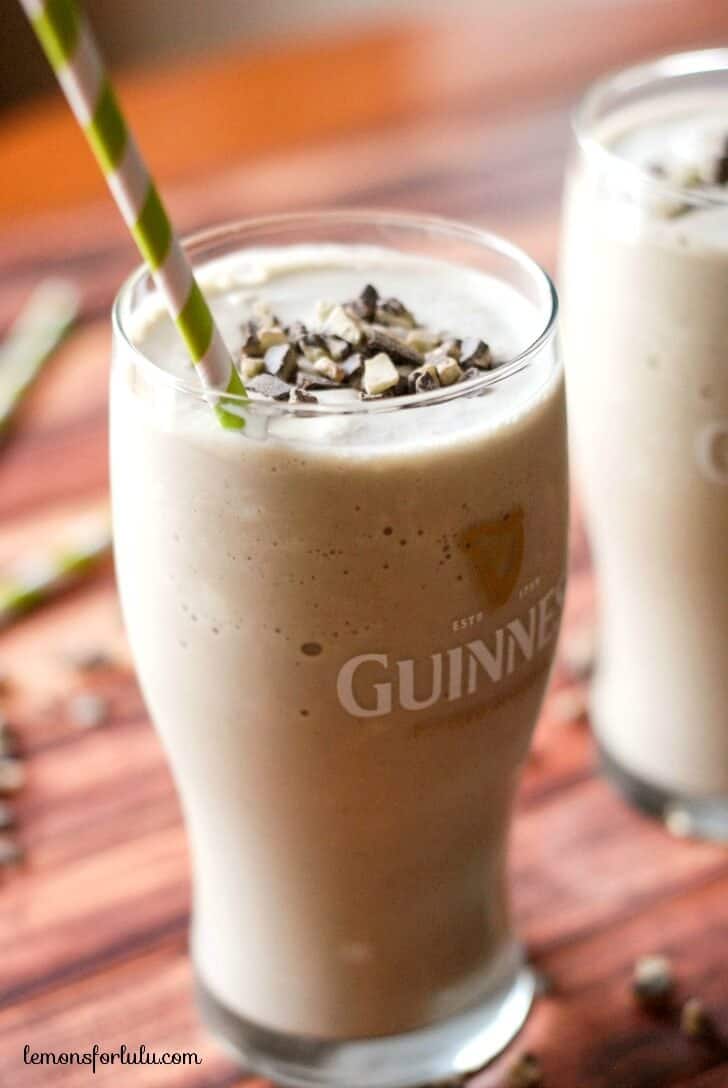 This milkshake is another one of my crazy concoctions.  I personally LOVE Guinness Beer.  Always have.  There is nothing quite like that full bodied stout; it's thick, creamy and good to the very last drop.  Guinness reminds me of both chocolate and coffee, which is probably why I am particularly fond of this beer.  I find it irresistible.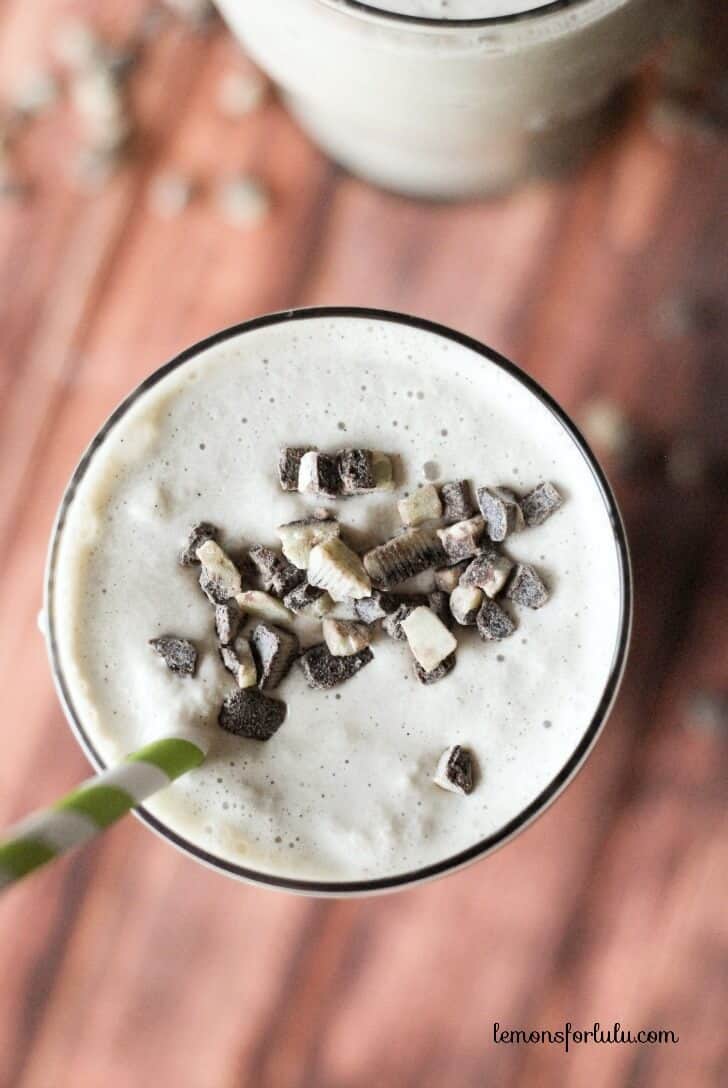 After lunch the other day I noticed I had one last lonely can of Guinness.  It looked so sad sitting there by itself while all it's buddies had long since been consumed.  Since it was the middle of the day, I couldn't really pop it open to drink now could I?   No, but I could combine it with ice cream and call it dessert!  Naturally I didn't stop there.  Seeing as how St. Patty's Day is just around the corner, I made my milkshake festive by adding a bit of Bailey's Irish Cream and a few drops of Creme de Menthe.   The result was one frosty minted treat!  If you tend to think Guinness is too bitter, get over it.  It works perfectly in this shake!  It adds extra body to the shake.  The vanilla ice cream keeps it creamy and sweet.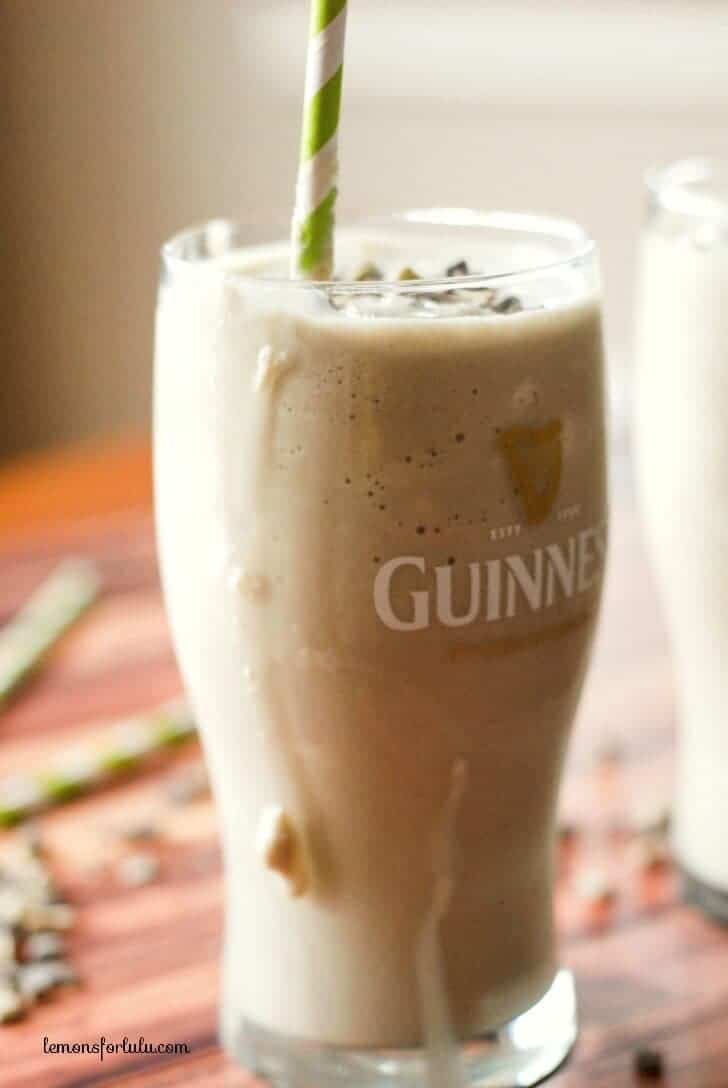 A funny thing happened while I was slurping down my dessert.  I heard cows.  No, seriously, cows.  At first I thought to myself that perhaps my milkshake was a bit too strong (and slightly hallucinogenic).  Why else would I be hearing cows in my house?   Maybe I was drinking too much too quickly?  I mean this shake tasted GOOD!!  Evidently, a little too good.     I was convinced I was going insane and thought it best to lay off the milkshake.  Until I heard the cows again.  On the one hand, I was grateful for the noise because it meant I wasn't a loon after all.  One the second hand, I still didn't have an answer as to where the mysterious bovine sounds were coming from.  I circled around the kitchen; nothing.  I looped around through the dining room, the hallway and into the living room where I heard it clear as day.  And then I spotted my daughter's Kindle and realized her Minecraft game had been left on to taunt me.
Moral of this story is make this Guinness milkshake ASAP but don't drink it around electronics!
IRISH EYES ARE SMILING ON THESE: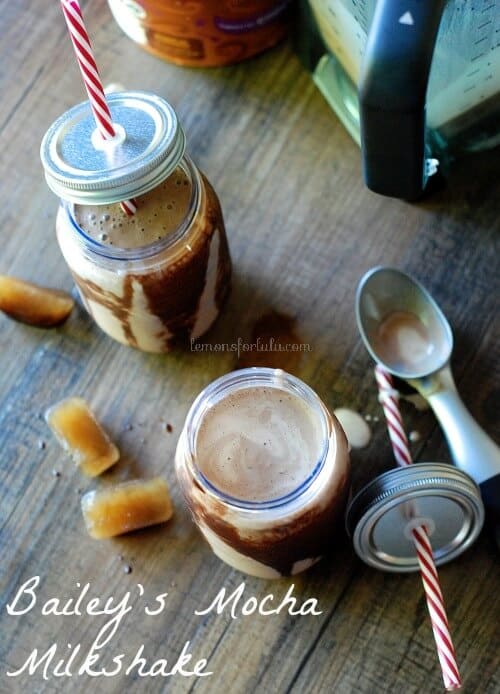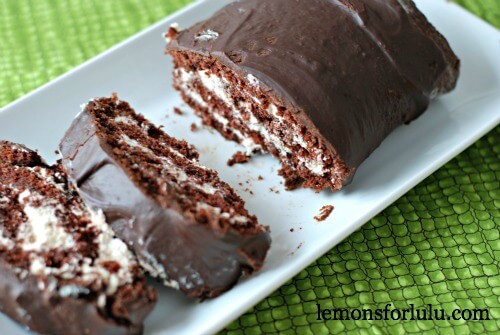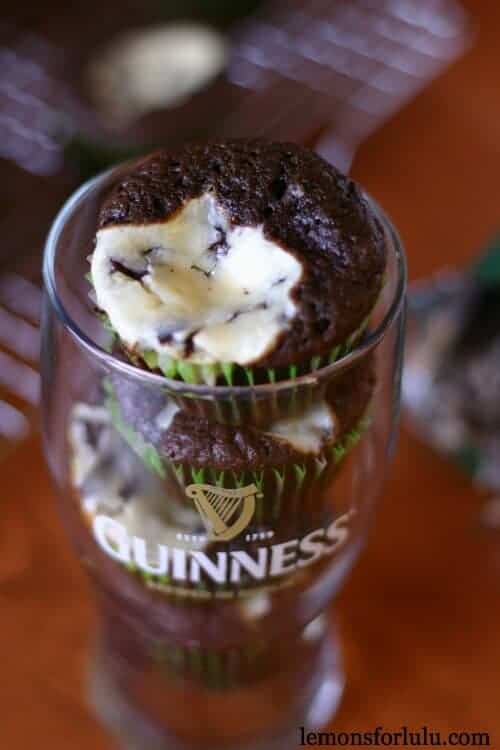 NEVER MISS A RECIPE! SUBSCRIBE TO MY EMAIL TODAY!
FOLLOW ME:
FACEBOOK | TWITTER| GOOGLE +| BLOGLOVIN | INSTAGRAM
Don't forget you can save each of these recipes to your personal recipe box , create your own meal plan, or add ingredients for each recipe to your shopping list! Just use the "Save Recipe" on all my recipes!
Ingredients
1.5

qt Vanilla ice cream

1 14.9

oz can Guinness Beer

2

oz. Bailey's Irish Cream

1/2

oz Crème de menthe

2

tablespoons Andes Mint Baking Bits
Instructions
Scoop ice cream into a blender. Add in the liquid. Blend until creamy and frothy. Garnish with Andes Mint Baking Bits.
Serves 2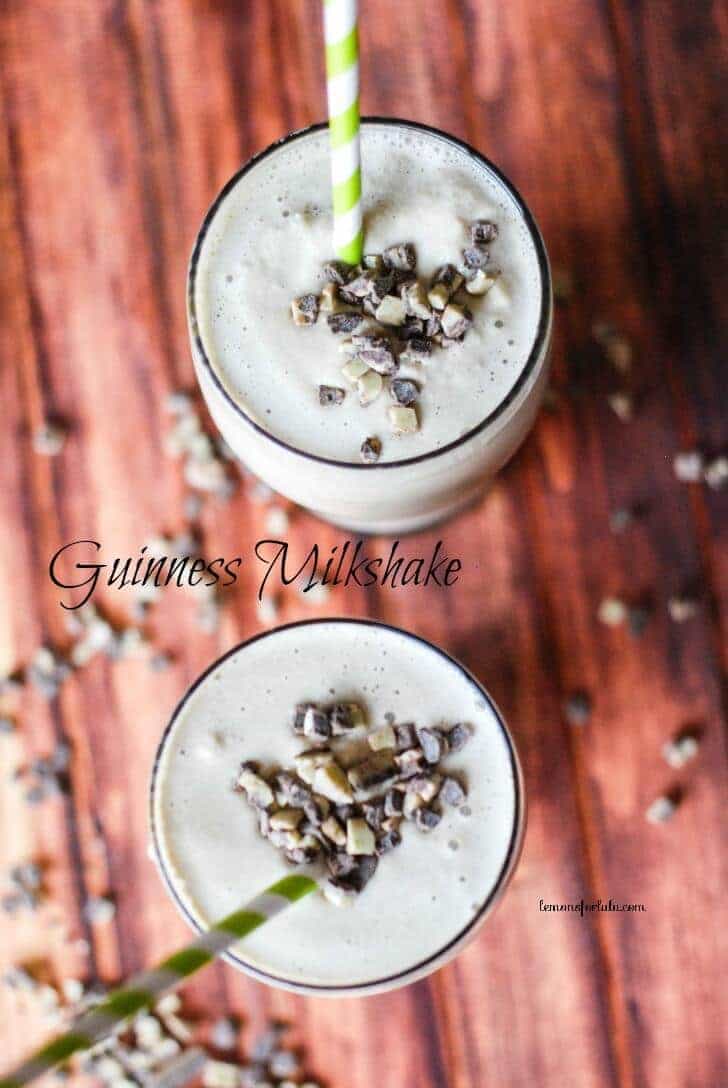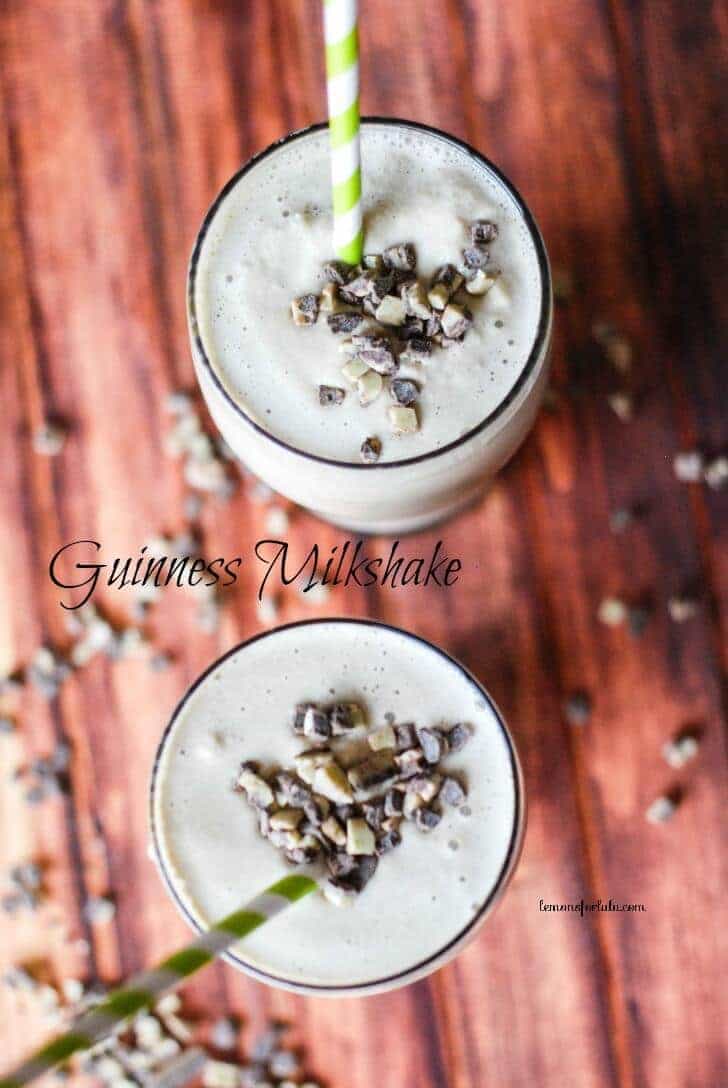 SEE THIS ON MY PINTEREST BOARD!
a data-pin-do="embedBoard" href="http://www.pinterest.com/bakermamma/beverages/">Follow Tanya Schroeder @lemonsforlulu.com's board Beverages on Pinterest.


I may be linking this up to these parties and to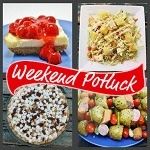 THIRSTY FOR MORE?
Nutella Irish Cream Milkshake – Dinner, Dishes and Desserts
Guinness Stout Ice Cream Float – The Plaid and Paisley Kitchen