Treat yourself to this rich chocolate stout ice cream recipe where each bite is filled with toffee pieces and decadent chocolate!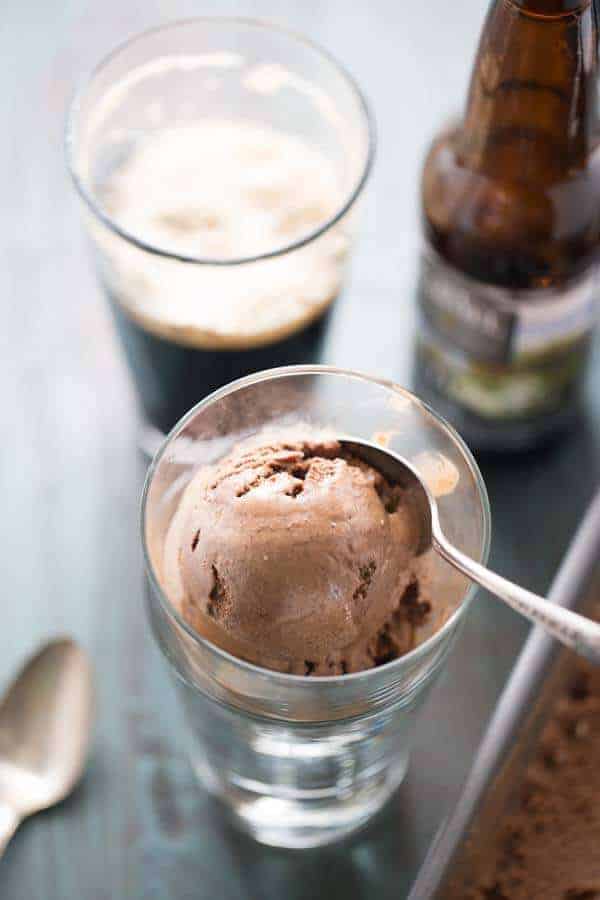 One of the best wedding gifts my husband and I received was our ice cream maker. I've had my trusty maker for 14 years. It's loud, lop-sided and rickety, yet, it sill spins on. I love it! I use it to make ice cream sandwiches and sorbet all year long.
I have a penchant for making frozen boozy treats. I've made milkshakes with Baileys and tequila popsicles. Here I am at it again. This time I made a creamy, rich chocolate ice cream with stout beer. I know the idea of combining ice cream and beer may seem a bit odd, but stout beer and chocolate are natural pairs. The thick, syrupy nature of stout lends itself to the robust flavor of chocolate. So there. The stout does not over shadow the chocolate, rather, it enhances it. You have to trust me on this one.
I added toffee bits to this ice cream recipe. Almonds, chocolate chunks, or salted caramel would also make excellent additions.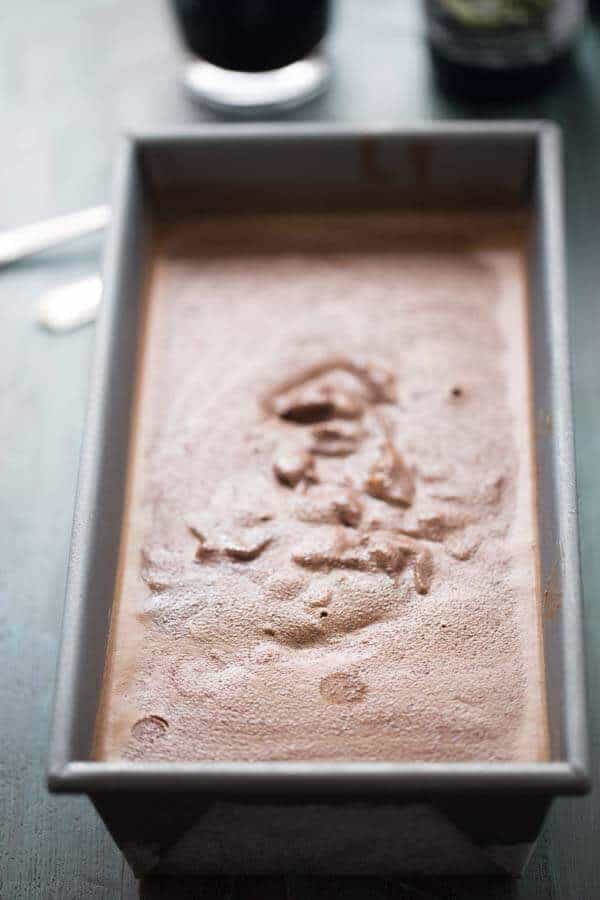 Notes about the recipe:
I often use an egg product such as Egg Beaters for my ice cream base. I get the same custard like consistency as with ice cream recipes that call for eggs.

I used a whole bottle of stout for this recipe that I reduced by half. This allowed the stout to intensify in flavor. Feel free to adjust the amount of stout in the ice cream recipe. You can start with a whole bottle, but taste your ice cream base as you add the beer in 1/4 cup additions. Cooking the stout down will also reduce the alcohol content.

I used a local beer for this ice cream recipe because I like to support my local breweries and I love the flavor of this Mt. Carmel Stout. (this is NOT a sponsored post).

I ALWAYS allow my blended mixture to sit in the refrigerator for at least 12 hours and up to 24 hours. The longer it sits in the cold, the thicker and creamier it becomes.

I often place my ice cream in a bread loaf pan. It obtains the perfect temperature to aid in the freezing process of the ice cream. However, plastic containers will do nicely as well.
There you have it. A truly decadent stout ice cream recipe that will satisfy your chocolate cravings and leave you wanting seconds!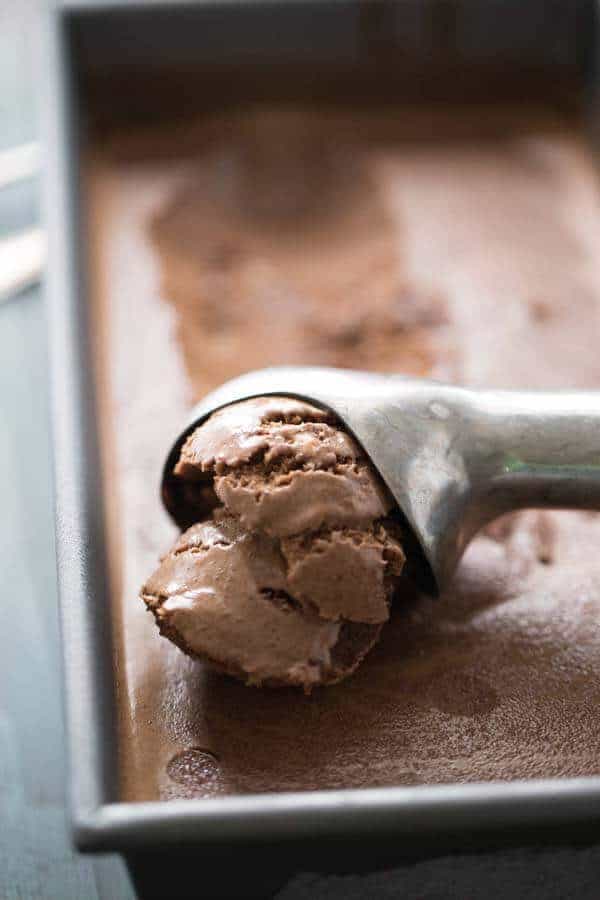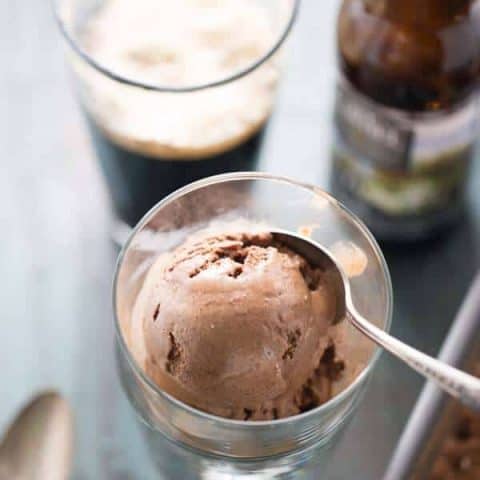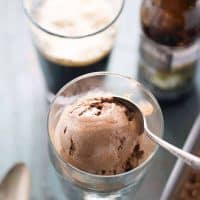 Chocolate Toffee Stout Ice Cream
Yield: 8

Prep Time: 20 minutes

Cook Time: 10 minutes

Total Time: 30 minutes

A simple chocolate ice cream made with stout beer and toffee! Ice cream never tasted so good!
Ingredients
4 oz egg product ( I used Egg Beaters)
1/2 cup sugar
1 1/2 cup heavy cream
1 cup whole milk
1/3 cup unsweetened cocoa powder
1/3 cup semi-sweet chocolate chips
1 12 oz bottle stout beer
1/4 cup brown sugar
1 teaspoon vanilla
3/4 cup Heath bars, chopped
Instructions
Heat stout in a sauce pan over medium heat. Allow stout to come to a slow boil, reduce heat. Continue to heat stout until it has been reduced by half. Remove beer from heat and whisk in brown sugar and vanilla. Set aside.
In a microwave safte bowl, melt chocolate chips until creamy and smooth.
In a blender, combine egg product, sugar, heavy cream, milk and cocoa powder. Blend until completely combined. Add melted chocolate and stout. Blend again until all ingredients have been mixed in. Refrigerate for at least 1 hour or up to 24 hours.
Add ice cream base to your ice cream maker and prepare according to manufacturers direction, adding toffee pieces to the last few minutes of the churning time.
Pour ice cream into a freezer safe container and allow it to set completely.
Nutrition Information
Yield 8 Serving Size 1
Amount Per Serving Calories 438 Total Fat 27g Saturated Fat 16g Trans Fat 1g Unsaturated Fat 9g Cholesterol 139mg Sodium 114mg Carbohydrates 39g Fiber 1g Sugar 35g Protein 6g


Disclaimer: Please note that some of the links in this post are affiliate links. There is no additional cost to you, but I may earn a small commission if you purchase through those links.