Orange sage beer biscuits are light and fluffy! Eat them piping hot with butter and honey!
I was a total groupie in college. My boyfriend at the time was in an alternative/grunge band. I wasn't really crazy about their music to be brutally honest. Actually, I thought they were awful, but I felt it was my duty to play the part of the supportive girlfriend and so I became a groupie.
Most weekends you could find them playing (and me pretending to care) at the local bar on campus. This bar may have been my favorite venue. It had wooden risers to sit on, a decent sized floor to stand and watch the band and bob your head like proper grunge band audiences, and it also had a sizable laundromat in the back. Genius if you ask me. Multi-tasking at it's best!
Sadly, most of my boyfriend's performances were unmemorable with the exception of one particular evening. The show started like any other, with the groupies/friends waiting to hear the set we all knew by heart. About 15 minutes into the set, these two guys walk right into the middle of the floor and lay down a giant piece of cardboard. The collective response from us onlookers was to take a giant step back and form a wide arc around these two individuals. Both men had tank tops on and bright orange parachute pants. This wasn't the 80's, friends. Parachute pants were no longer en vogue, but clearly these guys were no slaves to fashion. To our surprise these two characters started break dancing! They spun on their backs, trotted around and did the robot in perfect unison. They didn't care one iota that the music being played was not dance music. They were dancing to the music in their heads.
We in the audience watched on with a mix of shock, fascination and admiration. While the dancing itself really wasn't that good, their confidence was spectacular! It took nerves of steal to walk into the middle of a group of strangers and command that kind of attention!
The break dancers left as quickly as they came. We in the audience stood there for minutes afterwards with our mouths hanging open and beers getting warm in our hands. The band kept playing and we all carried on as if nothing strange had happened.
All these years later, I couldn't tell you one song that my boyfriend's band used to play. However, I can vividly recall those white tank tops and those orange parachute pants.
I've learned that life is 40% ability and 60% believing you have the ability. I want my own kids to be parachute pant kids. I want them to dance like no one's watching and to lay their cardboard down with no fear (All metaphorically speaking-I'd actually be embarrassed if they took to wearing parachute pants. It really wasn't a good look).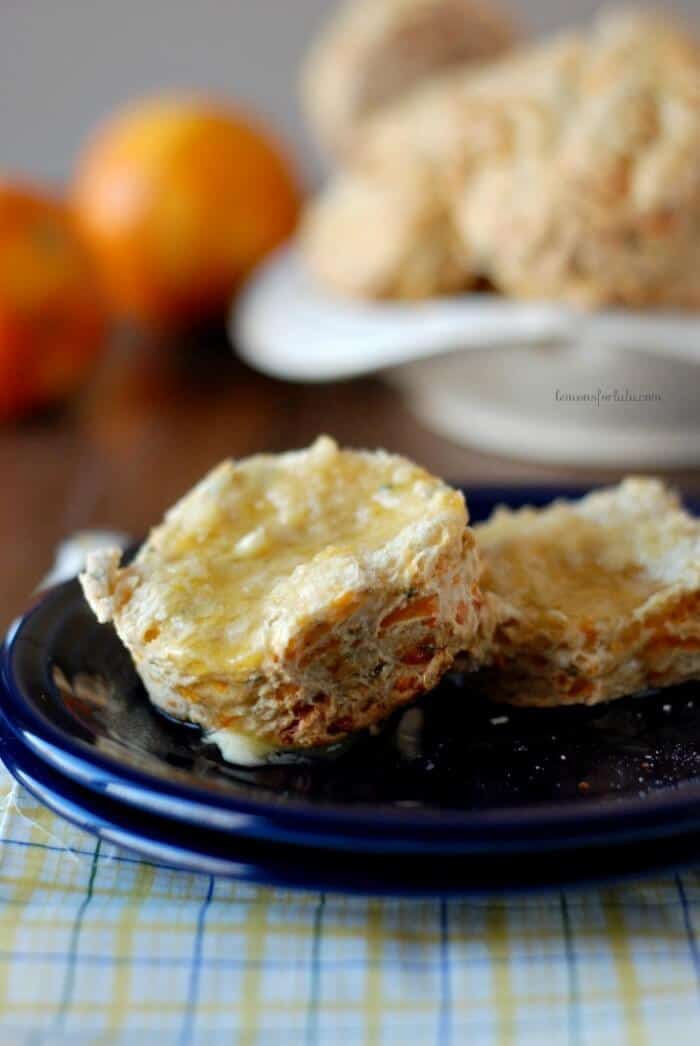 I personally have loads of confidence..in these biscuits! If you like beer bread, you will love these beer biscuits! They have lots of cheddar cheese and a healthy dose of fresh sage. I can't forget all the orange flavor! I used orange zest, orange juice and the beer I used for the biscuits happened to be orange flavored. I used Blue Moon Valencia Grove Amber Ale, but you could use your favorite amber. The amber ale gave these biscuits a deep, rich earthy flavor. I ate several of these warm with butter and honey. I highly recommend eating them that way!
BEER SANS STEINS
Orange Sage Beer Biscuits
Orange sage beer biscuits are light and fluffy! Eat them piping hot with butter and honey!
Ingredients
4 1/2 cups flour
4 teaspoons baking powder
1 teaspoon baking soda
1 1/2 teaspoon salt
1/2 cup fresh sage, chopped
1 cup cheddar cheese, grated
7 tablespoons unsalted butter, melted
1 (12oz) bottle beer (I used Blue Moon Valencia Grove Amber Ale)
1 tablespoon milk
2 oranges zested
Juice from 2 oranges
1/4 teaspoon paprika
Instructions
Preheat oven to 350. In a bowl stir together the flour, baking powder, baking soda and salt. Stir in cheese. Fold in melted butter, orange zest and juice from oranges along with the beer. Stir just until combined.
Turn dough onto a floured surface. Pat down into a 1-inch disc. Using a 3-inch round biscuit cutter, cut biscuits, gathering scraps as you go. Continue to pat down and cut remaining dough. Place biscuits on an ungreased baking sheet.
Brush biscuits with milk and sprinkle with paprika. Bake for 25 minutes or until golden.
Nutrition Information
Yield

12
Serving Size

1
Amount Per Serving
Calories

330
Total Fat

10g
Saturated Fat

6g
Trans Fat

0g
Unsaturated Fat

3g
Cholesterol

27mg
Sodium

611mg
Carbohydrates

47g
Fiber

2g
Sugar

7g
Protein

8g