This root beer float will knock your socks off!
Vanilla Chai Tea Latte and root beer blend together to make a unique and refreshingly indulgent treat!
One of my favorite children's books is Five Minutes Peace. This book is all about a mother elephant who just wants five minutes of solitude to sit and relax without her three children and all their noise. As a mother of three kids, I can totally relate to the plight of this mother elephant. It's not that I don't love my kids, of course I do, but we all just need five minutes peace.
I'm enjoying having the kids home for summer break. The problem is that summer break is also the season for bickering. The kids bicker over everything and they don't stop. It never occurs to them to just walk away or to play separately . I think they truly enjoy badgering one another. If bickering were a sport, I'd have three world champions.
A Root Beer Float For Me
I found the perfect way to stop their bickering and to give me a few minutes peace. It involved a tall glass, a long straw, ice cream, International Delight's Vanilla Chai Tea Latte and root beer! This root beer float is so easy and so uniquely delicious! Chai tea and root beer seem like unlikely pairs, but the hint of cardamom from the chai tea and the syrupy taste in the root beer work amazingly well together! The creamy vanilla ice cream unites them both! I drizzled a little chocolate syrup on the inside of each glass just to make them taste extra special!
After handing each child a tall root beer float, I immediately noticed a change in the room. There was no bickering, no name calling, no jabs, not even one sideways glance. The only noise came from each straw feverishly slurping up this frosty root beer float. I grabbed my own root beer float and sat outside where I enjoyed a good ten minutes peace.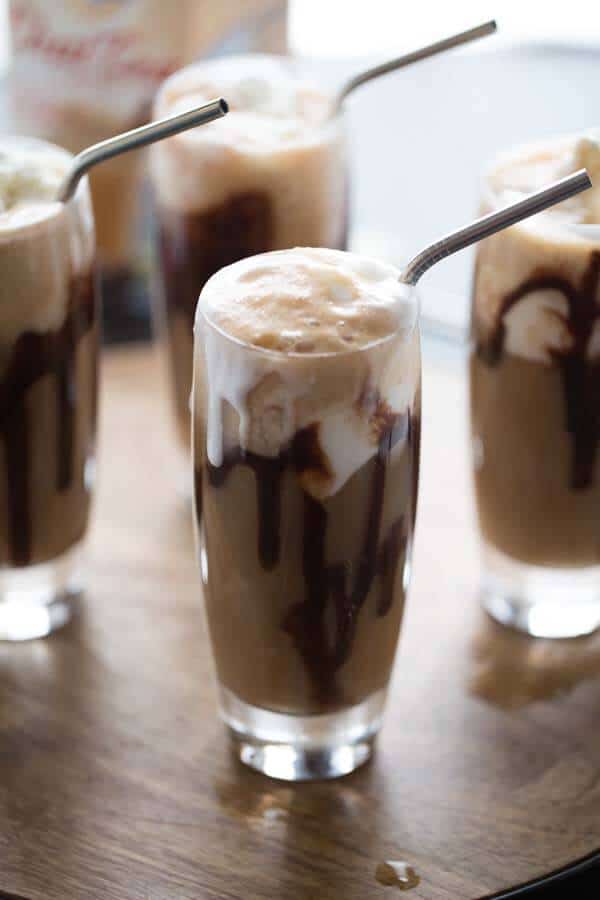 Vanilla Chai Latte Root Beer Float
A uniquely delicious root beer float that blends vanilla chai tea, root beer and vanilla ice cream!
Ingredients
2 cups International Delight Vanilla Chai Tea Latte
2 cup root beer
4 larg scoops vanilla ice cream
4 teaspoons chocolate syrup
Instructions
Drizzle 1 teaspoons of chocolate syrup on the insides of 4 tall glasses.
Pour 1 cup of chai tea latte into each glass. Top each with 1 cup of root beer. Place a large scoop of vanilla ice cream into each glass and serve.
Nutrition Information
Yield

4
Serving Size

1
Amount Per Serving
Calories

700
Total Fat

16g
Saturated Fat

10g
Trans Fat

0g
Unsaturated Fat

5g
Cholesterol

62mg
Sodium

163mg
Carbohydrates

72g
Fiber

1g
Sugar

65g
Protein

7g
Have you tried To Take Back Ten? International Delight wants to help you take your own ten minute break. For coupons, recipes and giveaways subscribe here to receive International Delight's newsletter. You can also connect with them on Facebook, Twitter, Pinterest and Instagram!
This conversation is sponsored by International Delight. The opinions and text are all mine.