This root beer float will knock your socks off! Vanilla Chai Tea Latte and root beer blend together to make a unique and refreshingly indulgent treat!
I found the perfect drink. It involves a tall glass, a long straw, ice cream, International Delight's Vanilla Chai Tea Latte, and some root beer! This root beer float is so easy and so uniquely delicious! Chai tea and root beer seem like unlikely pairs, but the hint of cardamom from the chai tea and the syrupy taste in the root beer work amazingly well together!
The creamy vanilla ice cream unites them both! I drizzled a little chocolate syrup on the inside of each glass just to make them taste extra special!
What Is a Root Beer Float?
In the United States, a root beer float is a drink made when you combine root beer soda with vanilla ice cream. It starts by scooping the ice cream into a tall glass and then pouring enough root beer on top to make the ice cream float.
From there it's enjoyed with both spoons and straws. there are many different variations, usually swapping out the soda flavor for something else but in our version today we are simply adding in some cold brew for a wonderful flavor and caffeine boost.
Ingredients
International Delight Vanilla Chai Tea Latte
Root beer
Vanilla ice cream
Chocolate syrup
For the exact amounts needed, please see the recipe card below.
How to Make Vanilla Chai Latte Root Beer Float
Inside 4 tall glasses, drizzle a teaspoon of chocolate syrup.
Pour in 1 cup of chai tea latte into each cup.
Top each one with 1 cup of root beer.
Place a large scoop of vanilla ice cream into each glass.
Serve cold and enjoy!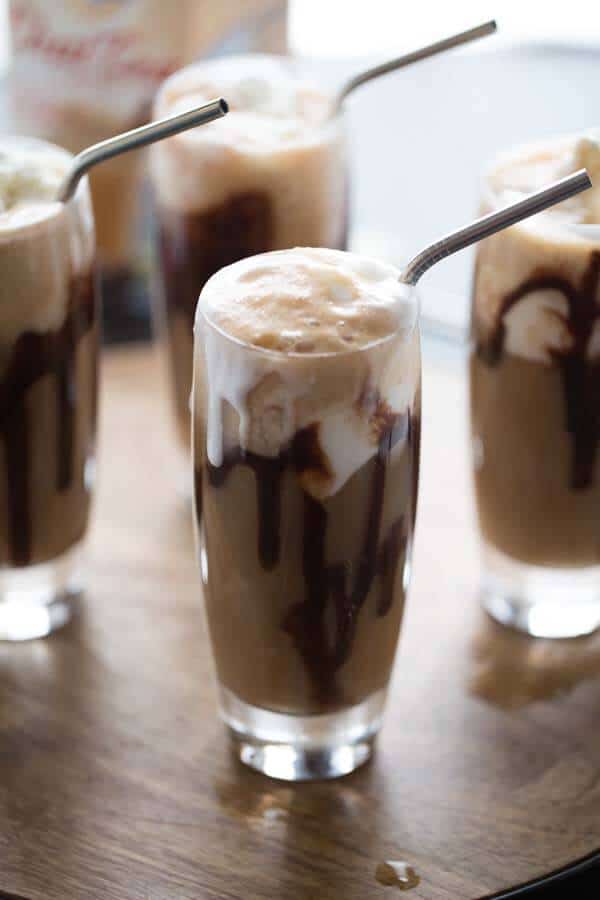 FAQs
What can I use instead of a chai tea latte?
If you cant find this product in stores near you then you can simply swap it out for a different flavor of cold brew coffee or use almond milk in its place. Using flavored coffee creamer is also a suitable option.
Why do they call it a root beer float?
Originally it was referred to as a "black cow" which is similar to a purple cow drink made with purple grape juice or soda and vanilla ice cream. The name was changed to root beer float somewhere between its creation in 1893 and modern times.
What goes in a Rootbeer float first?
While you can place the contents in =to your drinking glasses in any order, the "correct" way to do it is to place the ice cream in the glass before the soda so that it can create a "head" on the soda base full of delicious foam. The ice cream will still float no matter what order it is added into the glass, but putting soda in first is about as unusual as putting the milk in a bowl before the cereal.
For more fun, check out these tasty float recipes:
Yield: 4
Vanilla Chai Latte Root Beer Float
A uniquely delicious root beer float that blends vanilla chai tea, root beer and vanilla ice cream!
Ingredients
2 cups International Delight Vanilla Chai Tea Latte
2 cup root beer
4 larg scoops vanilla ice cream
4 teaspoons chocolate syrup
Instructions
Drizzle 1 teaspoons of chocolate syrup on the insides of 4 tall glasses.
Pour 1 cup of chai tea latte into each glass. Top each with 1 cup of root beer. Place a large scoop of vanilla ice cream into each glass and serve.
Nutrition Information
Yield
4
Serving Size
1
Amount Per Serving
Calories

700
Total Fat

16g
Saturated Fat

10g
Trans Fat

0g
Unsaturated Fat

5g
Cholesterol

62mg
Sodium

163mg
Carbohydrates

72g
Fiber

1g
Sugar

65g
Protein

7g