You likely can't name that many foods that start with J. But, in fact, there are plenty of foods that start with J. Whether it's for an alphabet eating challenge or a sweet idea for a birthday party, foods that start with the letter J can be everything from main dishes and sides to condiments and spices. Check out some of these foods if you need some ideas for your next meal that starts with J.
How Many Foods Start With the Letter J?
There are many different foods, dishes, and ingredients that start with the letter J. If you consider international foods, dishes, and ingredients or even those of another language, there might be more than you think.
It would be nearly impossible to include all of the foods that start with the letter j on this list. In fact, if you include food brands, there are hundreds that would fit into that category.
Food Brands Start With the Letter J?
There are many local and international food brands that start with the letter J, but here are a few that is well-known:
Jell-O
Jack Daniels
Jack's Pizza
Jacquot Chocolate
Jammie Dodgers
Jays
Jelly Belly
Foods That Start With J
Sometimes you want to plan a party with food for a friend or family member whose name also starts with J. Perhaps you are trying to eat new foods, in alphabetical order, and J is next up – whatever it is, there is no lack of foods that start with J.
Main Dishes
Main dishes are some of the easiest ways to utilize the letter J in your food since you could simply add an ingredient to the main dish name such as 'Jalapeno Spaghetti and Meatballs' if you're feeling lazy, else here are some great ideas for main dishes that start with J.
1. Jambalaya Pasta
Lemons for Lulu have a twist on this traditional dish. It is made easy by simply using one pot, so your weeknight dinner is sorted in a few minutes, but tastes like it has taken hours.
It still has most of the traditional components but instead of a tomato-based sauce, the author has made it into a creamy sauce instead.
2. Jägerschnitzel
An authentic German dish that is basically crumbed pork cutlets with a mushroom sauce. It is a generous and hearty meal that will do great year-round. Daring Gourmet shows you how to make the mushroom sauce and crumbed pork cutlets just as the Germans would.
3. Jaffels
Jaffels are a traditional South African dish, made with bread slices and spiced mince. It traditionally is made using a jaffel press and cooked over a 'braai' but it is easily made in a sandwich maker press.
Anina's Recipes shows you how to make it, but mentions the jaffel press/pan – just ensure your sandwich maker press seals off the ends of your sandwich, else the filling might leak out.
4. Jambalaya
Life, Family, and Fun show you how to make the New Orleans Classic dish in an instant pot to save you time, but without sacrificing flavor. Their version of this recipe does omit shrimp, which is in the original recipe, but you can easily add it to the stew.
5. Jambon au Madere
Translated from French, this means braised ham with Madeira sauce. Food.com has an easy-to-follow recipe (in English) that enables you to make this French dish in less than 30 minutes. It has only a few ingredients that gets transformed into a truly tasty dish.
Side Dishes
If you need more food that starts with J than just one main dish, there are plenty of side dishes that start with J for you to try.
6. Jalapeno Popper Grilled Cheese
Yes, this dish can be served as a main, but it's also the perfect side to a bowl of creamy tomato soup. Luckily Lemons for Lulu shows you how to make this jalapeno popper-inspired sandwich, without having to stuff jalapenos.
7. Jerusalem Artichokes with Garlic
Jerusalem Artichokes are closer related to sunflowers than they are to normal artichokes we know and love. If you follow this recipe by BBC Good Food you will find that the tanginess of the ingredients works very well as a side dish to a meaty main meal, like roast pork or a well-grilled steak.
8. Jo Jo Potatoes
These are simply just potato wedges, breaded and deep-fried. All Recipes has a great savory flavored recipe for you to try, or you can add some cajun seasoning to the mix to add more spices.
If you want to make it healthier, omit the oil and pop them into your air fryer instead.
9. Jewish Rye Bread
Jewish rye bread is made similar to plain rye bread, but usually has caraway seeds added in. This bread is the perfect base for a loaded deli sandwich or as a side, toasted, buttered, and served with soup. King Arthur Baking has the easiest recipe. \
Healthy Foods That Start With J
For some, having an alphabet or letter party doesn't mean a cheat day, here are a few healthier options for anyone trying to find healthy foods that start with the letter J.
10. Jerk Chicken & Simple Vinaigrette Slaw Tacos
Jerk Chicken is a Jamaican dish, made with a variety of spices. Nutrition in the Kitch shows you how to use delicious Jerk Chicken in a taco with slaw as a topping. The result is a low-calorie, high-taste feast.
11. Jackfruit 'Pulled Pork' Sandwiches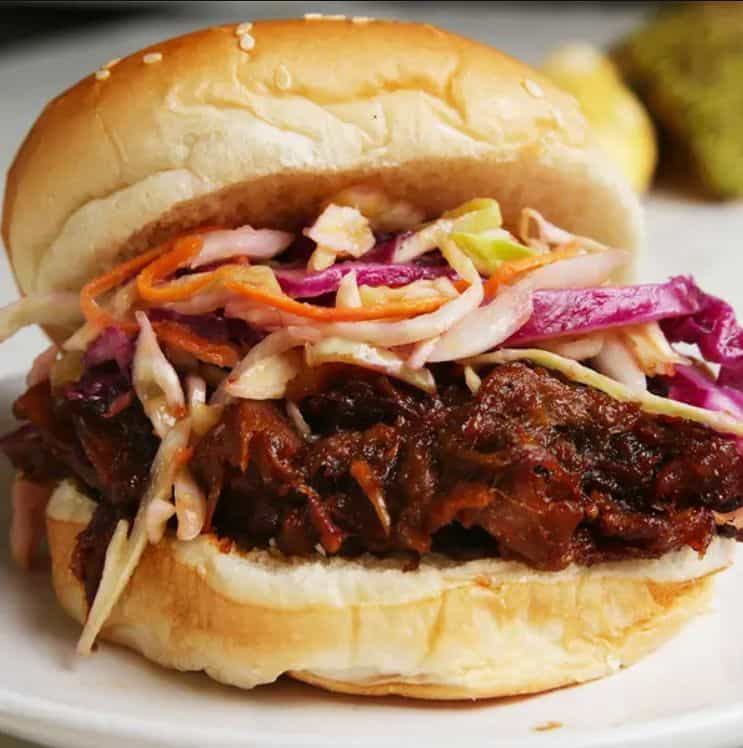 You won't guess you're enjoying a vegan dish when eating these mock pulled-pork sandwiches by Tasty. It is a convincing BBQ-inspired dish that will keep your belly full, and a smile on your face.
It requires a bit of preparation and a few hours of cooking, but the result is a tender, delicious bun for you to enjoy, guilt-free.
12. Jam without Sugar
Jam is a well-known condiment that has loads of sugar in it. Nutrition in the Kitch shows you have to make a chia-based jam in 3 different ways, so you can still enjoy a 'PB&J' without having to worry about all those extra calories from sugar.
13. Julienne Vegetable Salad
Although this recipe by Nutrition in The Kitch calls for some spiralized baby marrow and sweet potato, to fit the theme of the letter J, we recommend you julienne it.
It is a coconut- and lemongrass-based recipe and very refreshing. Healthy and easy to make, this is a must for your next summer cookout.
Condiments and Spices that Start With The Letter J
14. Jasmine Tea
You might not think of Jasmine Tea as a spice, but by definition it is. It is used in a Jasmine Mint Iced Tea Recipe by Eating Well. It is delicately floral and quenches any summertime thirst.
15. Juniper Berries
These berries that look a lot like blueberries are one of the base parts of the spirit called Gin. Whilst there are many recipes using Gin, there isn't a lot that utilizes the berry before it's made into a spirit.
This Healthy Table however takes Juniper berries and Salmon and creates a delicious main for you to try next time you can get your hands on some fresh Juniper berries.
16. Japanese Curry Powder
Japanese curry is much milder and slightly sweeter than the traditional curry powders you might be used to. The author from No Recipes shows you how to make a delicious Japanese curry.
They also include a link to making your Japanese curry blend if you aren't able to buy a blend from the store.
17. Jalapeno Relish
Cookie and Kate has an easy-to-make recipe that is bright and spicy for you to use on any leftovers or over some scrambled eggs for breakfast. You can also try and substitute this relish in recipes that call for pickled jalapenos.
Desserts That Start With the Letter J
18. Jaffa Cakes
Jaffa Cakes are a British pastry that is enjoyed around the world. Not many shops stock this orange-chocolate delight, but BBC UK shows you how to make it easily at home. You have to serve this with a lovely cup of hot tea, of course.
19. Julep Poke Cake with Mint
Two classics melt into one in this dessert. Lemons for Lulu took a classic drink and a traditional poke cake and combined them into one boozy, creamy dessert for you to try.
20. Jelly Donut Cinnamon Rolls
Feel like Jelly donuts but also like a cinnamon roll? Lemons for Lulu has the perfect recipe for you to try when both cravings hit you. It takes a few hours to make, but the result is oh-so-worth-it.
Drinks That Start With the Letter J
21. Jigarthanda
Originally from Madurai, India, this cold and creamy drink is made from ice cream, almonds, sarsaparilla syrup, sugar, and milk. Jigarthanda is the perfect accompaniment to a hot day and Cooking From Heart shows you how to make it.
22. Jack Frost Cocktail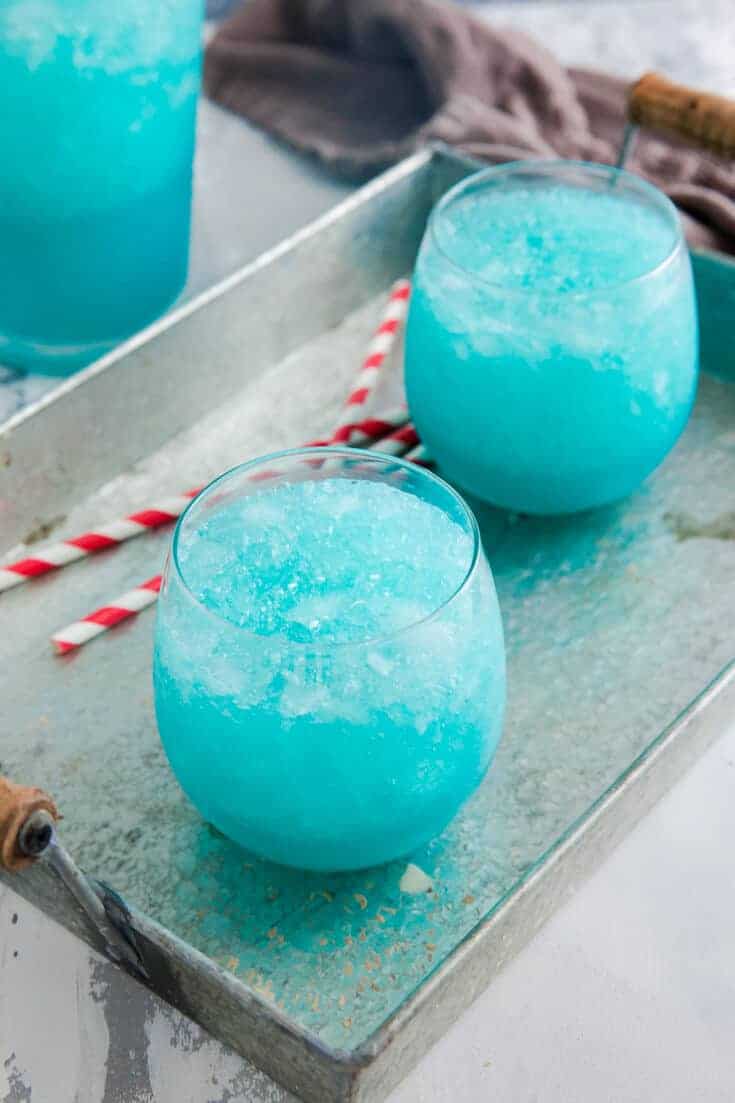 Whether you need a frosty drink in summer or want to embrace the chill during the holidays, this cocktail from Lemons for Lulu will put you in a cheery mood regardless of the season.
It has a beautiful blue hue from the blue curacao, and if you would like to make this cocktail slightly creamier, you can always add some coconut milk as suggested by the author.
23. Jello Shots Made With Aperol Spritz
Technically, you can't drink Jello shots, but it can still be classified under drinks since it contains alcohol. Lemons for Lulu made it easy for you to make these to impress anyone that is a Jello or Aperol Spritz lover.
24. Jalapeno Margarita
Known for its tangy goodness, a margarita is usually made with some sour mix and tequila. The Spruce Eats adds a spicy punch to this cocktail – but don't worry too much, the spice is actually quite gentle and will leave you wanting more.
25. Jäger Cafè Cocktail
If you tasted this cocktail you would never guess the secret ingredient was Jägermeister. It is quite mild and a very palatable way of enjoying the digestif if you don't normally enjoy the taste of Jägermeister.
Go on and try to make this next time you have Jägermeister around.
FAQ
What Are the Most Common Ingredients That Start With J?
You might find different ingredients in your region that are more common than somewhere else in the world, but these are the most common around the world:
Jalapenos
Jam
Jelly
Jerk / Jamaican Seasoning
Jackfruit
Is there Fast Food that Starts with J?
There are actually quite a few fast-food chains in the United States that start with the letter J. For those looking to skip the cooking, here is a list of the chains that start with the letter J where you can pick up some fast food.
Jack in the Box
Jack's
Jamba Juice
James Coney Island
Jason's Deli
Jerry's Subs & Pizza
Jersey Mike's Subs
Jimboy's Tacos
Jimmy John's
Johnny Rockets
Jollibee
Juan Pollo
Juice It Up!
Ready to Try Some Foods That Start With J?
So, if you need to make foods that start with J for a party, a challenge, or simply if you want to try something new according to the alphabet, there are plenty of recipes for you to try. No matter if you are looking for a drink, snack, or entire meal complete with 'J' side dishes, you will find something that suits your taste.
If you aren't able to find a dish you like, or if you don't feel like trying something new, simply highlight your 'J-lettered' ingredient at the beginning of your dish name, easy as pie.