This saucy Jambalaya pasta recipe will be a family favorite! Fresh veggies, shrimp, sausage, and spices make this meal unforgettable!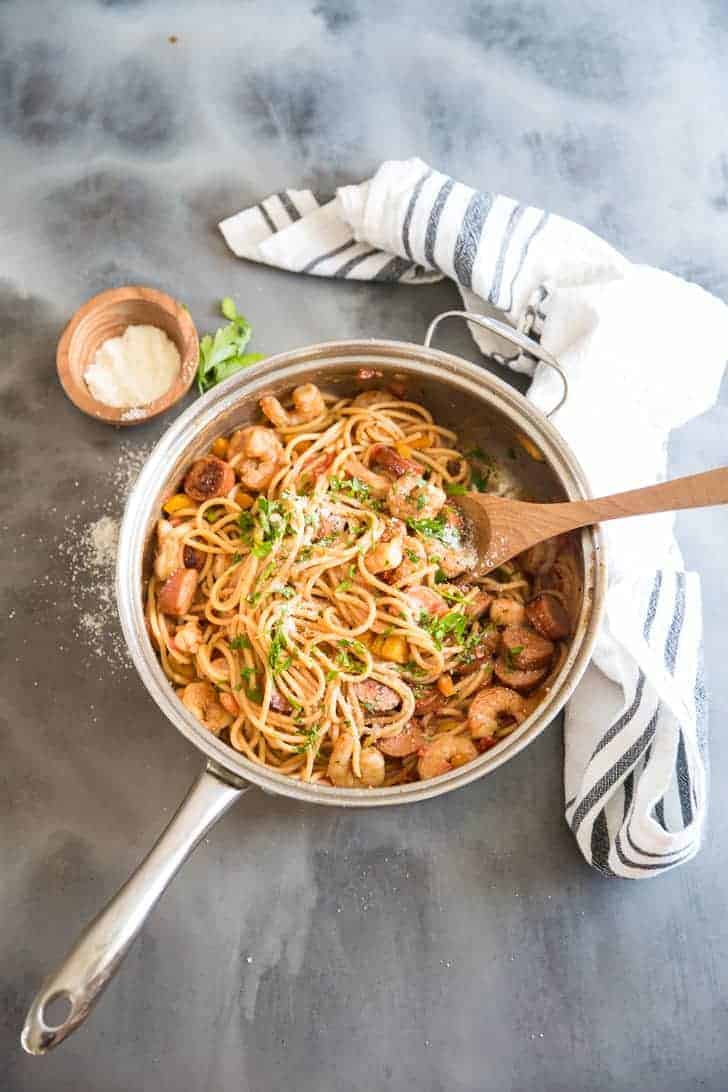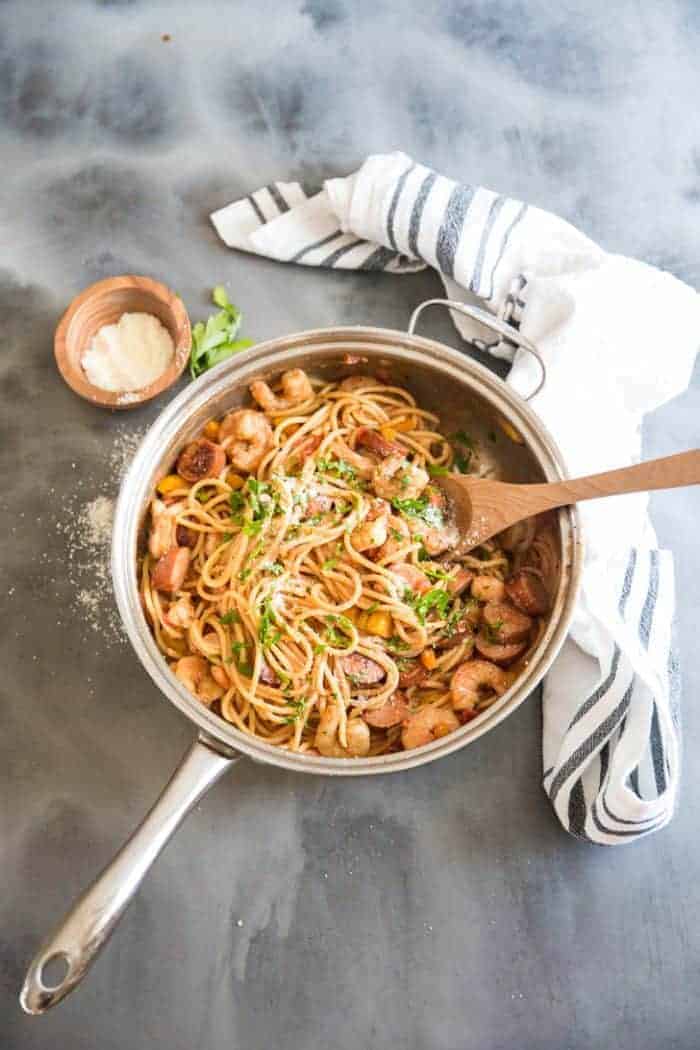 Jambalaya Pasta Is Ideal For Busy Weeknights!
My oldest told me the other day, that she is thinking she probably will not do gymnastics during all 4 years of high school.  My daughter is in the 8th grade and she is a talented gymnast.  It does pain me a little to hear her make mention of possibly quitting gymnastics.  Selfishly, I know I'll really miss watching her.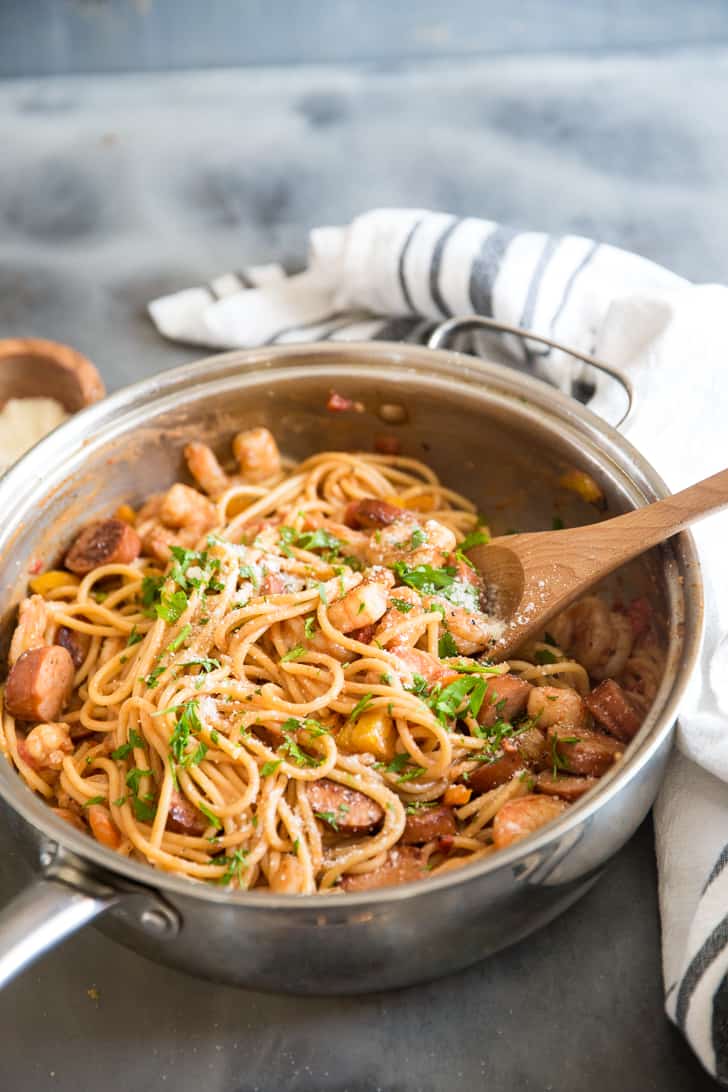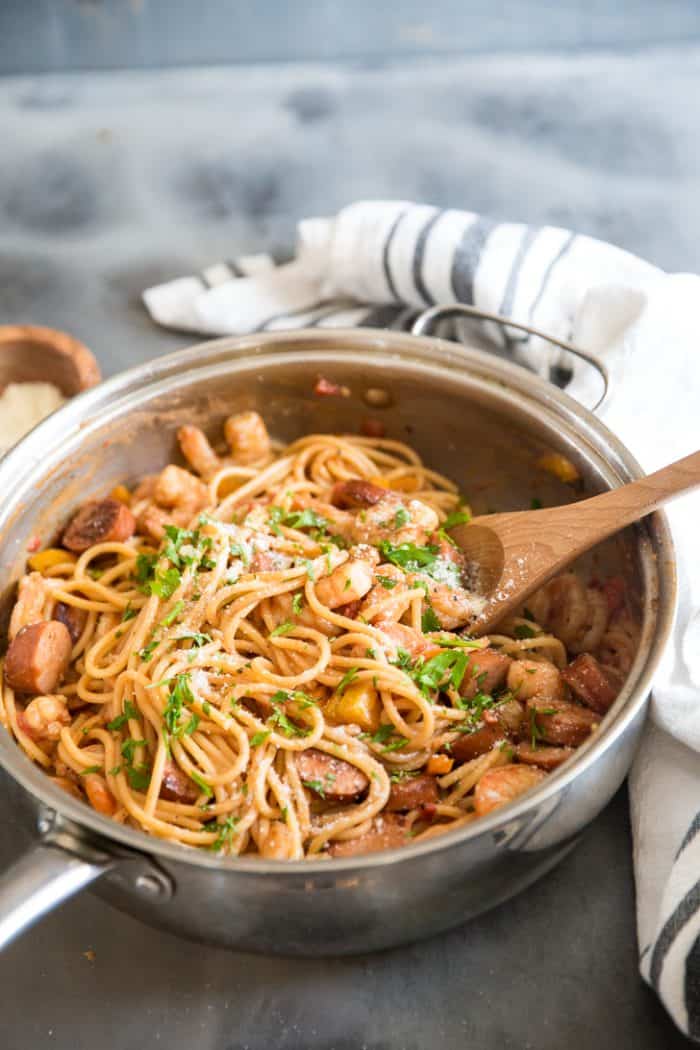 I'll support her when the day comes for her to quit, however, I don't support her reason for quitting.  In her 14-year-old mind, she is anxious to get a job.  I remember being that age and thinking how fun it would be to work and bring in some money.  I hated asking my parents for spending money, so I convinced myself that working was my ticket to freedom.  Looking back, I think why the hell was I in such a hurry?  Once you start working, you never seem to stop.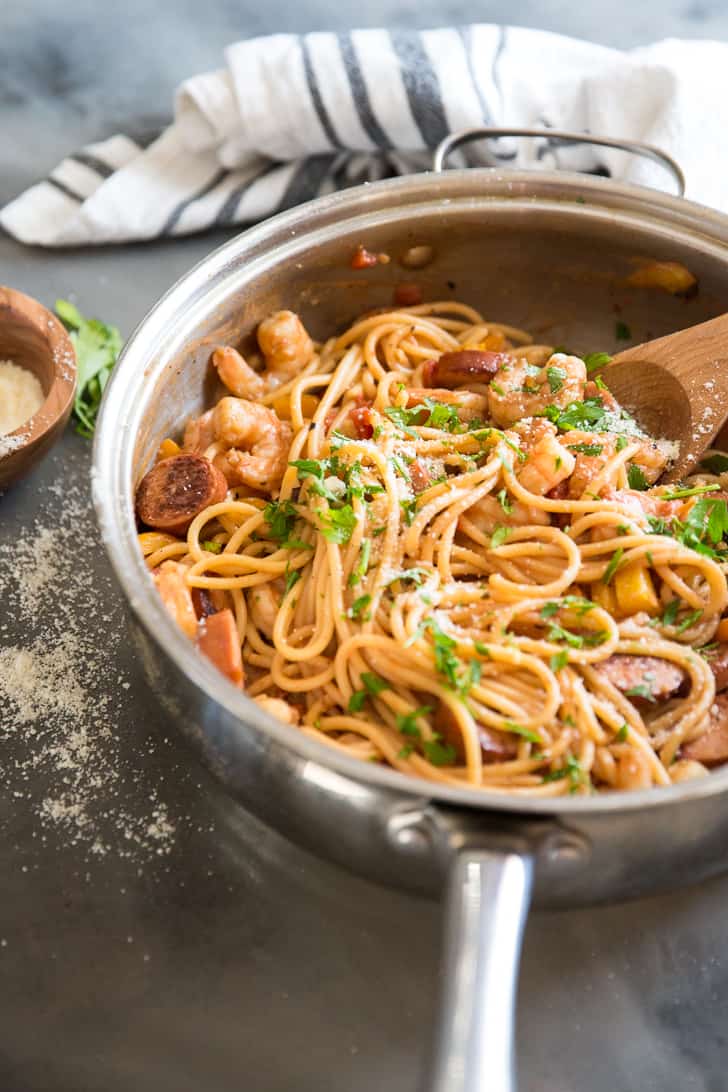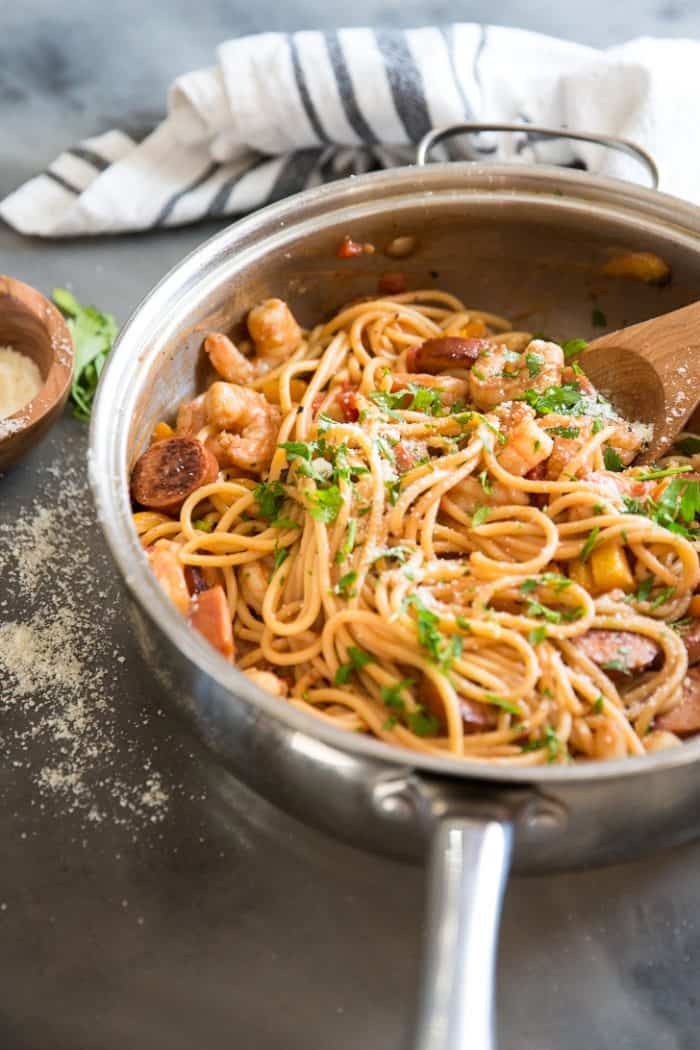 I cannot stress upon her enough that working and adulting sucks.   My husband and I are at the point where we are trying to work LESS!  She has her whole life to work, why rush it?  I want her to follow her dreams in the ways I never did.  I want her to live with no regrets.  Work will always be there, gymnastics will not.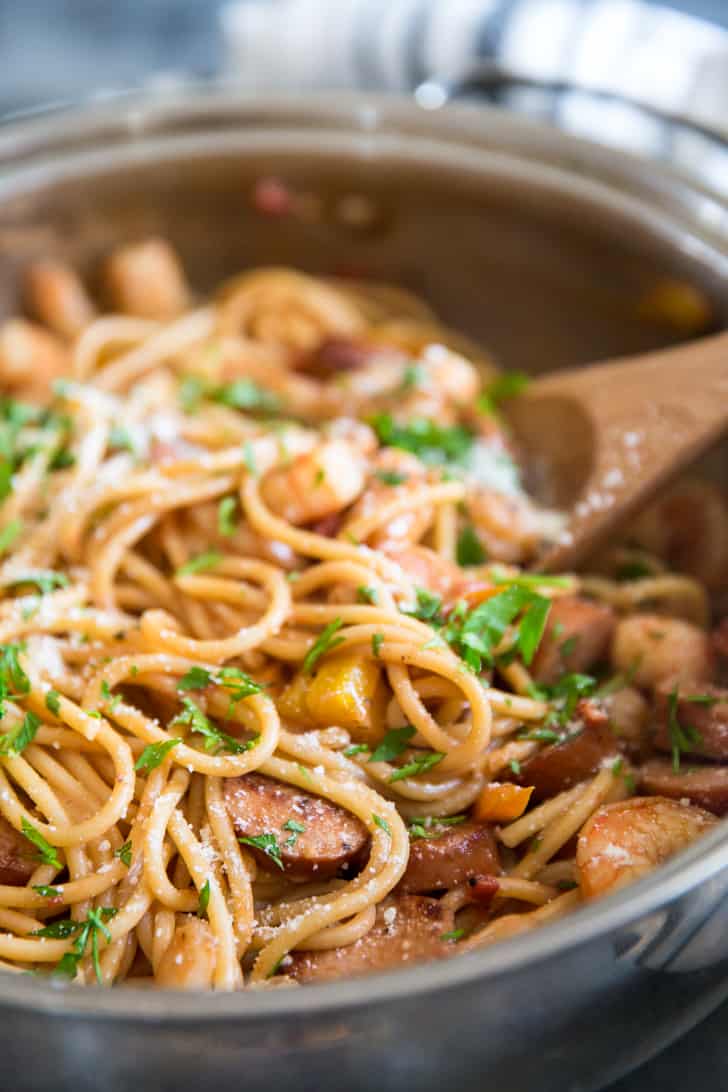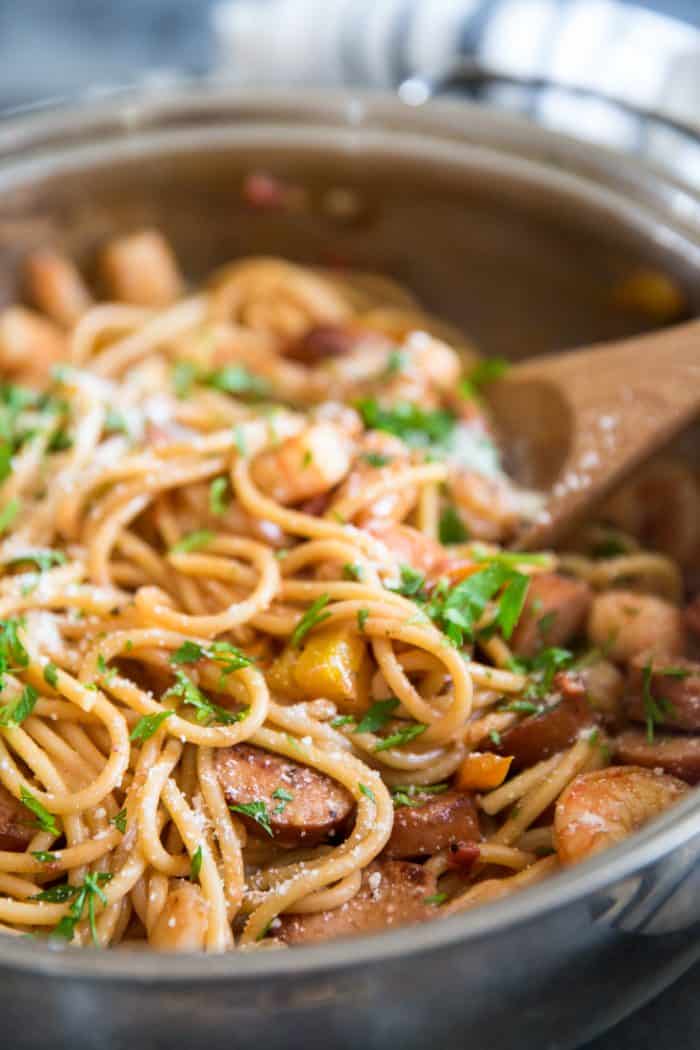 Jambalaya Pasta Is A Family Favorite
I think of my daughter every time I make this recipe; as it is her favorite! This recipe using andouille sausage (a must for Cajun flavor), shrimp, spices, fresh bell peppers!  My trick to keeping this recipe a one pot meal is to cook my pasta in my broth mixture.  It may take a bit longer, but hey, it keeps you from washing another pan!   Wow, I'm ALREADY, doing less work!, How about that?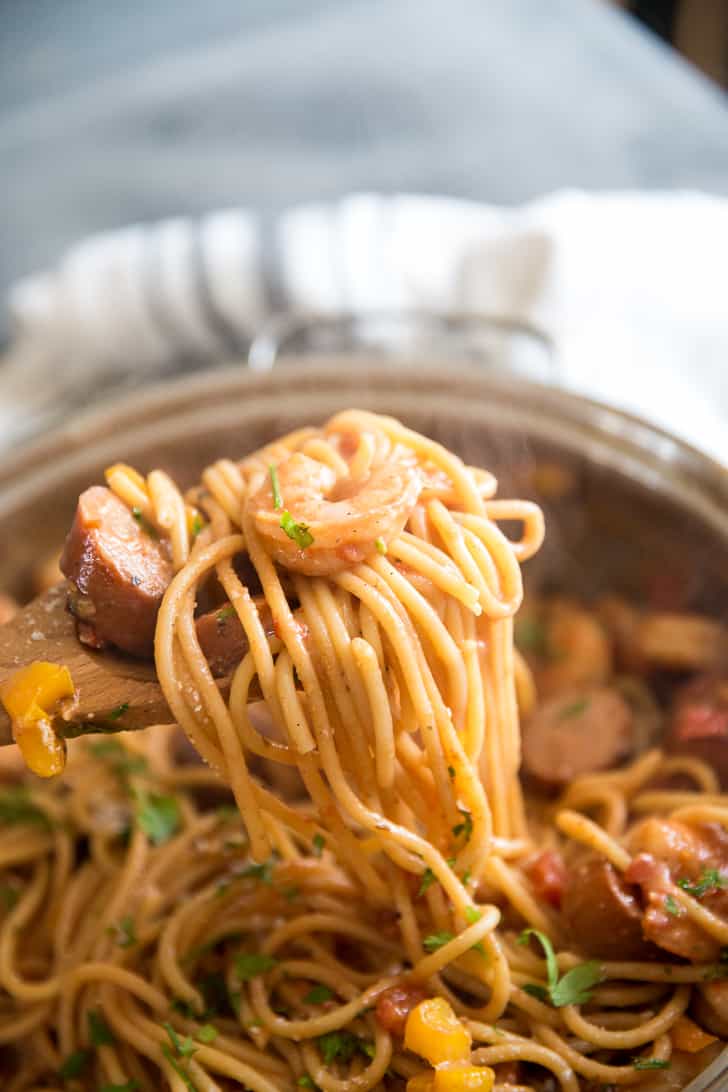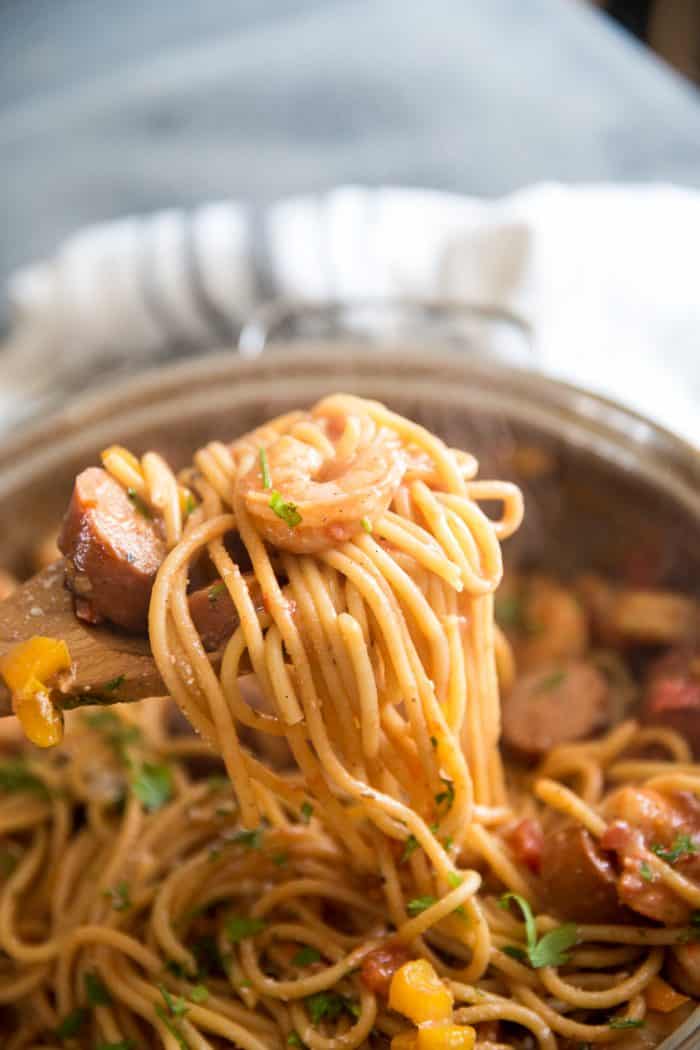 If pasta is also a staple in your house, then you need to try this Pasta with Peas and Sundried Tomatoes, this Sausage Pasta with Spinach and Leeks, or this Creamy Lemon Pasta Recipe!  For more Cajun recipe, try this Cheesy Cajun Chicken Pierogy Bake, or this One Pot Cajun Chicken and Rice!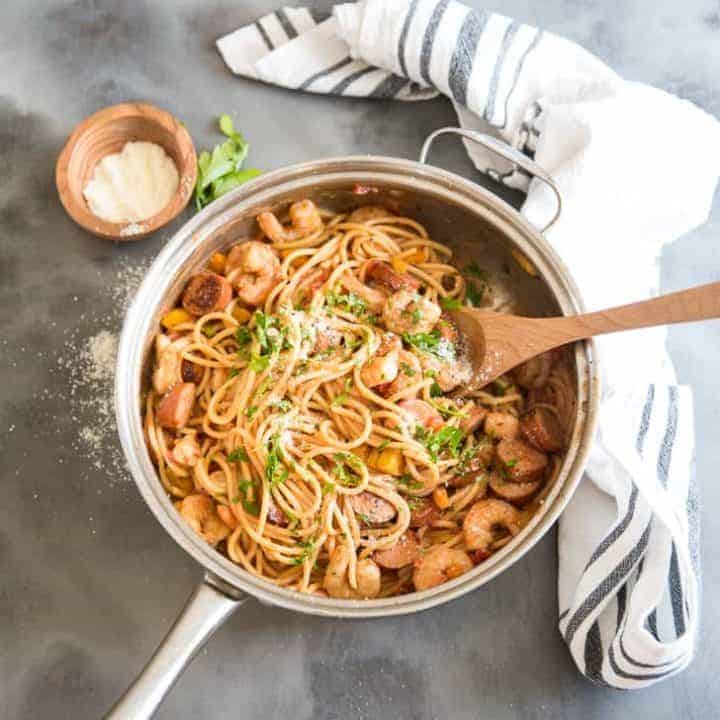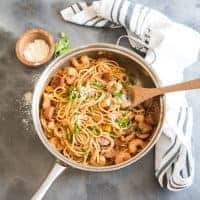 Easy Jambalaya Recipe with Pasta
Yield: 6

Prep Time: 10 minutes

Cook Time: 40 minutes

This saucy Jambalaya pasta recipe will be a family favorite! Fresh veggies, shrimp, sausage, and spices make this meal unforgettable!
Ingredients
1 lb andouille sausage, sliced
1 lb shrimp, peeled, deveined, tails removed
1 teaspoon olive oil
1/2 yellow pepper, diced
1/2 orange pepper, diced
1 teaspoon cumin
1 teaspoon garlic powder
1 teaspoon paprika
1 teaspoon oregano
1 teaspoon thyme
1/2 teaspoon cayenne pepper
1/2 teaspoon salt
1 32 oz container chicken broth
1 14 oz can crushed tomatoes
1 cup whole milk
1 lb bucatini pasta
1/2 cup grated Parmesan cheese
Instructions
Spray a large, deep skillet with non-stick spray and place over medium heat. Add the sliced sausage and cook until browned, remove and set aside. Add the shrimp and peppers to the same skillet. Season shrimp with cumin, garlic powder, paprika, oregano, thyme, cayenne pepper, and salt. Stir. Cook mixture until shrimp is no longer pink and vegetables begin to soften. Remove mixture and set aside. Place the broth, tomatoes, and milk in the same skillet. Bring broth mixture to a boil, add pasta. Reduce heat, stir pasta and cover (leave the lid slightly ajar to allow for steam). Continue to cook pasta 20-25 minutes until al dente and until the sauce has thickened; stirring often.

When pasta is ready, add sausage, shrimp and vegetables. Stir in Parmesan cheese just before serving.
Nutrition Information

Amount Per ServingCalories 0 Total Fat 0g Saturated Fat 0g Cholesterol 0mg Sodium 0mg Fiber 0g Sugar 0g Protein 0g