Cajun Shrimp Mac and Cheese – Cajun shrimp are resting atop creamy baked mac and cheese! You won't be able to resist making this recipe!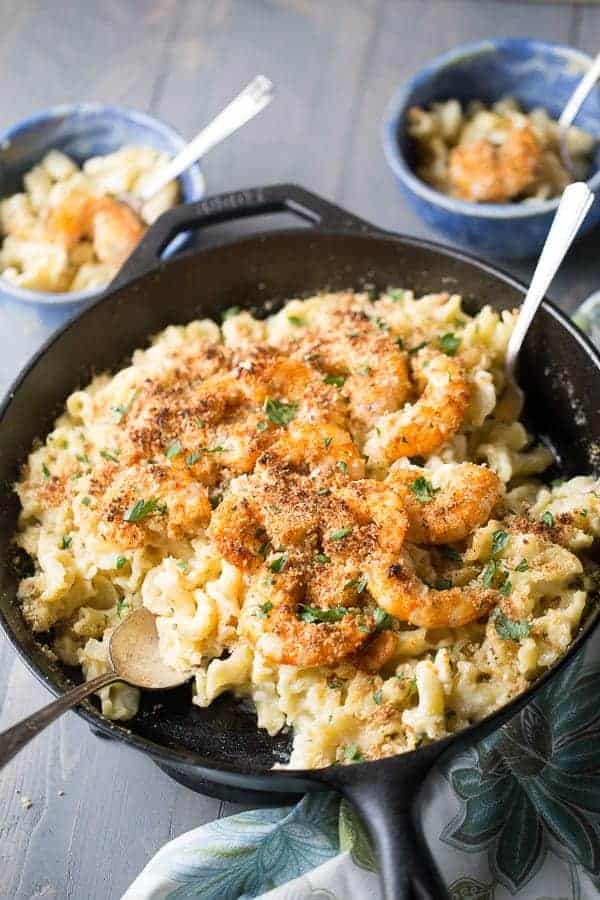 I have a confession; I don't like steak. There I said it. I like food with steak like this steak and Brussels sprouts stir fry or this steak pizza, but I'm not a big fan of eating steak for steak's sake.
Steakhouses are the worst with all their fancy cuts of beef. The waiters all talk in hushed, excited tones about each cut of beef and how they are prepared as if each filet or rib eye has come directly from heaven. When the plates are delivered, everyone ooh's and ahh's over their "entree" as if they are some treasured gift. It's beef….expensive beef, and your sides aren't factored into the cost of your dinner. Steak houses can keep all that pomp and circumstance, I have something I like better.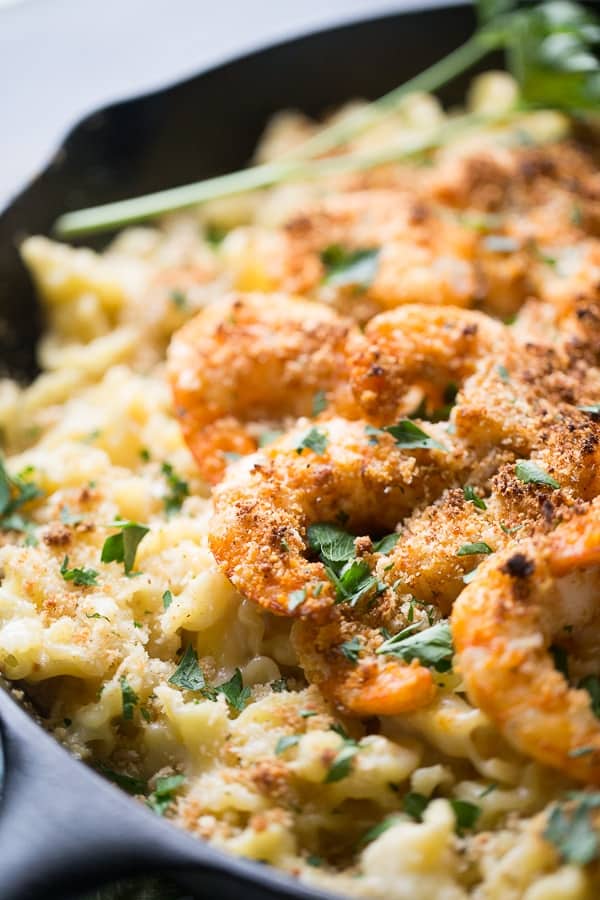 Cajun Shrimp Mac and Cheese
I like shrimp, specifically Cajun shrimp. I like jumbo gulf shrimp tossed in butter and seasoned with spicy Cajun seasoning. Then I like that shrimp nestled into al dente pasta that gets covered in a velvety smooth cheese sauce. Tender bread crumbs are sprinkled over the top just before this kicked up mac and cheese gets placed in the oven. But it isn't baked for long, just long enough for those bread crumbs to crisp up and the cheese sauce to thicken around the curves of each piece of pasta. Oh yes, that's what I like to eat!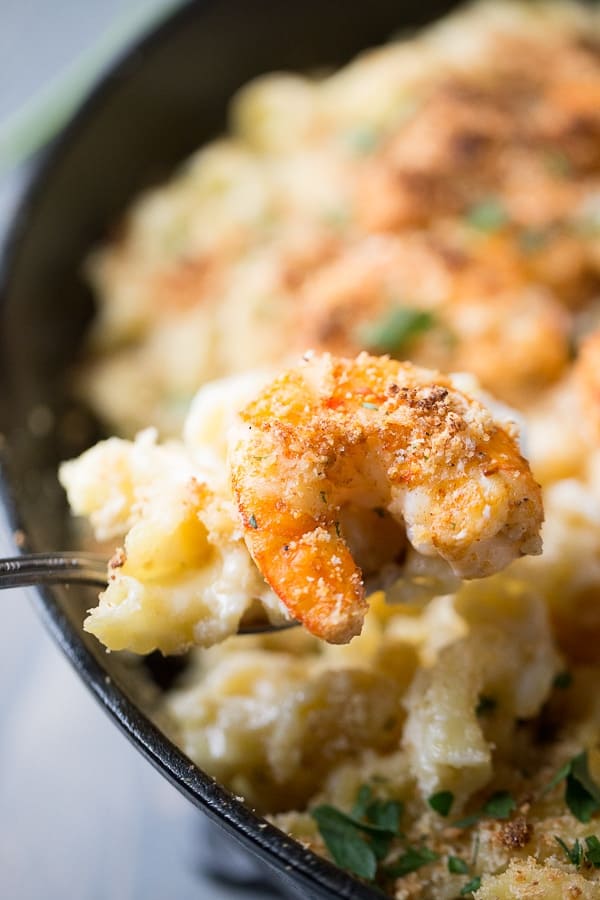 Keep your steak if that's what you want, I won't judge. Or…you could be getting a belly full of spicy Cajun shrimp and rich mac and cheese. Plain steak or buttery shrimp and creamy pasta? A bite or a mouthful? You can think about it if you'd like, get back to me when you are ready. My Cajun mac and cheese will be here all day.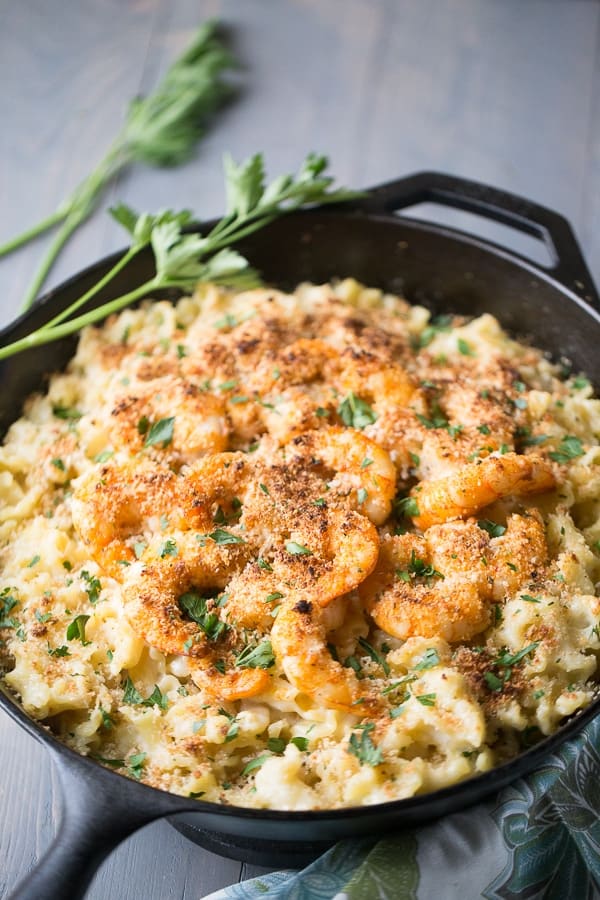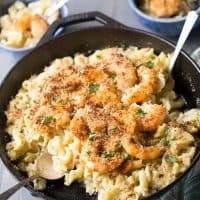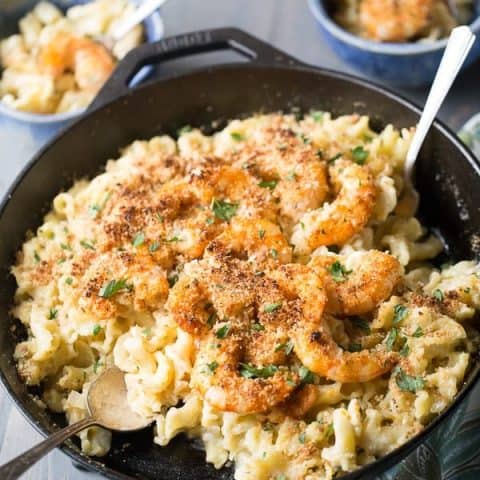 Cajun Shrimp Mac and Cheese
This Cajun Shrimp mac and cheese is creamy, spicy and totally delicious!
Ingredients
1 teaspoon olive oil
1/4 cup diced onion
1/4 cup diced green pepper
2 cloves garlic, minced
1 tablespoon butter
1 lb Key West Jumbo Gulf Shrimp, peeled and deveined (I used Private Selection)
2 teaspoons Cajun seasoning
1 lb Campanella pasta
3 tablespoons butter
3 tablespoons flour
1 cup milk
1/2 cup heavy cream
1 cup shredded white cheddar
1 cup shredded jack cheese
1/4 cup Panko bread crumbs
1/4 cup bread crumbs
2 tablespoon Parmesan cheese
1 tablespoon melted butter
Instructions
In a large skillet, heat olive oil over medium heat. Add onions and bell peppers and cook for 2 minutes. Add minced garlic, stir and cook an additional minute or until vegetables have softened. Remove vegetables and set aside.
Add the butter to the same skillet. Add shrimp and Cajun seasoning, tossing to coat. Cook shrimp for 2-3 minutes or until no longer pink.
Meanwhile prepare pasta according to package directions.
Preheat oven to 375 degrees. Heat a large saucepan over medium heat. Add butter and flour whisking until combined. Slowly whisk milk and heavy cream and continue to whisk until smooth. Reduce heat to medium-low and cook milk mixture for 3-5 minutes or until it begins to thicken (do not let the milk boil). Whisk in cheese and stir until smooth. Carefully toss pasta with cheese sauce and cooked vegetables.
Pour pasta into a cast iron skillet that is sprayed with cooking spray. Arrange shrimp over the pasta. In a small bowl, combine bread crumbs, panko bread crumbs and melted butter. Sprinkle bread crumbs over pasta.
Place pasta in the oven and bake for 12-15 minutes or just until cheese has set Preheat broiler and broil pasta for 3 minutes or just until bread crumbs are golden, and cheese bubbles.
Nutrition Information
Yield

6
Serving Size

1
Amount Per Serving
Calories

620
Total Fat

35g
Saturated Fat

20g
Trans Fat

1g
Unsaturated Fat

12g
Cholesterol

253mg
Sodium

1547mg
Carbohydrates

40g
Fiber

2g
Sugar

2g
Protein

35g
More Recipes For You To Love:
One Pot Bacon Chipotle Mac and Cheese – Julies Eats and Treats
Creamy Baked Macaroni and Cheese Casserole – Yummy Healthy Easy
Firecracker Shrimp Macaroni and Cheese – SugarDish Me