Thanksgiving mac and cheese is a popular holiday side dish, especially if you live in the South. There are plenty of reasons you should include it in your yearly feast.
Not only is mac and cheese a creamy, filling, comfort food, but it also won't break the bank either. Most people love mac and cheese, and it is usually associated with sharing, so why not try to include it in your family meal at Thanksgiving this year?
Best Cheeses to Use for Mac and Cheese
Gouda or Cheddar – both of these are creamy medium softness cheeses that work well as the base of your cheese sauce.
Parmesan – added to the top or sauce of your mac and cheese to add a deep, nutty flavor.
Cream cheese – a good substitute for a cheese roux as the main cheese sauce for your dish.
Monterey Jack or Mozzarella – both are mild in flavor and should be used alongside a stronger cheese, but they deliver a great creaminess to the dish with a good cheese pull.
Best Pasta for Mac and Cheese
Of course, any mac and cheese should be made with macaroni, which can be broadly defined as a tube-like pasta, perfect for gripping onto gooey cheese.
Ziti – large and ideal for baked mac and cheese
Penne – a good all-purpose pasta, works great in stovetop mac and cheese or baked versions
Elbows – small and slightly curved pieces of cylindrical pasta, the classic choice for mac and cheese.
Shells – they come in a large variety of sizes, but the smaller versions do best as they hold just enough cheese sauce in a bite.
Seasonings You Can Add to Thanksgiving Mac and Cheese
If you're feeling the need to level up your regular mac and cheese recipe, try adding some seasonings to it to top it off.
Garlic and onion powder – they are a very cheap and widely available spice to add to your mac and cheese to elevate it a little bit more than usual.
Oregano and Basil – both these herbs can be added in fresh or dried and won't overwhelm your dish, but simply complement the cheese flavor.
Paprika – you can add plain or smoked paprika to your Thanksgiving mac and cheese to give it a deeper taste and great color.
Cayenne or Chili – adding some dried pepper flakes or powder can add a delightful spiciness to your dish, and a little goes a long way.
Nutmeg – it goes surprisingly well with savory comfort foods, just add a tiny amount to elevate your dish.
20 Thanksgiving Mac and Cheese Recipes
Thanksgiving can be a day full of traditional food or something new, like including mac and cheese to share with your family.
1. Crockpot Mac and Cheese
If you're feeling a bit overwhelmed with Thanksgiving preparations, try following this simple crockpot mac and cheese recipe. You'll be able to set it and forget it for the day while you prepare the rest of the feast.
2. Green Chile Mac and Cheese
For a great way to use up any leftover turkey, try this recipe from Lively Table that shows you how to make a delicious Thanksgiving side in under 20 minutes.
3. Quinoa Mac and Cheese
Not everyone can get their hands on gluten-free macaroni, or maybe you'd like to add a healthier option of mac and cheese to the table. Nutrition in the Kitch has a great high-protein alternative to mac and cheese, using quinoa.
4. Cajun Shrimp Mac and Cheese
If you're a fan of shrimp, this cajun shrimp mac and cheese recipe is what dreams are made of. You'll be able to make a creamy baked side with a hint of spice to add to the table in about 40 minutes.
5. Southern-Style Mac and Cheese
It is a tradition to eat mac and cheese for Thanksgiving in the South. Why not try to make this authentic baked version from Immaculate Bite for your own holiday table and impress all of your guests?
6. One Pot Mac and Cheese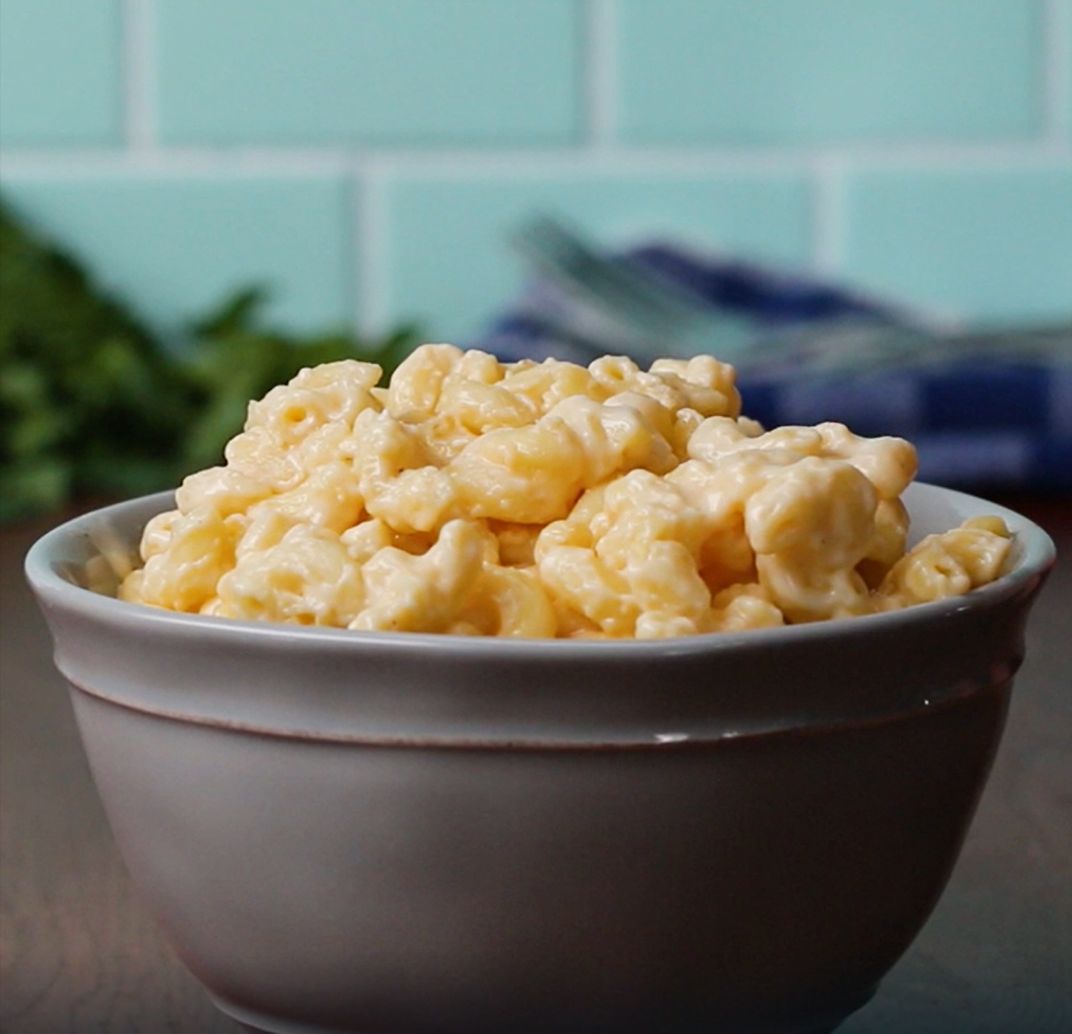 When you're going the baked mac and cheese route, there will be a lot of dishes to clean. So if you're not up for doing dishes, try making this one-pot mac and cheese from Tasty to not only save you time but also make a flavorful dish.
7. Lobster Mac and Cheese
The best way to make mac and cheese over-the-top good is to add a lobster-infused cheese sauce. By adding the taste of lobster to your dish, you'll be able to make your mac and cheese stand out from the rest.
8. Mac and Cheese with Ground Beef
Sometimes, all kids eat on Thanksgiving is the mac and cheese. So if you want yours to be as filling as a main course, try following this recipe from The Spruce Eats.
They add some well-seasoned ground beef to the recipe for a creamy and hearty dish.
9. Italian Mac and Cheese
Delish offers us this recipe for Italian mac and cheese that is not only delicious but also great if you want your mac and cheese to be a bit different. The recipe includes Italian sausage and marinara sauce for a flavor-packed meal.
10. Mini Mac and Cheese Bites
These mini mac and cheese bites from Taste of Home are ideal if you want to make it easy to provide small portions or put down a quick and filling snack on the table.
11. Instant Pot Mac and Cheese
If you have no time to prepare a side dish, think again. Pinch of Yum has an instant pot mac and cheese recipe to make in less than 10 minutes and with only 5 ingredients.
12. Crab and Bacon Mac and Cheese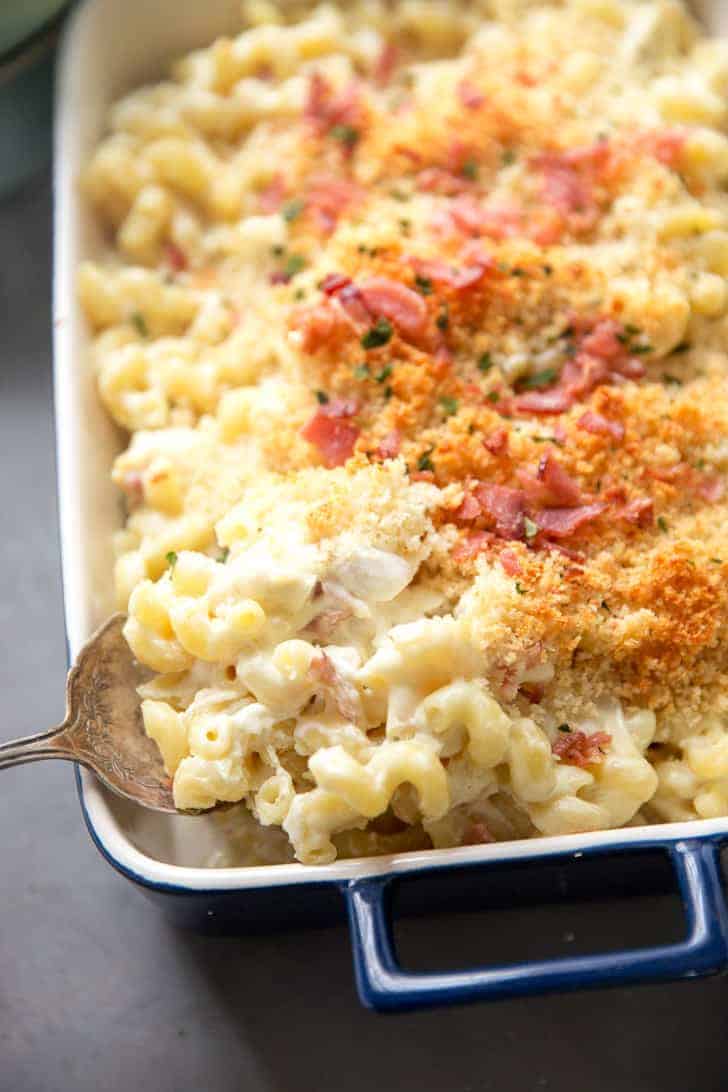 What's better than combining seafood and comfort food in the same dish? For an easy gourmet recipe, try this crab and bacon mac and cheese that will have everyone coming back for seconds.
13. Broccoli Mac and Cheese
Broccoli and cheese go together very well. So, if you are wanting to add more veggies to your diet, you could put some broccoli in your mac and cheese.
Damn Delicious shows us how to make this broccoli mac and cheese recipe in under 30 minutes.
14. Sheet Pan Mac and Cheese
By using a sheet pan and some breadcrumbs, you're almost guaranteed to have a crunchy, cheesy experience with every bite. If that's what you're looking for in a good mac and cheese, the Delish has a simple recipe.
15. Spanakopita Mac and Cheese
Spanakopita is a greek spinach pie you wouldn't expect to mix with mac and cheese. But if you incorporate similar flavors into your mac and cheese, you will have a delicious and healthy meal every time.
16. Spicy Roasted Veggie Mac and Cheese
Serving roasted veggies at Thanksgiving is always a great idea. But combine those veggies with some creamy mac and cheese, like the recipe at The Comfort of Cooking, and you're in for an even more indulgent experience.
17. Vegan Mac and Cheese
Those that are lactose-intolerant or vegans do not have to be left out of enjoying a good-tasting mac and cheese this holiday. Detox Insta offers us this vegan-friendly recipe that is full of flavor.
18. Mexican Mac and Cheese
Simply add chicken, veggies, and jalapenos to your mac and cheese to make it Mexican-inspired. That way, you can enjoy the best of both worlds.
19. Gluten-Free Mac and Cheese
Making something as indulgent as mac and cheese gluten-free isn't always easy. However, Mama Knows Gluten-Free has a tried and tested recipe that is loaded with flavor but won't cause any allergies to flare up.
20. Buttermilk Ranch Mac and Cheese
Make mac and cheese even more comforting by adding buttermilk, bacon, and chicken to the dish. With this recipe, you can make a hearty mac and cheese in about 40 minutes.
How to Make Baked Mac and Cheese for Thanksgiving
Baked mac and cheese is a staple comfort food for any get-together, including Thanksgiving. It's quite easy to make and will satisfy even the pickiest eaters. The recipe makes enough for four people.
Ingredients
½ lb. dried elbow pasta (or your favorite pasta type)
¼ cup unsalted butter (adjust salt if you're using salted butter)
¼ cup all-purpose flour
¾ cups whole milk
1 ¼ cups half and half
2 cups shredded medium sharp cheddar cheese divided
1 cup shredded Gruyere cheese divided
¼ tbsp. salt
¼ tsp. ground black pepper
¼ tsp. paprika
Instructions
Step 1. Preheat oven
Preheat the oven to 325 degrees F and grease a baking pan twice as big as the amount of pasta you will use.
Step 2. Cook pasta
Bring a large pot of salty water to a boil, and add your pasta as soon as it is boiling. Cook it for 1 minute less than what the package directions indicate. Drain and drizzle with olive oil to prevent it from sticking.
Step 3. Shred cheeses
While you wait for the water to boil and pasta to cook, shred all your cheese and divide it in a 2:1:1 ratio. 2 parts for the sauce, 1 part for the middle layer, and 1 part for the top.
Step 4. Mix butter, flour, and half and half
Melt your butter in a pan over medium heat and stir in flour. Continue whisking the sand-like mixture for about a minute until the raw flour smell is gone. Slowly add the half and half into the mixture, whisking as you go to keep the mixture smooth.
Step 5. Add cheese to the mixture
Cook the mixture for another minute or until it becomes thick and creamy. Remove from heat and add the cheese you put aside for the sauce. Stir until combined.
Step 6. Mix pasta into the sauce
Mix your sauce and pasta when they're both ready until the pasta is fully coated with the cheese sauce.
Step 7. Put the mixture in the baking pan
Add half of the mixture into your greased baking pan, and top with one part of the remaining cheese before adding a final pasta layer, topped with the last bit of cheese.
Step 8. Bake
Bake for 15-20 minutes until the top layer of cheese is golden and bubbly.
Butter Substitutes for Mac and Cheese
Traditional mac and cheese is made with butter, but if you've run out or prefer a vegan-friendly option, there are loads of substitutes that will do the job.
Margarine – this is the best option for a butter substitute is margarine since it tastes very similar but is made without milk.
Ghee- it is still butter, only clarified by removing all the solids of butter, so you're left with rich ghee that has a subtle nutty flavor. It's not always 100% safe for lactose intolerant people, so beware.
Oil – if you're using the oil in your cheese sauce, beware that you might have to practice to get it just right, but is an option as a butter substitute.
Cream cheese – a great rich replacement for butter or roux, but you should add a bit of milk, cream, or oil to avoid a sticky sauce that might be difficult to mix into your pasta.
Ways to Thicken Mac and Cheese
Sometimes a roux, also known as a white sauce, isn't thick enough for a baked mac and cheese or even stovetop mac and cheese. There are some easy ways around this problem.
Reducing the liquid
You can simply cook your sauce on low-medium heat for a while longer so it can reduce the water content. Be careful not to burn your sauce if you use cream or cheese since it can burn quickly.
Add More Cheese
Who doesn't love more cheese? Simply adding more of it to your sauce is a quick way to thicken it up. The best cheese would be a basic cheddar or gouda since it is creamy and not dried out like parmesan or other hard cheeses. A soft cheese won't really thicken up your sauce.
Add Flour or Starch
You can add all-purpose flour or starch to your mixture to thicken it up very quickly. Just ensure you mix your flour or starch with a bit of water or milk first to avoid lumps. Use potato starch, corn starch, or even chickpea flour if you don't have all-purpose flour around or need a gluten-free option.
Add an Egg Yolk
Eggs can thicken up your sauce quite a bit, but there is a trick you have to learn before you end up making a scrambled-egg sauce. Add small amounts of your sauce to a separate bowl of mixed egg yolk as a way to temper the yolk. Once it has reached a temperate similar to your sauce, add it to the sauce.
Mac and Cheese Add-Ins to Make It Even Better
Mac and cheese itself is great to enjoy at any time of year, but sometimes adding extra ingredients makes it a next-level comfort food dish.
Bacon – crispy pieces of bacon add salty, meaty goodness to the dish.
Stir-fried onions and bell peppers – these add a fresh taste to the dish, cutting the richness of the cheese a bit.
Broccoli – adding some veggies never hurt anyone, but it is a great way to bulk up your dish and get a small portion of veggies in for the day. Plus, broccoli and cheese are a match made in heaven.
Ground beef, chicken, or turkey – if you're feeling hungry or have some hungry guests to feed, adding some ground meat to your dish is a great way to keep everyone satisfied for longer.
Bread crumbs – it might be common for some to add breadcrumbs on top of the mac and cheese before baking, but if you've never tried it, this is your sign to do it next time around.
Baked vs. Stovetop Mac and Cheese
Some swear by stovetop mac and cheese, while others wouldn't be caught without a baked mac and cheese, but what is the difference?
Baked Thanksgiving Mac and Cheese Pros and Cons
There are some upsides and downsides to making your mac and cheese in the oven.
Pros of Baking Mac and Cheese
A firmer texture
Golden baked cheese top
Deeper flavor
Cons of Baking Mac and Cheese
It takes a lot longer
You're dirtying a lot more dishes
You have to serve it hot and fresh, else the texture becomes rubbery
Stovetop Thanksgiving Mac and Cheese Pros and Cons
Stovetop mac and cheese are a staple in the lives of busy people, students, and anyone who needs a quick and easy meal in under 10 minutes.
Cooking Mac and Cheese on the Stovetop Pros
It is quick and very easy to prepare.
You dirty fewer dishes.
Creamier texture.
Stovetop Mac and Cheese Cons
You can't really have a crust on top with cheese or breadcrumbs.
The flavor isn't as rich and deep as with baked mac and cheese.
To some, it is less appealing than a beautifully baked mac and cheese when served.
Common Mistakes to Avoid When Making Mac and Cheese
The best way to learn how to make the tastiest Thanksgiving mac and cheese is to know what mistakes you should always avoid.
Not Using Enough Cheese
Cheese is in the name of the dish, so it goes without saying – don't hold back on the cheese. And try to use real cheese and not flavored sauce mixes. If you have to use the flavored sauce packets, add a bit of real cheese to the sauce too.
Using the Wrong Pasta
You can make mac and cheese with a lot of types of pasta, but ideally, you want a pasta that can scoop up some cheese sauce with every bite, so avoid thin and flat pasta like linguine or spaghetti.
Overcooked Pasta
No one enjoys soggy pasta, so cooking it to perfection is crucial. Mac and cheese, baked or on the stove, has two cooking parts, when you boil it in water and when you cook it in your sauce.
Always slightly undercook it when boiling to have it perfectly al dente when added to the sauce for the second round of cooking.
Having a Runny Sauce
You have to make a cheese sauce, not a thin soupy dressing – so ensure your sauce is thick enough to ensure your pasta stays coated but thin enough to still be considered a sauce.
Never use store-bought pre-shredded cheese since it won't melt due to the anti-caking agents added in – and thus, it won't thicken up your sauce.
Using One Type of Cheese
While you certainly can make mac and cheese with only one type of cheese, it will not be considered exceptional. Always use creamy cheese for the base of the sauce that will melt well, and add some cheese with a stronger flavor to set it apart from all the other mac and cheese you've had.
Parmesan, gruyere, and even Roquefort are good options to consider.
FAQ
Is Mac and Cheese Traditional for Thanksgiving?
It hasn't always been traditional for Thanksgiving, except for those celebrating the day in the South. More recently, it has become a part of more family dinners, including Thanksgiving.
Why Do People Put Breadcrumbs on Mac and Cheese?
Adding a thin layer of breadcrumbs over the top cheese layer of mac and cheese ensures a crispy golden brown top when baking the dish in the oven.
Do You Need Milk for Mac and Cheese?
You don't need milk for mac and cheese, there are lots of options to replace milk in the recipes. You can use heavy cream, cream cheese, or even dairy-free milk if you'd like.
Why Is My Baked Mac and Cheese Oily Instead of Creamy?
The reason for oily baked mac and cheese is either cooking the dish too long at too high of a temperature, causing the oils to separate in the cheese, or not draining your pasta well enough, causing the water to evaporate and split the emulsion of your cheese sauce.
How Do You Keep Mac and Cheese Creamy?
Cover your dish with foil when baking to avoid it drying out, and broil it only for a few seconds to get a golden top. You can also add more milk products into your dish, such as heavy cream, cream cheese, or simply more cheese than you have used already
What Does Butter Do in Mac and Cheese?
Butter is used when preparing a rich and creamy roux to be the base of a homemade cheese sauce. You can use butter substitutes if you don't want to use butter, but it is traditionally added to the sauce.
Conclusion
Thanksgiving mac and cheese is becoming a tradition in the homes of people celebrating the special day with friends and family. It is a comfort dish that usually means sharing, and is, therefore a perfect dish to serve alongside, or without, a turkey. It is a cost-effective dish without compromising taste.