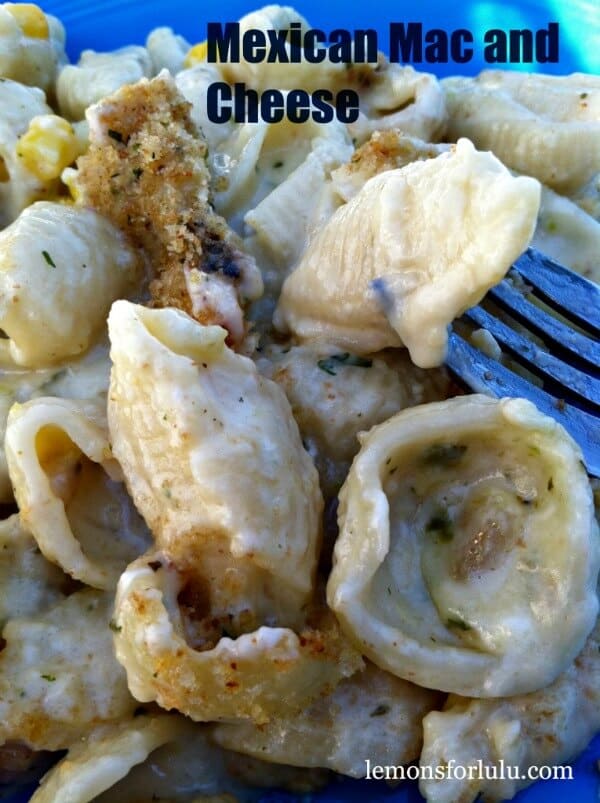 My husband and I don't get out to eat alone very often because it's just easier that way then trying to round-up a babysitter.  And being a stay at home mom, I don't get to try a lot of different restaurants for lunch.  There is one Mexican restaurant in downtown Cincinnati, that has come up regularly as a place we need to visit.  When people talk about this restaurant, they mention two things, the margaritas and the Mexican mac and cheese.  I'm a big fan of both margaritas and cheesy pasta dishes, so I knew I had to check this place out.
Since my kids were out-of-town this week, my husband and I felt it the opportune time to visit this restaurant.  I'm sooo glad we did!  It met all my expectations!  I love spicy food and I was not disappointed!  The best part was we had an exceptionally friendly and talkative waiter who divulged the ingredients to everything I consumed.  It was fantastic!    Now, I must admit, I did have a few too many blueberry vodka lemonades, so I was a bit worried that some ingredients would be lost by the time I actually went to make up my own Mexican mac and cheese.  I asked my husband for a pen so I could write it all on my arm, but he refused to hand one over.
Somehow,  I was able to recreate the infamous Mexican mac and cheese the next day.  The big secret was adding jalapeno pesto.  This gives the Mexican mac and cheese the heat which hits you a few seconds into each bite.   The poblano pepper gives it the smokiness and I HATE to admit this, but the creaminess comes from none other than Velveeta cheese!  I  threw in corn mainly because we had left over cobs and I also added rotisserie chicken to make it more of a meal than a side dish.  You could leave out both.  This is an amazingly creamy and flavorful mac and cheese.   This is the perfect accompaniment for margaritas!    If you love Mexican food and you love mac and cheese,  I strongly urge you try this…..now!  Go!!
If you've enjoyed this post please consider subscribing via email, RSS, Facebook or Pinterest.  I love staying in touch with friends!
If you like this pasta dish, here a few others:
Jalapeno Popper Mac and Cheese with Andouille                           Lemons for Lulu
Busy Night Pasta Jambalaya                                                                Lemons for Lulu
Look at these fabulous dishes I found on Pinterest!
Fiesta Ravioli                                                                  Pearls, Handcuffs, and Happy Hour
Mexican Pasta Bake                                                       Taste for Adventure
Jalapeno Cheddar Pasta                                                 Created by Diane

Lemons for Lulu
Yields 8
Pasta drenched in creamy, cheesy goodness. Each bite come packed with flavor from jalapeno pesto and poblano peppers.
30 minsPrep Time
30 minsCook Time
Ingredients
1lb shell shaped pasta
Rotiserrie Chicken
5 1/2 cups milk
1/4 cup flour
10 T butter, divided
1 cup bread crumbs
8 oz white cheddar, grated
4 oz smoked Gouda, grated
8 oz Velveeta Cheese, cubed
8 oz cream cheese
1/4 cup diced roasted poblano pepper *
jalapeno pesto
pepper
Jalapeno Pesto
1/4 cup cilantro
1 jalapeno pepper diced
1 T pine nuts
1 clove garlic
splash lime juice
1 T olive oil
salt
Instructions
Prepare Pesto:
Mix all ingredients in a food processor. Season to taste. Set aside
In a large saucepan, simmer milk until warm but not boiling. In a separate sauce pan, melt 6 tablespoons of butter on medium low heat. Whisk in flour for 1 minute. Slowly add warm milk constantly stirring. Whisk until milk starts to bubble and becomes thick.
Meanwhile, prepare pasta according to package directions.
When milk is thick remove from heat and whisk in cheeses, stirring constantly until all the cheese has melted. Season with pepper. When pasta is ready, drain and run under cool water. Return to pan, toss with chicken and poblano pepper. Add cheese sauce stirring to combine. Add pesto. Pour onto a greased 9x13 baking dish.
Melt 4 T butter. Toss with bread crumbs. Pour bread crumbs over pasta and bake in a 375 degree oven for 30 minutes.
*to roast poblano pepper, line a baking pan with foil. Roast in a 400 degree oven for about 10 minutes or until the skin has blistard. Place pepper in a brown paper bag and let sit for about 15 minutes or until cool enough to handle. Remove skins from pepper.
https://www.lemonsforlulu.com/mexican-mac-and-cheese/
I'll be linking this recipe at:  
   as well as  here:  Link Parties.   Come check them out!