A Dutch oven is one of the most versatile kitchen tools you'll find on the market. It can be used to cook almost anything, but sometimes the Dutch oven recipes available are overwhelming to new users.
Today we're going to share with you everything you need to know about using a Dutch oven and 50 of our favorite Dutch oven recipe ideas that your family and friends will love.
What is a Dutch oven?
A Dutch oven is a thick cooking pot that comes with a tight-fitting lid. They are usually made from seasoned cast iron but could also be created out of ceramic or cast aluminum. They can cook almost any type of food you could imagine and are one of the best investments any keen chef can make for their kitchen.
What Can You Substitute for a Dutch Oven?
If you don't have a Dutch oven just yet, you can still enjoy trying out some of our Dutch oven recipes today. We recommend using a deep oven-proof skillet instead or an oven-proof soup pot. Some recipes don't require you to put the Dutch oven in the oven, so in that case, you can just opt to use a deep, heavy pot instead.
What are some Easy Dutch Oven Recipes to Try?
Even if it's your first time using a Dutch oven, you'll find there's no shortage of delicious recipes to try. These are a few of the best options for anyone who is using their Dutch oven for the first time:
Easy no-knead bread
Dutch oven chicken thighs recipe
Dutch oven chili
Any of your favorite soup recipes
Dutch oven mac and cheese
One-pot spaghetti
Can a Dutch Oven go in the Oven?
Dutch ovens are safe to use in the oven. You might opt to use it this way for Dutch oven bread recipes or braising meat. Just be careful about the knob on the lid, as sometimes this has a temperature limit if you are cooking on a high heat level.
50 Dutch Oven Recipes to Try This Week
1. Multiseed No-Knead Dutch Oven Bread
One of the most popular ways to use a Dutch oven is to make bread in the oven. This is one of the best Dutch oven recipes for new users, and The Delicious Plate shows you how to create this multiseed bread without the hard work of kneading the dough.
2. Crispy Roast Chicken
Dutch oven chicken recipes are easy to find online, but this crispy roast chicken from Where is my Spoon would be ideal for your next Sunday lunch. You'll find that this recipe creates chicken that's moist on the inside and then crispy on the outside, so you won't have to worry about serving this dish to your family and friends.
3. French Onion Soup
During the cold winter months, there's nothing better than coming home to a warm bowl of soup. For the Love of Cooking shares this cozy recipe which incorporates caramelized onions and roasted poblanos which are topped with cheesy toast.
4. Dutch Oven Sourdough Bread
No list of cast iron Dutch oven recipes is complete without a classic sourdough bread recipe. Emily Fabulous shares this simple recipe which uses just four ingredients. In no time at all, you'll create artisan-style bread just like you'd buy at your local bakers.
5. Tomato Braised Lamb Shanks
When you're looking for a comfort food dinner idea, this tomato braised lamb shanks recipe from Rachel Phipps would be the perfect option. Once it's cooked, we recommend serving it with brown rice, potatoes, or polenta, to create a rich and filling meal your whole family will love.
6. Gluten-Free Beef Stew
One of the things we love about the Dutch oven is that it offers you a way to cook meals for any dietary requirements. This beef stew from My Therapist Cooks is ideal for anyone who follows a gluten-free or Whole30 recipe, which will help you to cater to anyone in your family.
7. Peach Skillet Pancake
While many of our Dutch oven camping recipes focus on dinner ideas, this skillet pancake from Home Sweet Table would be ideal for a special breakfast or brunch. It's made with fresh peaches and topped with fresh whipped cream for the perfect start to the day.
8. Pork Tenderloin
Where is my Spoon shares another great meat-based dish, and this time it's a delicious pork tenderloin. It's a simple dish which is packed with potatoes and vegetables, so your whole family will feel full and satisfied after you serve this for dinner.
9. Corn Chowder
Corn Chowder is another of the best Le Creuset Dutch oven recipes, and it's ideal for the upcoming winter months. Fitty Foodlicious shares this recipe, which is topped with bacon and chives for additional taste and texture.
10. Dutch Oven Mac and Cheese
This is one of the easiest recipes on our list today and will be ideal for kids and teens alike. You'll likely have all of the ingredients you need to create this recipe from Vividly Christmas tonight, so it's one of the best ways to test out your Dutch oven before advancing to more complicated recipes.
11. Lamb and Potato Tagine
This Moroccan-inspired dish from Camille Bergerson is perfect for an upcoming dinner party with your family and friends. You'll combine lamb and potato in your Dutch oven to create a hearty and warming dish that would be great served with couscous.
12. Dutch Oven Pulled Pork
When you think about using a Dutch oven, you probably think about creating a beef stew recipe with the Dutch oven or similar dishes. However, it's also the perfect tool for creating pulled pork to add to your burgers. Just follow these instructions from Kathryn's Kitchen to learn more about cooking the perfect pulled pork.
13. No-Knead Flaxseed Bread
If you are looking to cut down on your white bread consumption, you'll love this recipe from Life's Little Sweets. It's a great example of vegetarian Dutch oven recipes and uses just five ingredients to create delicious bread for breakfast and lunch.
14. Vegan Dutch Oven Coconut & Lime Brioche Buns
There's no shortage of vegan-friendly dishes you could cook in your Dutch oven. We love this recipe from Murielle Banackissa, which will impress any guests during the upcoming holiday season.
15. Turkey Tenderloin
If you are looking for a quick and easy turkey dish to serve this holiday season, check out this idea from Timea's Kitchen. The turkey is cooked with sauteed onions, and then it can be served with either mashed potatoes or pasta for a family-friendly dinner.
16. Dutch Oven Carnitas
For your next Mexican night, you'll be pleased you can use your trusted Dutch oven to create this Dutch oven carnitas recipe from Borrowed Bites. They are fall-apart tender and have authentic Mexican flavors with citrus tones. They would be ideal for adding to your tacos, burritos, salads, or any other Mexican dish you fancy.
17. Pot Roast Recipe Dutch Oven
Another classic dish on our Dutch oven recipes list is a pot roast. Modern Meal Makeover shares this best pot roast recipe which is perfectly tender and juicy. It combines potatoes, carrots, herbs, and onions to create a dish that would be ideal for your Sunday lunch or dinner.
18. Italian Sausage Soup
If you are looking for new soup recipe ideas for the winter, this is one of our favorite options for meat-eaters. Chicken Fried Kitchen shares this Italian sausage soup recipe which is hearty and filling and will go down a treat with kids and adults alike. You'll cook everything in your Dutch oven, and then you can serve it with a chunk of crusty bread for a complete meal.
19. Dutch Oven Breakfast Casserole
On your next camping trip, you'll love cooking this Dutch oven breakfast casserole from Colorado Sundays. It will fill everyone up for a day of hiking and adventures, so you won't have to worry about anyone getting hungry before lunch.
20. Irish Pork Stew
Irish pork stew offers a good twist on some of the other stew recipes to use your Dutch oven with. A Meal in Mind takes you through the instructions for cooking this dish, which is packed with delicious pork and healthy vegetables.
21. Corned Beef
Corned beef is so easy to cook in your Dutch oven, and Deb's Daily Dish is here to make the process even easier. You can serve this beef alongside vegetables for a complete dinner any night of the week.
22. Dublin Coddle
Transport your family to Ireland for the evening with this traditional Dublin coddle. Not Entirely Average shares this one-pot dish which is one of those Dutch oven recipes that is ideal for a cold evening in front of the fireplace.
23. No-Knead Jalapeño Cheddar Bread
This no-knead bread will make a change from some of the classic Dutch oven recipes we've shared so far. It requires absolutely no work from your side, yet thanks to the help of Chisel and Fork, you'll have a perfect loaf of bread each and every time.
24. Easy Stuffed Pepper Soup
As you can tell by now, the Dutch oven is perfect for cooking delicious warming soup. This stuffed pepper soup from Real Food With Sarah can be made in the Dutch oven or Instant Pot and is a cozy meal for the cooler weather.
25. Coconut Curry Braised Chicken Thighs
With just one pot, you'll have a delicious coconut curry with chicken thighs ready to serve your family. This dish would be great served with rice or naan bread, and Real Food With Sarah shows you how to make it in less than one hour.
26. Dutch Oven Chili
You can't go wrong after a busy day at work or school with a big bowl of chili. This is one of the most flavorful and comforting Dutch oven recipes from Art of Natural Living is full of simple ingredients yet will go down as a treat with your whole family.
27. Unstuffed Peppers
This recipe from Sweet & Savory Recipes contains all of the delicious tastes of stuffed peppers. It combines sausage meat, vegetables, and rice and is then topped off with melted cheese. In less than an hour, you'll have a family-sized meal ready to serve a large group of hungry kids and adults.
28. Beef Bourguignon
Carrie's Experimental Kitchen shares this classic recipe which is ideal for cooking in the Dutch oven. You'll combine beef cubes, pearl onions, and mushrooms, which are mixed together in a sauce with red wine and brown gravy.
29. Stove Top Dutch Oven Popcorn
While most of the Dutch oven recipes we've shared so far make complete meals, you can still use your Dutch oven for snacks. In no time at all, you'll have a huge portion of popcorn ready for your next movie night, thanks to Life's Little Sweets.
30. Miniature Dutch Baby Oven Beer Pancakes with Nutella Whipped Cream
If you are really looking to impress someone one day for breakfast, try out these baby pancakes from The Beeroness. You'll love the Nutella and whipped cream topping, which will make the perfect sweet treat one weekend morning.
31. Pork Stew with Root Vegetables
Scrambled Chefs shares a classic pork stew recipe, which will put your leftover root vegetables to good use. After a long day outdoors in the winter, you'll find this to be the perfect dinner to warm up before bedtime.
32. Guinness Beef Stew Recipe
If you can't get enough of Guinness, it's one of the best ingredients you could add to your beef stew. Mommy Musings shares with us how to create this comforting dish which would be ideal served with homemade bread, which you can also create in your Dutch oven.
33. Chicken Pot Pie
Did you know that the Dutch oven is the perfect tool for creating the perfect pot pie? Delicious Made Easy shares this crowd-pleaser, which you'll love cooking this weekend to share with your family.
34. Dutch Oven Lasagna
Lasagna is a family favorite dish for a good reason, and The Cookie Rookie will show you how to create this dish from scratch in your Dutch oven. It's a really rich dish combining pasta, sauce, and cheese, which you'll return to over and over again in the future.
35. Dutch Oven Enchiladas
Another Mexican favorite can be made in your Dutch oven with very little time or effort. Fresh Off the Grid shares this enchilada recipe, which would be ideal for dinner on a camping trip. It uses corn tortillas, which are then filled with black beans, spices, and cheese, and covered in a delicious sauce.
36. One-Pot Ziti with Sausage
Spicy Southern Kitchen shares another delicious pasta dish, which combines Italian sausage and a rich mozzarella sauce. Your family will think you've spent hours cooking, but you'll be surprised how quick and simple this dish is to create.
37. Yankee Pot Roast
Dinner at the Zoo makes this classic dish that adds bacon into the traditional recipe. It would be ideal for your Sunday dinner this week, especially on those days where you don't feel like spending hours in the kitchen.
38. Balsamic Braised Lamb Shanks
While the Dutch oven makes so many classic dishes, it's also ideal for more luxurious meals. This balsamic braised lamb shanks recipe from Diethood would be ideal for a holiday meal and will impress anyone you serve it to.
39. Mustard Chicken
If you are looking for a new chicken recipe to try out, we love this mustard chicken from Lavender and Macarons. Even if you think your kids might not enjoy the taste of mustard, we think this rich sauce will go down a treat with anyone who tries it.
40. Butternut Squash Risotto
This would be a great recipe for Halloween or the fall season. Risotto can sometimes be hard to perfect, but Healing Tomato takes you through the step-by-step instructions to create the perfect risotto.
41. Chicken and Dumplings
You can't go wrong with chicken and dumplings, and your Dutch oven will make it easier than ever to create. Garnished Plate shares this recipe which is quick and easy but has just the right amount of creaminess to make the perfect dinner.
42. One-Pot Pasta Puttanesca
While you might think pasta puttanesca is one of the most basic pasta dishes, you'll find that the Dutch oven gives it even more taste. You'll combine tomato, anchovies, olives, and capers to create a meal that would be ideal for your next date night dinner, thanks to The Kitchn.
43. Shepherd's Pie
The large size of the Dutch oven makes it the perfect base for your shepherd's pie from Urban Bliss Life. You'll combine ground meat and vegetables in a rich gravy, which will be topped with mashed potatoes for a comforting dinner.
44. Chicken and Sausage Gumbo
Impress your partner with this rich Cajun dish which is packed with healthy vegetables. Tornadough Alli will share everything you need to know about creating this dish, which is best served with rice and a little hot sauce on top.
45. Italian Orzo Spinach Soup
For a more exotic soup this winter, try out this easy orzo soup from Gimme Some Oven. You'll add plenty of spinach to offer your body extra vitamins and minerals, and the broth is nice and earthy to create a comforting bowl of soup.
46. Dutch Oven Pizza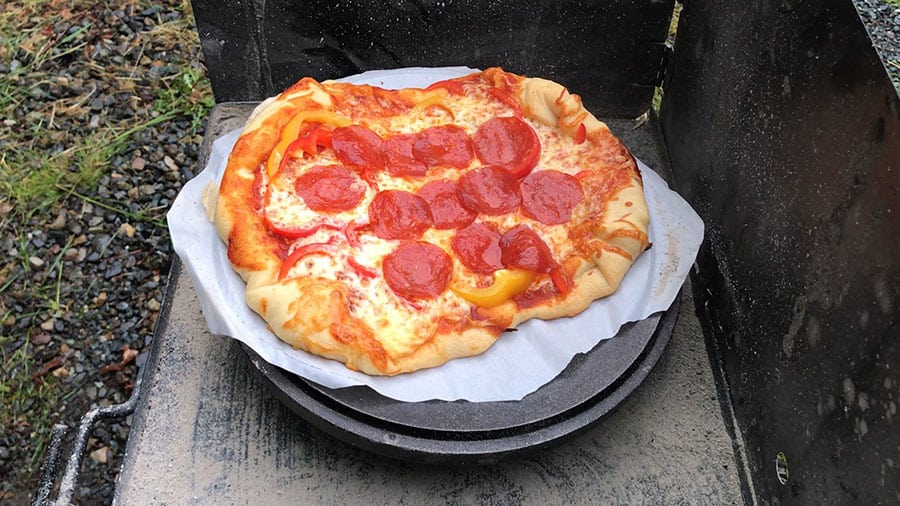 You can't go wrong with a midweek pizza night to reconnect with your family. This is one of those Dutch oven recipes from Southern Cast Iron that is simple and you can can top with your favorite pizza toppings and customize to suit your family's tastes.
47. Dutch Oven Idaho Potatoes
When you are struggling to pick a good side dish to serve with your main course, try out this potato recipe from The Mom 100. It's similar to a potato gratin, but you'll add plenty of bacon to add more texture and taste to this dish.
48. Dutch Oven Apple Crisp
We're going to continue this list of Dutch oven recipes with some tasty desserts you can serve when camping or at home. This Dutch oven apple crisp from Kelly Neil is a great way to use up leftover apples, and you can serve it with ice cream or any topping of your choice.
49. Dutch Oven S'mores Cake
This incredible cake will wow anyone you serve it to, who won't believe you created it in your Dutch oven. The great thing about this dish is that it takes only ten minutes to make, thanks to these simple instructions from Polka Dot Chair.
50. Peach Cobbler
If you find yourself with too many peaches, use them up in this simple peach cobbler recipe from Well Plated by Erin. It's a great dessert for a summer party, and your friends and family will be begging for seconds after their first spoonful.
FAQs
Can You Use a Crockpot Instead of a Dutch Oven?
Yes, you can use a crockpot instead of a Dutch oven if needed. You could also use your Dutch oven instead of a slow cooker in the future, as it's such a versatile cooking solution.
Is a Casserole Dish the Same as a Dutch Oven?
A casserole dish is shallower than a Dutch oven. They are often made from cast iron too, so you can try most of the recipes we've shared today in your casserole dish if you've not invested in a Dutch oven yet.
Are there any Healthy Dutch Oven Recipes?
There are plenty of healthy Dutch oven recipes on offer. Just take a look through our list above, and you'll see some great options. Some good ideas to create in the Dutch oven for vegetarians include soups, pasta, bread, and pancakes.
Why is Le Creuset More Expensive than other Dutch Ovens?
Le Creuset is one of the best brands for kitchen goods. You've no doubt noticed they are a lot more pricey, and this all comes down to their quality and production processes.
However, you'll also benefit from a lifetime warranty when you purchase any of their products. If for some reason your new Dutch oven breaks, they'll replace it immediately without any hassle.
Can You Use a Dutch Oven to Bake Sourdough Bread?
Yes, sourdough bread is a great bread to bake in your Dutch oven. As long as your Dutch oven is oven safe, you can place it in the oven and bake as you would with another bread baking solution. You'll find that your bread bakes perfectly to create a crusty outside and soft inside.
There are so many ways to use a Dutch oven, which is why it's one of the best investments for any kitchen. We hope you enjoy trying out these Dutch oven recipes and that you'll find it saves you time and hassle when cooking in the future.