If you've never tried a Dutch baby, now is your chance! Pancakes and crepes collide in this easy dish. Fresh raspberries and toasted hazelnuts turn this Dutch baby into dessert!
This Dutch baby is simple, sweet, and tastes delicious enough to be called dessert. Thankfully this cast iron dutch baby recipe is a perfect breakfast recipe for serving up when you want something sweet and easy.
The delicious blend of fresh raspberries and the earthy tones from the hazelnuts and coffee creamer works well to flavor every bite of this shareable pancake.
What is a Dutch Baby?
Dutch babies are a type of pancake, typically baked in a cast-iron skillet. They are a combination of a pancake and a crepe. They are tender and golden like a pancake but not quite as thick and fluffy. Instead, they are thin and a little dense, like a crepe.
Dutch babies are made with eggs, sugar, vanilla, flour, and some form of dairy, i.e. milk or cream. For this particular recipe, I used heavy cream for the liquid, but milk or half and half would be fine.
I found this to be the perfect way to add extra flavor without tacking on any extra calories. Fresh raspberries and toasted hazelnuts officially turn this Dutch baby into dessert! The sweet berries melt in your mouth and the rich tasting hazelnuts add a crunchy surprise.
Ingredients you'll need for Raspberry Hazelnut Dutch Baby:
For the dutch baby, you will need:
Eggs
Vanilla extract
Granulated sugar
All-purpose flour
Heavy cream
Fresh raspberries
Butter
Toasted hazelnuts
For tasty garnishes, you may like:
Fresh raspberries
Whipped cream
Powdered sugar
For the exact amounts needed, please see the recipe card below.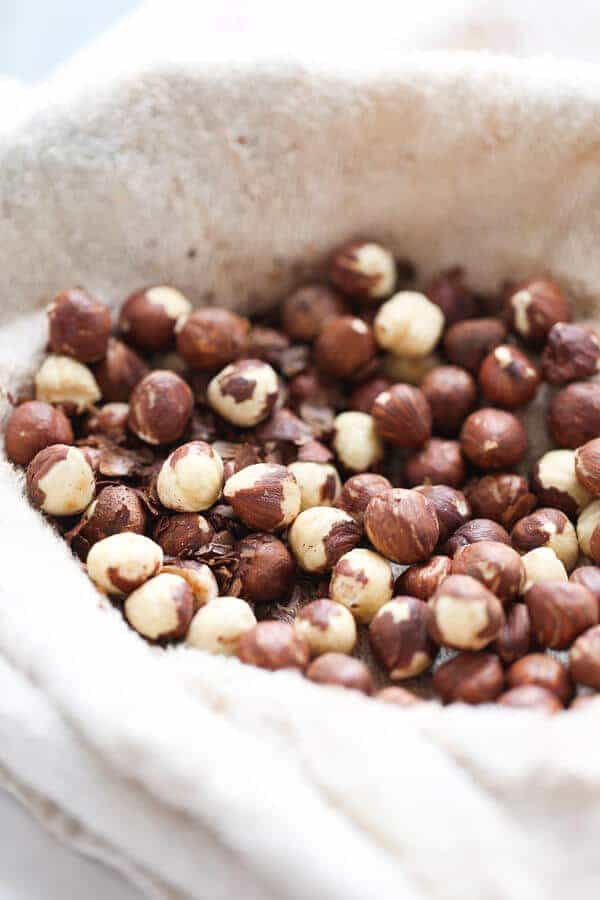 How to Make Raspberry Hazelnut Dutch Baby
Heat a skillet over medium heat and add your hazelnuts. Toast for about 5-7 minutes or until nice and fragrant.
Wrap the nuts in a towel and rub them together so that the skin comes off of the nuts. Remove the towel and then coarsely chop your nuts.
In a bowl, mix together the eggs, vanilla, and sugar.
Whisk in the flour and the cream until blended. A few lumps may remain, this is fine.
Gently fold in the fresh raspberries.
Preheat your oven to 400 degrees F.
Place your cast iron skillet into the oven for 3 minutes.
Remove the pan from the oven and add in the butter. Let the butter melt.
Add in the batter and bake in the oven for 18 minutes and then remove from oven.
Sprinkle the nuts over the pancake and bake for an additional 5 minutes or until the edges are golden in color and the pancake has puffed up in the center.
FAQs
What is the difference between a German pancake and a Dutch Baby?
German pancakes and dutch babies are incredibly similar, in fact, they're practically the same thing but with different origin stories on the names. The term "dutch baby" was actually coined in Seattle Washington and the german pancake was named in Germany where the dish is said to have originated.
Is Yorkshire pudding the same as a Dutch baby?
They're very similar but do have slight differences. Yorkshire puddings are individual-sized and usually made using beef drippings whereas dutch babies use butter and are made in a larger pan to feed a whole family. Yorkshire puddings are savory whereas dutch babies are sweeter in flavor.
What goes with a Dutch baby?
You can serve yours up with just about anything you'd normally serve at breakfast. For example, hashbrowns, fresh fruits, bacon, sausage, and even eggs are great for serving up with this simple breakfast recipe.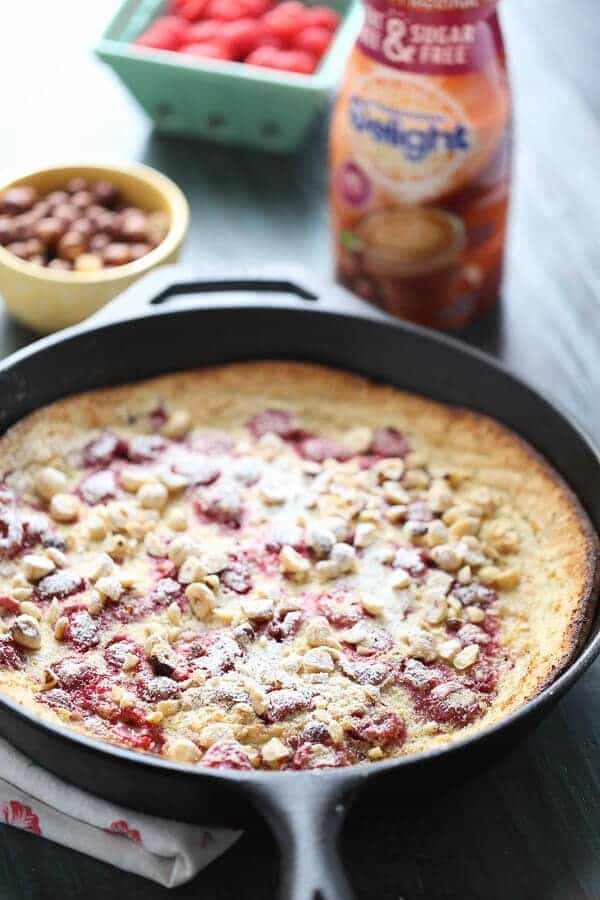 Here are some more great breakfast recipes to try soon:
Yield: 6
Raspberry Hazelnut Dutch Baby
A cast iron skillet pancake made with fresh raspberries and toasted hazelnuts.
Ingredients
3 eggs
1 teaspoon vanilla
1/3 cup sugar
3/4 cup flour
3/4 cup heavy cream
6 oz fresh raspberries
2 tablespoons butter
1/2 cup toasted hazelnuts coarsely chopped
Garnish with raspberries, whipped cream and powdered sugar
Instructions
Heat a small skillet over medium heat. Add hazelnuts and toast for 5-7 minutes or until fragrant. Wraps nuts in a towel and rub nuts together so that the out skin comes off of the nut. Remove from towel and coarsely chop.
MIx eggs, vanilla and sugar in a bowl. Whisk in flour and cream until blended (a few lumps may remain). Gently fold in berries.
Preheat oven to 400. Add 10 in cast iron skillet, heat for 3 minutes. remove, melt butter in hot skillet. Add batter, bake for 18 minutes, remove from oven. Sprinkle nuts over pancake and bake an additional 5 minutes or until edges are golden and pancake is puffed in the center.
Nutrition Information
Yield
6
Serving Size
1
Amount Per Serving
Calories

435
Total Fat

24g
Saturated Fat

11g
Trans Fat

1g
Unsaturated Fat

12g
Cholesterol

138mg
Sodium

75mg
Carbohydrates

49g
Fiber

3g
Sugar

33g
Protein

8g