If you've never tried a Dutch baby, now is your chance! Pancakes and crepes collide in this easy dish.
Fresh raspberries and toasted hazelnuts turn this Dutch baby into dessert!
Each December I get so sick of cookies and chocolate, I vow I'll never eat a single piece ever again. Like all other optimistic resolution makers I skipped off to the gym in the beginning of January. I've been really good so far. I've powered up each morning with a kale smoothie and I've exercised every day. However, this is the point in the New Year where I hit my wall.
I can't handle any more smoothies, my gosh if I even smell a leaf of kale I'm going to hurl. My abs are so sore from a new Pilates class, I can't even get out of bed without wincing. Every year I do too much too soon. By February I fizzle and find myself pillaging the Valentine's day displays in the grocery store because I've deprived myself of sweets for too long. I'm not alone in this, am I? Oh please tell me I'm not alone in my fast and furious January journey to a "new me".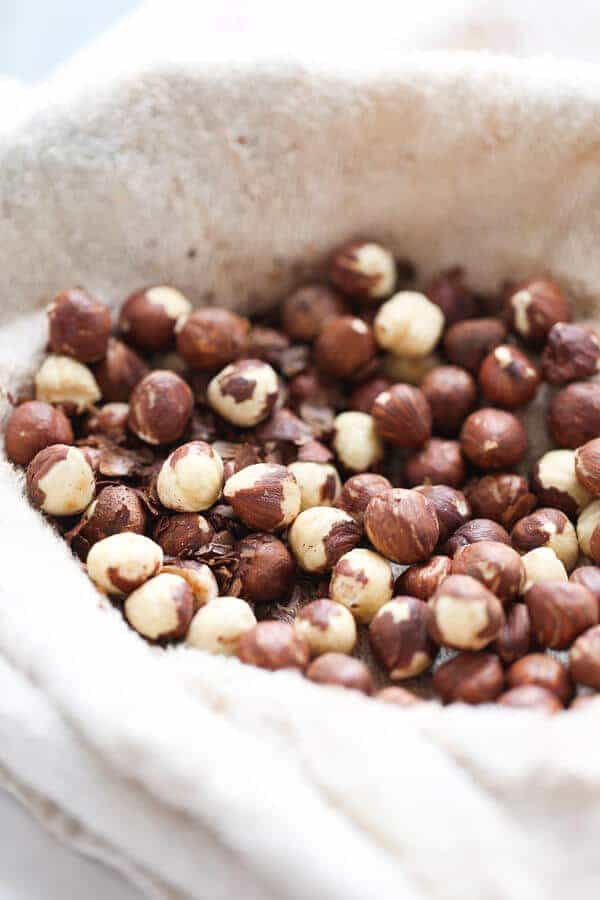 This is what I'm going to do; take the stairs whenever I can, take my dog for longer walks, ease up on those Pilates planks AND the smoothies, eat more veggies but satisfy my sweet tooth whenever it needs it. Sounds good right? I don't necessarily need a big chocolate cake to make me happy, sometimes the simplest foods make the best desserts. This Dutch baby is simple, sweet and tastes delicious enough to be called dessert. Dutch babies are a type of pancake, typically baked in a cast-iron skillet. They are an amalgamation of a pancake and a crepe. They are tender and golden like a pancake but not quite as thick and fluffy. Instead they are thin and a little dense, like a crepe.
Dutch babies are made with eggs, sugar, vanilla, flour and some form of dairy, i.e. milk or cream. For this particular recipe, I used heavy cream for the liquid, but milk or half and half would be fine. I found this to be the perfect way to add extra flavor without tacking on any extra calories (hurrah for enjoying my favorite flavors without compromising those New Year's resolutions!). Fresh raspberries and toasted hazelnuts officially turn this Dutch baby into dessert! The sweet berries melt in your mouth and the rich tasting hazelnuts add a crunchy surprise.
Raspberry Hazelnut Dutch Baby
A cast iron skillet pancake made with fresh raspberries and toasted hazelnuts.
Ingredients
3 eggs
1 teaspoon vanilla
1/3 cup sugar
3/4 cup flour
3/4 cup heavy cream
6 oz fresh raspberries
2 tablespoons butter
1/2 cup toasted hazelnuts coarsely chopped
Garnish with raspberries, whipped cream and powdered sugar
Instructions
Heat a small skillet over medium heat. Add hazelnuts and toast for 5-7 minutes or until fragrant. Wraps nuts in a towel and rub nuts together so that the out skin comes off of the nut. Remove from towel and coarsely chop.
MIx eggs, vanilla and sugar in a bowl. Whisk in flour and cream until blended (a few lumps may remain). Gently fold in berries.
Preheat oven to 400. Add 10 in cast iron skillet, heat for 3 minutes. remove, melt butter in hot skillet. Add batter, bake for 18 minutes, remove from oven. Sprinkle nuts over pancake and bake an additional 5 minutes or until edges are golden and pancake is puffed in the center.
Nutrition Information
Yield

6
Serving Size

1
Amount Per Serving
Calories

435
Total Fat

24g
Saturated Fat

11g
Trans Fat

1g
Unsaturated Fat

12g
Cholesterol

138mg
Sodium

75mg
Carbohydrates

49g
Fiber

3g
Sugar

33g
Protein

8g