Fluffy croissants rest in a sweet caramel sauce and are surrounded by a creamy, egg filling.
This croissant French toast is a real treat; it's like dessert for breakfast!
Holiday Croissant French Toast
I think this Croissant French Toast Bake is going to be our Christmas morning breakfast for sure. I find Christmas morning breakfast to be the most challenging meal of the holidays. I put too much pressure on myself to find the perfect breakfast. It is usually just my husband and my kids on Christmas morning, so the spread doesn't have to be big, but it has to be special and it has to be good.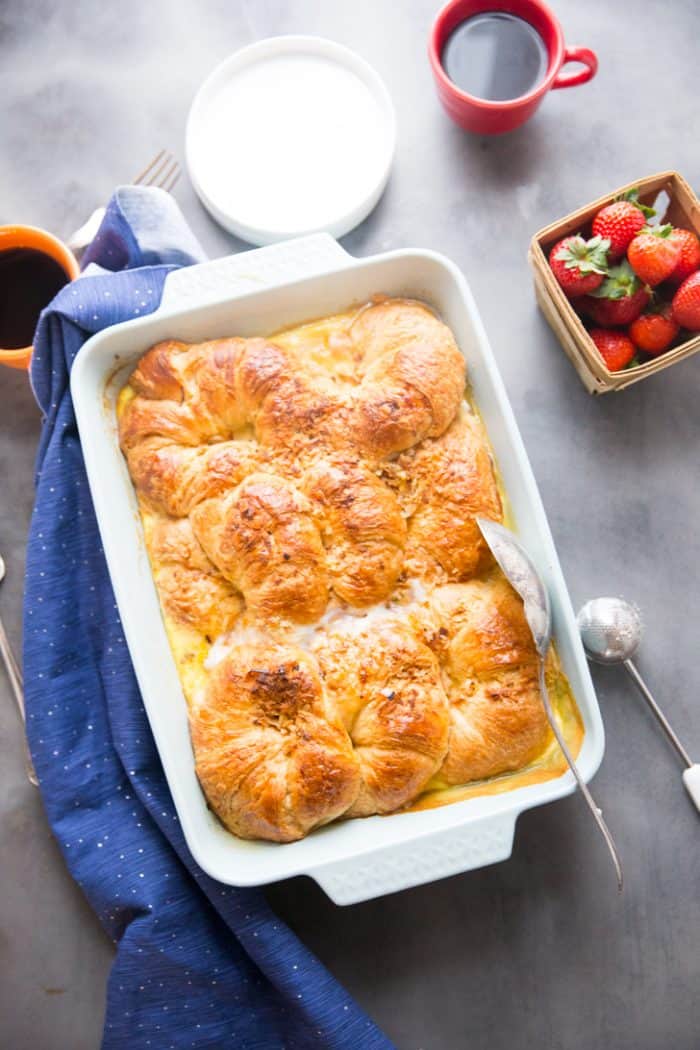 One year I made these Bacon Cinnamon Rolls with Maple Frosting, but once everyone had one roll, we never touched it again. Cinnamon rolls don't appear to be that practical for our family of five. Then, the next year I made this Eggnog Dutch Baby, but that wasn't quite enough to satisfy us all.
Lemon Monkey Bread is our old standby but I am just really tired of eating monkey bread. So where does this leave me? It leaves me making a croissant French toast bake! French toast bakes are so easy. Typically it is a matter of arranging bread, pouring an egg mixture and refrigerating before baking. This version is a little upscale as it is a take on Creme Brulee.
How To Make Croissant French Toast
I used 6 large croissants that I placed on a homemade caramel sauce. Eggs and cream along with rum and coconut extracts (coconut rum would also be fabulous), are mixed together then poured over the croissants. The next step is very important, allow the mixture to refrigerate over night so that the mixture thickens and the flavors meld. In the morning, pop your French toast in the oven and just wait for that caramel and coconut smell to permeate your house!
The mixture is sweet enough that you really do not need maple syrup or powdered sugar as a topping. This Croissant French toast bake is worthy of all special occasions! The taste is luxurious yet the recipe is simple; it leaves you enough time to enjoy all that is going around all while being memorable and delicious!
More French Toast Ideas
Strawberry Cheesecake Stuffed French Toast
Yield: 8-10
Creme Brûlée Croissant French Toast Bake
Fluffy croisants rest in a sweet caramel sauce and are surrounded by a creamy, egg filling.
This croissant French toast is a real treat; it's like dessert for breakfast!
Ingredients
8 large croissants
1/2 cup butter
1 cup brown sugar
1/4 cup corn syrup
¾ cup toasted coconut
6 eggs
1 ½ cups half and half or whole milk
½ teaspoon vanilla
⅛ teaspoon salt
1 tablespoon coconut extract
1 teaspoon rum extract
Instructions
In a small saucepan, bring butter, sugar and corn syrup to a low boil, reduce heat and cook caramel for 1-2 minutes until thick and smooth. Pour caramel onto the bottom of a 9 x 13 inch pan. Place croissants over caramel. Sprinkle coconut over croissants.
In a bowl, whisk together milk, vanilla, salt, and extracts. Pour egg mixture over croissants. Place croissants in the refrigerator overnight.
Preheat oven (allowing French toast to come to room temperature) to 350 degrees. Bake French toast for 45-50 minutes or until golden.
Notes
If French toast begins to brown to quickly, cover with foil and continue baking.
Nutrition Information
Amount Per Serving
Calories

0
Total Fat

0g
Saturated Fat

0g
Cholesterol

0mg
Sodium

0mg
Fiber

0g
Sugar

0g
Protein

0g