A Dutch baby pancake is so simple yet when you pull it out of the oven it creates a significant amount of ooh's and aah's. This pancake comes out golden and fluffy. It isn't overly sweet, it is just what you want from breakfast!
I know I've talked about Christmas morning breakfast and how my family loves the idea of cinnamon rolls, but no one actually eats a whole roll. To combat this I came up with other quick breakfast options like monkey bread muffins or cream filled gingerbread muffins. But I'm scratching all of those in favor of this Dutch baby pancake. If your Christmas morning is like mine; with paper everywhere, kids too excited to eat and parents too tired to focus; then THIS Dutch baby pancake is just what you need.
There are several beautiful things about this pancake. For starters, it is made entirely in your blender. You blend, pour and bake. Secondly, it is the most golden, light and fluffy pancake you will ever see. However, I should clarify a few things about this recipe. This is not a traditional pancake when I say "fluffy," I don't mean this is a thick pancake with lots of air pockets inside. Instead, Dutch baby's will puff up along the side of your skillet ( I used cast-iron) as it bakes, and often you find one large air bubble as well. Once the pancake is removed from the oven, it will DEFLATE. What you are left with is a soft pancake that awaits any topping you see fit to use. I would describe a Dutch baby as a crepe that wants to be a pancake. The taste and texture are similar to a crepe; it is just slightly thicker and baked.
I used eggnog for this recipe (try this homemade eggnog recipe); you could use whole milk instead and add any flavorings you would like. This is not a very sweet pancake. You could add more sugar while you mix it in the blender, but I prefer the mild sweetness. This way I can justify smothering my serving in whipped cream!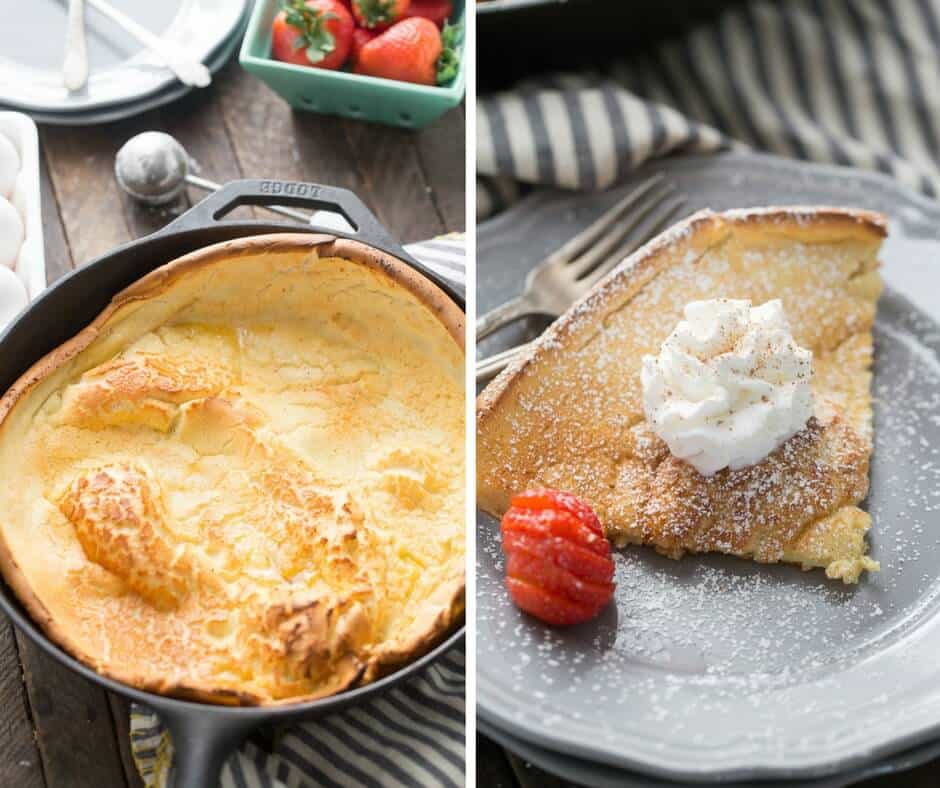 Yield: 4
Eggnog Dutch Baby Pancake
This pancake comes out golden and fluffy. It isn't overly sweet, it is just what you want from breakfast!
Ingredients
1/4 stick of butter
4 eggs
1 cup eggnog
1 cup flour
Pinch of salt
1 teaspoon vanilla
1/2 teaspoon nutmeg
1 tablespoon sugar
Instructions
Preheat oven to 400
Place the butter in a cast iron skillet and place the skillet in the oven while it preheats.
I a blender combine eggs, eggnog, flour, salt, vanilla, nutmeg and sugar. Blend until combined.
When oven is ready, swirl butter to coat the entire pan. Pour the batter into the hot skillet and bake the Dutch baby for 20-25 minutes until golden and puffed.
Serve immediately.
Nutrition Information
Yield
4
Serving Size
1
Amount Per Serving
Calories

308
Total Fat

14g
Saturated Fat

7g
Trans Fat

0g
Unsaturated Fat

6g
Cholesterol

239mg
Sodium

185mg
Carbohydrates

33g
Fiber

1g
Sugar

9g
Protein

12g