Eggnog sugar cookies are cake-like sugar cookies, iced with spiced eggnog buttercream!
Nothing says "happy holidays" quite like screeching violins. My 4th grader's orchestra had a holiday extravaganza. It was her first time playing in front of a live audience. Actually, that's not true, her family has been her live audience for quite some time. It's always so sweet to see how excited all the students are to be performing. You know in their minds they sound like the London Philharmonic. While the audience is grinning like fools trying to pretend that we are enraptured by the melodies accosting our tender ears. I suspect there were quite a few earplugs among the audience members.
I wanted to play the violin when I was my daughter's age. But my parents weren't keen on the price. So I played the recorder instead (which was free). Who decided that 4th graders should be trusteed with high pitched, plastic wind instruments??? They must have had an evil streak, because no one in their right mind would unleash that kind of noise on their worst enemies!
Looking back, I am sort of amazed that my parents tolerated my recorder playing. I use the term "playing" quite loosely. I don't recall them complaining about my recorder playing once. They just quietly disappeared from the room.
How did we celebrate the big performance??? With cookies of course! Since eggnog only comes around once a year, I figured I had to use it in my cookie frosting!
These eggnog sugar cookies are not overly sweet, which makes them the perfect vehicles for the nutmeg flavored buttercream!
It's been three days since my daughter's performance. She can't stop playing the violin. And I can't stop eating these eggnog sugar cookies! The more she plays, the more I eat. I've got to stop her.
GIVE ME A LITTLE SUGAR
NEVER MISS A RECIPE! SUBSCRIBE TO MY EMAIL TODAY!
FOLLOW ME:
FACEBOOK | TWITTER| GOOGLE +| BLOGLOVIN | INSTAGRAM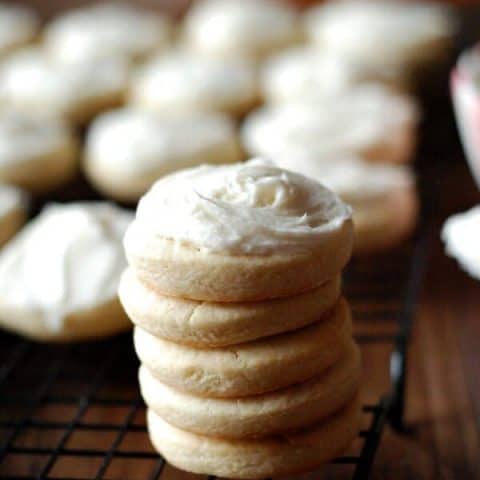 Eggnog Sugar Cookies
Eggnog sugar cookies are cake-like sugar cookies, iced with spiced eggnog buttercream!
Ingredients
1 1/2 cups butter, softened
2 cups sugar
4 eggs
1 teaspoon vanilla
5 cups flour
2 teaspoons baking powder
1 teaspoon salt
1/2 cup butter, softened
1/2 cup shortening
7 cups powdered sugar
pinch of salt
1 teaspoon vanilla
1/4 cup refrigerated eggnog
Instructions
In a large bowl, combine butter and sugar. Beat until fluffy. Mix in eggs and vanilla. Slowly mix in flour, baking powder and salt. Batter will be very thick. Cover and refrigerate for at least one hour, or overnight.
Pre heat oven to 400. Sprinkle your work surface with flour and working with one portion of the dough at time, roll out sugar cookie dough to 1/2 inch thick. Cut with shaped cookies. Place cookies on ungreased baking sheets. Bake for 6-8 minutes or until bottoms just begin brown. Remove to cooling racks to cool completely before frosting.
For the frosting: cream together butter and shortening. Slowly beat in powdered sugar one cup at a time. Blend in salt and vanilla. Add eggnog and continue to beat buttercream until it is spreading consistency, adding more eggnog if necessary.
Nutrition Information
Yield

72
Serving Size

1 cookie
Amount Per Serving
Calories

158
Total Fat

7g
Saturated Fat

4g
Trans Fat

0g
Unsaturated Fat

3g
Cholesterol

25mg
Sodium

90mg
Carbohydrates

23g
Fiber

0g
Sugar

16g
Protein

1g