An eggnog flavored pound cake that is sure to be a hit!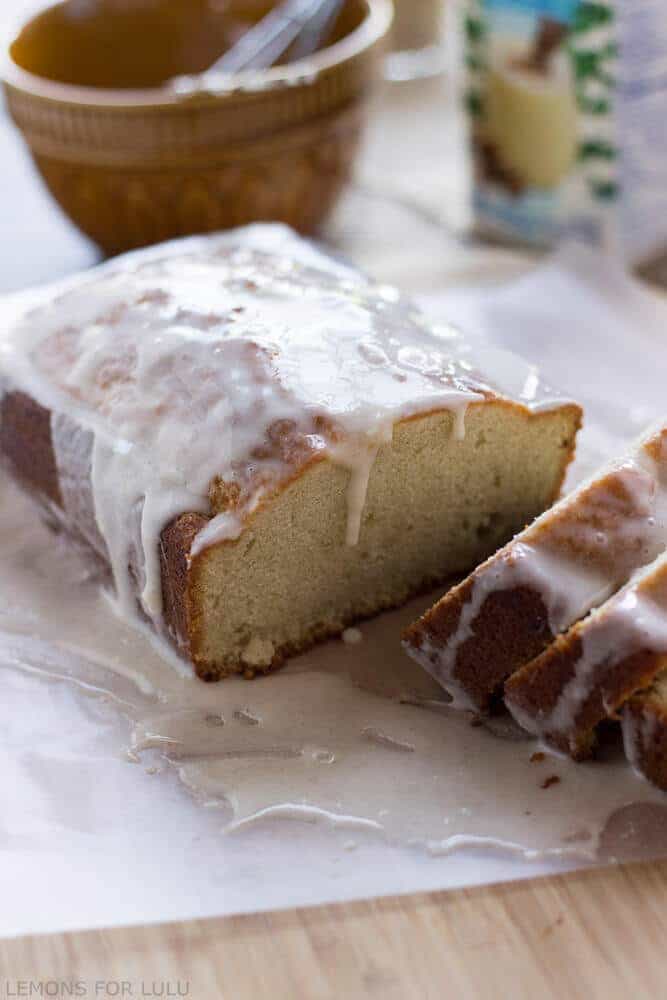 I do love me some eggnog. It's the creamiest, most luxuriously indulgent drink I can think of. All that rum flavoring and nutmeg swirling around makes me so happy. But, riddle me this, Batman, why is eggnog ONLY to be had during the holidays? The same goes for peppermint or gingerbread. All are wonderful flavors, yet we only seem to appreciate them November through January.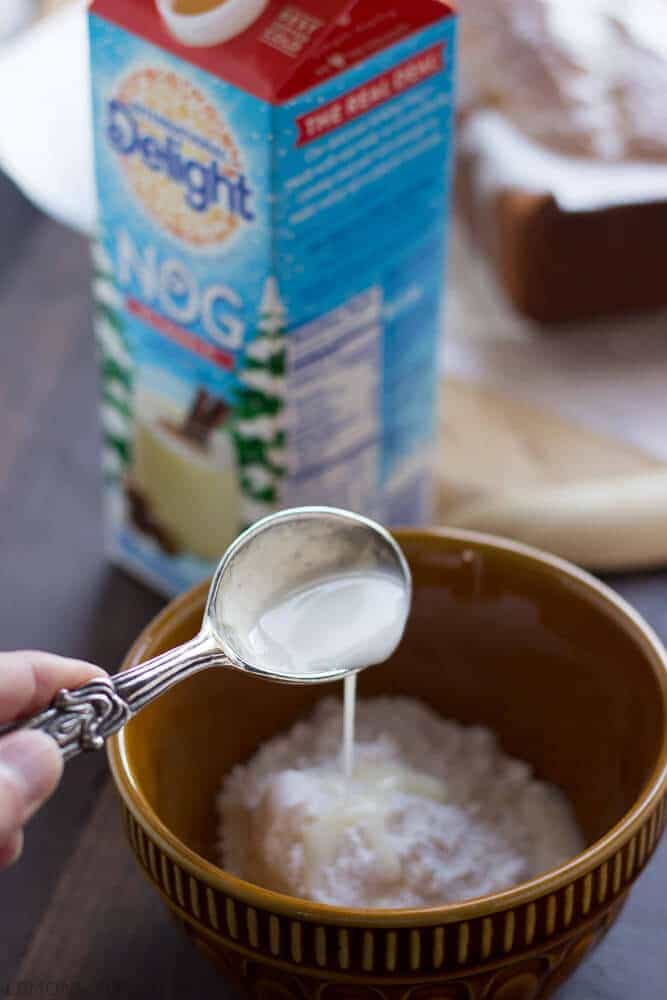 I'm going to start a movement. I'm going to push for people to enjoy seasonal flavors all year round. I'm going to munch on eggnog sugar cookies in May and cool down with Eggnog Smoothies in August. In June, I'm going to decorate gingerbread men and women with swimsuits and make cabanas instead of houses. I'll send my kids back to school with peppermint red velvet brownies instead of the usual apple bars. I'm going to spread Christmas cheer all year long. Who's with me??? Anyone?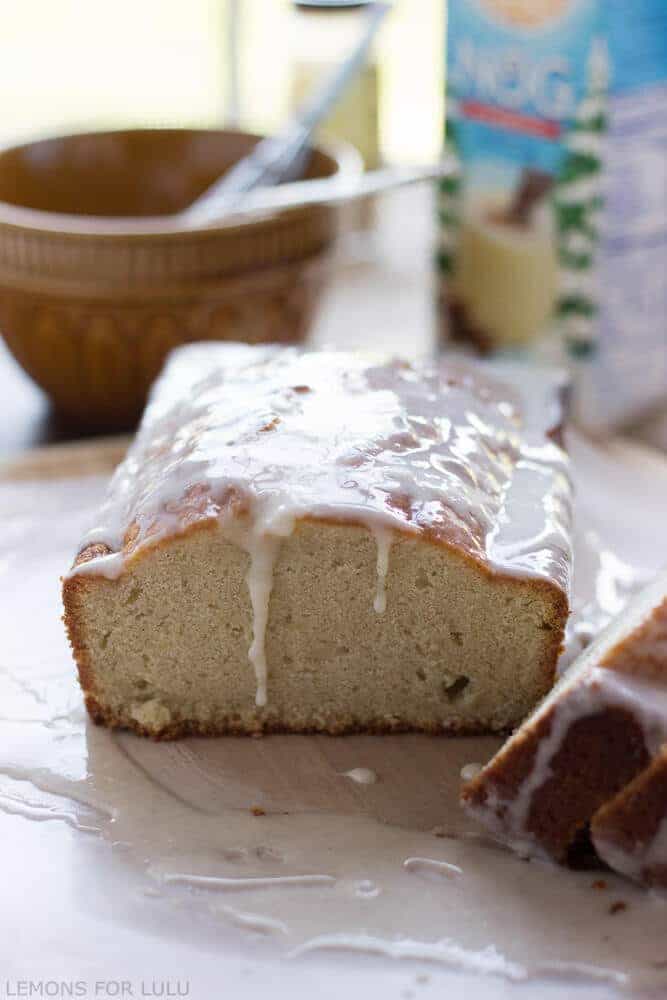 Perhaps I'm being just a tad bit overly dramatic. I know that if I ate gingerbread all year long I wouldn't savor it and appreciate it as much when Christmas came around. Too much of anything can be bad. The exception to that would be eggnog. I seriously love it and can consume it all 12 months of the year!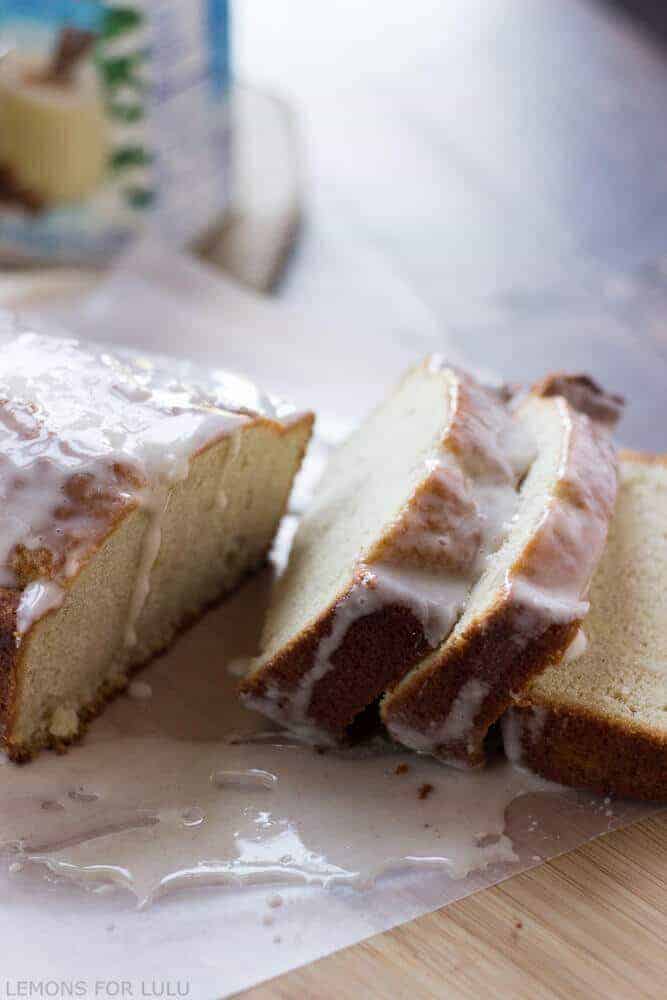 I was ecstatic to see that International Delight is now making Eggnog! Woot! My favorite coffee creamer IS now making my favorite dairy beverage. While I could have easily downed a few glasses as soon as I brought it home, I generously decided baking with it was the way to go. That way the whole family could indulge in this classic wintertime treat.
This pound cake is so easy. Mix your ingredients, pour and bake! That's it! Definitely start checking your pound cake about 50 minutes into baking time and if a toothpick inserted in the center comes out clean (a few crumbs are fine) remove your cake. Otherwise your cake will dry out. This pound cake has eggnog in the cake as well as in the very simple glaze. Be sure your cake is completely cool before you spoon on the glaze or else you will end up with a soupy mess. If you find your glaze is too thick, add more eggnog, if it's too thin add more powdered sugar. However, regardless of which addition you find yourself needing, only add the ingredients a tablespoon at time. Be sure to refrigerate any leftovers.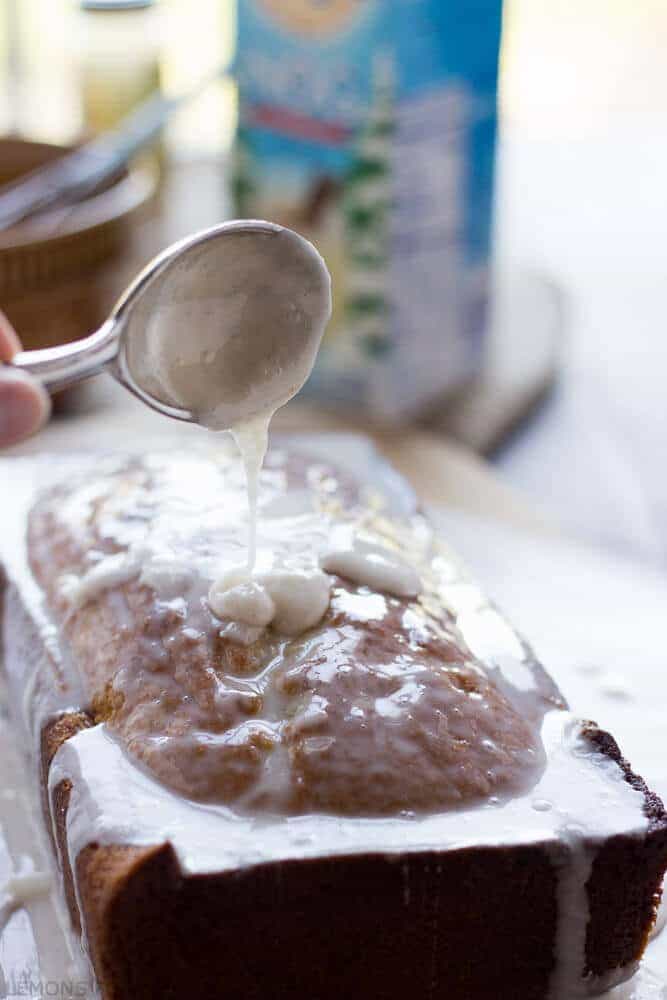 Thirsty for more? Visit International Delight on the web, Facebook, Pinterest, Twitter and Instagram! Then whip yourself up some holiday cheer!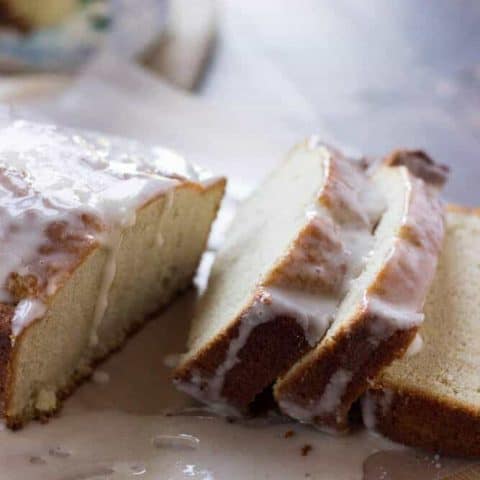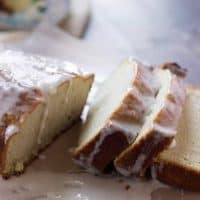 Eggnog Pound Cake
Total Time:
1 hour
15 minutes
A simple pound cake made with eggnog and topped with an eggnog glaze!
Ingredients
For the cake
1 1/2 cups flour
1 teaspoon baking powder
1/2 teaspoon salt
1 cup butter, softened
1 cup sugar
4 eggs
1 teaspoon cinnamon
2 teaspoons vanilla
1/4 cup International Eggnog
For the glaze
1 cup powdered sugar
1/4 cup eggnog
1 teaspoon vanilla
Instructions
Preheat oven to 350. Spray and 9 x 5 in loaf pan and set aside.
In a small bowl, combine flour, baking powder, salt and cinnamon..
In a bowl, cream together butter and sugar. Add eggs one at a time, beating well after each addition. Stir in vanilla.
Alternate adding flour mixture and egg nog. Mix until smooth and combine. Pour onto prepared baking pan.
Bake for 50-60 minutes or until toothpick inserted in the center comes out clean or with only a few crumbs. Let cake sit on a baking sheet in pan for 15 minutes. Run a knife around the edge of the cake to loosen. Remove from pan and let cool completely on a wire rack.
Whisk together powdered sugar, eggnog and vanilla. If glaze it too thick, add more eggnog one tablespoon at a time. Spoon glaze over cooled bread.
Nutrition Information
Yield

12
Serving Size

1 slice
Amount Per Serving
Calories

330
Total Fat

18g
Saturated Fat

11g
Trans Fat

1g
Unsaturated Fat

6g
Cholesterol

109mg
Sodium

281mg
Carbohydrates

39g
Fiber

1g
Sugar

27g
Protein

4g