You can't beat two-bite queso fundido!  Fillo cups are filled with chorizo and cheese for a flavorful twist on the Mexican dip!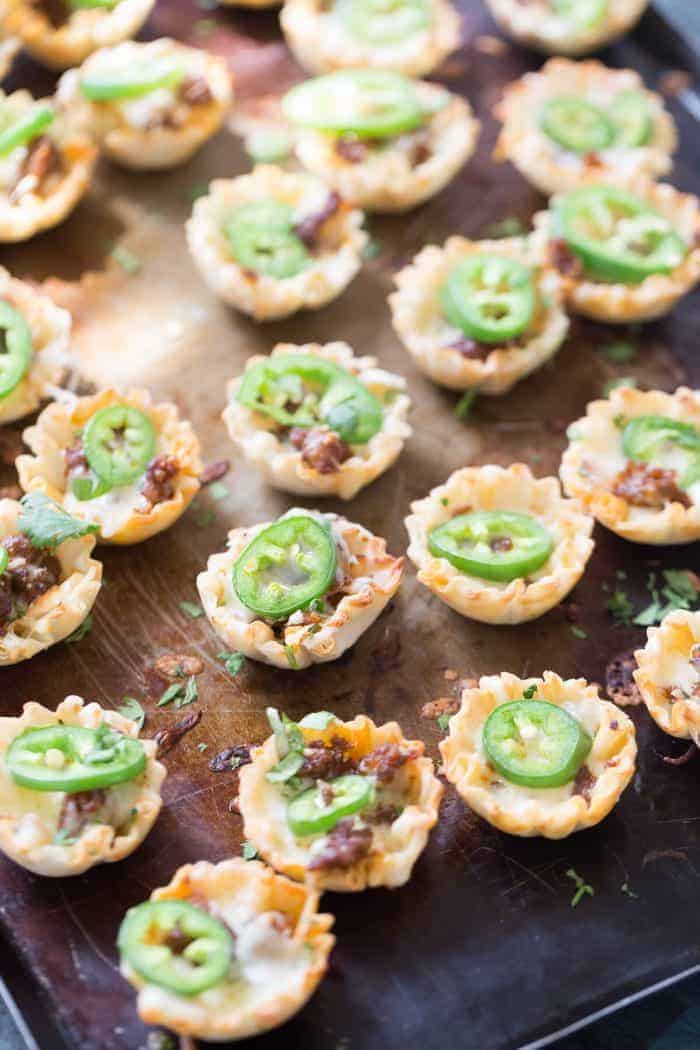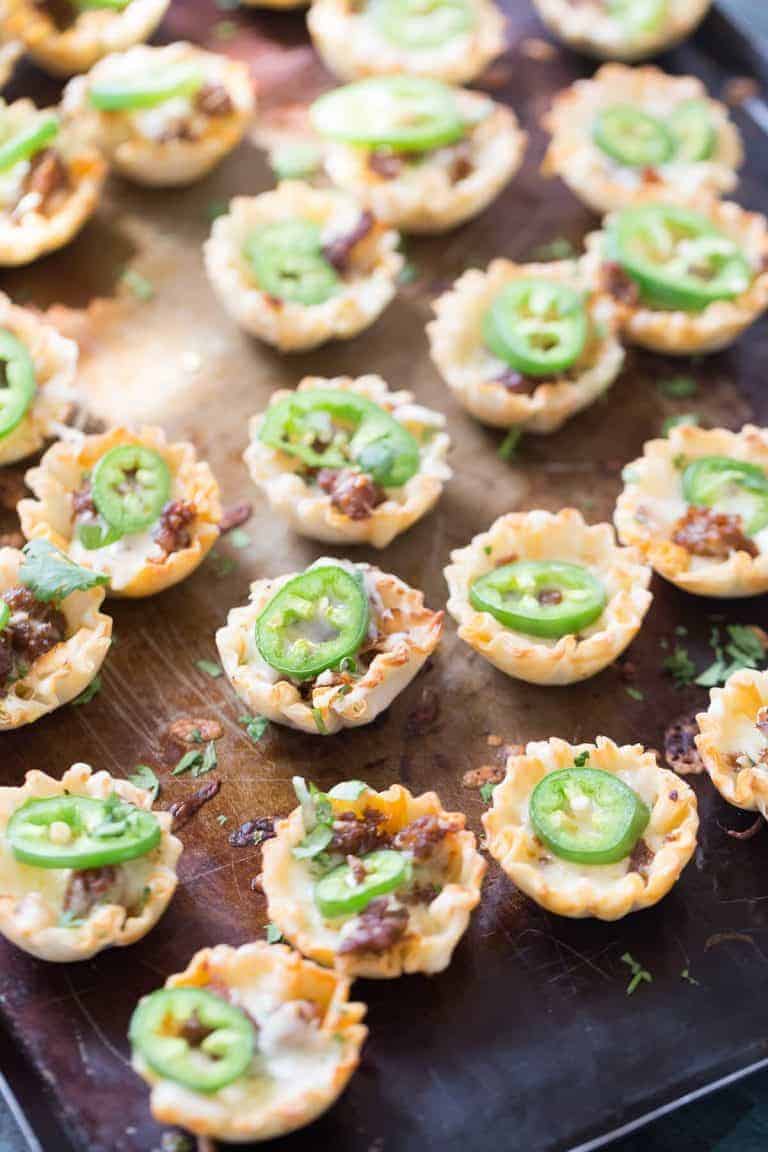 I used to be anti-sports,  this was back in my single days.  I didn't play any sports in high school, I was a dancer.  I was in favor of supporting the arts.  I used to get annoyed at all the attention athletes got while prima ballerina's seemed virtually unknown.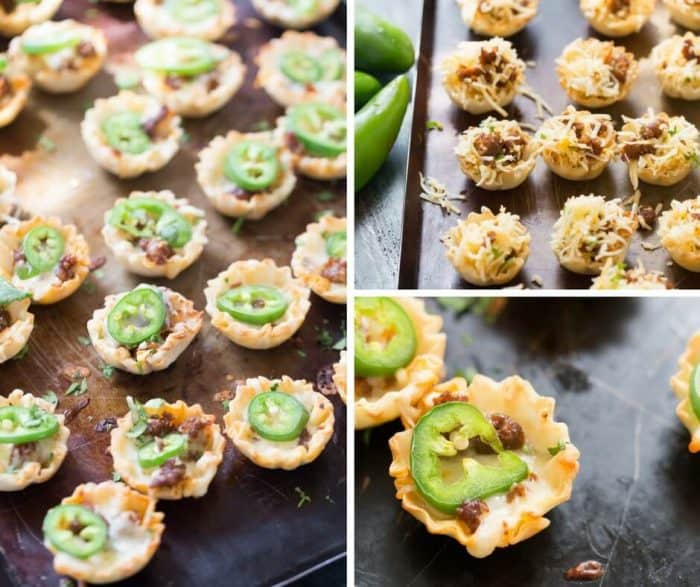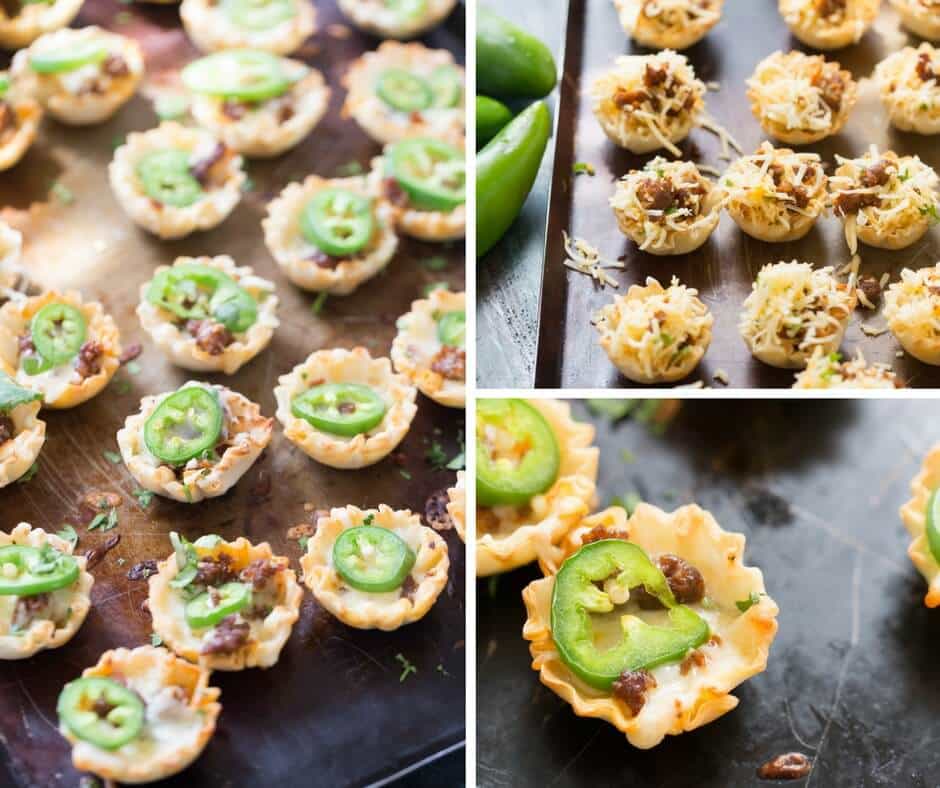 I remember flipping through the TV channels on Sunday afternoons wondering what could be more boring than golf.  Football was almost as bad, in my opinion.  Watching grown men run and tackle one another was not my cup of tea.  Then I met my husband.
My golf, football, basketball, baseball loving husband.  It wasn't' long before I was learning about golfers and the four majors. I was learning quarterback names, stats, and teams.  College football became exciting, college basketball was even better and baseball was actually interesting.  What happened to me?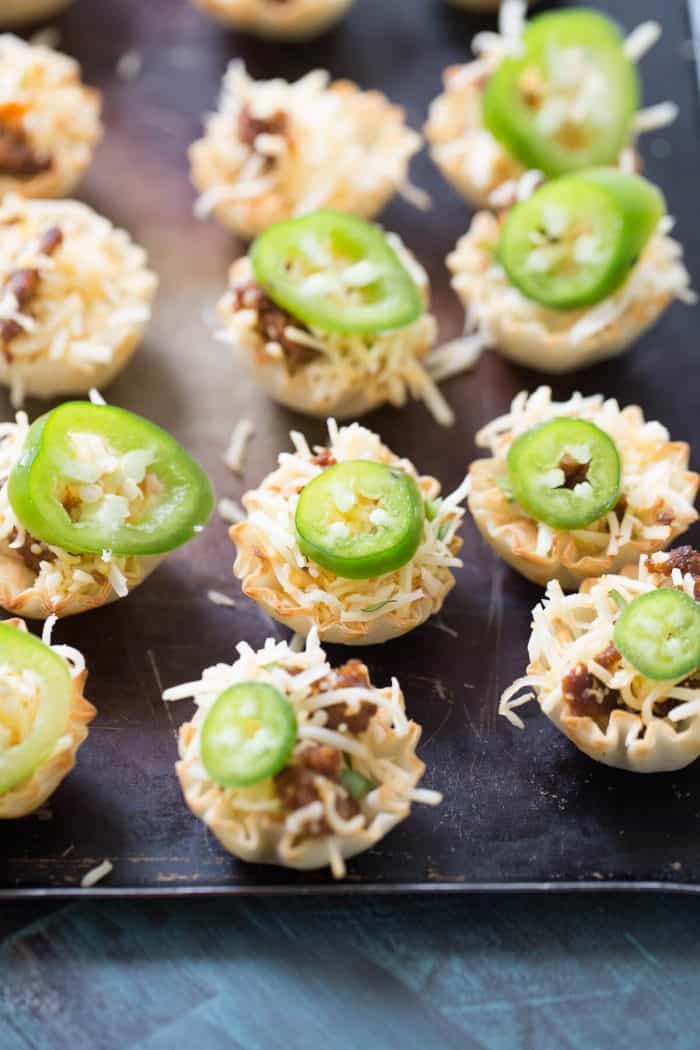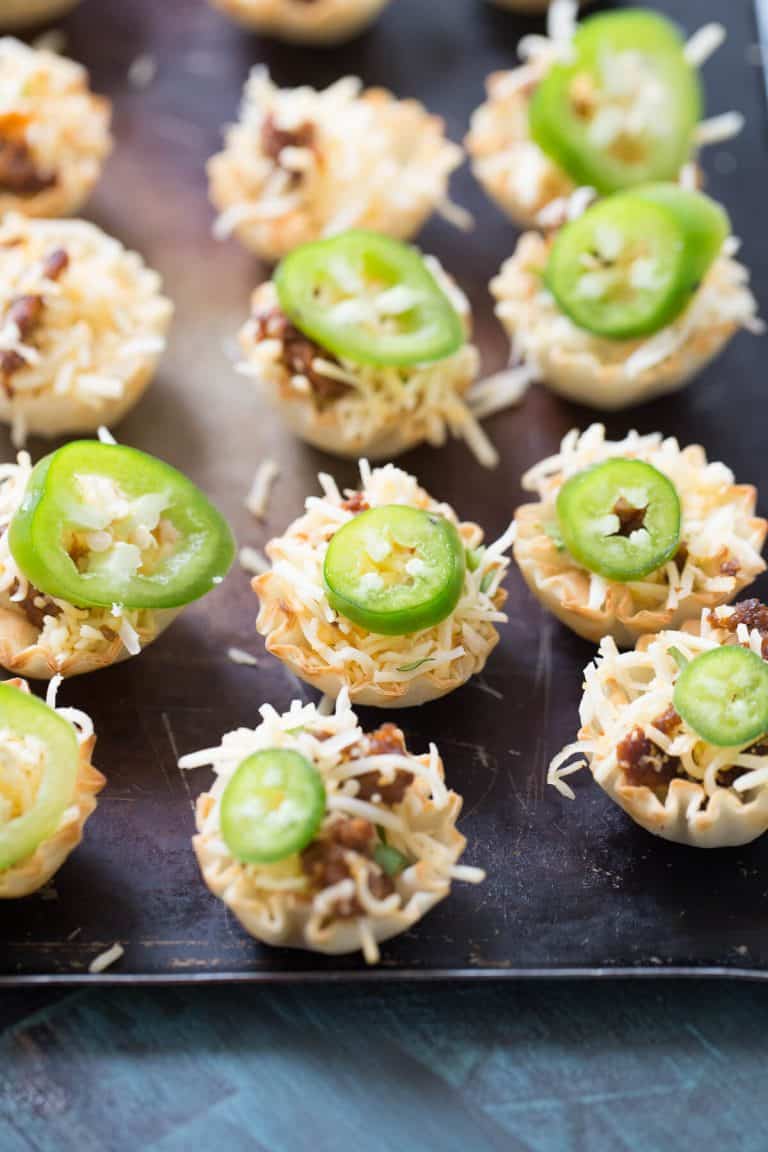 Today, I still care about the arts and support them often, but I am a soccer mom, a baseball mom, a basketball mom and a gymnastics mom.  The inevitable happened; sports consumed me.  I'm fine with it, though.  I love watching my own kids play their perspective sports AND I love watching the pros too.
Plus, you don't eat stout flavored chicken wings or Tex-Mex spinach dip while watching the ballet.  Those are all for game day.  These queso fundido bites are game day goods at it's best! Mini fillo shells are filled with a blend of cheeses, cilantro and chorizo then adorned with a single jalapeno slice.  The spiced sausage, creamy cheese, and crisp jalapeno blend nicely with the flaky fillo shells.  Each two bite treat practically melts in your mouth.  These do pack a little heat, to soften that you could finely dice the jalapeno and mix it in with the cheese mixture or omit it all together.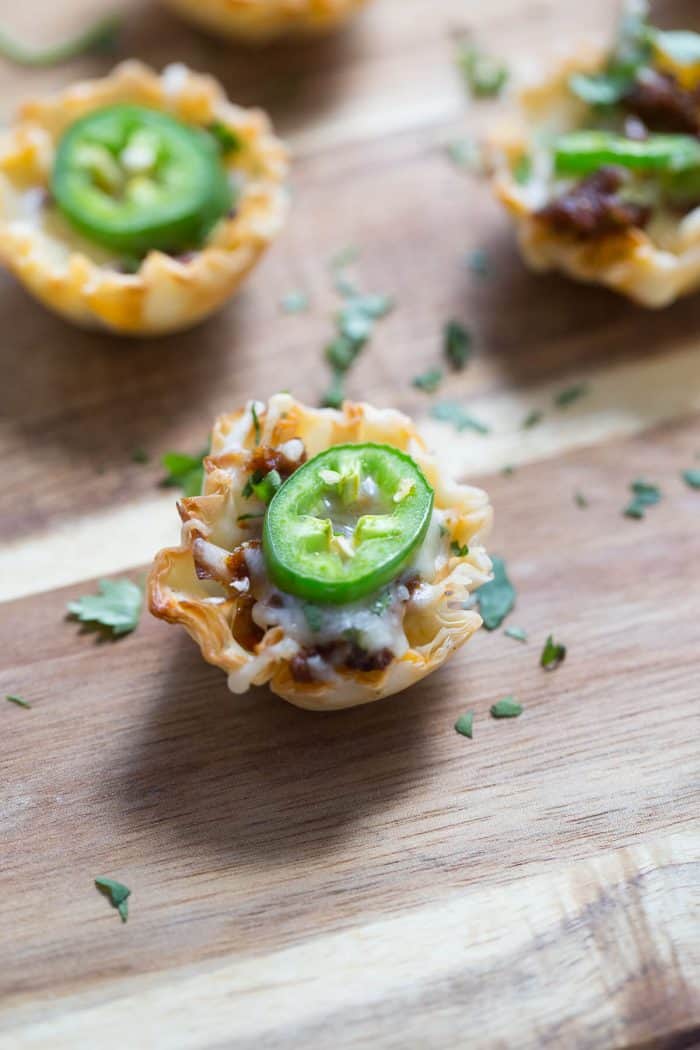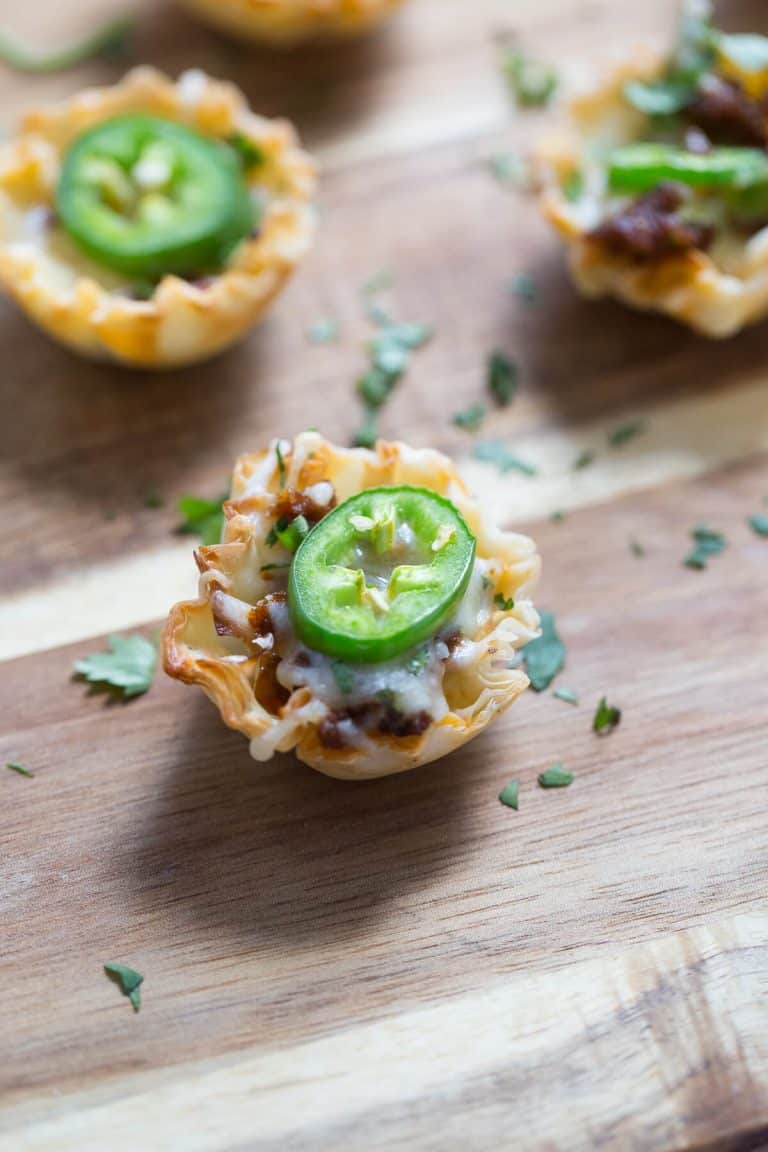 Once you try these, I guarantee you'll find any excuse (or any sport) possible to serve these up!
Disclosure: I received compensation from Athens Foods for recipe development purposes. All opinions are my own. For more Athens Foods recipes, click here.
30
adjust servings
Game day is looking tasty with these simple snacks. Queso Fundido bites are cheesy, spicy and delicious!
Ingredients
2 1.9

oz box Athens Fillo Cups (30 total)

1

chorizo link, cooked and crumbled

1

cup shredded mozzarella

1

cup shredded Monterey jack

1

teaspoon chopped cilantro

2-3

jalapenos, sliced
Instructions
Preheat oven to 350 degrees.
Line a baking sheet with the fillo cups.
In a bowl, combine the cooked chorizo, the cheeses, and cilantro. Divide the filling between the 30 cups. Top each with a jalapeno slice.
Bake bites for 8-10 minutes, or until cheese has melted.