You can't beat two-bite queso fundido! Fillo cups are filled with chorizo and cheese for a flavorful twist on the Mexican dip!
What Is Queso Fundido?
Queso fundido is a thick, cheesy sauce that is served hot and melted and is filled with chorizo sausage and spices whereas queso (or queso blanco) is melted cheese only.
I have seen variations where queso fundido is melted cheese with sliced peppers onions, but the meat-filled version is the most popular (and tastiest in my opinion!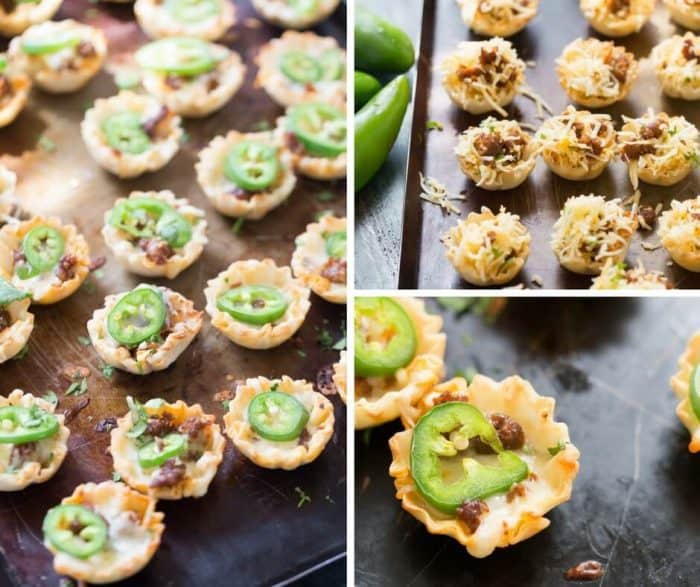 WHERE IS THE QUESO FUNDIDO BITES RECIPE?
If you'd rather skip cooking tips, suggestions, handy substitutions, related recipe ideas – and get straight to the Queso Fundido Bites Recipe– simply scroll to the bottom of the page where you can find the printable recipe card.
How To Make Queso Fundido Bites
I often find queso fundido baked in cast iron skillets for the ultimate dippable experience. I love using my cast iron skillet, but I also love using filo cups. I think they make appetizers easy to eat AND easy to make. Each bite is portioned out and explodes with the right amount of flavor.
I start this recipe by browning and crumbling chorizo sausage. Chorizo is a Spanish pork sausage that is cured and smoked. It tends to be on the spicy side so consider your tastes and your guests when preparing this appetizer.
Each cup is individual filo cup is filled with sausage and a blend of shredded cheeses like mozzarella and Monterey Jack, then the cups are placed on a baking dish and tossed in the oven.
The bites will only take a few minutes in the oven. Bake until the shells are golden and flakey and the cheese melts and is ooey-gooey I topped each bite with fresh cilantro and a jalapeno slice. Of course, if the peppers are too spicy, please omit them.
These queso fundido bites are easy to make and fun to eat. They are will be welcome at any event!
How To Reheat Queso Fundido With Chorizo
While I believe these bites will go quickly, but in the rare event that there are leftover bites, place the leftover cups on a baking dish and reheat in a 350 degree oven for 5-10 minutes. Like most appetizers, these fundido cups are best when eaten the same day.
Are Queso Fundido Bites Keto?
The filling in these bites would fit the keto style, but since the filling is helped by filo cups, these would not fit into the keto diet.
You can make the filling and serve it with keto-friendly tortilla chips or vegetable dippers if desired!
More Filo Recipes
Honey Pistachios Goat Cheese Cups
Tropical Fruit Salsa with Cinnamon Filo Cups
More Cheesy Appetizers
Yield: 30
Queso Fundido Bites
You can't beat two-bite queso fundido!  Fillo cups are filled with chorizo and cheese for a flavorful twist on the Mexican dip!
Ingredients
2 1.9 oz box Athens Fillo Cups (30 total)
1 chorizo link, cooked and crumbled
1 cup shredded mozzarella
1 cup shredded Monterey Jack​
1 teaspoon chopped cilantro
2-3 jalapenos, sliced
Instructions
Preheat oven to 350 degrees.
Line a baking sheet with the fillo cups.
In a bowl, combine the cooked chorizo, the cheeses, and cilantro. Divide the filling between the 30 cups. Top each with a jalapeno slice.
Bake bites for 8-10 minutes, or until cheese has melted.
Nutrition Information
Yield
30
Serving Size
1
Amount Per Serving
Calories

34
Total Fat

3g
Saturated Fat

1g
Trans Fat

0g
Unsaturated Fat

1g
Cholesterol

7mg
Sodium

67mg
Carbohydrates

1g
Fiber

0g
Sugar

0g
Protein

2g