This creamy, hot bruschetta dip has three kinds of melted cheese, juicy tomatoes, and fresh herbs. It will be a hit anywhere it is served!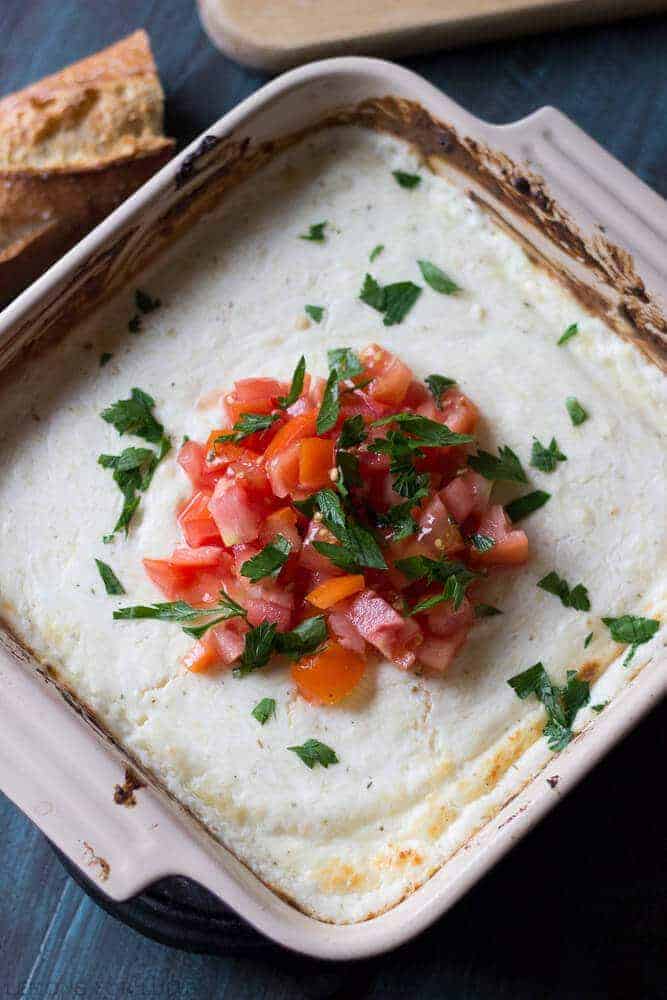 This hot bruschetta dip has quickly become my new favorite appetizer.  That is saying quite a bit, since I consider myself a connoisseur of snack foods.  The "dip" (or first course if you are feeling fancy) is my preferred meal to tell you the truth.  I could eat this tex- mex spinach and artichoke dip with reckless abandon on any given night of the week.  This chipotle bean dip?  You call it an appetizer, I eat it with sliced veggies and call it lunch!
Any occasion is grounds for snack food.  But my favorite time would be right around the holidays.  I love having everyone in the kitchen all gathered around the food.  It is utter joy.  The drinks flow, the laughter wafts through the air, stories are told and warmth abounds.  Sharing food with the ones you love is as comforting as giving hugs.  It's no different to me than breaking bread; I'm sharing what I have with everyone, I'm sharing myself.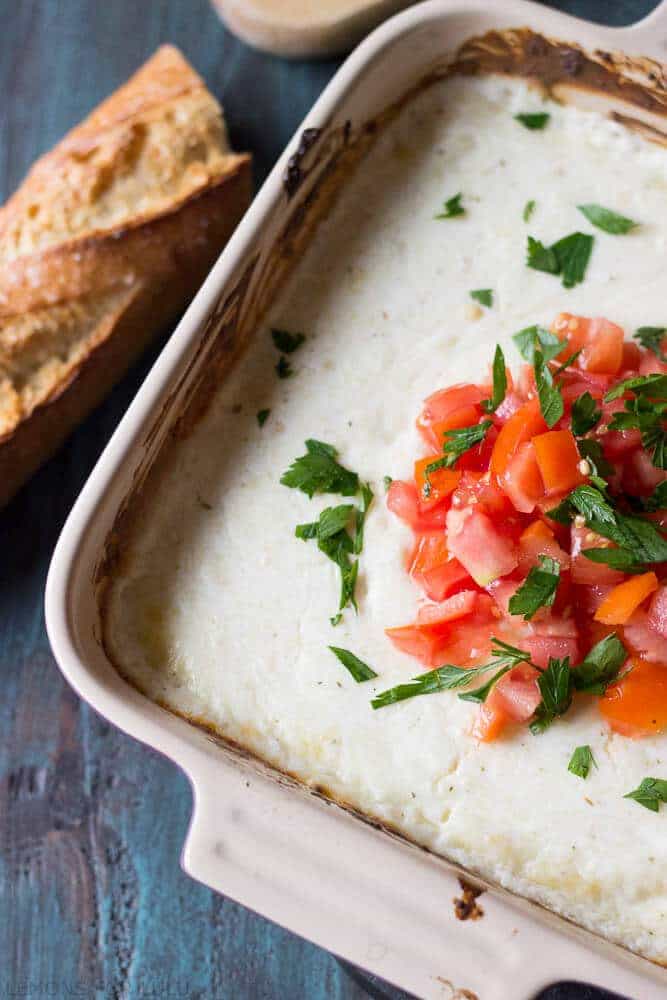 I do admit that while bean dip and guacamole are fabulous dips, I tend to go for the cheese!  Hot, gooey, melted cheese suckers me in every time.  Maybe it's the creaminess of the cheese and how it feels on my tongue.  Perhaps it's the aroma or the way the cheese bubbles up around the edges of the dish that I find so intoxicating.  Most likely, it's a combination of all three that keeps me coming back for more.
This hot bruschetta dip does all those things.  I used a combination of tangy cream cheese, creamy Monterey Jack cheese and nutty grated Parmesan for this dip which makes for maximum meltiness.  Between the garlic, the Italian seasoning and the fresh parsley added just before serving, this bruschetta dip is lively and aromatic.
I guarantee you won't be able to restrain yourself with this hot bruschetta dip in front of you. My anxious, burnt tongue would know!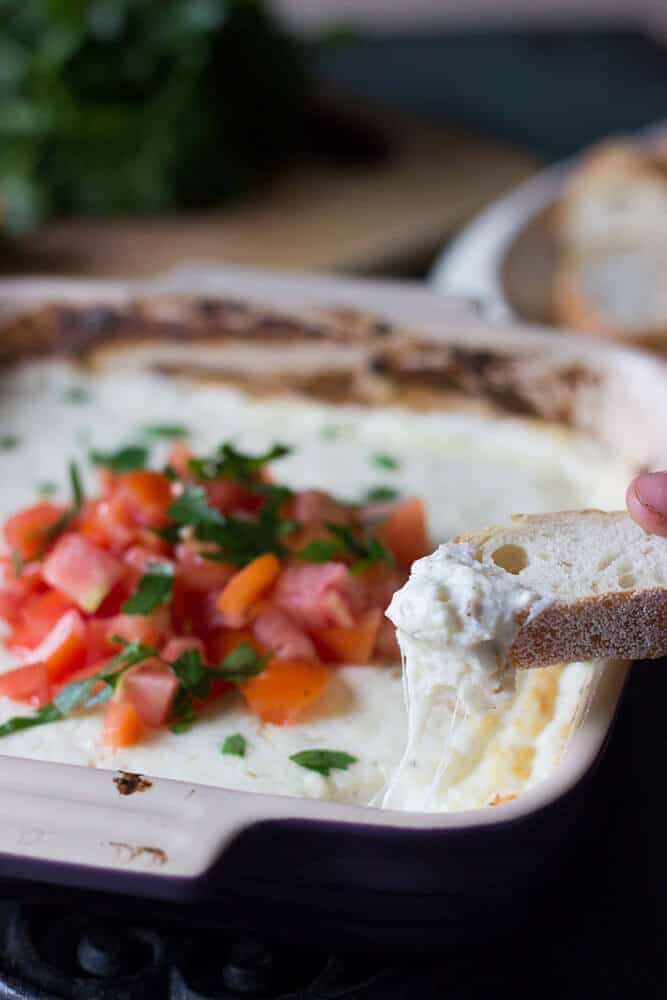 8
adjust servings
Hot, gooey, melted cheese topped with fresh parsley and cool, crisp tomatoes!
Ingredients
1 8

oz package cream cheese, softened

1

cup sour cream

2

cups shredded mozzarella cheese

1/4

cup grated Parmesan cheese

2

cloves garlic minced

1

teaspoon Italian seasoning

1

tomato diced

2

tablespoons Italian flat leaf parsley
Instructions
Preheat oven to 350. Spray a 8 x 8 glass dish with non stick spray and set aside.
In a bowl, combine cream cheese, sour cream, shredded cheese, Parmesan cheese, garlic and seasoning. Mix well. Pour into baking dish.
Bake for 20 minutes or until hot and bubbly. Remove. Top with chopped tomatoes and parsley. Serve immediately.