The flavors you love in a Muffaletta sandwich
can be found in this simple hoagie dip!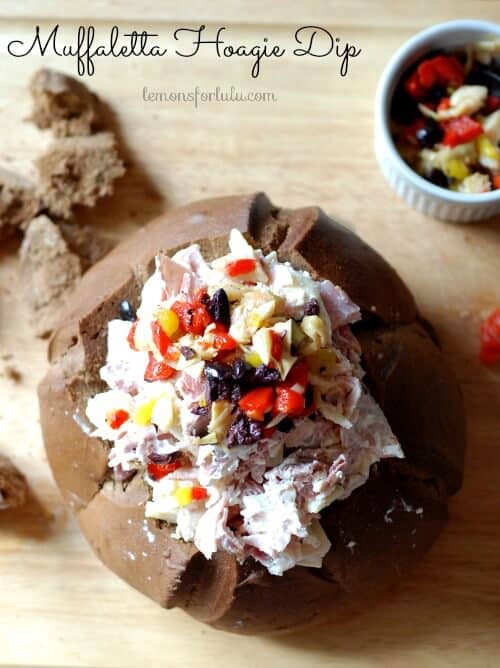 When I was a freshman in college, I had the opportunity to go to New Orleans for Mardi Gras. A group of friends were renting a van and driving down for the week. But since I was a freshman in college, I had no money. A trip like that would probably use up my grocery funds for the month. So I stayed behind and cursed my lack of funds, lack of spontaneity and my desire to eat.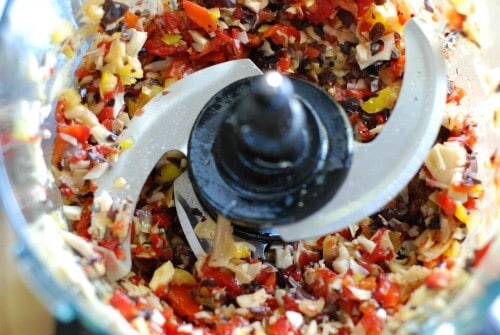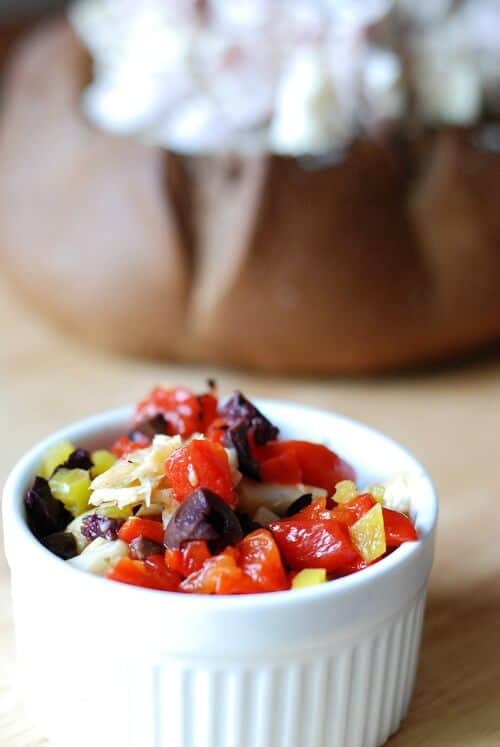 When my friends returned, I listened to the recap of their week with just a bit of jealousy. They partied, met interesting people, saw places I'd only vaguely heard about, listened to music and were part of a care free, once in a lifetime experience. It all sounded so exotic. They were on Bourbon street after all! I told myself that no matter what, next year I'd go!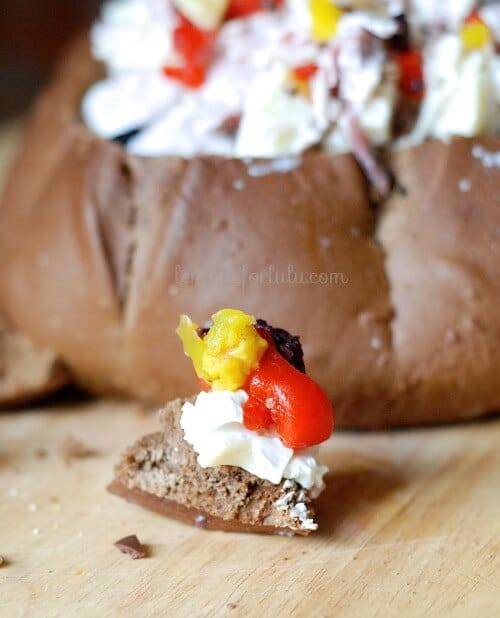 Then my friend proceeded to tell me about the parade and the beads and what they did to get more beads. I never realized my friends were the type to flash for beads. That's when I realized that there are two different types of women: the ta-ta flashing women and the non ta-ta flashing women. I knew I fell in the latter group. And so as talk turned to planning for next year's trip to the Big Easy, I smiled, nodded my head and knew that I would probably not be going….with them.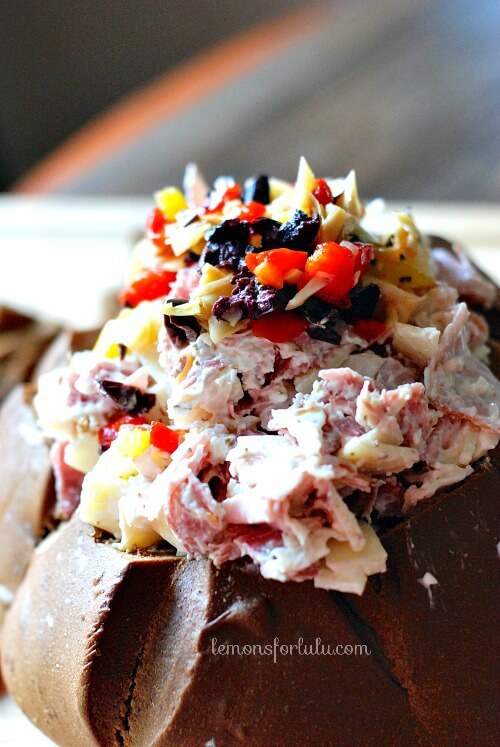 I haven't been fortunate enough to get to New Orleans. Someday. Until then, I will just have to eat as though I'm in New Orleans! I love Muffalettas! My absolute favorite sandwich and even my favorite pizza! Not only do I love all the salami, ham and cheeses, but the olive salad is irresistible! I could eat a bowl of olive salad until the cow's come home! This dip is so hearty, it could be a meal on its own! I hallowed out a round loaf of rustic rye bread as I knew it would be sturdy enough to contain this robust and chunky dip! This dip is packed with salami, ham, turkey, provolone and then topped with a perfectly palatable olive salad that came together quickly with my powerful Ninja food processor ( you could win one for yourself here)! Side note, I am in LOVE with that food processor! It came as part of the Ninja Kitchen System and it has made my life easier! It's quick and powerful! It's a kitchen power tool! Now, back to this dip… be forewarned, you will NOT be able to control yourself! You will eat and eat this dip because it is so good and before you know it, you will have eaten almost all of it! Trust me, I speak from experience!
NEED A SNACK?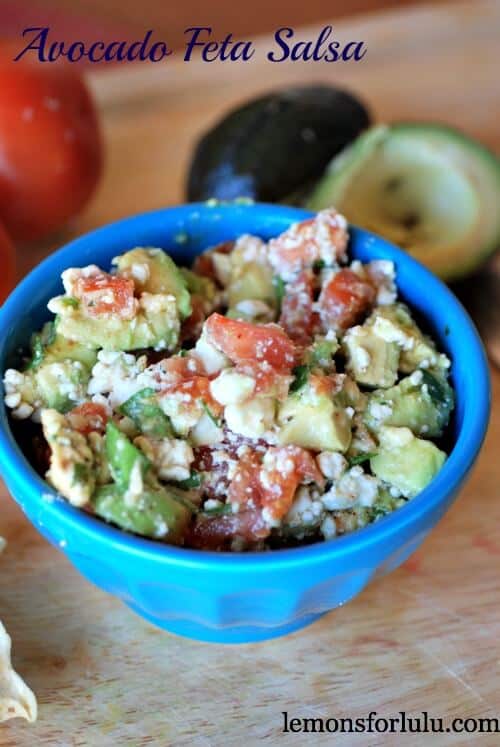 NEVER MISS A RECIPE! SUBSCRIBE TODAY!
FOLLOW ME:
FACEBOOK | RSS | TWITTER | GOOGLE + | BLOGLOVIN | INSTAGRAM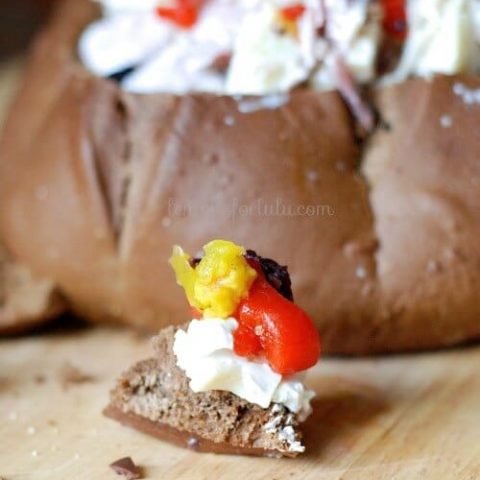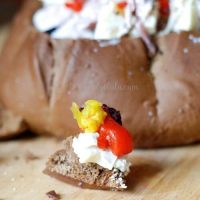 Muffaletta Hoagy Dip
The flavors you love in a Muffaletta sandwich can be found in this simple hoagie dip!
Ingredients
1 cup pitted black olives
1 6 oz jar marinated artichoke hearts, drained
1/2 cup jarred roasted red peppers
1 cup pepperoncini peppers
1/2 cup mayo
4 oz cream cheese, softenend
1/4 lb smoked ham, chopped
1/4 lb salami, chopped
4 oz prosciutto, chopped
1/4 lb deli chicken, chopped
1/4 lb provolone cheese, chopped
1/4 teaspoon red pepper flakes
1 teaspoon Italian seasoning.
1 bread bowl, hallowed out in the center
Instructions
In a food processor, chop vegetables into small chunks. Set aside.
In a bowl combine meats, cheese, mayo, cream cheese and seasoning. Stir until well blended.
Fill bread bowl with meat mixture. Top with olive salad and chill until ready to serve.
Serve with bread pieces.
Nutrition Information
Yield

12
Serving Size

1
Amount Per Serving
Calories

293
Total Fat

21g
Saturated Fat

7g
Trans Fat

0g
Unsaturated Fat

13g
Cholesterol

47mg
Sodium

1259mg
Carbohydrates

14g
Fiber

2g
Sugar

2g
Protein

13g