The flavors you love in a Muffuletta sandwich
can be found in this simple hoagie dip!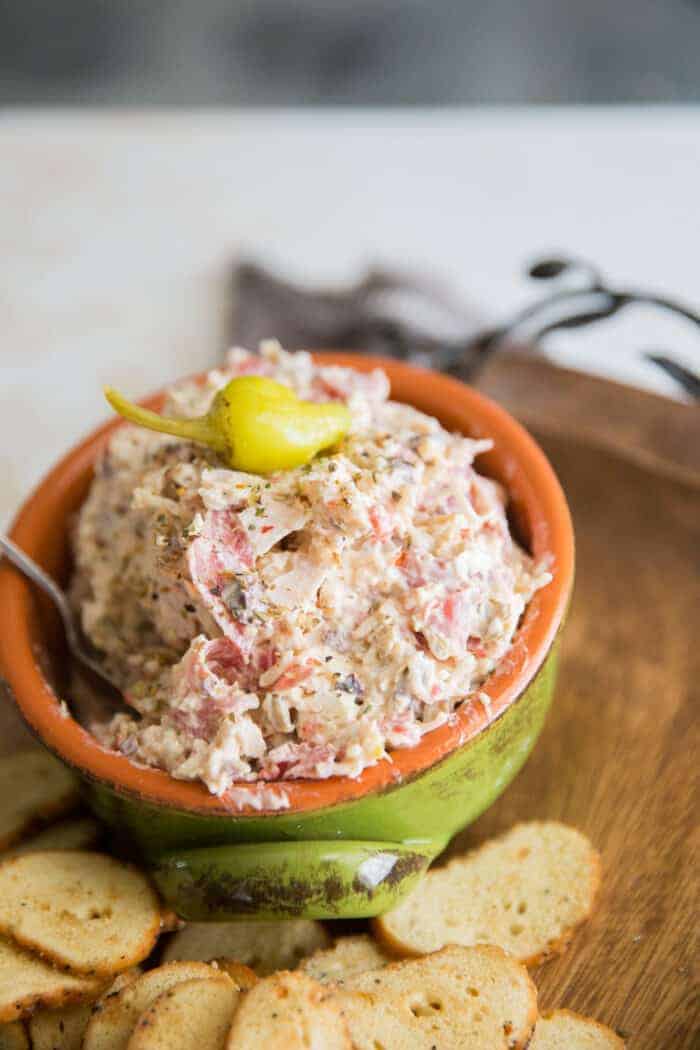 When I was a freshman in college, I had the opportunity to go to New Orleans for Mardi Gras. A group of friends was renting a van and driving down for the week.
But since I was a freshman in college, I had no money. A trip like that would probably use up my grocery funds for the month.
So I stayed behind and cursed my lack of funds, lack of spontaneity and my desire to eat.
When my friends returned, I listened to the recap of their week with just a bit of jealousy.
They partied, met interesting people, saw places I'd only vaguely heard about, listened to music and were part of a carefree, once in a lifetime experience.
It all sounded so exotic. They were on Bourbon Street after all! I told myself that no matter what, next year I'd go!
What Is A Hoagie Dip?
A hoagie dip takes your favorite hoagie sandwiches and turns them into a creamy, scoopable dip.
Some hoagie dips are served hot and some cold, like the one I'm sharing here. But regardless, these dips are fun and delicious!
What Do You Need To Make Muffuletta Hoagie Dip?
Since we are making a Muffuletta hoagie dip, we need all the fixings of a good Muffuletta sandwich!
A Muffuletta is a deli sandwich made with a special olive salad topping. This sandwich is sometimes served in a round bread loaf.
This muffuletta sandwich is famous in New Orleans and is said to have originated from Italian immigrants that eventually settled in Louisianna.
For this recipe you will need:
Black Olives – You can use jarred or canned; I find that the jarred olives have more flavor because of the brine they are sitting in.
Artichoke Hearts – The jarred marinated variety is perfect.
Roasted Red Peppers – Again, jarred is great.
Pepperoncini Peppers (banana peppers) – Whole or sliced is fine.
Mayo – Use your favorite
Cream Cheese – Anything goes with this, you can use full fat, half-fat or Neufchatel. It's best if it is softened.
Deli Ham
Salami – I used sliced hard salami
Prosciutto
Provolone – I used sliced cheese from the deli, but shredded will work a well
Italian Seasoning – You can find Italian seasoning blends with the spices in your grocery store.
How To Make Muffuletta Hoagie Dip
In a small bowl, combine the chopped olives, artichoke hearts, red peppers, and pepperoncini peppers. Each vegetable should be roughly the same size. A mini food chopper or a food processor makes this super easy!
In a bowl, stir together the cream cheese and the mayo. Fold in chopped deli meat, cheese, and seasoning. Add the olive salad.
Season with salt and pepper if necessary. Serve immediately.
What To Serve With Muffuletta Hoagie Dip?
There are so many things you can serve with this dip! First, you can hollow out a bread bowl, place the dip in the bowl and serve the dip with bread chunks.
Otherwise, bread rounds and chips are obvious choices. But you can also use small halved mini peppers as dippers for this dip!
Yield: 12 servings
Muffuletta Hoagie Dip
The flavors you love in a Muffuletta sandwich can be found in this simple hoagie dip!
Ingredients
1 cup pitted black olives
1 6 oz jar marinated artichoke hearts, drained
1/2 cup jarred roasted red peppers
1 cup pepperoncini peppers
1/2 cup mayo
4 oz cream cheese, softened
1/4 lb smoked ham, chopped
1/4 lb salami, chopped
4 oz prosciutto, chopped
1/4 lb provolone cheese, chopped
1/4 teaspoon red pepper flakes
1 teaspoon Italian seasoning
Instructions
In a food processor, chop vegetables into small chunks. Set aside.
In a bowl combine meats, cheese, mayo, cream cheese, and seasoning. Stir until well blended.
Foldin the olive salad and chill until ready to serve.https://amzn.to/2QpcCkr
Nutrition Information
Yield
12
Serving Size
1
Amount Per Serving
Calories

293
Total Fat

21g
Saturated Fat

7g
Trans Fat

0g
Unsaturated Fat

13g
Cholesterol

47mg
Sodium

1259mg
Carbohydrates

14g
Fiber

2g
Sugar

2g
Protein

13g