Hoagie pull-apart bread is sometimes called crack bread, some call it cheesy bread, and some call this pull-apart bread. I call it insanely delicious and positively addicting.
Intentions were to munch on this pull-apart bread while watching basketball. I took the bread out of the oven and pulled one tiny piece off just to test the flavors of course. That piece was good with the hot, melted cheese and the salty capicola ham, but I couldn't taste the pepperoni. So I pulled out a bigger piece, one with pepperoni right on top. Well, that piece was even better than the last one! I pulled one more piece out just so I could taste the salami and quickly realized that if I did not get this to the whole family ASAP then I could do considerable damage.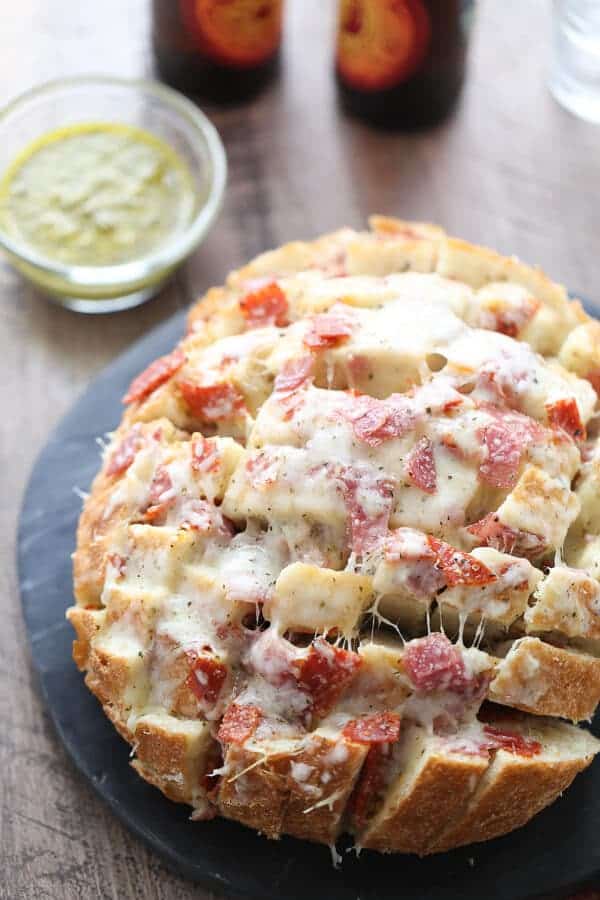 If I continued along that gluttonous path, this pull-apart bread would start to lose all semblance of its former, crusty self. And that would be tragic. Plus, my family would hate me. So I quickly placed the bread back into the oven for a few more minutes, just to give the cheese a final push into melted oblivion.
When the family caught sight of the pull-apart bread, I knew in an instant this would not be game day grub. This would be dinner.
It was like eating a hoagie after all, and people do eat hoagies for dinner. I felt totally justified! Speaking of hoagies, I used a combination of hard salami, sandwich pepperoni and capicola ham in this pull-apart bread. I served a very simple pesto dipping sauce right alongside. The sauce is simple, store-bought pesto that I jazzed up with a little vinegar and oil. The hot bread immediately soaks up the pesto so each bite hits you with garlic, cheese, salty meat, and fresh basil. Dang. That was one beautiful sentence.
Hoagie Pull Apart Bread
Hot melted cheese and salty, spicy meat fills every crevice of this easy pull apart bread! A hoagie disguised as an appetizer!
Ingredients
1 lb round loaf of crusty bread
1 tablespoon mayo
2 cups shredded Italian blend cheese
1/4 cup capicola ham, chopped
1/4 cup sandwich pepperoni, chopped
1/4 cup hard salami, chopped
1 teaspoon dried oregano
3 tablespoons butter
1/4 cup prepared pesto
1 tablespoon olive oil
1 tablespoon red wine vinegar
Instructions
Preheat oven to 350.
Cut loaf vertically into about 1-inch wide strips, taking care to not cut straight through. Cut through loaf horizontally in the same fashion.
In a bowl, combine the cheese, oregano, ham, salami, and pepperoni. Remove 1/4 cup and set aside.
Brush mayo into the crevices of the bread. Carefully stuff cheese mixture into the bread pockets. Be sure to fill each space.
Place loaf in a large piece of foil and pour melted butter over loaf. Cover and place bread in the oven for 20 minutes. Remove, open foil and top with remaining cheese mixture. Bake uncovered for an additional 10 minutes. Serve with pesto.
For the pesto: combine all ingredients in a bowl, serve.
Nutrition Information
Yield

10
Serving Size

1
Amount Per Serving
Calories

384
Total Fat

25g
Saturated Fat

10g
Trans Fat

1g
Unsaturated Fat

13g
Cholesterol

56mg
Sodium

815mg
Carbohydrates

24g
Fiber

1g
Sugar

3g
Protein

15g
Thankfully there's more basketball to watch. I'll be making more of the hoagie pull-apart bread. I may, in fact, be making one for each member of our family. Ok, I'm kidding (maybe).
Notes about the pull-apart bread recipe:
As you cut your loaf, take care NOT to cut all the way through. You want all your pieces to open up, but not fall out.
Feel free to use what you have in your fridge or what better suits your tastes. Black forest ham or turkey would be wonderful substitutes. In fact, almost any deli meat would work well. Use what you like just be sure to stuff your filling into each crevice. The more you have hidden within the better the pull, you know what I mean?
While stuffing your loaf, reserve about a 1/4 cup of filling. Wrap your loaf in foil before you put it in the oven. After baking for 20 minutes, open up your foil and cover bread with reserved cheese, then bake an additional 10 minutes. This gives you the cheesiest pull-apart bread!
Switch things up and make this Baked Brie and Jam Pull-Apart Bread instead!