This zesty sausage hoagie dip is made with Italian sausage, three kinds of cheese and a whole lot of flavor!
This is great all-occasion party dip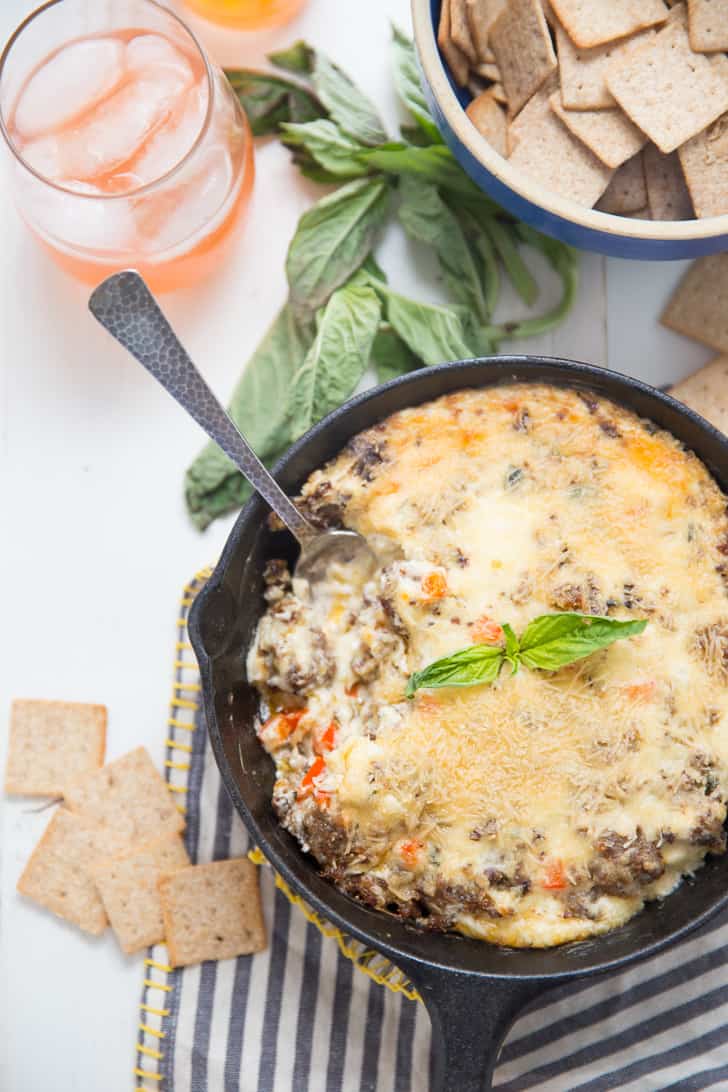 This post has been sponsored by Mondēlez International Group. All thoughts and opinions are my own
This sausage hoagie dip is amazing!
My husband and I never attended any parties for the big game when the kids were younger. It was too much effort and my husband knew that going to a party with the family to watch football meant that he probably wasn't actually going to get to watch football, at least not in the way that he liked. Staying home instead of going to a party was fine by me; it meant I never had to get out of my sweatpants.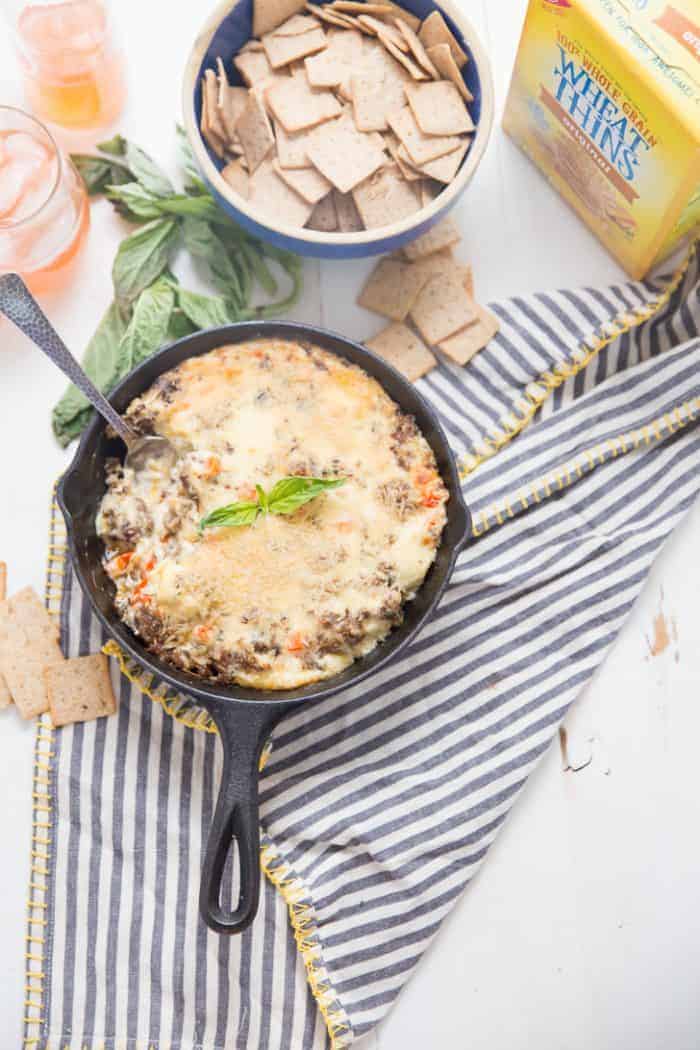 Just because we didn't leave the house, didn't mean we didn't "party". I would make a ton of snack foods like ranch soft pretzel bites or king ranch chicken dip. There was always way more food than our young family of five could eat. The kids would research the teams that were playing; they'd draw, color, and cut out team helmets and pendants and hang them up around the house. We would all pick our favorite team and cheer for them during the game. It was a simpler time but those game day parties are some of my favorite memories.
Now that our kids are older, we all enjoy hanging out with friends to watch the big game. There are always lots of kids; some watching the game with us, some playing other games and some on their phones. There is a lot of noise and chatter and my husband seems ok with it. The only thing that hasn't changed is that there is still a lot of good food! This year I'll be sharing this easy sausage hoagie dip. This dip is simple and gets rave reviews, probably because it takes the best part of a sausage hoagie and turns it into a cheesy, zesty, creamy dip that is irresistible.
How to make sausage hoagie dip with WHEAT THINS
This dip starts with a trip to Kroger to get some Italian sausage! I used a mild sausage, but hot or sweet will certainly do. The cooked sausage combines with cream cheese, shredded mozzarella and jack cheeses; red peppers, mayo, garlic and chopped fresh basil are also thrown into the mix. A sprinkling of shredded Parmesan tops it off just before baking. Serve this dip with WHEAT THINS Snacks (available in the cracker aisle at your local Kroger store) as they are able to stand up to all the cheesy goodness!
Kroger is a great place to get all the snacks in play that you'll need to have a delicious game day! Between 1/21 – 1/28/18, WHEAT THINS and snack crackers will be available at $1.99 a box, so stock up and dig in!
Yield: 24
Sausage Hoagie Dip
This zesty sausage hoagie dip is made with Italian sausage, three kinds of cheese and a whole lot of flavor!
This is great all-occasion party dip
Ingredients
1 lb Italian sausage
1 8 oz package cream cheese, softened
1 cup shredded Monterey jack
1 cup shredded mozzarella
⅓ cup mayo
2 cloves minced garlic
⅓ cup diced red bell pepper
1 tablespoon chopped basil
2 tablespoons shredded Parmesan cheese
WHEAT THINS (Serving Size 16 pieces)
Instructions
Preheat the oven to 350 degrees.
In a large skillet, heat Italian sausage. Crumble and cook the sausage until no longer pink. Drain the sausages and allow it to cool.
In a bowl, combine the cream cheese, mozzarella, jack cheese, and mayo. Stir in the garlic, bell peppers and basil. Mix in the sausage. Place cheese dip in a baking dish and top with Parmesan cheese. Bake dip for 25-30 minutes or until bubbly and golden. Serve immediately with WHEAT THINS.
Nutrition Information
Amount Per Serving
Calories

0
Total Fat

0g
Saturated Fat

0g
Cholesterol

0mg
Sodium

0mg
Fiber

0g
Sugar

0g
Protein

0g