This creamy crab dip is a crowd favorite! Old Bay seasoning, cream cheese and lots of cheese make this hot dip an appetizer to make over and over again!
I knew my husband was a keeper when he made a shrimp dip to take to a party on our first New Year's Eve together. It was a shrimp dip and it wasn't especially fancy and it wasn't really my taste, but he made it with enthusiasm and I loved him for it.
If you are a seafood fan, then you will love the crab dip. It is warm, creamy, and totally scoopable. Serve it whenever you know you are going to be surrounded by hungry people!
How To Make This Easy Crab Dip
There isn't much to this recipe, it's very much a one bowl, mix and bake kind of recipe (which is my favorite kind of recipe)
To start, in a bowl combine lump crab meat, softened cream cheese, mayonnaise, sour cream and two kinds of cheese. I used Monterey Jack because it melts nicely and is smooth and a little Parmesan cheese for its nuttiness.
Pour the mixture into a baking dish and bake for about 35 minutes. The crab dip is ready when the cheese is melted and bubbly!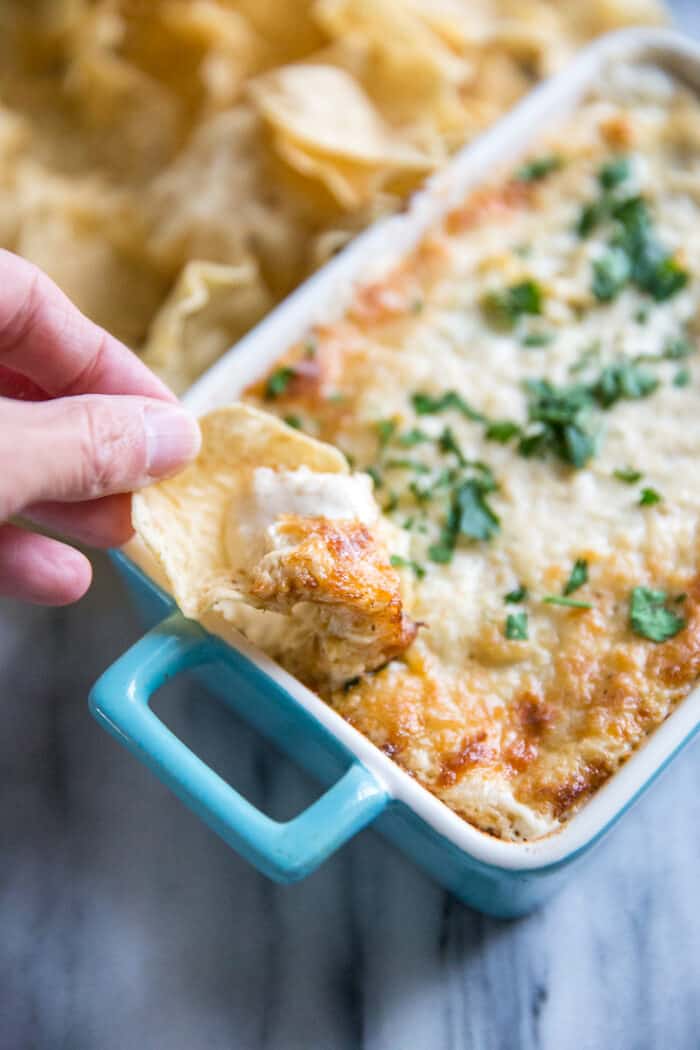 What To Serve With Crab Dip
I love serving this dip with scoopable chips so that each bite contains an optimal amount of dip. But you can also use sturdy crackers, crudite, and toasted bread round.
This dip works with almost anything!
How Long Can Crab Dip Sit Out?
This hot crab dip can sit out for an hour, 2 at most. Like any cheese dip to may have to be reheated while you entertain.
To reheat crab dip place the dip in a 350 degree oven for 15-20 minutes.
Can You Freeze Crab Dip?
I wouldn't recommend freezing this crab dip. I used made with both cream cheese and sour cream and neither hold up well to the freezer.
Tips For Making Crab Dip?
Add spinach, green onions or chopped artichokes
Use cheddar cheese in place of or addition to the Monterey Jack cheese (I would keep the cheese on the mild side so it does not compete with the crab)
Lump crabmeat is best, but imitation crab meat can be used in a pinch
Change the seasoning, instead of Old Bay Seasoning, use Cajun Seasoning or Creole seasoning
Can Crab Dip Be Made In Advance?
You can assemble this dip as directed without baking. Cover the dip with plastic wrap and place it in the fridge.
When needed, allow it to come to room temperature while the oven heats and then bake as directed.
How Long Can Crab Dip Be Refrigerated?
If covered, this crab dip can last in the fridge for up to 1 day.
This crab dip recipe is easy and comes together quickly! This dip can handle a variety of dippers which makes it fun to eat and absolutely delicious!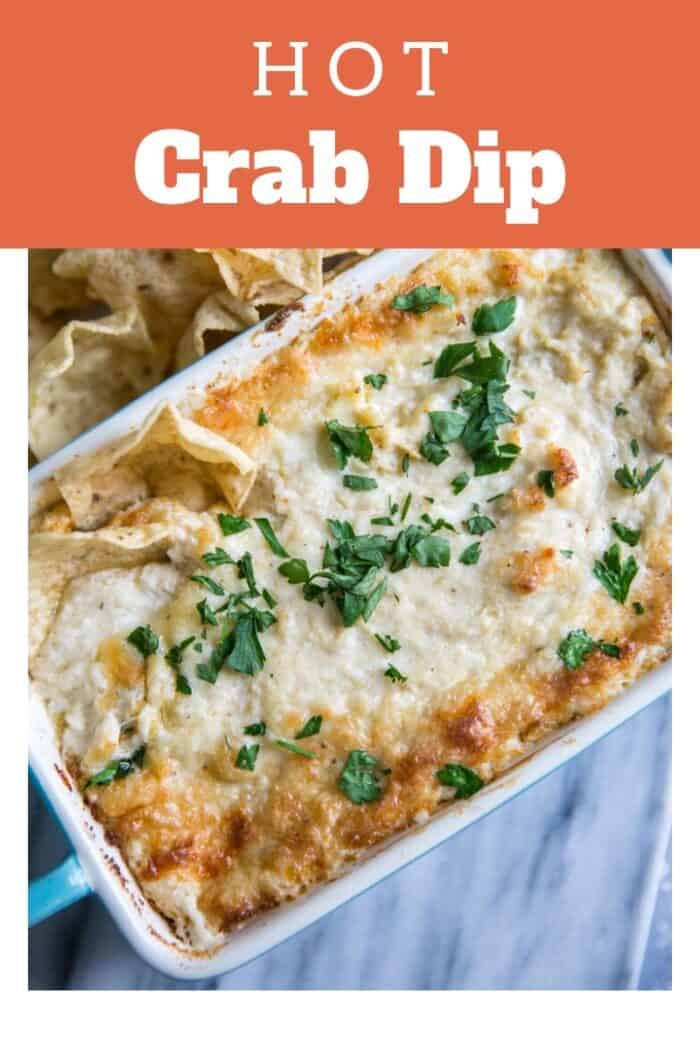 If you like this cheese dip, try this Reuben Dip, Low Country Boil Shrimp Dip, Hot Gouda Shrimp Dip, and Hot Pimento Cheese Dip
This crab dip has lots of creamy cheese and a touch of spice! It is served hot for the ultimate dipping experience!
Ingredients
8 oz lump crab meat
8 oz softened cream cheese
2 tablespoons grated Parmesan cheese
¼ cup shredded Monterey Jack cheese
Splash of lemon juice
3 cloves minced garlic
¼ teaspoon salt
1 teaspoon Old Bay seasoning
¼ cup mayo
¼ cup sour cream
Instructions
Preheat oven to 350 degrees.
Spray a baking dish with non-stick spray and set aside,
In a bowl, combine the crab meat, cheeses, lemon juice, garlic, salt, seasoning, mayo, and sour cream, stirring until fully combined.
Pour dip into the prepared pan.
Bake for 30-35 minutes or until melted and bubbly.
Nutrition Information
Yield
32
Serving Size
1
Amount Per Serving
Calories

51
Total Fat

5g
Saturated Fat

2g
Trans Fat

0g
Unsaturated Fat

2g
Cholesterol

17mg
Sodium

109mg
Carbohydrates

1g
Fiber

0g
Sugar

0g
Protein

2g