Red Velvet Brownies are swirled with cream cheese and peppermint bits!  Perfect for the holidays!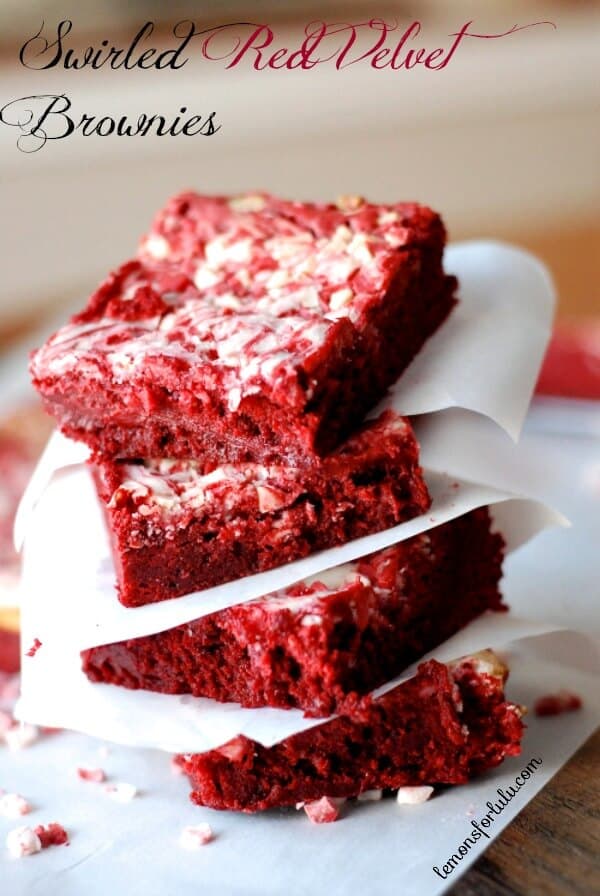 I'm in full panic mode.  I went into Thanksgiving feeling very blasé about Christmas gifts.  I had a swagger in my step because I knew I had Christmas in the bag.  Well, not literally in the bag, more like in my virtual shopping carts.  But then Black Friday came and ruined my peace of mind.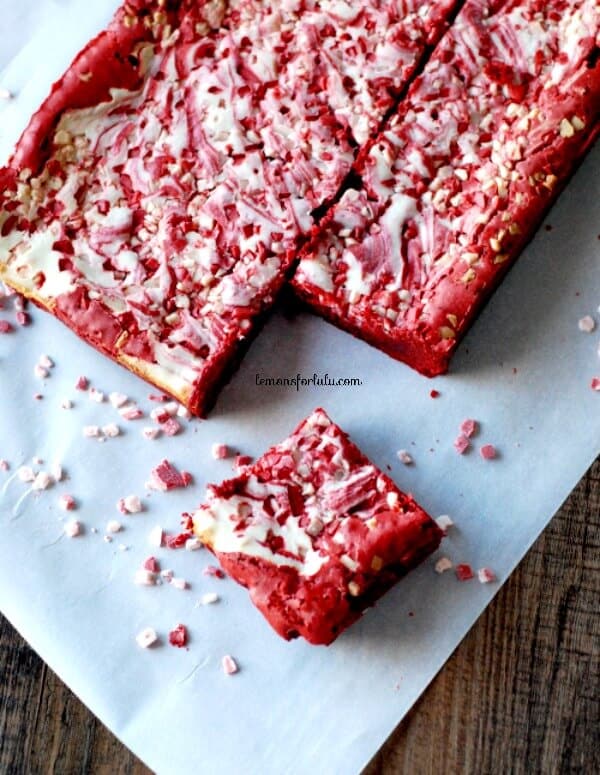 I traveled over the Thanksgiving holiday and did absolutely no shopping.  I assumed I'd get it all done on Cyber Monday (like everyone else afraid of Black Friday).  Monday morning I gleefully hopped online and with my jumbo coffee cup in one hand and my credit card in the other I was prepared to check everything off my list!  Until I noticed that half the items that WERE sitting in my carts were gone.  As in sold.  Not to be had by me.  If by chance they were in my cart, they were no longer, oh how should I say it…CHEAP!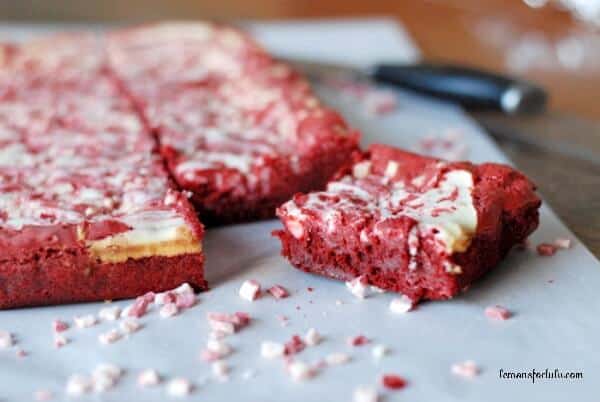 Store after store it was the same sad experience.  My holiday cheer was rapidly evaporating.  Facepalm!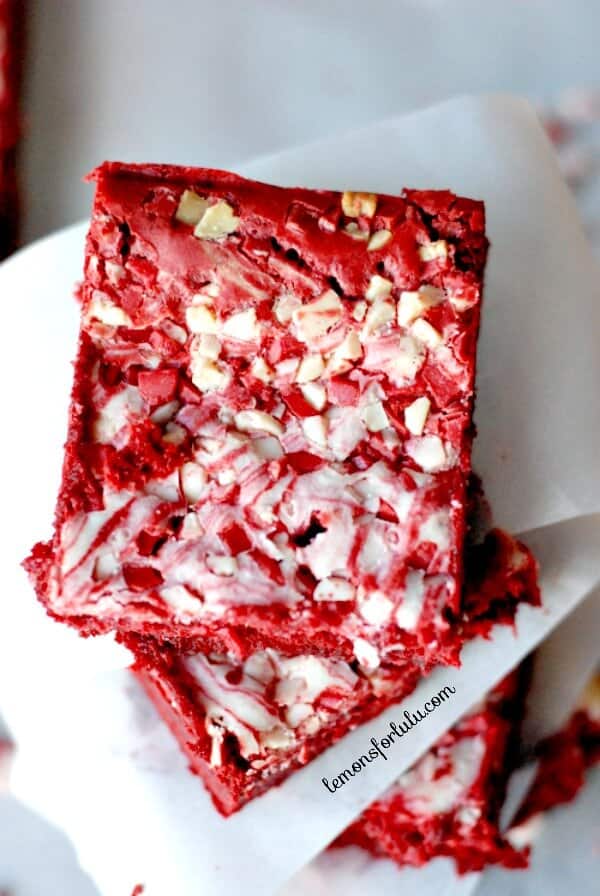 A good chunk of the rest of my day was spent scouring the web for the best deals possible.  I was obsessed and on a deliberate mission.  The calendar may say I have 22 days left, but I distinctly feel as though time  is slipping away from me!  It's as if my life depends on buying everything NOW. I will obsess and obsess until every single gift has been purchased.  It's a shopping marathon and I see my shiny medal waiting for me at the finish!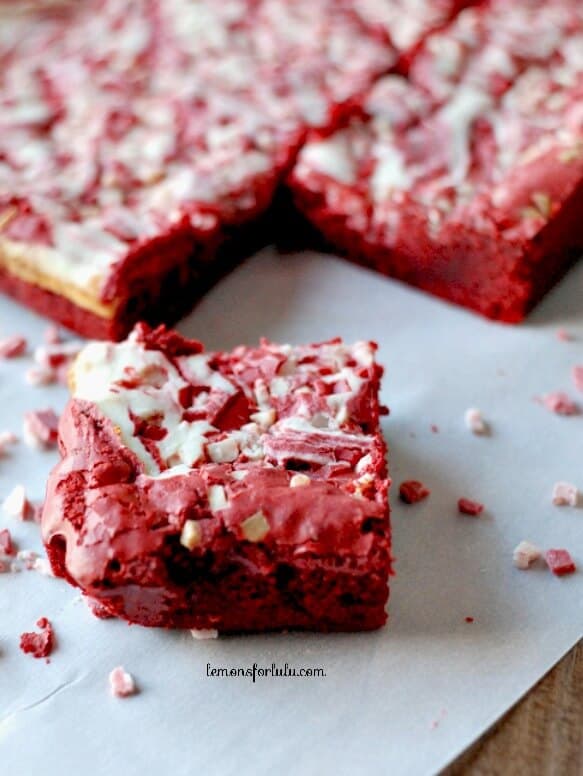 Shopping bargains makes me hungry!  Since I was buying Christmas presents I felt holiday food was in order!   It doesn't get more festive than red velvet!
These red velvet brownies are fluffy and soft, with a consistency closer to cake than brownies.
They are very rich and when you consider the swirl of cream cheese, you have yourself a true decadent treat.  The Andes Peppermint Bits are just a bonus!
Red Velvet Anyone?
NEVER MISS A RECIPE!  SUBSCRIBE TO MY EMAIL TODAY!
FOLLOW ME:
FACEBOOK | TWITTER| GOOGLE +| BLOGLOVIN | INSTAGRAM
Peppermint & Cream Cheese Swirled Red Velvet Brownies
Ingredients
1 4oz

bittersweet baking bar, chopped

3/4

cup butter

2 1/4

cup sugar, divided

1

bottle red food coloring 1 oz

4

eggs

1/4

teaspoon peppermint extract

2

teaspoons vanilla extract

1 1/2

cups flour

1/8

teaspoon salt

4

oz package cream cheese, softened

2

egg whites

2

tablespoons flour

1/4

cup Andes Peppermint Baking Bits
Instructions
Prehaeat oven to 350. Line a 9 x 13 baking dish with aluminum foil and spray with non-stick spray. Set aside.
Microwave chocolate and butter together in 45-second intervals until butter melts. Stir until smooth. Whisk in two cups of sugar. Add eggs one at time, mixing after each addition. Add in peppermint extract, 1 teaspoon vanilla extract and food coloring. Carefully stir in flour and salt. Pour batter into prepared baking pan.
In a mixer beat cream cheese until smooth. Add sugar and beat until fluffy. Mix in egg whites and vanilla. Add in flour. Drop mixture by spoonfuls onto brownie mixture and swirl with a knife. Sprinkle brownies with peppermint bits. Bake for 35-40 minutes or until a toothpick inserted comes out with only a few crumbs.
Let brownies sit in pan on a cooling rack for 1 hour. Lift brownies from pan using foil. Gently remove foil before cutting brownies into squares.
Recipe adapted from Southern Living