These classically flavored red velvet muffins are made with three kinds of chocolate!  A simple addition to your holiday breakfast!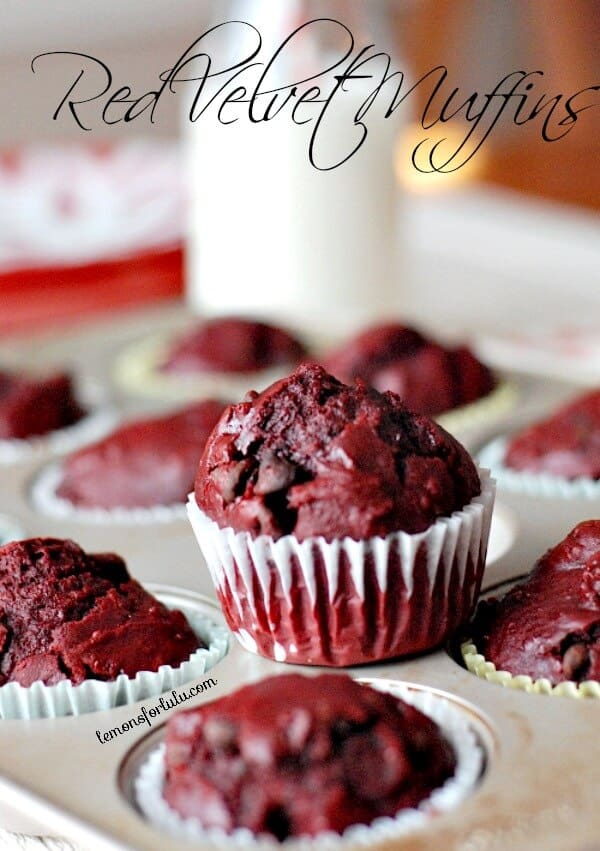 It's time for red velvet!  I'm sure you've all been on the edge of your seats just waiting for the first red velvet recipe right?  Well here it is…. sort of.  I mean, the recipe itself is from the December issue of Cooking Light Magazine.  I spotted these triple chocolate muffins and new in an instant that these would be happening in my kitchen!  It's been a while since I've made homemade muffins.  I was overdue.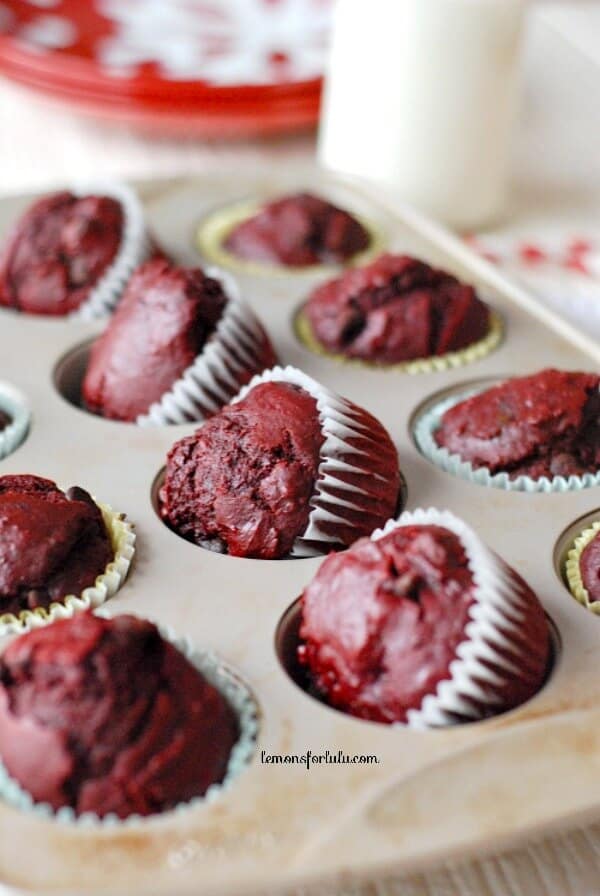 What I hadn't really planned on doing was turning them into red velvet.  But as I said, it's that time of year where everywhere you turn, food is flavored with eggnog or peppermint and colored in red or green.  I don't know what it is about red food, but somehow I think it tastes better?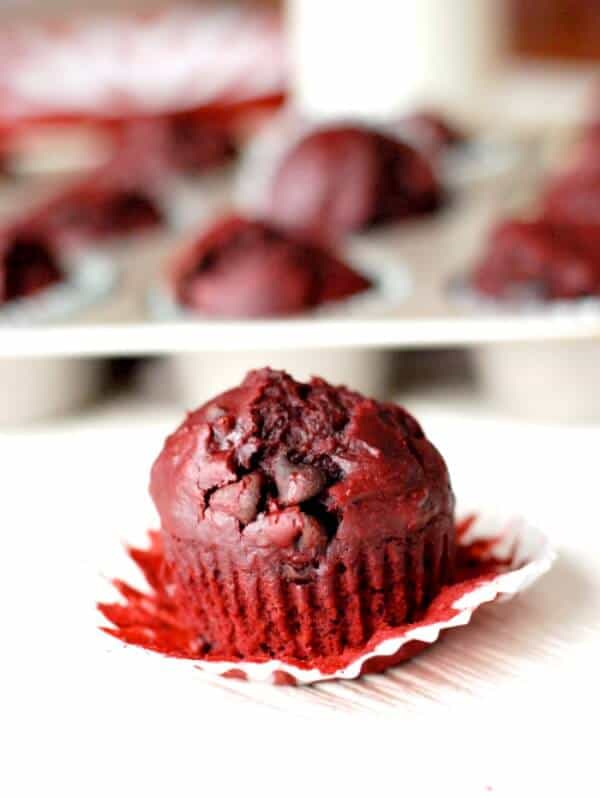 Initially, I wanted to make these true red velvet by replacing the buttermilk with the 2% milk for which the recipe calls.  The result was a very dense, dry muffin.  I did account for how the acid in the buttermilk would interact with the baking powder.  While they were the right shade, they looked less like a muffin and more like small tiny meteors.  And so I tried again.  This time I followed the recipe as written and simply settled for adding food coloring!  You may consider this cheating, and you would be right.  But I'm ok with that.  Sometimes cheaters DO win.  These muffins are a beautifully festive shade of red, they are light, fluffy, sweet and chocolatey.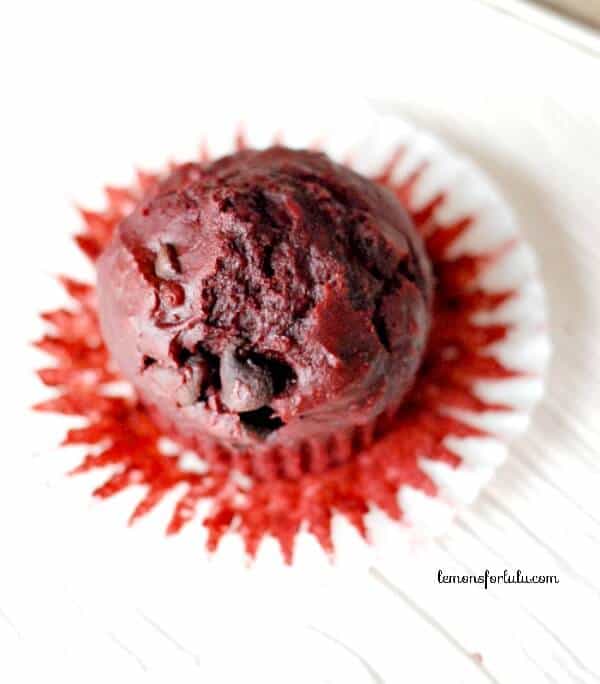 I couldn't ask for anything more!  No seriously, I literally can't ask for anything more.  I'm too busy stuffing my face with more of these muffins!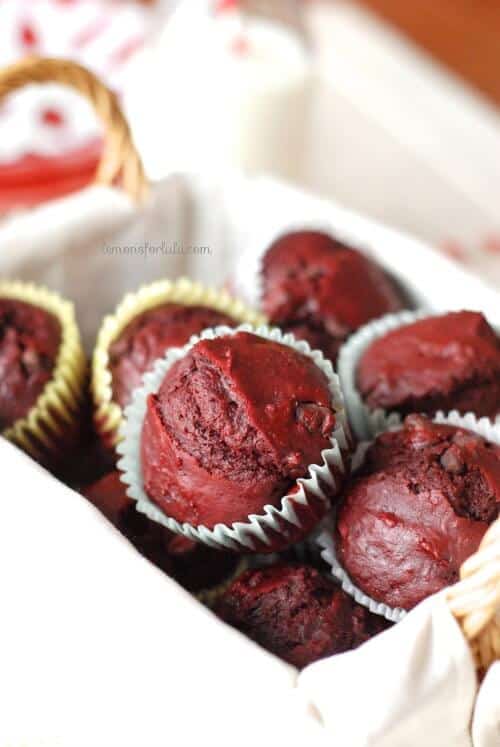 IN THE RED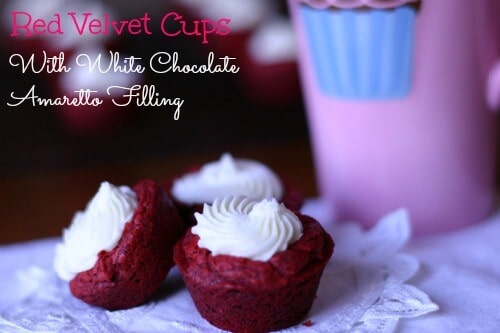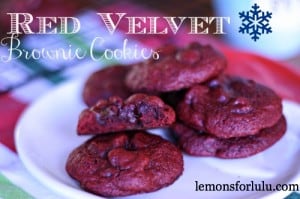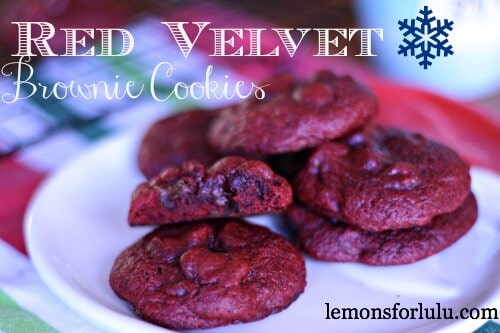 NEVER MISS A RECIPE!  SUBSCRIBE TO MY EMAIL TODAY!
FOLLOW ME:
FACEBOOK | TWITTER| GOOGLE +| BLOGLOVIN | INSTAGRAM
Ingredients
3

Tablespoons unsalted butter

1 1/2

ounces bittersweet chocolate (I used Ghirardelli 60 %)

2

cups flour

1/3

cup cocoa powder

2

teaspoons baking powder

1/4

teaspoon salt

1/8

teaspoon baking soda

2/3

cup sugar

2/3

cup milk

1/2

teaspoon vanilla

1

bottle (1 oz) red food coloring

2

large eggs lightly beaten

1

cup chocolate chips
Instructions
Preheat oven to 425.
In a microwave safe bowl combine butter and chocolate. Heat for 45 seconds. Stir. Continue to heat in 15 second intervals until butter has melted. Stir until smooth. Let chocolate cool to room temperature.
In a large bowl, combine flour, cocoa powder, baking powder, salt and baking soda. Stir with a whisk. In a separate bowl, combine sugar, milk, eggs, vanilla and food coloring. Stir.
Add chocolate mixture as well as milk mixture to flour. Stir just until combine. Gently fold in chocolate chips. Using a large cookie scoop, drop dough into lined muffin tins. Make for 5 minutes. Reduce oven temperature to 375 and bake an additional 10 minutes or until toothpick inserted in the center comes our clean. Let muffins cool in pan for 5 minutes before removing to a cooling rack. Makes 12-18 muffins.