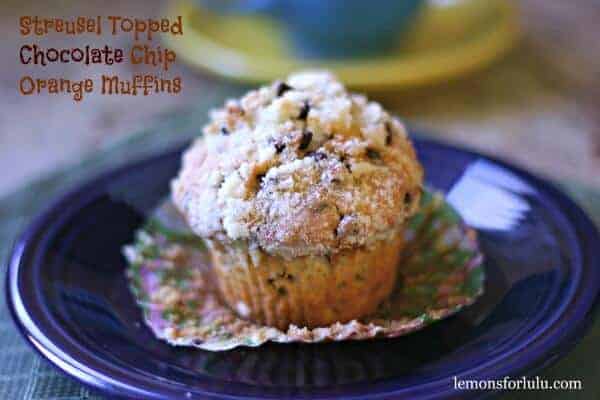 You know you've been married a long time when you walk into the bathroom while your husband is in there, he pulls you close to him, as if to give you a passionate kiss. Instead, he slyly grabs the tweezers and swiftly plucks a gray hair from your head!
This is a true story. I love my husband dearly, but quite frankly, I was quite taken aback by his assault on my head! Truth be told, I'm not sure if I was shocked because he felt it necessary to pluck unsightly hair from head or because this meant that I could no longer deny the fact that I actually have gray hair. I know my husband reacted out of love, which means I should probably accept that my hair isn't as lustrous as it once was!
The only way to cope with this sort of situation is turn around and run before the tweezers make a come back! Making muffins is another good alternative! Like these chocolate chip orange muffins! Light, moist muffins, infused with orange juice as well as orange zest. I used mini chocolate chips so that chocolate isn't the only ingredient you taste. The streusel topping adds another layer of flavor to these muffins and little extra sweetness! These were so good and so flavorful, my son had two right away! They disappeared as quickly as the gray hair on my head!
If you'd like a little Lulu in your life, please subscribe via email, RSS, Facebook or Google +, I love staying connected to friends!
You might enjoy these too: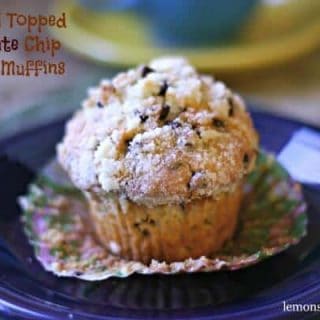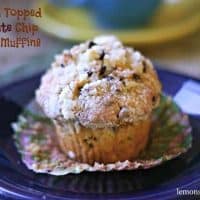 Streusel Topped Chocolate Chip Orange Muffins
Yield: 12 muffins

Prep Time: 15 minutes

Cook Time: 18 minutes

Total Time: 33 minutes

Muffins with a hint of orange and topped with a sweet streusel topping.
Ingredients
2 cups flour
1 t baking powder
1/2 t salt
1 cup miniature chocolate chips
2 eggs
1/2 cup sugar
1/2 cup milk
1 T orange zest
1/2 cup orange juice
1/4 cup oil
1/2 cup flour
1/2 cup sugar
1/3 cup butter, cubed
Instructions
Preheat oven to 400. Line a 12 cup muffin tin with liners and set aside.
In a large bowl, whisk together flour, baking powder, and salt. Stir in chocolate chips. Make well in the center.
In a large bowl, combine eggs, sugar, milk, orange zest, orange juice and oil.
Add egg mixture to the center of the flour bowl. Stir until dry ingredients are just moistened.
Fill each muffin cup about 1/4 full.
For the Streusel topping, combine flour and sugar in bowl. Add cold butter and blend with a pasty brush until mixture resembles coarse meal. Sprinkle each muffin with streusel topping.
Bakke for 18 minutes. Let cool in pan for about 5 minutes.
Nutrition Information
Yield 12 Serving Size 1 muffin
Amount Per Serving Calories 338 Total Fat 15g Saturated Fat 7g Trans Fat 0g Unsaturated Fat 8g Cholesterol 45mg Sodium 197mg Carbohydrates 48g Fiber 2g Sugar 26g Protein 5g


Recipe adapted from Better Homes and Gardens
I'll be linking this recipe up to these fabulous sites as well as to: Jam Hands,
The DIY Dreamer and