A rich cake like chocolate brownie covered in a sweet and subtly spicy caramel frosting!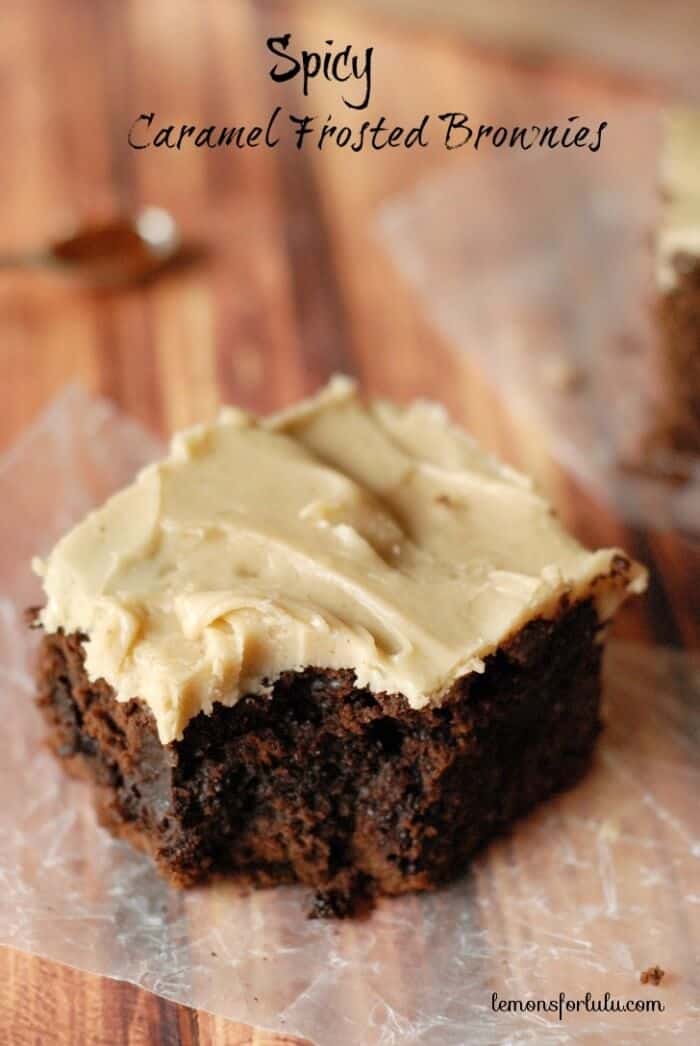 Sometimes I have the best brain storming sessions right before bed. While I lie there waiting for sleep to envelop me, my mind is a flurry of food ideas! I don't know why this is the best time for me to think of blog topics, but it is. Ideas just come at me like rapid fire, one after another. I get so excited by the prospect of trying each and every meal idea, that I probably fall asleep with a huge smile on my face.
The next morning I wake up ready to start planning out my brilliant ideas only to discover I can't remember a single idea! Doh! When will I learn to start leaving a pen and paper on my nightstand? Good ideas are worthless if you don't remember them!
I was going to share something with you that was refreshingly lime flavored, but I couldn't remember what exactly I wanted to make! I had all these fun ideas in anticipation of Cinco de Mayo, but they were lost in the deep recesses of my mind. But sometimes good things come from tragedies. These chocolate brownies are a good example of that. I may have lost my original idea, but I feel confident that these chocolate brownies are even better! They are decadent with rich, luscious caramel frosting. They have just a hint of cinnamon and espresso powder (to really boost that chocolate flavor). The sweet frosting has a mere hint of spice put there from the scant amount of chipotle chili powder that I mixed right in. While you certainly can leave out the spice, I highly recommend you try it! It's not as pronounced as you might think. Even my kids, who are utterly averse to any spice, ate these chocolate brownies with zeal! It just adds a little kick that you feel in the back of your throat after each bite, mild, yet persistent.
I've learned a valuable lesson, it's probably better to brain storm during the day!
BROWNIES
NEVER MISS A RECIPE! SUBSCRIBE TO MY EMAIL TODAY!
FOLLOW ME:
FACEBOOK | TWITTER| GOOGLE +| BLOGLOVIN | INSTAGRAM
Spicy Caramel Frosted Chocolate Brownies
A rich cake like chocolate brownie covered in a sweet and subtly spicy caramel frosting!
Ingredients
1 cup butter
2 1/4 sugar
1 1/4 cup cocoa powder
1 teaspoon salt
1 1/2 teaspoons baking powder
5 whole eggs
1 tablespoon vanilla
1/2 teaspoon cinnamon
1/2 teaspoon espresso powder (optional)
1 1/2 cups flour
1/2 cup butter
1/2 cup brown sugar
1/4 cup evaporated milk
1 teaspoon vanilla
1/2 teaspoon Chipotle chili powder
2 cups powdered sugar
Instructions
Preheat oven to 350. Grease a 9x13 inch pan and set aside.
In a large microwave safe bowl, melt butter. Stir in sugar until shiny. Stir in cocoa powder, salt and baking powder. Combine completely. Stir in eggs one at a time, mixing well after each addition. Add cinnamon and espresso powder. Slowly mix in flour, stirring until smooth and completely combined. Pour into prepared pan. Bake for 28 minutes or until a toothpick inserted comes out clean and edges have set. Let cool completely.
For the frosting, melt butter in a saucepan over medium low heat. Stir in brown sugar and milk, stirring to combine. Remove from heat. When cool, stir in vanilla and chili powder. Whisk in powdered sugar until fluffy and smooth. Spread over cooled brownies.
Nutrition Information
Yield

24
Serving Size

1 brownie
Amount Per Serving
Calories

220
Total Fat

13g
Saturated Fat

8g
Trans Fat

0g
Unsaturated Fat

4g
Cholesterol

70mg
Sodium

230mg
Carbohydrates

22g
Fiber

1g
Sugar

13g
Protein

3g