Cinnamon chocolate brownies are the perfect dessert with a tall glass of milk! Earthy, warm cinnamon is paired with fudgy chocolate brownies in this delicious dessert recipe.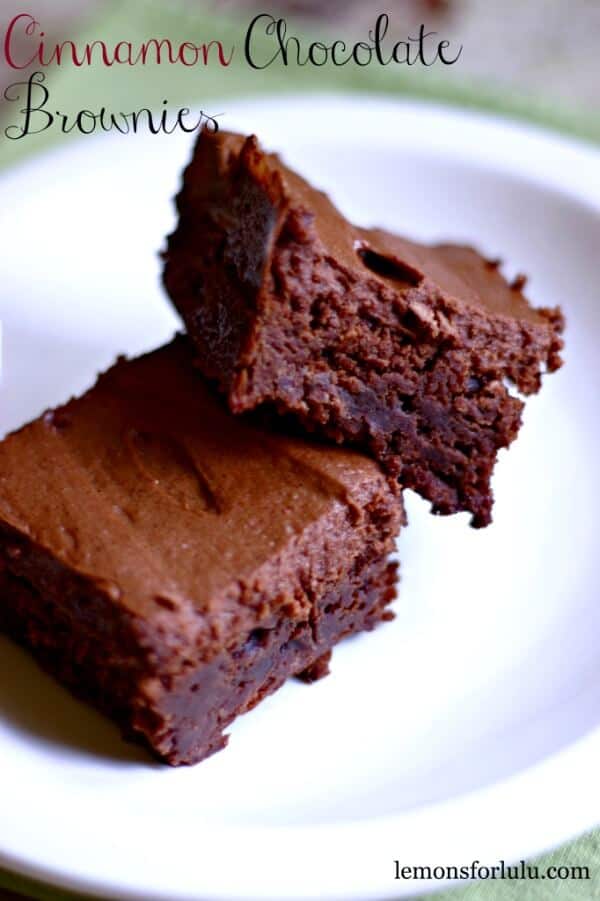 Holiday baking has begun!  One spice that stands out for me as the quintessential spice of the holiday season is cinnamon.  You can find it in so many recipes, including savory recipes like chili or sweet holiday favorites such as snickerdoodles, pumpkin cupcakes, cinnamon rolls and gingerbread!  Cinnamon has a way of permeating the air, instantly  making you feel warm, cozy and hungry!!!  I just love using cinnamon.
This weekend, I made cinnamon chocolate brownies.  These are rich chocolate brownies with a healthy dose of cinnamon.  You many not pick out the cinnamon right away, but it's there, taking over your taste buds. The frosting is really amazing.  It's so light, fluffy, rich and packed with both cinnamon and chocolate .  I'm not sure I can ever go back to eating plain brownies again!
If you are in the mood for chocolate brownies, but want to give them a little kick, I urge you try these cinnamon chocolate brownies!
Better stock up on the cinnamon, as I am sure this will be a new family favorite recipe!
If you would like a little Lulu in your life, please subscribe via email, RSS, Facebook or Google +.  I love staying in touch with friends!
You might enjoy these too:
Gingerbread Granola                                                      Lemons for Lulu
Caramel Apple Brownies                                                Lemons for Lulu
Cinnamon Brownies                                                        The Little Red House
Cinnamon Chocolate Brownies
24
adjust servings
Rich chocolate brownies with lots of cinnamon!
Ingredients
1

cup flour

2

teaspoons ground cinnamon

1/2

teaspoon baking powder

1/4

teaspoon salt

2

cups sugar

3/4

cup unsweetened cocoa powder

1

cup (2 sticks) butter

4

eggs

1

tablespoon vanilla extract

For frosting

1

cup (2 sticks) butter, softened

1

teaspoon vanilla extract

3

ounces unsweetened baking chocolate, melted

1

tablespoon ground cinnamon

1

box (16 ounces) confectioners' sugar

1/4

cup milk
Instructions
Preheat oven to 350. Grease a 9x13 pan and set aside.
In a bowl combine flour, cinnamon, baking powder and salt. In a separate bowl, combine sugar and cocoa powder.
In a large bowl, melt butter in microwave. Stir in sugar mixture. Add eggs one at at time until well blended. Add in vanilla. Slowly add in flour mixture and stir until incorporated. Spread in prepared pan.
Bake for 30 minutes or until brownies begin to pull away from pan. Let cool completely before frosting.
For the frosting:
In a mixer, beat butter until light and fluffy. Add in vanilla and melted chocolate. In a separate bowl, combine confectioners sugar and cinnamon. Gradually add sugar mixture to butter, beating until well blended. Be sure to scrape down the sides of the bowl. Carefully and slowly beat in the milk until frosting is smooth.