I love pot luck and picnic food, especially the desserts!
These brownie bars are loaded with peanuts, mini marshmallows, caramel sauce AND chocolate frosting!
Good thing this recipe makes enough to share with a crowd!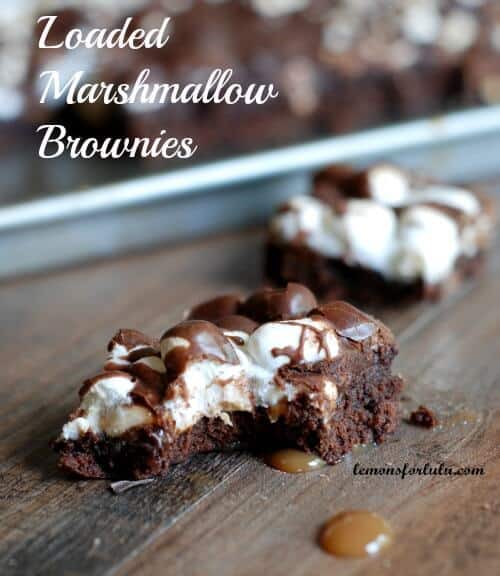 I am about to tell you all a huge secret.  I don't like S'mores.  There's the cold, ugly truth.  I've never really felt like I could make that confession, being a mom, food blogger and former girl scout troop leader.   However, I feel it's time.  I like most of the components of a S'more, especially in sweets like these sandwiches or this toffee.  And I like that the term S'more is a contraction.  Plus it's fun to say things like "I'd like s'more S'mores please".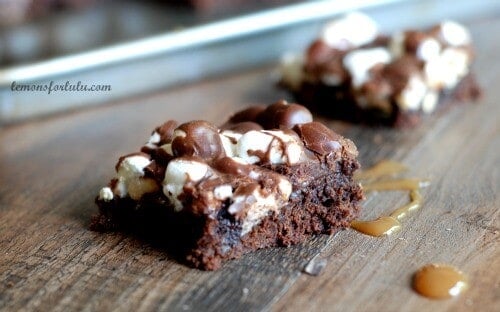 I'm not a big fan of marshmallows.  I do like them roasted,  but I like them blackened and charred.  I love how the ash-flavored outside of the marshmallow gets perfectly crusty while the inside stays especially gooey and melted!   I could eat loads of those types of marshmallows.  Mildly toasted marshmallows resting atop a little square of chocolate (which never melts enough for my liking) do nothing for me.  When I smoosh down my marshmallow with a pair of stiff graham crackers, the whole thing always seems to break apart as soon as I bite into it which causes the chocolate and marshmallow to ooze down my chin, and inevitably end up stuck in my hair!!!   That is not my idea of fun, no sirreee.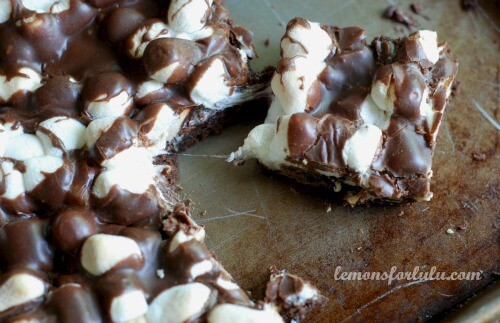 I'm not a total S'more killjoy.  I just altered them a bit .   I nixed the graham crackers, added a brownie base, nuts,  caramel and chocolate frosting!  Just a slight makeover, really.  I'm sure you'd hardly notice.  Ok, the nuts might give it away!   I can honestly say, as someone who has a luke warm attitude towards marshmallows, I went ape over these brownies!  The marshmallows are toasted on the outside, but keep their middles perfectly gooey and soft, which tastes superb with the nuts!  Smooth caramel is hidden underneath all those crunchy, dry roasted nuts and  then sinfully sweet chocolate frosting is drizzled over the entire pan!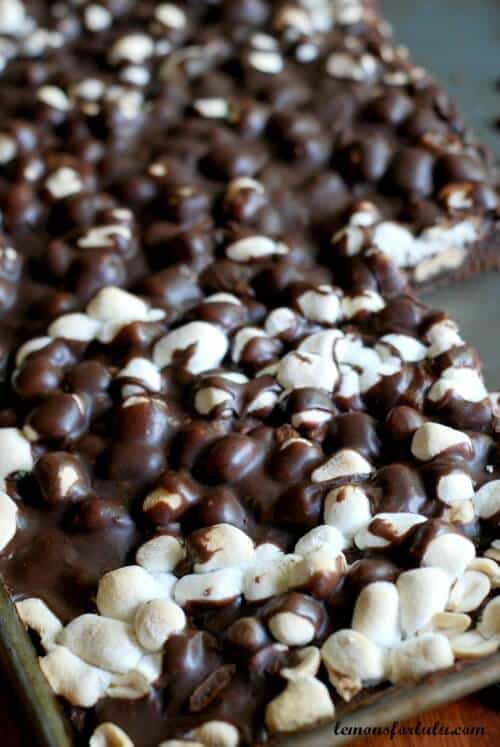 S'mores are a fun, classic campfire treat, but if you are ready for a bit more, then these loaded marshmallow brownies are for you!
MORE FUN WITH MARSHMALLOWS: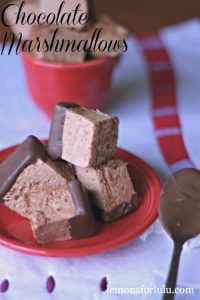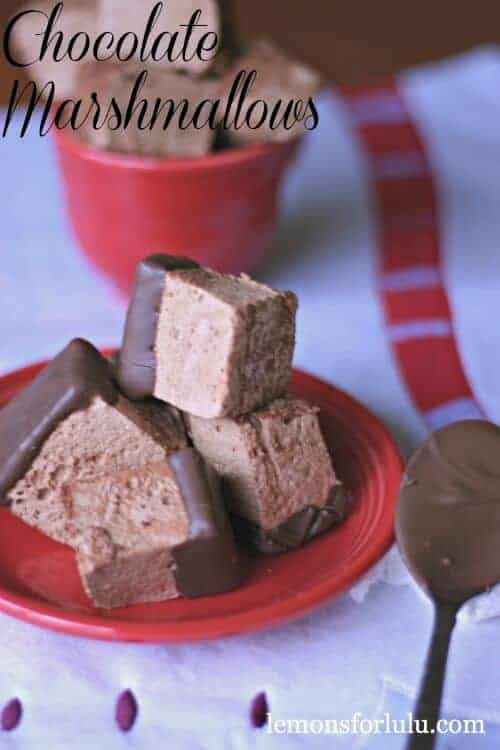 NEVER MISS A RECIPE!  SUBSCRIBE TO MY EMAIL TODAY!
FOLLOW ME:
FACEBOOK | RSS | TWITTER | GOOGLE + | BLOGLOVIN
Loaded Marshmallow Brownies
Ingredients
1

cup butter

4

oz semi sweet chocolate chopped

2

cups sugar

1 1/2

cups flour

1/3

cup cocoa

4

eggs

1

teaspoon vanilla

3/4

teaspoon salt

1

cup caramel ice cream topping

1 10oz

package mini marshmallows

1

cup unsalted, dry roasted peanuts

1/2

cup butter

1/3

cup cocoa

1/3

cup milk

2

cups powdered sugar
Instructions
In a microwave safe bowl, melt butter and chocolate until smooth and completely melted. Stir in sugar. Carefully mix in cocoa, eggs, vanilla and salt. Pour onto a greased jelly roll pan. Bake in a 350 degree oven for 20 minutes. Remove and drizzle caramel over bars. Top with peanuts and marshmallows. Return bars to oven and bake and additional 10 minutes or until marshmallow begin to brown.
Remove and immediately drizzle with chocolate frosting.
For the frosting:
While bars are making, melt butter, cocoa and milk. Remove from heat when melted. Add powdered sugar and vanilla, beating with a hand mixer until smooth