Peanut butter cookies are rolled in nuts then filled with a luscious caramel filling!
A drizzle of chocolate decorates each one!
Growing up my mom always made the same three Christmas cookies; snowballs, buckeye balls, and jelly filled thumbprints. I ate the snowballs because the were coated in lots of powdered sugar. And I ate the buckeye balls because peanut butter and chocolate is the best combination ever. But those thumbprints? Well, I left those alone. The dough was never sweet enough, and that mint jelly was anything but satisfying.
Here I am years later making some of the same old Christmas treats. I make snowballs, but my recipe is loaded with cherries and pistachios. And buckeye balls? Well, I make batches of those as well as buckeye mini cakes, buckeye brownie cookies, and buckeye marshmallow pops. As for the thumbprints? I avoid the nut coated, the jelly-filled kind my mom made. Mine are either chocolate and candy filled or these peanut butter turtle cookies!
The cookies have lots of peanut butter flavor and are just sweet enough especially with the addition of with the mini chocolate chips. Just like traditional thumbprints the cookies are rolled in chopped nuts then each cookie's thumbprint is filled with a luscious caramel filling then melted chocolate is drizzled on top.
Whether you are purist when it comes to thumbprint cookies or not, you will adore these turtle cookies. Peanut butter and caramel are a dynamic duo and of course the chocolate ehances both peanut butter and caramel! The mini chocolate chips add a nice surprise and those chopped nuts add a little extra flavor and texture.
Notes about the recipe:
Creamy, traditional peanut butter works best for this recipe, do not use the natural variety.
The mini chocolate chips may omitted if desired.
I used a tablespoon to make my indendations.
I used caramels and cream for the filling, but a chocolate filling would be delicious as well.
I used pecans, but almonds or hazelnuts would also work.
I baked these on parchement paper for cookies; they slid right off and made clean up super easy.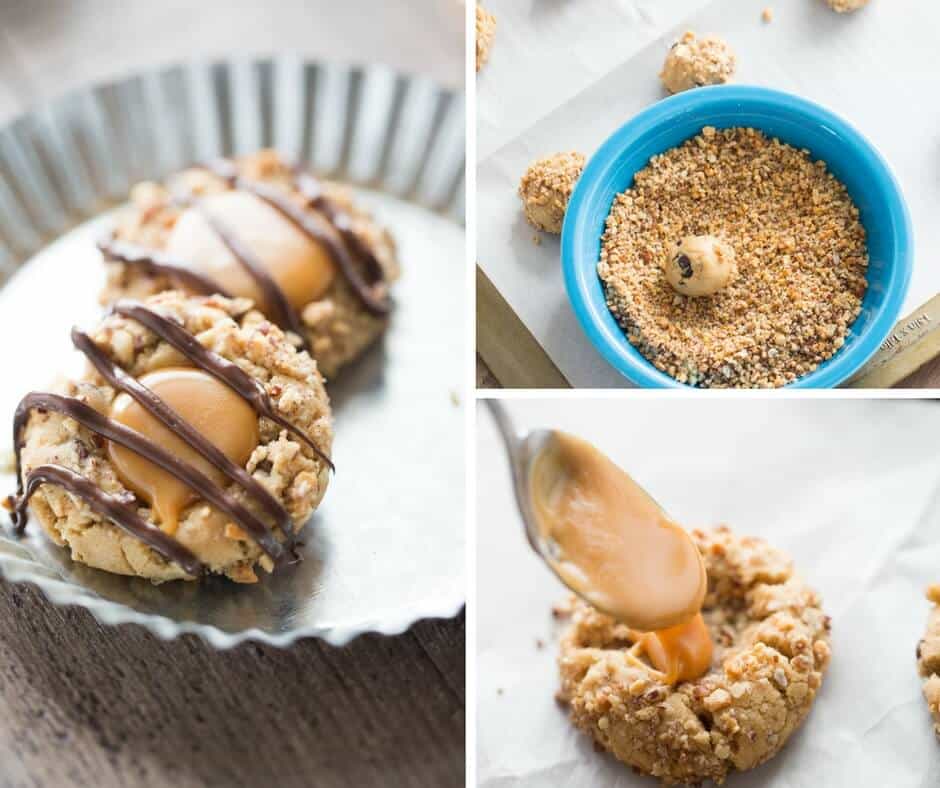 Yield: 4 dozen
Peanut Butter Turtle Cookies
Peanut butter cookies are rolled in nuts then filled with a luscious caramel filling!
Ingredients
1/2 cup softened butter
3/4 cup peanut butter
1/3 cup sugar
1/2 cup brown sugar
1 egg
2 tablespoons cream or milk
1 1/2 cups of flour
1/2 teaspoon salt
1 teaspoon baking soda
1 teaspoon vanilla
1/2 mini chocolate chips
1 cup finely chopped pecans
30 caramels
2 tablespoons heavy cream
1/2 cup chocolate chips
Instructions
Preheat oven to 350 degrees. Line baking sheets with parchement paper and set aside.
In the bowl of a mixer, cream together the butter and peanut butter until smooth. Beat in both sugars. Add egg and mix until incorporated. Beat in the milk.
Combine flour, salt and baking soda in a small bowl. Carefully beat flour mixture into batter until fully blended. Add vanilla. Stir in chocolate chips.
Scoop batter by tablespoon full and roll into one inch balls. Roll each ball into chopped nuts and place on your prepared baking sheet. Continue with remaining batter.
Bake cookies for for 10 minutes. Remove from oven and using the rounded end of a tablespoon, carefully make indenation in each cookie. Allow cookies to rest on baking sheet for 1-2 minutes before removing to a cooling rack.
In a microwave safe bowl, melt together the caramels and milk. Heat until melted; stir.
Carefully spoon caramel into the center of the cooled cookies.
In a seperate bowl, melt chocolate chips. Drizzle chocolate over filled cookies. Allow chocolate to set before storing the cookies.
Nutrition Information
Yield
48
Serving Size
1
Amount Per Serving
Calories

133
Total Fat

8g
Saturated Fat

3g
Trans Fat

0g
Unsaturated Fat

4g
Cholesterol

11mg
Sodium

104mg
Carbohydrates

15g
Fiber

1g
Sugar

10g
Protein

2g