This breakfast egg casserole is so easy and so quick! It is fluffy and filling; great for any meal of the day!
I'm proud to have partnered with the Ohio Poultry Association to bring you this recipe.
What Is A Breakfast Egg Casserole?
A breakfast egg casserole takes everything you love about an omelet and serves it up in a meal-sized portion. A breakfast egg casserole can be filled with almost anything!
You can add almost any vegetable, bacon, sausage, ham (or all 3), potatoes and lots of cheese! Most breakfast egg casseroles are prepared in a large baking dish and baked in the oven.
Using an Instant Pot reduces that cook time significantly!

What You Need For This Breakfast Egg Casserole
Instant Pot – I used a 6 QT Instant Pot (affiliate link).
Cake Pan – I used a tall sided 8-inch cake pan. I have seen Instant Pot specific pans that are available for purchase.
Bacon – Use your favorite, you can even use turkey bacon.
Italian Sausage – Use the breakfast sausage that you find in a tube, although any kind will.
Eggs – Large eggs
Herbs – This recipe uses dried garlic, basil, and oregano. Feel free to add in your favorites.
Shredded Cheese – I like the creaminess that an Italian blend cheese lends this recipe, once again, feel free to sub in the cheese you like the best.
Feta Cheese – You won't need a lot of feta, but it does add litte salty flavor to the dish.
Breakfast Egg Casserole In An Instant Pot
I used a 6 quart Instant Pot for this recipe. You will also need an 8-inch pan that can fit into the Instant Pot. A springform pan would be best. I do not own one that size so I used a tall, 8-inch cake pan instead.
The presentation will be different if using the cake pan, but that is it. Be sure to generously spray your cake pan with non-stick spray.
Using the saute setting, I crumbled and cooked some bacon, and turkey sausage. Once those are browned, remove the meat and set aside. Add the trivet to the bottom of the Instant Pot and add water.
Place the meat on the bottom of your cake pan or springform pan (if you use a springform pan, cover the bottom with aluminum foil), top with shredded cheese.
In a bowl, whisk together eggs, milk, salt, pepper, herbs, and garlic, The egg mixture gets poured over the meat and cheese. Place the pan inside the cooker, cover and cook on high for 12 minutes.
Let the casserole sit for 10 minutes before removing from the slow cooker. Sprinkle the egg casserole with crumbled feta once it is removed.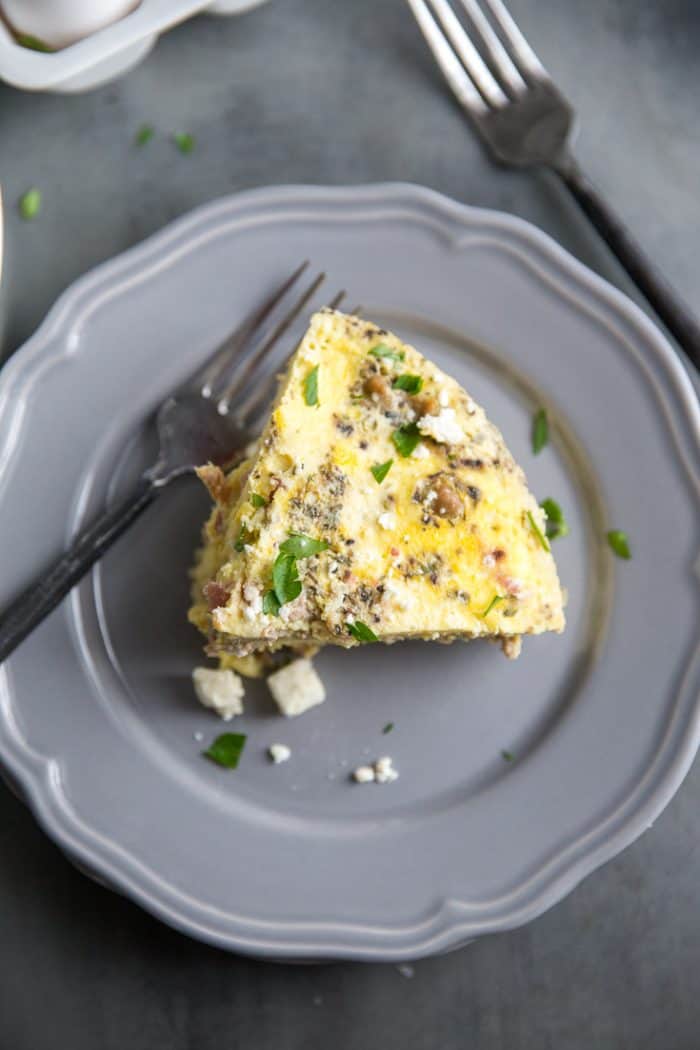 Can This Breakfast Egg Casserole Be Reheated?
Yes, it can! Allow the casserole to come to room temperature. Cover it loosely with foil and reheat it in the oven. This is a small casserole, so it should only take 15 minutes or so at 350 degrees.
This egg casserole is a great way to start your holiday. Eggs are all-natural and contain high-quality protein to keep you fuller longer and energized all day long.
One egg has 13 essential vitamins and minerals in varying amounts, high-quality protein, unsaturated fats and antioxidants, all for 70 calories!
Round out your holiday breakfast with an Eggnog Dutchbaby, Hashbrown Casserole, and these Easy Savory Breakfast Biscuits!
Is This Breakfast Casserole Keto?
If you are following a low-carb, Keto diet then you are in luck. This breakfast casserole is heavy on the protein and cheese, which makes it ideal for the Keto diet!f BUT there is quite a bit of dairy. To truly be keto, omit the cow's milk and substitute coconut milk or almond milk instead.
Visit OhioEggs.com to meet more egg farming families. Ohio egg farmers are proud to provide healthy, safe and affordable eggs to consumers all year, while protecting the environment for future generations.
Visit www.OhioEggs.comand follow the Ohio Poultry Association on Facebook, Twitter, Pinterest, Instagram and YouTubefor more egg recipes and to learn about egg nutrition and egg safety tips.
Instant Pot Breakfast Egg Casserole
This breakfast egg casserole is so easy and so quick! It is fluffy and filling; great for any meal of the day!
Ingredients
3 slices of bacon, chopped
1 lb turkey breakfast sausage
1/4 teaspoon salt
1/4 cup chopped onion
10 large eggs
2/3 cup milk
1/4 teaspoon salt
2 cloves minced garlic
1/2 teaspoon dried basil
1/2 teaspoon dried oregano
1 1/2 cup shredded Italian blend cheese
1 cup water
2 oz crumbled feta
Instructions
Set the instant pot to "saute". Add chopped bacon, and cook until browned. Remove bacon and set aside. Add the sausage to the hot pan. Crumble and cook until no longer pink. Add the onions and cook until onions have softened, about 4 minutes. Remove meat mixture and set aside, Add all but 1 tablespoon of the chopped bacon to the sausage mixture.
Spray an 8-inch cake pan or springform pan with non-stick spray. If you using a springform pan, line the bottom with foil.
In a bowl, whisk together the eggs, milk, salt, garlic, basil, and oregano.
Spread cheese on the bottom of the pan, followed by the meat mixture. Pour egg mixture over the meat.
Place the trivet inside the Instant Pot. Add 1 cup of water. Place the baking pan on the trivet. Place the lid on the pressure cooker and set it to 12 minutes on high.
Carefully release the pressure valve, remove the lid and allow the casserole to stand for 10 minutes.
Top with feta cheese and remaining bacon.