These breakfast biscuits are a great way to kick off each morning. They are tender, flakey and filled with cheese, broccoli and sausage!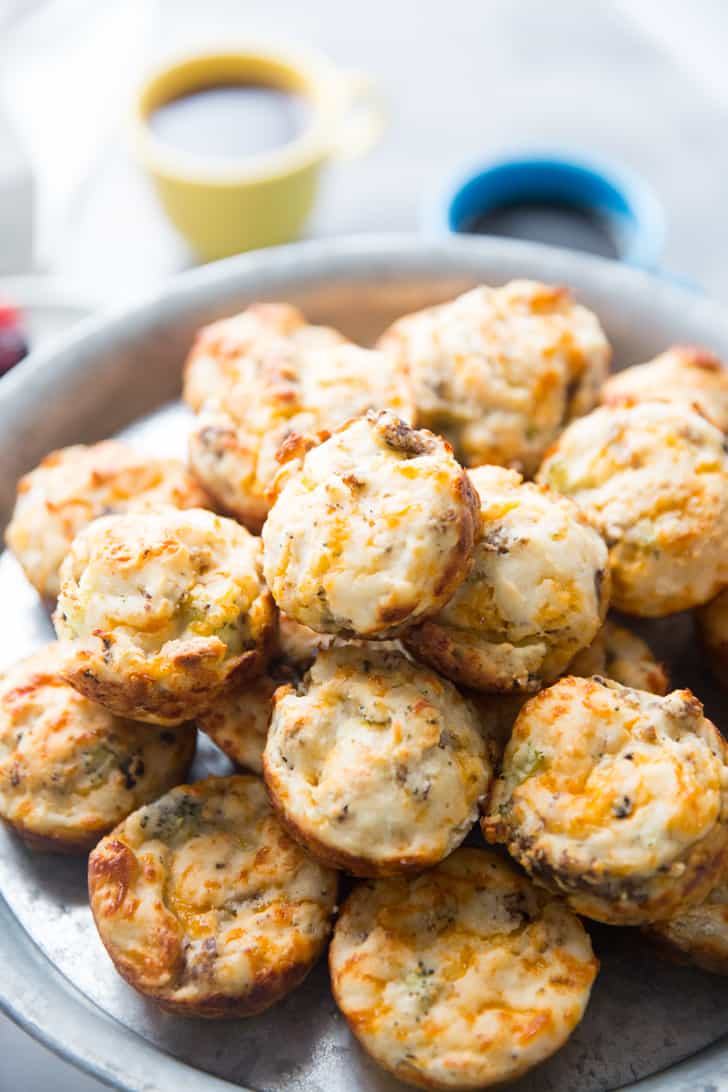 These breakfast Biscuits are a timesaver!
The morning is just about the worst time of the day. On most mornings, I get myself out of bed around 5:30 am to stumble downstairs, make coffee and take the puppy out for her first of about 400 trips outside. I get exactly 20 minutes alone with the puppy before my 8th grader makes her way downstairs. She makes a massive breakfast, sips tea and catches up on social media while my 7th grade son eeks out all the shut eye he can. My husband and my 3rd grader have no idea what goes on in the early hours as they are still experiencing a very good, deep sleep.
My daughter is a morning person while my son is not, however neither kid has any interesting in talking to me that early in the morning. By the time they are in a position to talk, I've consumed a massive cup of coffee and am feeling rather chatty. Only the puppy is willing to listen to me and if I am being honest with myself, she's not really listening either she is just eager to chew on my fingers.
Breakfast Biscuits Make Things Easy
The only thing that makes mornings more bearable is having quick and easy breakfast possibilities. The breakfast biscuits are filled with broccoli and sausage for a burst of protein in the morning. Make them in advance, freeze them so that all your kids have to do is heat them briefly when they need them! Blueberry Crisp Overnight Oats or Blueberry Muffins with Poppy Seeds are all easy grab and eat breakfasts as well! For more savory bites, try these Easy Ranch Dip Biscuits , Denver Omelet Breakfast Sandwich or these Cheddar Bacon Buttermilk Drop Biscuits!
I suppose it's ok if no one talks to me, as long as I know it is because they are busy eating something good!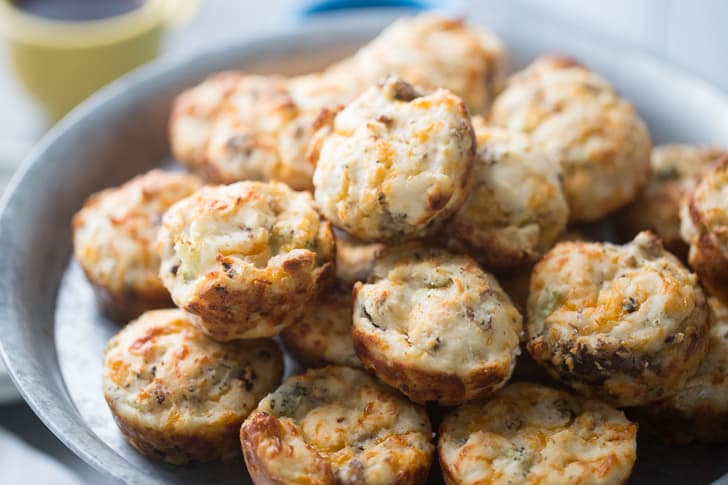 Yield: 18-20 biscuits
Easy Breakfast Biscuits
These breakfast biscuits are a great way to kick off each morning.  They are tender, flakey and filled with cheese, broccoli and sausage!
Ingredients
1lb package pork sausage
3 cups Bisquick
1 ½ cup cheddar cheese
1 cup finely chopped broccoli, lightly cooked, drained and cooled
1 ½ cups buttermilk
½ cup yogurt
Instructions
Preheat the oven to 375. Spray 2 muffin tins and set aside.
In a large skillet, cook sausage until crumbled and no longer pink. Remove and allow the sausage to cool slightly.
In a bowl, combine the biscuit mix, cooked sausage and broccoli. Make a well in the center and stir in the buttermilk and the yogurt. Stir just until combined.
Spoon mixture into prepare baking sheet and bake for 20-25 minutes or until done.
Notes
The broccoli should not be overcooked. Heat the broccoli for just a minute in the microwave to take a bit of the bite out; you still want the broccoli green and vibrant. These biscuits are best consumed right away. Store them in the refrigerator if they will not be eaten right away.
Nutrition Information
Amount Per Serving
Calories

0
Total Fat

0g
Saturated Fat

0g
Cholesterol

0mg
Sodium

0mg
Fiber

0g
Sugar

0g
Protein

0g