Broccoli and Cheese Soup will fill you up and keep you satisfied!
Soup is the perfect cozy comfort food!
What Is Broccoli and Cheese Soup?
Despite the name, this broccoli and cheese soup has a chicken broth base. This soup is also made with fresh broccoli, onions, carrots, and lots of glorious cheddar cheese. This is the kind of soup that feels so good on a cold day; it has a comforting feel and taste. This broccoli and cheese soup is very family friendly.
How To Thicken Broccoli and Cheese Soup?
The most effective way to thicken a sauce or a soup is with flour. Often, butter and flour are whisked together to form a roux just like this Chicken and Broccoli Alfredo Recipe. But with soups, I like to whisk flour into a cup of dairy and THEN add it to my broth, just like I did with this Cheeseburger Soup Recipe. The flour and the dairy will make a slurry that will thicken your hot liquid. Flour works well as a thickener in this instance as you'll be cooking the soup at a lower temperature.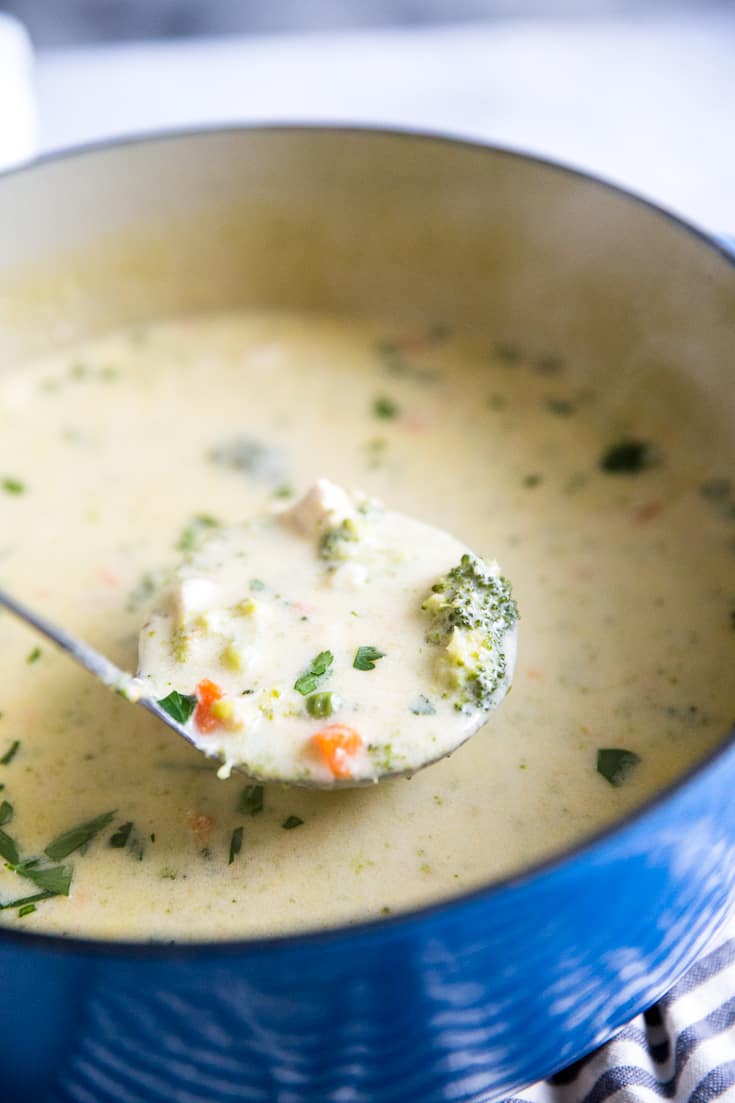 WHERE IS THE BROCCOLI AND CHEESE SOUP RECIPE?
If you'd rather skip cooking tips, suggestions, handy substitutions, related recipe ideas – and get straight to the Broccoli and Cheese Soup Recipe– simply scroll to the bottom of the page where you can find the printable recipe card.
Can Broccoli and Cheese Soup Be Frozen?
I would not recommend freezing this broccoli and cheese soup. The texture will change for one thing, but also, soups made with dairy will separate once they have been frozen. The soup will keep for a couple of days in the refrigerator, but this is not the kind of soup I would let sit for very long.
Broccoli and Cheese Soup
Broccoli and Cheese Soup will fill you up and keep you satisfied! Soup is the perfect cozy comfort food!
Ingredients
1 teaspoon olive oil
3 tablespoons butter
1/2 cup diced onions
1/2 cup diced carrots
1 large head of broccoli (2-3 cups), finely chopped
4 cups chicken stock
2 cups water
1 teaspoon salt
3 tablespoons flour
2 cups half and half
2 cups shredded cheddar (I used Tillamook Milk Cheddar Cheese)
Instructions
Place a Dutch oven or stockpot over medium heat. Add butter to the Dutch oven. When butter has melted stir in onions and carrots. Cook for about 5 minutes or until soft. Stir in broccoli, broth, water, and salt. Bring to a boil and simmer for about 10 minutes or until broccoli is soft. If you have larger pieces of broccoli, break them up by inserting an immersion blender into the soup. Or, remove about 1 cup of soup and puree in a blender, with the center part of the blender lid to allow steam to escape. Run blender with a clean towel over the lid. Return blended soup to the Dutch oven. Repeat if you prefer.
In a measuring cup, combine half and half and flour, whisking until smooth. Stir mixture into soup. Add shredded cheese and stir until cheese has melted.
Nutrition Information
Amount Per Serving
Calories

3615
Total Fat

254g
Saturated Fat

124g
Cholesterol

870mg
Sodium

5990mg
Fiber

23g
Sugar

56g
Protein

203g