This easy frozen chicken Instant Pot recipe is one to keep close by. Juicy cooked chicken in minutes and with little prep is always a family pleaser.

Have you ever wondered if you can cook frozen chicken in the Instant Pot? Well, you can! And this easy frozen drumsticks Instant Pot recipe is going to help walk you through it Perfect for those lazy or busy days when you forget to take meat out of the freezer. I can't be the only one who does that, right?
Pressure Cooker Frozen Chicken
Put down the phone and step away from the takeout menu because this recipe is going to change your life and help you to keep some money in your wallet.
Making dinner in the Instant Pot is always a fast way to put dinner on the table but even if you didn't thaw the meat beforehand you can have yourself a homecooked meal fast. So cook up a comforting meal with little prep and have yourself a great family meal knowing it didn't just cost you a fortune to do.
Ingredients you'll need for the frozen chicken instant pot:
Frozen Chicken Legs
Chicken Broth
Salt
Pepper
Oregano
Bay Leaves
For the exact measurements needed, please see the recipe card below.
How to Make Instant Pot Frozen Chicken Legs
Place your chicken into the Instant Pot.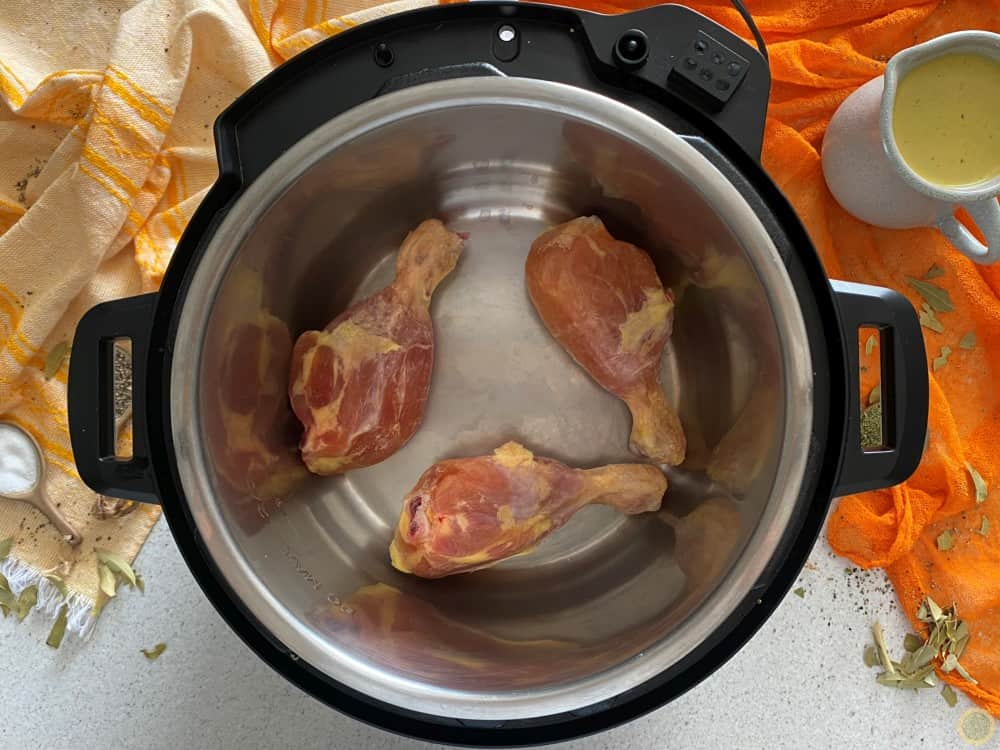 Add in the broth, salt, pepper, oregano, and bay leaves.
Close the lid and seal the vent shut.

Turn the cooker on to HIGH pressure for 12 minutes.
Once the time has elapsed, allow the Instant Pot to naturally release pressure so that the chicken can continue to cook as it does so.

Once finished, open the lid and serve your yummy chicken.
Enjoy!
Recipe Tips
If you don't have broth. If you don't have chicken broth on hand that's okay. While broth helps to add more flavor to the chicken, water works just as good.
How much liquid to add. You will need 1 cup (or 1.5 cups) of liquid to make your Instant Pot work and that is what the main point of the liquid is for. Smaller Instant Pots need 1 cup of liquid to work and larger ones request that you use 1.5 cups. This is to help bring the IP to pressure. (your Instant Pot manual should cover this well so double check on that if you are not sure).
Natural pressure release. This is when you do not immediately release the steam from the vent and you allow the IP to slowly decrease in temp as it is designed to do. When the pressure is fully released naturally and the lid unlocks you can open it up and your chicken should be ready. Opening the lid too soon will stop the cooking process for the chicken and can result in juices and liquids spraying out of the vent lid and making a huge mess.
FAQs
How do I know if my chicken is ready?
Your chicken will be safe and ready to eat once it registers 165 degrees F on an instant read thermometer. I recommend checking your chicken to make sure it at temp before consuming. The juices should also run clear when cooked. If your chicken is not yet at temp, you can place it in the oven for a few minutes to help speed up the process.
Do you have to use the trivet in the Instant Pot?
This recipe does not request that you use the trivet however if desired you can. Without using the trivet your drumsticks are sitting in the liquid and soaking up the flavor (basically boiling themselves) whereas on a trivet they are being elevated above the liquid and are being cooked via steam.
Do you hit cancel on Instant Pot for natural release?
Nope! There's no need to do anything extra after the cook time has elapsed and the Instant pot has beeped. Simply allow it to continue at the "keep warm" setting. It will naturally decrease in pressure as it does so. Not only that but the timer will start counting up so you can keep track of how long the pressure cooker has been resting at the warm setting.
If you loved this Instant Pot recipe then you are going to love my other Instant Pot recipes like this Instant Pot Breakfast Egg Casserole or this Instant Pot Ribs Recipe.
Instant Pot Frozen Chicken Legs
Ingredients
3 Frozen Chicken Legs
1 Cup Chicken Broth
Salt
Pepper
1 Tsp Oregano
3 Bay Leaves
Instructions
Place chicken in Instant Pot
Add broth, salt, pepper, oregano and bay leaves
Close lid
Cook at high pressure for 12 min
Once done, allow pressure to release naturally
Serve and ENJOY!