During the winter and fall months, pears are one of the best ingredient options to use within desserts. While you might typically use bananas or apples in cooking, pears are a great way to mix up your desserts and serve something new and exciting to your family.
Keep reading to discover everything you need to know about pear desserts and 50 of the top pear desserts recipes to have a go at this year.
What Desserts Can I Make With Pears?
If you've been wondering what to do with pears, you'll find there are dozens of ways to use these in your everyday life. While we're going to share 50 pear desserts recipes with you shortly, this isn't the only way to use up pears. Many people like to preserve this fruit by canning or freezing the pears, which is a good option if you are wondering what to do with a glut of pears.
Other ways you could consider using up pear is to pickle pears, create a fresh pear salad, or make pear butter. If you've never cooked with pears before, you'll be surprised how many options are on offer and how versatile this fruit really is.
How to Cook Different Pear Desserts
Pears can be cooked in a wide variety of ways. Some of the most popular preparation options:
Poached
Boiled
Stewed pears
When you are learning what to make with pears, you'll see there are various different preparation methods depending on the dish you are cooking. You might want to try and soften the pears first, so they are better for baking or cooking and to create a soft and delicious dessert for your whole family.
What is a Dessert Pear?
A dessert pear is the best option to use for most of the recipes that we share below. They are ideal for pies and tarts, and there are a lot of different varieties that you'll be able to use at different times of the year. These pears are sweeter than other types of pear, and you'll find they make a delicious addition to any dish.
50 Recipe Ideas for Pear Desserts
1. Vanilla Pear Fruit Shrub Recipe
If you are looking for a sweet after-dinner drink to serve your dinner party guests, we love this vanilla pear fruit shrub. You might be surprised to find out that cider vinegar is added to this drink.
It helps to enhance the flavor of the fruity drink, which includes half of a pear. It's a great non-alcoholic drink which you'll love sharing with your friends and family during your next family gathering.
2. Walnut Pear Coffee Cake
This walnut pear coffee cake is perfect for breakfast, coffee time, or dessert. You'll be surprised by how quick and easy this dish is to make, yet it's the perfect soft and buttery cake. Enjoy it alongside your favorite drink or with a cup of coffee for even more of a caffeine kick.
3. Browned Butter Homemade Waffles With Spiced Pear Topping
While the majority of our recipes here are for pear desserts, this would be a great way to start the day one weekend morning. These browned butter homemade waffles have a gourmet taste that makes you feel like you are eating at a restaurant.
The deep flavor of the recipe is then finished off with the rum spiced pear topping. This is a great way to impress anyone in your family and will help to take your brunch to the next level this year.
4. Cinnamon Baked Pear Desserts
For a simple dessert that uses pears as its base ingredient, we recommend these cinnamon baked pears. You'll enjoy a healthy and fresh dessert that stops a glut of pears from going to waste.
If you have a huge amount of pears at home and are wondering what can I make with pears, this would be the perfect option. Our favorite part of this dish is the cinnamon topping, which helps to bring the flavor out of the fruit even more.
5. Chocolate Pear Cake
If you have anyone in your family who is unsure about eating pears, they'll still love the taste of this chocolate pear cake. You'll combine the rich flavors of chocolate and pear to create a cake that you can enjoy for dessert or morning coffee.
This cake is really simple to make yet is packed with flavor and will make the perfect centerpiece for your next coffee morning.
6. Caramel Pear Crisp Desserts
When cooking with fruit, you'll find there are some great healthy dessert recipes. This vegan-friendly dish is ideal for anyone looking for something a little lighter.
It's one of our favorite pear desserts recipes, as it's gluten-free and paleo-friendly, meaning this caramel pear crisp can accommodate everyone's dietary requirements.
7. Asian Pear Apple Pie
While apples are one of the most common fruits to cook with, you'll love combining it with pear to create this Asian pear apple pie. You'll use floral Asian pears with apples to create the perfect dish for the fall.
These pears are known for their fragrant and delicious taste, and it's a great way to use up the excess pears you might have at home while they are in season.
8. Caramel Pear Desserts Cookies
You might be surprised to find a cookie recipe on this list, but we love adding pears to these caramel pear cookies. This recipe shows you how to make cookies that are just like those you'd buy in a store. You'll no longer have to waste money on fancy cookies when you can make them in the comfort of your own home.
9. Caramelized Pear And Hazelnut Crumble Tart
Have you ever tried dipping pear in Nutella? If so, you'll know how perfectly these two tastes go together.
For a more fancy version of this dessert, try out this caramelized pear and hazelnut crumble tart. It would be a great option to serve during the holiday season and will wow anyone you invite over for dinner.
10. Fresh Pear Cake with Whipped Brown Sugar Buttercream
When you are planning your next coffee morning or need a really fancy cake to impress your guests or colleagues, try out this fresh pear cake. You'll use up some of your leftover pears in the recipe and then top the dish with a delicious whipping sugar buttercream. We love the thick frosting on the top of the dish, which brings out the fresh tastes of the pear.
11. Pear Custard Pie Desserts
This soft and creamy dessert will leave your family begging for seconds. Pear custard pie takes just a short time to make, and the custard itself will be made in just five minutes. It's a crustless pie that you'll return to over and over again this fall and winter.
12. Brown Butter Upside-Down Pear Cake
Pineapple isn't the only fruit you can use in an upside-down cake. Replace your typical pineapple with pear in this brown butter upside-down pear cake, which will look and taste just as good as the pineapple-based dish on your dinner table.
13. Autumn Spice Pear Desserts Cobbler
Combine all of the best flavors of autumn in this autumn spice pear cobbler. If you are a little over pumpkin spice desserts and drinks, this is a great way to mix things up at this time of the year. It's a great way to use up fresh pears, but you could also use this recipe when you are wondering what can I make with canned pears.
14. Pear Desserts Pie Crumble Bars
Pear pie crumble bars are a great option for those days when you want the taste of pie but can't transport it across town. These crumble bars are much more portable and easier to cut, yet they still have the delicious taste of your favorite pear pie recipe.
15. Spiced Pear Cake with Honey Caramel Frosting
One of the fanciest pear desserts recipes on our list today is this spiced pear cake. This would be perfect for a holiday dessert during a family gathering, and we think it's one of the best ways to use up a bunch of leftover pears. The finishing touch of the honey caramel frosting makes it moist and delicious to save for a couple of days after it's made.
16. Maple-Roasted Pear Desserts With Nut Crumble
For a fuss-free dessert, you'll love trying out this maple-roasted pears dessert. It's a quick and simple recipe to follow, and it's a great way to use up different varieties of pears.
If you are wondering what to do with fresh pickled pears, they could be a good base for this dessert. The crumble uses basic ingredients, all of which you'll likely already have in your kitchen cupboards.
17. Caramelized Pear Desserts And Bourbon Turnovers
Pear is one of those fruits that you can use to make either fancy or simple desserts. When you are looking for something on the fancier end of the scale, try out these caramelized pear and bourbon turnovers. They would be a great dessert recipe, but you could also serve them during a special brunch to your family.
18. Pear, Sage, and Hazelnut Bread
Taking inspiration from Norway, this fruit and nut bread will offer you a healthy way to use up spare pears. It's a delicious and interesting way to start your day, and it's ideal for anyone looking to meal prep for the week. You can serve it with the topping of your choice to add more moisture and taste to the dish.
19. Easy Fresh Pear Cobbler
This classic fresh pear cobbler recipe combines fresh pears with a cake-like batter. It's ideal for a potluck dinner but won't take you much time at all to make.
You'll start by melting butter before creating a batter and adding the sliced fruit. The cinnamon makes the perfect addition to this dish, which requires no special equipment to prepare any of the ingredients.
20. Fresh Pear Bread
If you are lucky enough to have a pear tree in your garden, you'll know how many pears you can end up with at some times of the year. When you find yourself overwhelmed with the number of pears you have, make this fresh pear bread for your family.
It uses a great mixture of ingredients, which creates a unique bread that you'll love eating for breakfast or an afternoon snack.
21. Sticky Toffee Pear Pudding
This classic British dessert gets a makeover thanks to the addition of pears. You'll love serving sticky toffee pear pudding on a cold winter's night, and when you add custard or ice cream, you'll enjoy a filling and satisfying dessert.
The recipe is a lighter version of the traditional dessert, as it's made with pears, dates, and spices. We couldn't believe this recipe was suitable for vegans and vegetarians, so it will be ideal for serving your family when you are catering to a wide variety of dietary requirements.
22. Griddled Pear Desserts With Goat's Cheese and Hazelnut Dressing
Before you serve your main course at your next dinner party, start with this simple appetizer. You'll combine pears, goat's cheese, hazelnuts, and watercress.
This starter takes just fifteen minutes to prepare, so you won't have to spend all morning in the kitchen before lunch or dinner. It would be a great option for a Christmas or New Year lunch or dinner, and it just goes to show that you don't need to save your pears for dessert when there are so many different recipe options.
23. Pear Cake Using Whole Pears
One of the worst things about cooking with fruit is that you sometimes have to peel the fruit in order to make the recipe. This pear cake uses the whole fruit, and you don't even have to peel the pears to start making this dish.
It's ideal for anyone who is in a rush to make a dessert, but you'll find it's just as delicious as many of the other recipes on our list today. It's a simple cake for a coffee morning or afternoon tea, and you won't find it too rich as it's not heavy on frostings like so many other cakes.
24. Precious Pear Desserts Tart with Almond Frangipane and Ginger Nut Crust
This precious pear tart is by far one of the fancier options on our list today, but you'll find that it is much simpler than you might imagine to make. Don't be fooled by the title of the tart, as it's well worth trying even if you aren't so experienced at cooking.
You'll combine elderflower cordial and spice poached pears, which are then mixed with nutty frangipane. For the finishing touch, serve it with ice cream and Amaretto.
25. French Pear Cake
French pear cake offers a new twist on the classic dish. It's a classic crumb cake, which contains chunks of juicy pear.
This would be good for a snack at any time of the day, but you can also serve it as a dessert after dinner. Making pear cake is great for anyone who has imperfect pears they don't want to eat or ones that are going off quickly and becoming overripe.
26. Slow Cooker Pear Upside-Down Cake
Your slow cooker is the perfect vessel to help you make this pear upside-down cake. While we shared another similar recipe, you'll find that using the slow cooker helps to caramelize the dish further.
You'll simply leave everything in the slow cooker for three hours, and it will be ready to serve in time for dinner. It's a great recipe for anyone who is working from home and is looking for a way to make dessert without spending hours in the kitchen.
27. Roast Pears With Maple Syrup And Vanilla Crème Fraîche
Roast pears are one of the easiest ways to use up your pears in the fall and winter months. This warming dessert doesn't take much time at all to make, and you'll enjoy the soft and delicious taste of these pears. They are then roasted with citrus-tinged maple syrup, which helps to soften them up and add even more sweetness to the dish.
28. Chocolate Pear Pudding
Chocolate pear pudding is a combination of a couple of other popular desserts and is comforting and easy to make. If you are looking for a crowd-pleaser dessert, you'll find that this is a great option that won't involve you spending all day in the kitchen.
You can add vanilla ice cream before serving it, which would be a good way to cool down this dish a little in the spring and summer months.
29. Mini Pear and Blueberry Crumble Desserts
Pear and blueberry work hand in hand with this mini pear and blueberry crumble. They are the ideal dishes to serve when you are hosting a large dinner party, as you won't have to deal with all of the mess of serving and cutting up a large crumble.
This recipe is great for the cold winter months, and you'll find you can add custard or ice cream to the dish if you fancy.
30. Pears and Sour Cream in Butternut Cookies Cases
If you are hosting a dinner party this year and are looking for bite-sized desserts to serve, these pears and sour cream in butternut cookies cases would be perfect for just that. They offer you a little dessert after a big meal and so are great for dinner parties or game nights.
The sour cream helps to bring out the sweet taste of the cookies and pears, so you'll receive a whole host of flavors in one bite.
31. Pear Cake with Cinnamon Sugar
Pear cake gets a new twist with this pear cake with cinnamon sugar recipe. You'll find that cinnamon is one of the best spices to add to your pears, as it helps to bring out the sweetness and taste of the pears even more.
This cake doesn't require any fancy equipment, so literally, anyone can try it out when they have a whole load of leftover pears.
32. Saffron-Poached Pears
If you've never tried poached pears before, give these saffron-poached pears a go. You'll start by peeling the pears, but make sure you leave the stalk intact.
From there, you'll add cardamon pods, which bring out the flavor of the pears even more. You'll need about two hours to poach the pears and then leave them to cool overnight for the best flavor. While this might seem like a time-consuming process, you'll find it's well worth it in the end when you taste the results.
33. Partridge with Pears and Christmas Stuffing
Impress your family and friends this Christmas with this partridge with pears. It's a classic option for a Christmas lunch or dinner, but one that will wow anyone you serve it to.
You'll combine partridge and pear and then serve it with a rich and festive stuffing. To offer your guests a complete meal, make sure you cook a variety of your favorite Christmas side dishes for a full Christmas dinner.
34. Easy Stewed Pears Recipe
When you are short of time and are looking to use up your pears, try out this easy stewed pears recipe. You'll need just fifteen minutes, and you'll have a great dessert ready to serve.
This would be ideal for a midweek dinner, where you don't have a huge amount of time to prepare dessert. It's a very simple dish as it only needs five basic ingredients, and it can be served with yogurt, ice cream, waffles, or oatmeal.
35. Spiced Pear Crisps
If you've tried apple crisps before, you'll know how they make a good alternative to unhealthy chips. We recommend mixing things up and cooking these spiced pear crisps in the oven.
You'll be surprised by how well your pears crisp up when they are sliced this thinly, and in no time at all, you'll have a huge serving of this healthy snack to enjoy.
36. Holiday Pears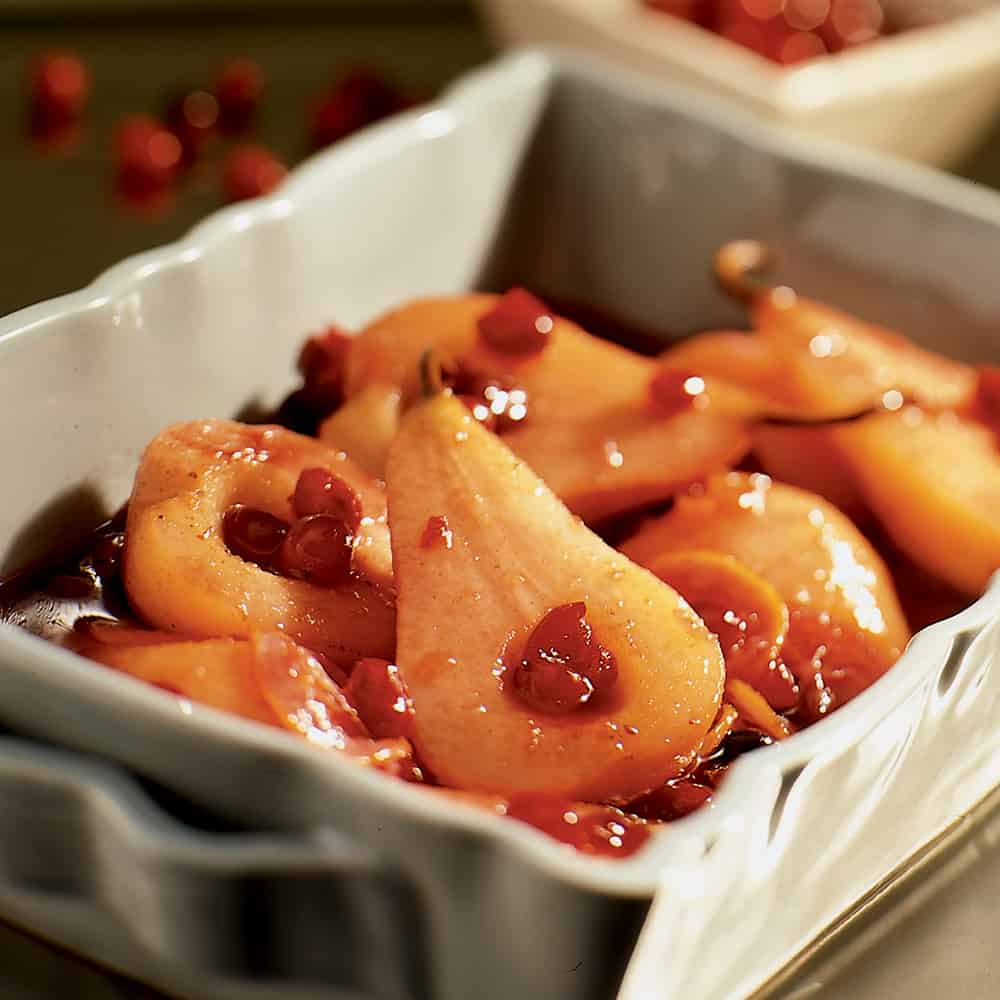 This holiday season, try out this traditional oven-poached holiday pears recipe. You can serve them alongside your turkey or ham if you are looking to add a little bit of sweetness to your dinner.
On the other hand, they also work well for dessert and can be served with vanilla ice cream or frozen yogurt. As you can see, the options for ways to serve pears are endless, which is why we return to these recipes over and over again.
37. Riesling Baked Pears
Riesling wine adds a unique flavor to these Riesling baked pears. They are oven-poached, and then the wine helps to bring out the taste of the pears even more once they start cooking.
We recommend serving this dessert with ricotta cheese, but you could opt to serve it hot, cold, or at room temperature, if you prefer.
38. Sweet Pear Cake
One of the biggest concerns for people cooking with pears for the first time is whether they will be sweet enough to enjoy. We were blown away by how delicious this sweet pear cake was, which brings out the natural taste of the pears in the dish.
You can top the cake with powdered sugar and nuts, or if you fancy, add a sweet frosting for more taste. The great thing about this and the other cake recipes on our list today is that you can fully customize them to your tastes. Have fun creating a cake that's unique to your family and your dietary preferences this year.
39. Pear Crumble Recipe with Almonds
When you have overripe pears, don't put them in the trash, and instead, make this pear crumble recipe with almonds. While this dish of course recommends using pears, you could follow this recipe with any other overripe fruit you have at home.
You'll use cinnamon and brown sugar for the topping, which adds a little crunch to the dessert. The main thing about this dish that sets it apart is the almond taste, which adds a unique twist to a classic pear crumble.
40. Hot Spiced Pears
Are you looking for a warming winter pear desserts recipe? If so, try out these hot spiced pears. While the dish uses Conference pears, you could switch these out for any type of large dessert pear, such as Packham pears.
The spices really improve the taste of the pears, and you'll find that this is a great way to finish off a heavy meal when you don't want something too big to serve for dessert.
41. No-Sugar-Added Baked Pears
One of the biggest concerns we hear about cooking with pears is whether the dessert will be too rich in sugar. These no-sugar-added baked pears just use the natural sweetness of the fruit and don't add unnecessary extra sugar into the dish.
It's a lighter option to finish off a big meal and is a great way to minimize your children's sugar consumption. You can serve it with another side dish if you fancy, but you might want to serve it as-is to keep it as light as possible.
42. Roasted Pears with Balsamic and Honey
You might think that balsamic vinegar is an unusual addition to a dessert, but you'll be shocked by how well it goes with these roasted pears. This dessert uses just four ingredients, but you'll be delighted by how fresh and tasty it is.
You'll combine pears, balsamic, and honey for a quick and easy crowd-pleaser dessert. If you are unsure about what type of equipment you'll need for this dish, we recommend using a cast-iron or oven-proof heavy-bottomed pan for best results.
43. Easy Butter Roasted Pear Desserts Recipe
Poaching is one of the most common ways to serve pears, but roasting pears is a new way to upgrade your pear-based dessert. This easy butter roasted pears recipe requires very few ingredients and no expertise in the kitchen. Once your pears are nicely brown, you'll want to turn them over and add a little bit of wine to the dish.
You'll also place a cinnamon stick and whole star anise in the pan, which will be added to the thin syrup to create even more flavor. It's a great option for a cold day this winter, and you'll find the texture of the roasted pears makes it more appealing for everyone in your family.
44. Conference Pear and Cardamom Loaf Cake
For an exotic slice of cake to enjoy with your morning coffee, try out this Conference pear and cardamon loaf cake. It has plenty of exotic spices and can be served warm for dessert or afternoon tea. You'll want to enjoy a fresh cup of coffee or tea with this dessert for the full experience so that you can take your time savoring every bite of this delicious dessert.
45. Pear and Red Onion Gratin
Another fun way to use up pears is in this pear and red onion gratin. This savory dish is enhanced with the taste of pear, which makes it a little sweeter for a side dish.
You'll find this to be a good side to serve with almost any meat or vegetarian side dish. Your friends and family will be surprised by the addition of the pear to the dish, and Bosc pears are perfect for this recipe as they'll hold their shape well before serving.
46. Mini Pear Pies
During a dinner party, we always find it nice to serve individual portions. These are much easier to plate up and serve, and they look great on any dinner spread. These mini pear pies are light but tasty, and you'll find the recipe is really easy to follow.
They do take a little more commitment than some of our other pear desserts recipes, but you'll find that the finished result is well worth it. Your guests will smile in delight when you serve them this dessert and will be impressed with your culinary and artistic skills.
47. Marsala-Baked Pear Desserts With Grapes
Grapes and pears go perfectly together in this Marsala-baked pears with grapes recipe, and you'll enjoy the freshness of this dessert thanks to these two fruits. One of the things we love the most about this dish is how bright and colorful it is.
You'll find the Marsala wine syrup really adds more color to the dish, and it's so quick and simple to prepare. You'll love serving this Italian dish at Christmas this year, and the cinnamon and vanilla flavors will get you in the festive spirit even more.
48. Pear Desserts and Rosemary Chicken
When you are looking for a different dish to serve this holiday season, check out this pear and rosemary chicken recipe. Pear helps to add a touch of sweetness to your chicken, and it makes a change from some of the standard chicken seasoning options.
You'll also add pink fir potatoes to this dish, which adds more of a creamy texture to this aromatic chicken dish. It uses a great combination of ingredients and will wow anyone you serve this simple dish to.
49. Warm Pear Cobbler
Warm pear cobbler is ideal for a winter dessert, and it's great for kids and teens alike. The thing we love about this recipe is that it uses wholewheat flour instead of white flour in the dish.
This is a simple switch that offers a healthier dessert, and it will increase your fiber intake during dessert. You'll also add buttermilk into the mix, which gives the dessert the classic homemade taste. Serve this dish with custard or ice cream for a complete dessert that doesn't require you to be an expert in the kitchen.
50. Harvest Pear Crisp
Finally, we'll finish off with another great dessert that celebrates the fall and winter. These cinnamon-spiced pears are baked with a crunchy streusel to create a classic pear crisp. You can make the dessert ahead of time, which is great when you are catering to a large group.
When you are ready to serve dessert, just place it in the oven ahead of time to serve warm. Otherwise, you could bake it earlier in the day and then serve it at room temperature. Add custard or ice cream to the dessert for a complete dish which will be a hit with anyone this fall or winter.
Pear Desserts FAQs
What Types of Pears are Good for Baking Pear Desserts?
With so many different pears to choose from, we know how hard it can be to know which ones to use for baking pear desserts. We recommend choosing from Anjou, Bosc, or Bartlett pears for cooking. They are all easy to find at any time of the year and have a sweet taste that's perfect for adding to pear desserts recipes.
What Can You Do with a Glut of Pears?
As you can see from the list we shared above, there are so many different pear recipes that will allow you to use up a glut of pears. You might want to consider pickling the pears or freezing them, which will stop them from going to waste if you have far too many to use up in one week.
Can You Freeze Pears for Desserts?
Almost any type of pear can be frozen, but make sure you only freeze the pears when they are ripe. If you aren't sure whether they are ripe, test the fruit near the top of the neck. When the pear isn't quite ripe just yet, wait a little longer before putting it into the freezer.
When are Pears in Season Each Year?
In general, pears are best eaten between September and January each year. The variety of pears will impact the time of year you can enjoy them, and some pears are available for sale all year round. Try to find pears that are in season for any of the pear desserts recipes above, as you'll find they are much fresher and more enjoyable to eat.
Is There Such a Thing as a Cooking Pear?
You'll see some pears described as cooking pears, but they fall into two categories typically. Some eating pears are described as cooking pears, as they make a great base for any of the recipes we shared earlier. The second set of pears are pairs that are true cooking pears. These stay hard even if they are kept for a long time, and they'll never become soft enough to eat like a normal pear.
Which Types of Pears Cook Best for Pear Desserts?
There are many varieties of pears which you can use for cooking and baking. We highly recommend Bosc red pears, D'Anjou pears, Forelle pears, Concord pears, and Bartlett pears. The great thing about all of these varieties is that when they are cooked, they still look and taste as good as beforehand. They also won't turn brown quickly after you cut them, so you won't have to rush preparing your pear desserts recipe.
When Making Pear Desserts, Can You Cook Unripe Pears?
Even if you have unripe pears right now, you can still start thinking about making any of these pear desserts tonight. Unripe pears are best for baking, as they will still hope their shape and won't fall apart. You can also poach them, which is a great way of using up unripe pears. One thing to keep in mind is that you'll likely want to add wine, spices, or sweeteners to the dish, as these will bring out the taste of the pear. Without these, you might find them a little sharp to eat when they aren't fully ripened.
There are so many ways to use up pears, so the next time you find yourself with a huge number of pears and you are unsure of what to do with them, try out one of these pear desserts for the first time. You'll find that pears make a good alternative to apples and bananas once in a while, and you'll be able to offer your family a healthy yet satisfying dessert any day of the week. Make the most of in-season pears during the fall and winter, and you'll find that you can enjoy a wide variety of desserts over the holidays and into the next year.