This traditional flapjacks recipe will walk you through the easy steps of making your own pancakes at home. Made with basic ingredients and simple steps, wake up to a warm stack of fluffy flapjacks this morning.
You're going to love this basic flapjacks recipe because you can easily customize it to your own tastes and make it unique every time by adding in some non-traditional favorites like chocolate chips or fresh fruit.
You can even change up the syrups and toppings to make it more fun too. There are endless possibilities here, making this flapjacks recipe one to keep close for all your breakfast adventures.
What Are Flapjacks?
A flapjack (or pancake as they're known in America) is a thin cake cooked on a griddle or skillet until golden brown on the outside. Usually served plated at breakfast time with other sides like eggs, bacon, or sausage.
They are usually topped with butter and syrup before being consumed as part of your breakfast routine. They're so a good many people even choose to eat breakfast for dinner so that they can get an extra chance to enjoy this easy-to-make meal.
Ingredients for Flapjacks:
All-purpose flour
Baking powder
Salt
Eggs
Sugar
Butter
Milk
For the exact measurements please see the recipe card below.
How to Make Flapjacks
In a mixing bowl, combine the flour, baking powder, salt, and sugar with a whisk until combined.

In another bowl whisk together the eggs, butter, and milk until well mixed.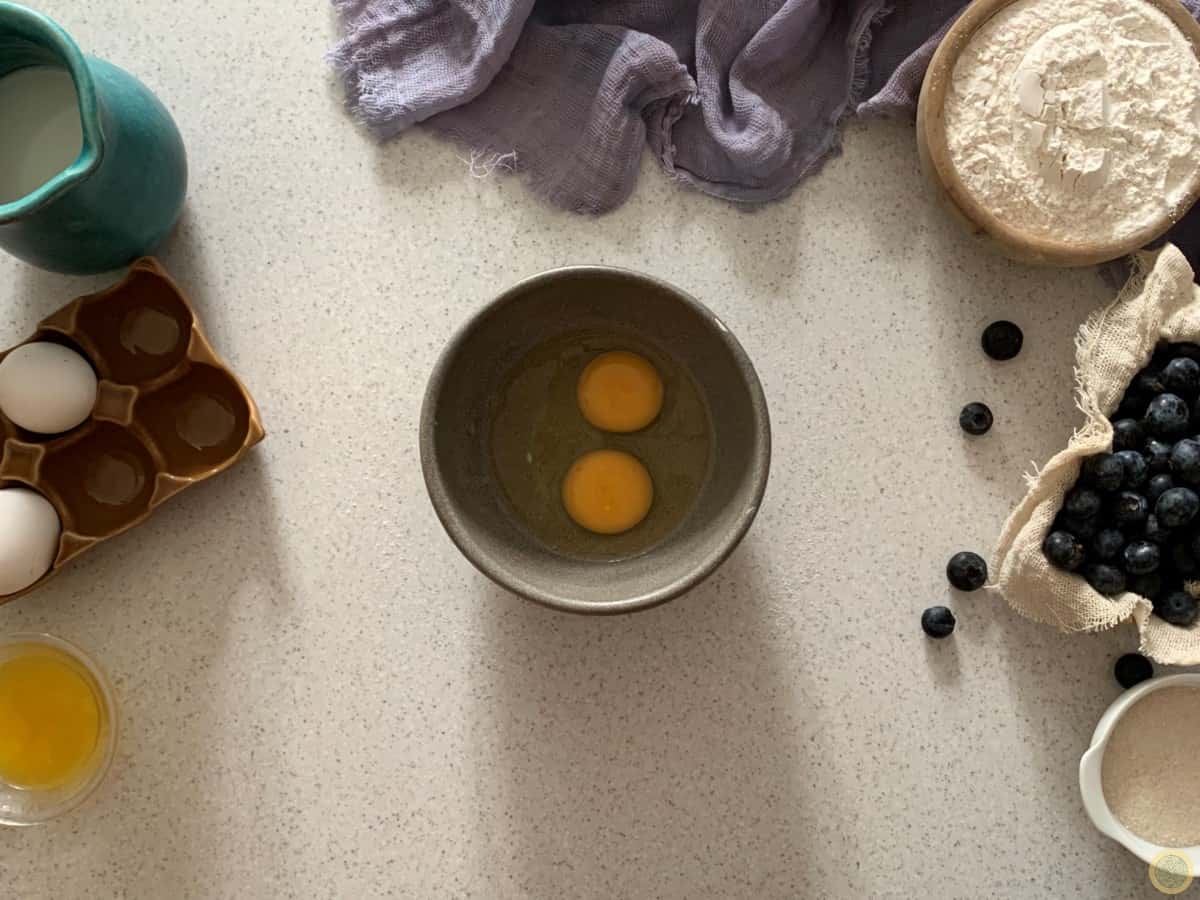 Add your wet ingredients to the dry ingredients and stir until they just come together. Do not overmix.


Grab a skillet and place it over medium heat.
Cook evenly sized pancakes on the skillet.

Flip the pancakes when the edges look set and there are bubbles coming out of the center. Cook until both sides are golden in color.
Serve with your favorite toppings and enjoy.
Substitutions
Butter. If desired you can swap out the requested melted butter and use canola or vegetable oil instead. Keep in mind that the pancakes may taste different because the butter adds richness and taste that the oils do not.
Variations
Looking for some fun ways to switch up your pancakes this morning? There are a few great suggestions for making them more unique.
Add chocolate chips. After pouring the batter onto the griddle, sprinkle the tops of the wet batter with chocolate chips of any flavor or variety. Then flip the pancakes when ready and cook until finished. I do not recommend mixing chocolate chips into the batter because they like to sink to the bottom of the batter in the bowl, sprinkling them on top gives you way more control on placement.
Add fruit. Some great fruit suggestions for adding to your pancakes are banana slices, strawberries, fresh blueberries, blackberries, and raspberries. You can add these as you would chocolate chips, mixing and matching for a fun experience, or use a berry-flavored syrup.
Spice it up. Some great spices to add to pancakes include cinnamon and nutmeg although a dash of vanilla would also be good.
Add some color. You can make these pancakes way more bright and cheery by adding some rainbow sprinkles to the tops. A perfect and simple idea for when you serve these up on a birthday.
Recipe Tips
Do NOT overmix the batter. If you want the best flapjacks recipe result you can get, then trust me on this one. You want to stir the wet and dry together just until incorporated. There will be lumps left, but there should be no flour streaks remaining. If you overmix the batter the pancakes will turn out chewy instead of fluffy because you will have overworked the gluten in the flour.
Toppings. You can top your pancakes with anything you like or nothing at all. Our favorite suggestions include syrup, honey, fresh berries, cream, and caramel. Any combination of these is also incredibly delicious!
FAQs
How are flapjacks different from pancakes?
There is no difference at all. The name simply changes depending on where you are located in the world as many countries refer to what we know as a pancake by the name of flapjack. There are other names out there too but these two are the most recognizable.
How long will flapjacks keep in the fridge?
These pancakes will last up to a week if stored in an airtight container in the fridge after they've cooled down. Simply reheat them to warm them again before eating. You can reheat them one or two at a time in the microwave or on a baking sheet in the oven for 5 minutes at 350 degrees F.
Do flapjacks freeze well?
Yes, these pancakes can freeze very well, simply place them on a baking sheet after they have cooled completely and freeze until solid (about 1-2 hours) then transfer to an airtight container for up to 3 months. When you're ready to eat, just pop them in the microwave or the oven to warm them through again and enjoy.
Check out these great recipes for pancakes and pancake syrup that you're sure to love!
Yield: 10
Flapjack Recipe
Ingredients
1 Cup Flour
1 Tsp Baking Powder
¼ Tsp Salt
2 Eggs
¼ Cup Sugar
4 Tbsp Melted Butter
¼ Cup Milk
Optional Toppings:
Syrup
Honey
Berries
Cream
Caramel
Instructions
Add the dry ingredients and whisk them together
Add the Butter, eggs and milk and whisk them together
Add wet ingredients into dry ones and incorporate them well
Grab a skillet and heat it with medium heat flame
Make sure you make even sized pancakes
Turn the pancakes only when there are bubbles coming out of the middle
Add your toppings
ENJOY!
Nutrition Information
Yield
10
Serving Size
1
Amount Per Serving
Calories

177
Total Fat

7g
Saturated Fat

4g
Trans Fat

0g
Unsaturated Fat

2g
Cholesterol

53mg
Sodium

181mg
Carbohydrates

27g
Fiber

1g
Sugar

14g
Protein

3g