Black beans and rice plus bacon and sausage make this quick soup filling and satisfying!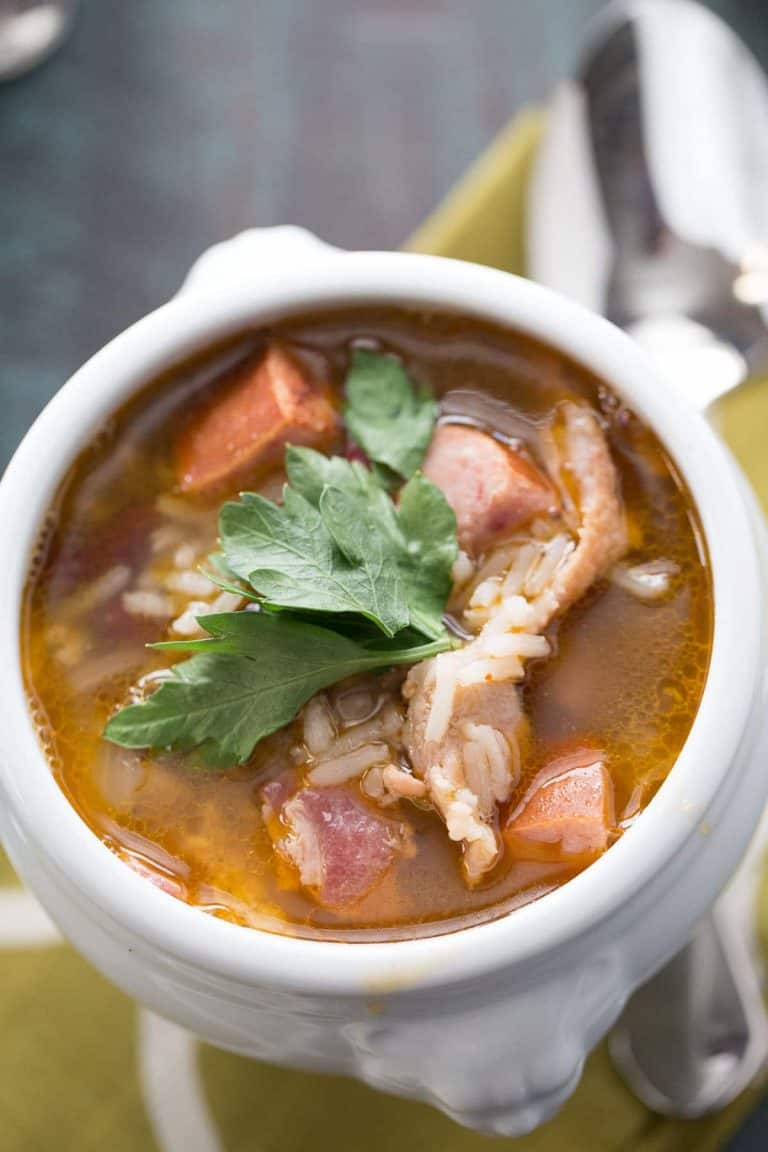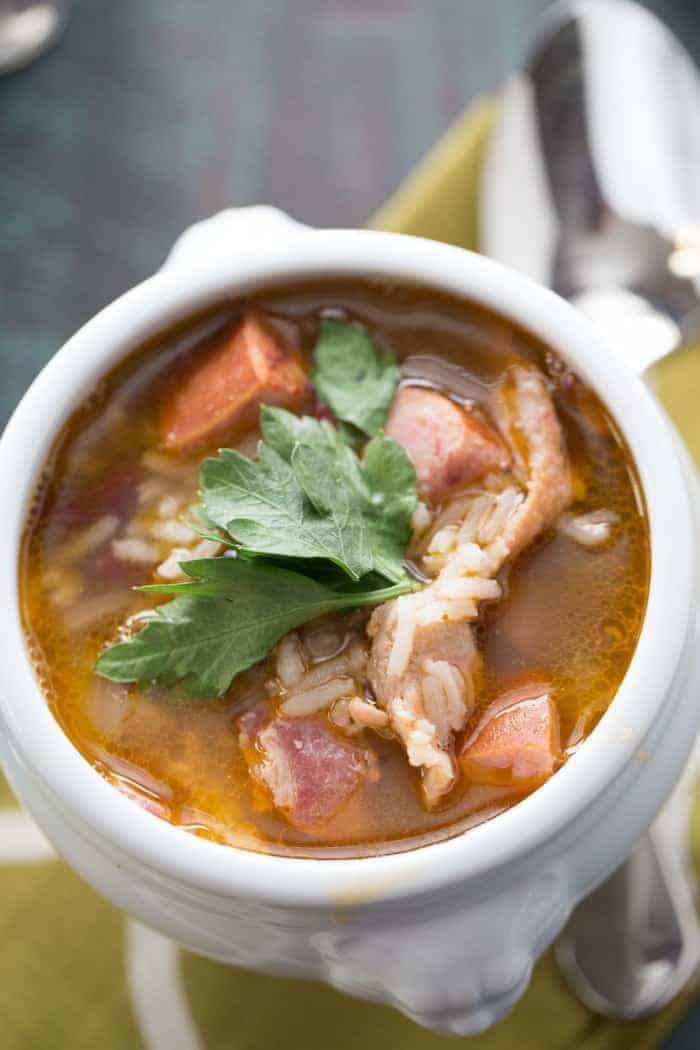 Since the first official day of winter, my kids have been praying for snow. All they want to do is roll in it, play in it, sled in it and throw it. But what they want most when it comes to snow, is a snow day. You know, because Christmas break wasn't enough.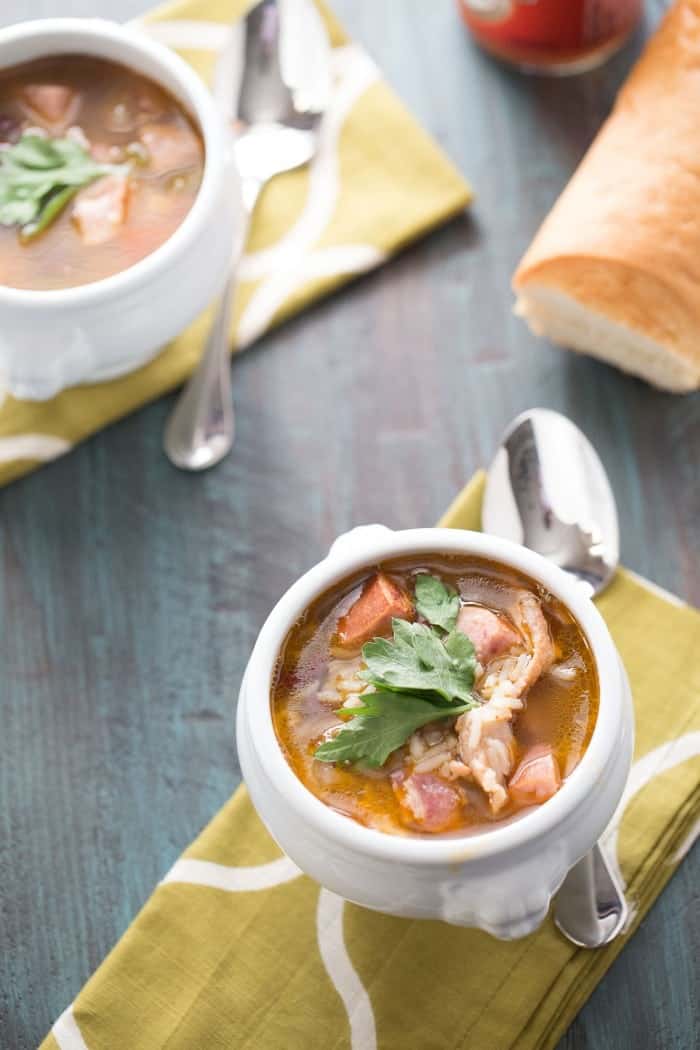 Today the kids got their wish…snow! The only disappointment was that the snow fell on Sunday instead of Monday. No matter, they made the best of it. They put on their long underwear, snow pants, multiple pairs of gloves, hats, snow boots, and scarves. Then out the door, they went. A short time later, they realized that with snow comes very cold air. So in they came where they promptly took off all the snowy day paraphernalia and accessories and left them in a big, wet, dirty heap on the laundry room floor. While their rosy cheeks were happily sucking down steamy mugs of hot chocolate, I was left cleaning it all up.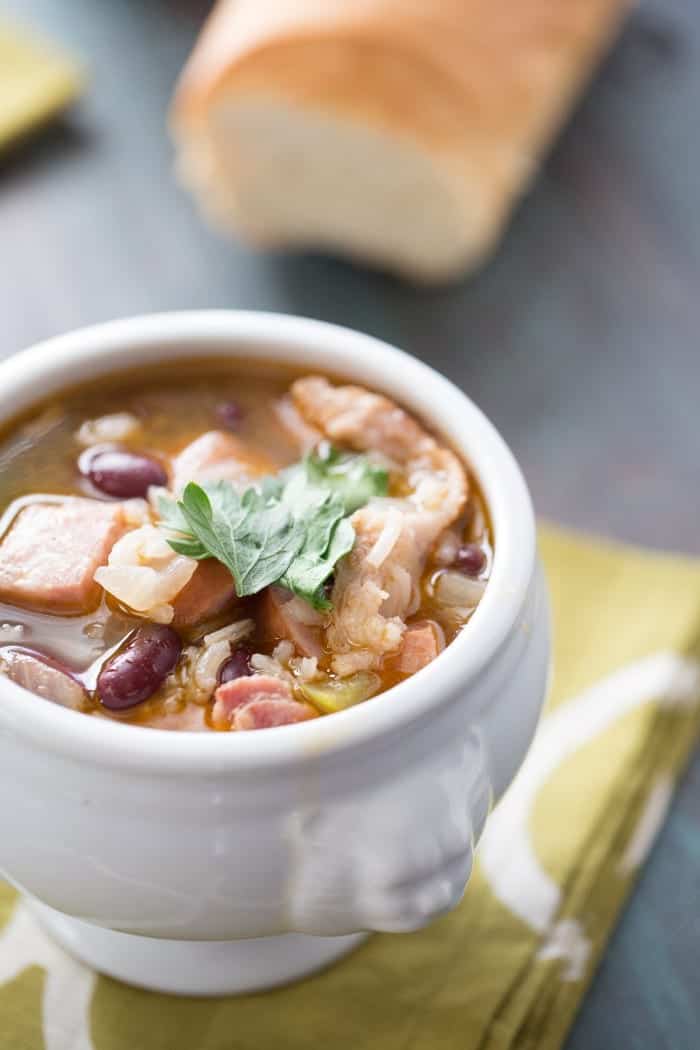 Some people don't like snow because of the cold, others don't like snow because the havoc it wreaks on our driving. And I would agree with both of those, but I'd also add that snow days add to my workload. The dirty floors, the laundry, the shoveling….I dread them all. What I want on cold, snowy days is a good, hearty soup that is going to warm me up from the inside out. Soups like this easy vegetable soup or this light corn chowder will make me feel happy and cozy. This red beans and rice soup can be added to my comfort food favorites!
Red beans and rice is such a humble meal, but it's always so filling and delicious. This soup is substantial with the fibrous beans and it's sturdy rice. But throw in the added flavor of salty bacon (win) and seasoned smoked sausage (double win), and then you have yourself a gratifying meal that is so deeply rich in flavor!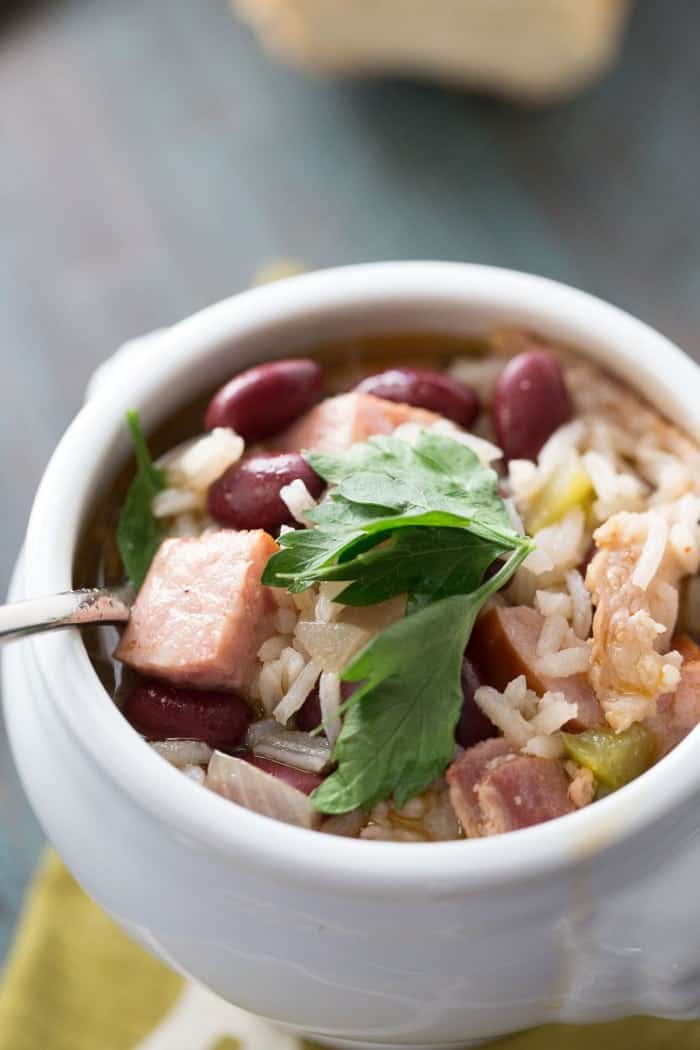 Next snow day, I'll be the one to frolic in the snow, come in for a big bowl of red bean and rice soup and teach then I'll teach the kids how to do the laundry!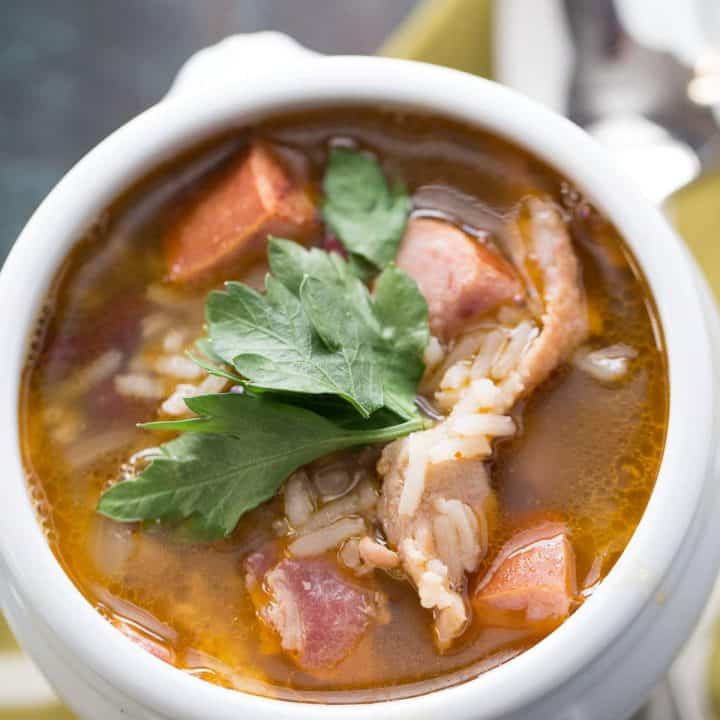 Red Beans and Rice Soup
Red beans and rice is a classic dish that becomes an easy to make soup!
Ingredients
3 strips of bacon, chopped
14 oz smoked sausage, diced
1/4 cup chopped onions
1/4 cup chopped green pepper
1/4 cup chopped celery
1 14oz can kidney beans, rinsed and drained (I used Simple Truth)
2 teaspoons Cajun seasoning
1 32 oz container chicken broth (Simple Truth)
4 cups water
2 bay leaves
1 cup uncooked basmati rice
Instructions
Heat a large stock pot over medium heat. Add chopped bacon and cook until it just begins to brown. Add in diced sausage and continue to cook another 5-6 minutes or until browned. Remove meat from pan and set aside.
Add onion, pepper and celery to the pan. Cook until vegetables have begun to soften and onions are translucent. Add drained beans, sprinkle with Cajun seasoning; stir.
Stir in chicken broth, water, bay leaves and rice. Reduce heat to medium-low and simmer soup for 15-20 minutes. Remove bay leaf before serving.
Nutrition Information
Yield

6
Serving Size

1
Amount Per Serving
Calories

366
Total Fat

22g
Saturated Fat

7g
Trans Fat

0g
Unsaturated Fat

11g
Cholesterol

49mg
Sodium

1786mg
Carbohydrates

25g
Fiber

4g
Sugar

5g
Protein

17g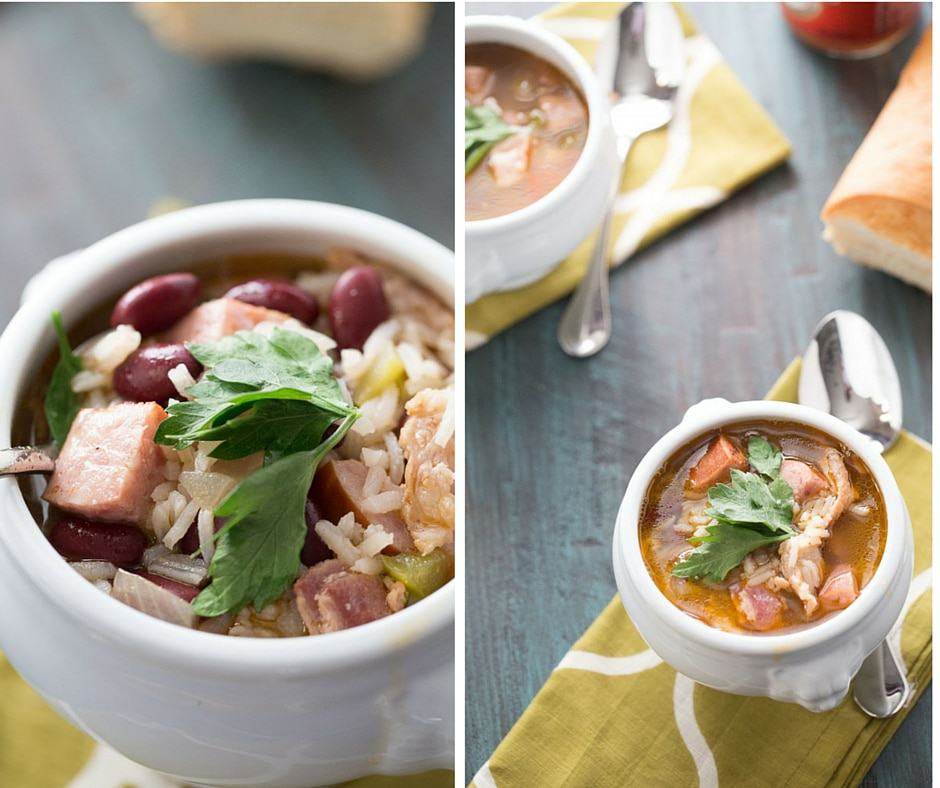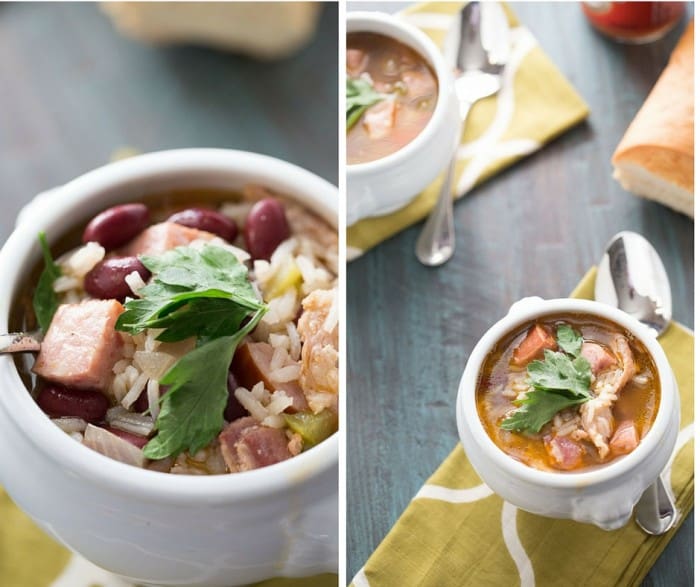 Recipes you might like:
Red Beans and Rice – Cooking Light
New Orleans Red Beans and Rice – Joy the Baker