This hearty minestrone soup is going to get you through the winter season! This soup is filled with pasta and vegetables; it is filling and satisfying! Plus it comes together so quickly!
Once all the holiday festivities are over, and the new year rolls around, I enter into soup season. January is often cold, dreary and boring. Soup season keeps me warm and satisfied.
Beyond that, soups are filling, easy to make, and make handy leftovers. Soup really is the original one-pot wonder.
This minestrone soup might be my new favorite recipe. It is loaded with good stuff! It has vegetables, two kinds of beans and pasta. The flavors combine nicely and I will be honest, it was almost even better the second day after the flavors sat together overnight!
What Is Minestrone Soup?
Minestrone soup is an Italian, tomato-based soup made with beans vegetables and pasta (although rice can be used as well).
Almost any vegetable can be used in minestrone soup, it is a very forgiving recipe and great for clearing out the unused vegetables in your fridge!
What Is The Difference Between Minestrone Soup and Vegetable Soup?
Honestly not much. Minestrone soup is often filled with a variety of beans and includes pasta whereas vegetable soup is not.
Both soups are easy to adapt to your tastes and are easy to make.
What Do I Need For Minestrone Soup?
Vegetables – Anything goes here! I used green beans, onions, carrots, and celery. But you could add zucchini, spinach, cabbage, and mushrooms.
Canned Beans – I used garbanzo beans and kidney beans
Chicken Broth – Vegetable broth works well if you want to keep this vegetarian.
Pasta – Think small! Pastina is great for this soup but orzo or elbow macaroni is great as well.
Diced tomatoes
Tomato Puree – Leftover homemade marinara sauce can be used instead.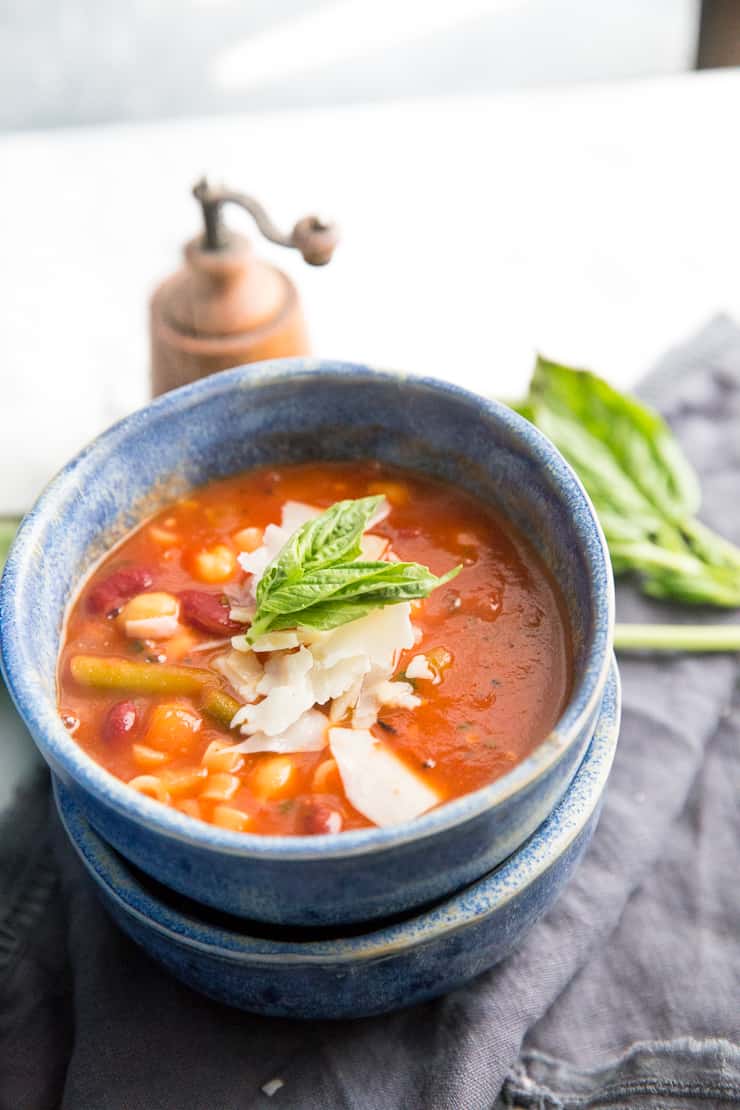 How To Make Minestrone Soup
This family favorite soup starts with a large stockpot placed over medium heat. Heat olive oil and add onions, carrots, and celery ( I used a mix of frozen vegetables here). Add a little garlic.
Add rinsed and drained red bean and garbanzo bean followed by green beans.
Season vegetables with salt and Italian seasoning.
Add chicken broth, fire-roasted diced tomatoes and tomato puree.
Bring to a boil, reduce heat and stir in your pasta. Simmer the soup on low until the pasta is al dente.
Serve the soup with fresh basil and grated Parmesan cheese.
This soup can easily be made in your slow cooker. You can add all your ingredients (except pasta) into the slow cooker and allow the soup to cook on low for 4 hours. Add the pasta during the last 20 minutes of your cook time.
How Do You Thicken Minestrone Soup
If you like your soup to be a little thicker, try using less puree or chicken broth and allowing the liquid to cook down a little more.
Adding more pasta will help as well. The natural starches from the pasta will help thicken your soup.
You can also stir in tomato paste or cornstarch.
Lastly, you can add flour to your olive oil and frozen veggies to make a roux – which is great for thickening stews, soups, and sauces!
How Long Is Minestrone Soup Good For?
You are going to love having leftover minestrone soup as it is even better the next day!
Minestrone soup will last in the fridge for 3-4 days if stored in an airtight container. Pour contents into a saucepan to reheat, adding water to thin the soup if necessary.
If you are wondering, "does minestrone freeze well"? The answer is yes. Store cooled soup in an airtight container or in ziptop freezer bags. Soup can be frozen for up to 3 months,
However, be aware that certain vegetables like zucchini and mushrooms may not freeze as well as other, hardier vegetables.
Also, freezing soup with pasta can be tricky. Pasta doesn't hold well to boiling, freezing and then thawing. If you are going to freeze this soup, add the pasta after you thaw and reheat the soup.
What Goes With Minestrone Soup?
You could serve something like this Bacon Cheddar Beer Bread to sop up the soup if you like or any other crusty bread loaf.
Other side options include Quinoa Tabbouleh Salad, Mixed Green Citrus Salad or this Antipasto Crescent Ring if you are not keeping your meal vegetarian.
This hearty minestrone soup is going to get you through the winter season! This soup is filled with pasta and vegetables; it is filling and satisfying! Plus it comes together so quickly!
Ingredients
1 teaspoon olive oil
1 cup mixed frozen veggies (onions, celery, peppers)
3 cloves minced garlic
1 tablespoon Italian seasoning
4 cups chicken broth
1 28 oz can tomato puree
14 oz fire-roasted tomatoes
1 can red kidney beans
1 can garbanzo beans
1 cup frozen green beans
Salt and pepper to taste
1 cup ditalini pasta
Instructions
Heat olive oil in a large stockpot or dutch oven over medium-high heat.
Stir in frozen vegetables and cook until soft. Stir in garlic, cook an additional 1-2 minutes.
Season vegetables with Italian seasoning.
Add chicken broth, tomato puree, fire-roasted tomatoes, and beans.
Bring soup to a boil, reduce heat and add pasta.
Simmer soup on low until pasta is al dente.
Top soup with grated Parmesan cheese or fresh basil