You're going to love this easy Italian Minestrone Soup Recipe.
It's good to the last drop and packed with flavor and vegetables.
This comforting and hearty soup is rich in both flavors and nutrition. Packed with so many vitamins, minerals, and other nutrients.
Eating healthy foods has never tasted this good. Serve a warm bowl of this homemade minestrone soup with your favorite dinner rolls or french bread and it's sure to be an incredible meal.
What Is Minestrone Soup?
It's a thick Italian soup recipe that is packed with so much good stuff like veggies, pasta, rice, or even beans. The name minestrone comes from the Italian word "minestra" and traditionally the soup started as a way to use up leftover vegetables. So take the great opportunity to use up any of the leftover vegetables in your fridge to make a flavorful soup thats as frugal as it is tasty.
Ingredients for a delicious Minestrone Soup:
Olive oil
Yellow onion
Cannellini beans
Crushed tomato
Fresh parsley
Zucchini
Short pasta (any pasta will do- including gluten-free)
Celery
Carrots
Garlic
Vegetable broth
Kale
Fresh thyme
Bay leaves
Salt
Black pepper
Green beans
Dried oregano
For the exact measurements needed, please see the recipe card below.
How To Make Italian Minestrone Soup
Chop your carrots into slices and if needed, slice some into halves so that they aren't too large compared to the others. This will help to get a more even cooking time so that they all turn out to be the same textures.
In a large pot, add your chopped carrots and saute' for a couple of minutes until the carrots look slightly golden in color.
Add in the chopped onion.
Add in the chopped garlic.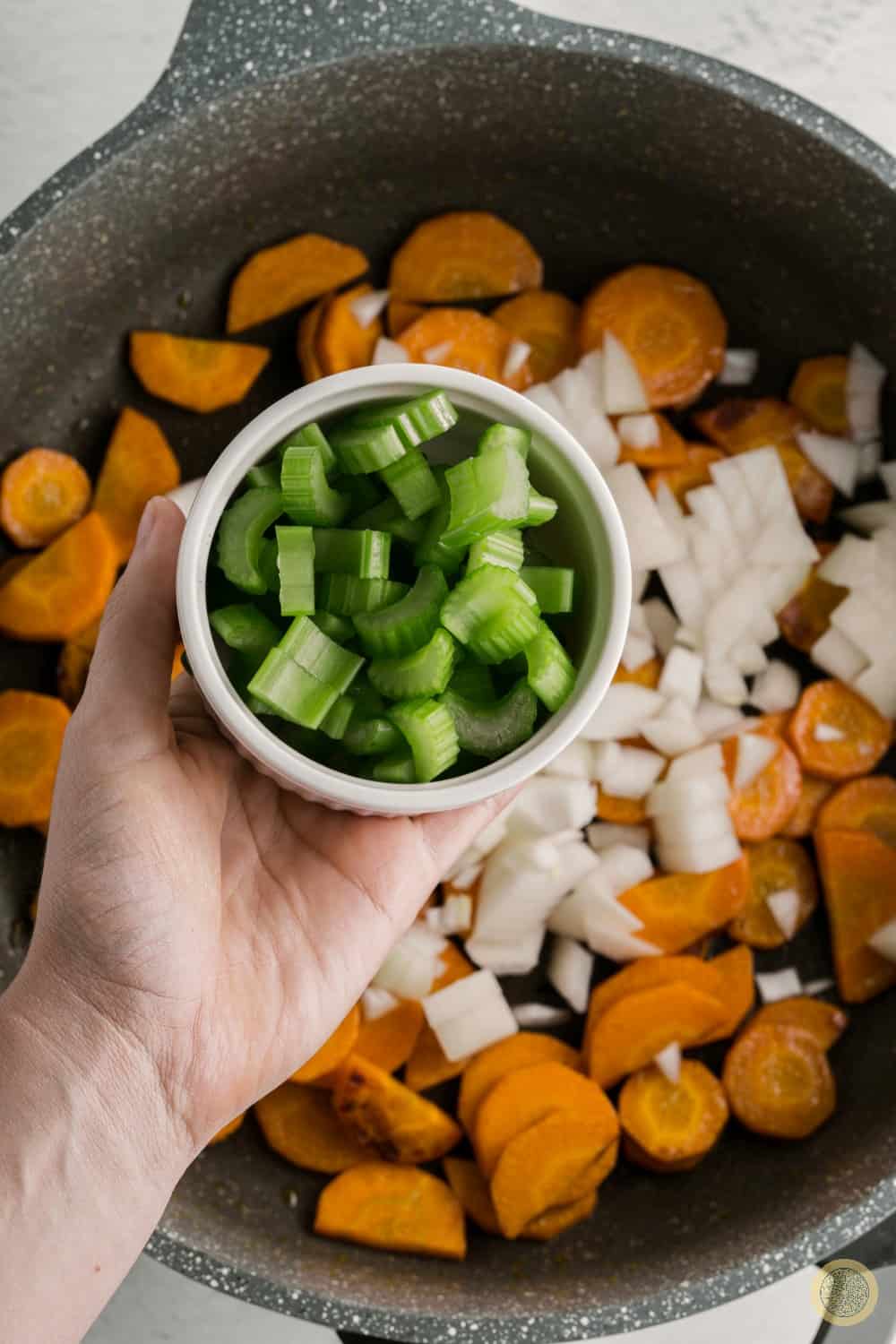 Add in the chopped celery, and saute until soft.
Chop your zucchini into half-moon-looking pieces and add them to the pot, stirring until the zucchini is soft. You can cover the pot with a lid to help the zucchini to cook faster.
Add in the fresh and dried herbs, the roughly chopped kale leaves, crushed tomato, short pasta, green beans, and vegetable broth.
Let the pot simmer for about 20-25 minutes or until the pasta is tender. Note that if you are using fresh green beans you'll need to make sure that they are tender as well.
Finally, add in your cannellini beans and let the soup simmer for an additional 5 minutes to absorb the broth flavors.
Serve the soup warm into individual serving bowls.
Recipe Notes
Cooking the veggies before adding in the broth is what helps to get the most flavor out of this dish. Make sure not to skip this step or skimp on the time because the longer the veggies cook, the more depth is added to the flavor profile.
This summer minestrone soup is completely customizable. You can use just about any veggies that you have on hand and have it still turn out amazingly. This is the perfect excuse to use up whatever is fresh from the garden too.
If you'd like to get a thicker soup, you can increase the cooking time until more liquid is reduced or use 2 cans of crushed tomato from the beginning.
Substitutions
Green beans. You can use fresh or frozen green beans, just make sure that fresh ones have been washed, trimmed, and cut to similar-sized lengths no bigger than 2.5 inches long.
Adding spinach. If desired, you can add some fresh spinach to the soup and make it even more nutritious and delicious.
Beans. You do not have to use cannellini beans if you do not wish to. You can omit them completely or use a different type of bean in its place.
FAQs
Is Minestrone Soup Vegan?
This vegetarian minestrone soup recipe is completely vegan as-written. There are no dairy or animal products used but you can add in 2 tablespoons of butter when cooking the veggies if desired. Some people like to add cooked Italian sausage to their Minestrone soup and you can do that as well, but it's great and hearty as-is.
How Long Is Minestrone Soup Good For?
This soup is good for about 3 or 4 days if kept well covered in the fridge. This means you can enjoy it for up to a few days (It's great for lunch the next day!)
Can I Freeze Classic Minestrone Soup?
I do not recommend freezing this soup unless you did not put any pasta in it. The pasta will not hold up to being cooked in the soup, frozen, thawed, and reheated. The end results would be a mushy mess and quite gross in texture. Without the pasta, the soup will freeze fine for up to 3 months in an airtight container. Just thaw overnight in the fridge and reheat when ready.
Check out these other hearty soup recipes:
Yield: 4-6 servings
Italian Minestrone Soup
Additional Time
35 minutes
Total Time
1 hour
35 minutes
Ingredients
2 tbsp olive oil
1 yellow onion
1 can cannellini beans
1 can crushed tomato
⅓ cup packed fresh parsley
1 large zucchini
1 ½ cups short pasta
½ cup chopped celery
2 large carrots
3 cloves garlic
4 cups vegetable broth
2 cups packed fresh kale, roughly chopped
2 tsp fresh thyme
4 bay leaves
1 tsp salt
½ tsp ground black pepper
1 cup green beans (fresh or frozen)
1 tsp dry oregano
Instructions
Chop carrots into slices; if some pieces are bigger than others, chop them into halves to achieve similar cooking time.
Heat olive oil in a large pot, add chopped carrots, and sauté for a couple of minutes until slightly golden.
Add chopped onion, chopped garlic, and chopped celery. Sauté until soft.
Add zucchini chopped into half-moons and stir until zucchini is soft. You can cover with a lid and stir regularly to help the zucchini to cook faster.
Add fresh and dry herbs, roughly chopped kale, crush tomato, short pasta, green beans, and vegetable broth. Simmer for 20-25 minutes or until pasta is tender. *If using fresh beans instead of frozen, make sure they are tender as well before following the next step.
Finally, add cannellini beans and simmer for 5 minutes to absorb the broth flavors.
Serve warm into individual bowls.