You're going to love this easy pumpkin panna cotta recipe. Made with heavy whipping cream, pumpkin puree, warm spices, and then topped with a homemade caramel sauce, every bite screams Autumn.
The leaves falling outside, the pumpkins in the field and apples coming off the trees, all of these things are great reminders of the season but nothing more so than this tasty pumpkin spice panna cotta.
Made to be the perfect chilled dessert for enjoying after your meal, bring warm comforting flavors in every cold and refreshing bite.
What Is Panna Cotta?
A panna cotta is an Italian dessert made of molded gelatin, meaning that it is made and then placed into a mold so that it holds shape. This pumpkin panna cotta is a small chilled dessert served with a caramel sauce over the top making it the perfect recipe for Fall.
Ingredients
Whipping cream
Milk
Granulated sugar
Gelatin powder
Pumpkin puree
Cinnamon
Pumpkin spice *optional
Water
Butter
Vanilla extract
Salt
For the exact amounts needed, please see the recipe card below.
How To Make Pumpkin Panna Cotta
Dissolve the gelatin powder into the hot water and set it aside.
Place the remaining ingredients into a medium-sized pot and whisk until combined.
Bring the pot to a boil over medium heat, once boiling, remove from the heat and add in the activated gelatine, stirring to combine. Let cool before pouring into ramekins.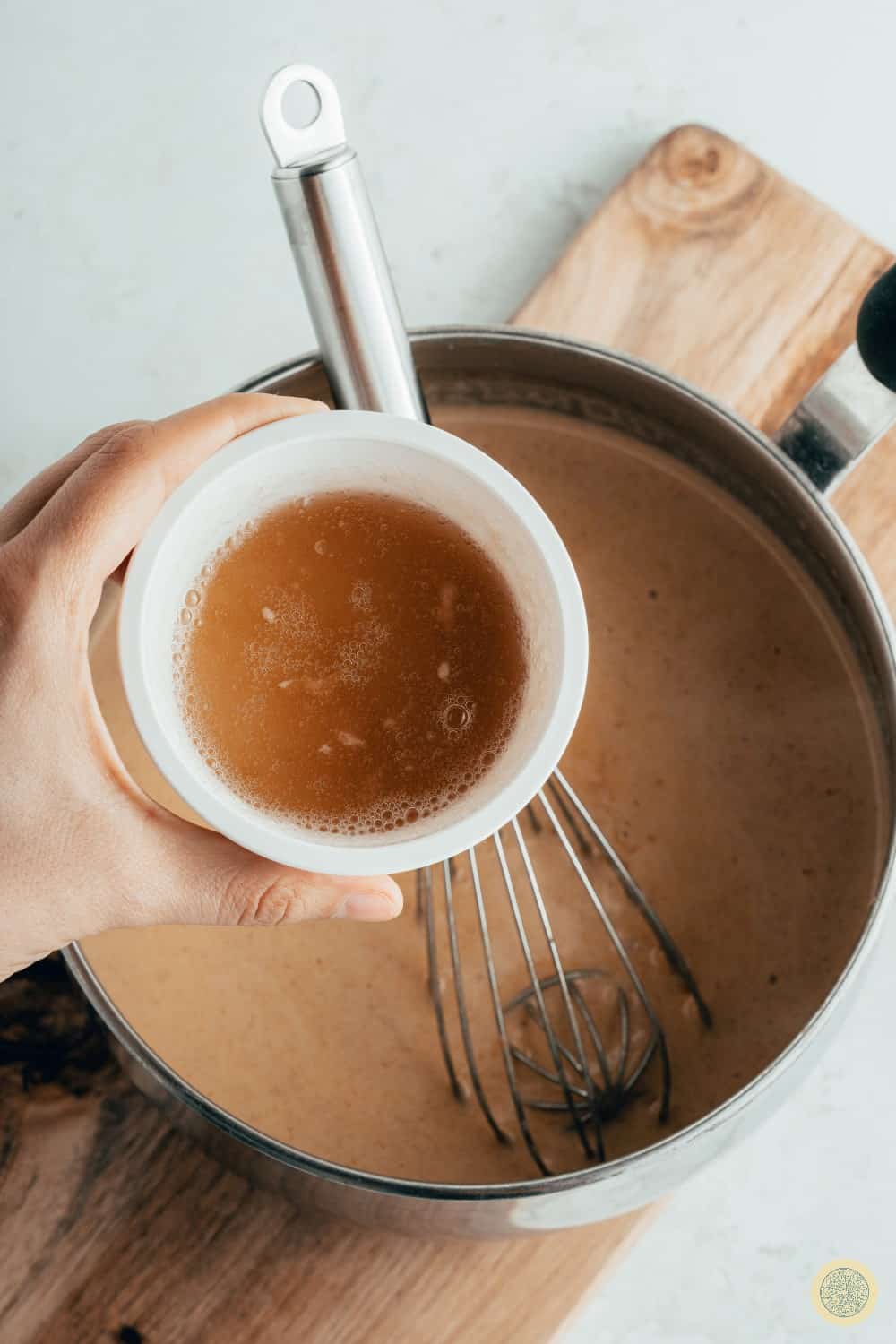 Grease the inside of ramekins or silicone muffin molds using nonstick cooking spray.
Fill each of the ramekins with the panna cotta mixture and then place in the fridge for at least 4 hours or until completely set.
How to make caramel sauce
To make the caramel sauce, add your sugar and eater to a heavy bottom pot. Once the water has dissolved, place it over medium heat to caramelize.
This should take about 10-15 minutes, depending on the size of the pot. During this time, do not touch or stir the caramel.
When the mixture has become an amber-colored caramel that is neither too light nor too dark, remove it from the heat.
Add in the heavy cream and whisk to combine. Some steam will be released from the pot as it has this temperature shock, but if your heavy cream is at room temperature this won't happen.
Add in the butter and stir to combine.
Place the pot over the burner again and simmer until you can see the caramel making bubbles, then remove from heat again.
Stir in the vanilla extract to combine.
Let chill before using.
Once the panna cotta has been set, serve the unmolded Panna cottas with drizzled caramel over the top and add whipped cream if desired.
Recipe Tips
Caramel. Keep your cooled caramel in the fridge in an airtight container after it's been made. You can reheat it again before using it by putting it into a pot and cooking until warmed through and pourable.
Panna Cotta. I recommend using a silicone mold for your pumpkin panna cotta because it will make unmolding the little desserts so much easier. That said you can also eat the dessert from ramekins without unmolding, and if you plan to do this then you can skip the greasing step.
FAQs
What Does Pumpkin Caramel Panna Cotta Taste Like?
It's going to taste like a well-spiced pumpkin-flavored dessert that has creamy and silky textures in every sweet bite. The hint of vanilla, warm spices, and caramel sauce on top really make this dish feel complete.
Can I Freeze Panna Cotta?
Yes, and freezing panna cotta is actually pretty simple. Simply place the panna cotta in the freezer in an airtight container until solid or for up to 3 months. Then thaw it overnight in the fridge before eating.
How Long Will Panna Cotta Keep?
You can keep your panna cotta in the fridge for up to 10 days if you keep it well covered in plastic wrap and stored in an airtight container.
If you're a fan of pumpkin, you'll also be a fan of these fall favorites!
Yield: 6 servings
Pumpkin Panna Cotta
Cinnamon spiced creamy and smooth Pumpkin Panna Cotta, a fallish twist of an evergreen classic. I've topped it with a Homemade Caramel Sauce. Nothing but delicious!
Total Time
4 hours
45 minutes
Ingredients
Pumpkin Panna Cotta
2 cups whipping cream
¾ cups milk
½ cup white sugar
3 tsp gelatine powder + 2 ½ tbsp hot water
¾ cup pumpkin puree
1 tsp ground cinnamon
Optional: ½ tsp pumpkin spice
Caramel Sauce (yields 1 cup)
1 cup white sugar
¼ cup water
¾ cup heavy cream, at room temperature
3 tbsp butter, at room temperature
1 tsp vanilla extract
a pinch of salt
Instructions
1. Dissolve the gelatine powder in hot water and set it aside.
2. Place the rest of the ingredients in a medium pot and whisk until combined.
3. Bring the pot over medium heat. When it begins to boil, turn off the stove and add the activated gelatine. Stir to combine. Let it cool before pouring it into ramekins.
4. Grease with cooking spray or butter 6 ½ cup ramekins, or silicone muffin molds, or glasses (if you won't unmold the Panna Cotta, the greasing step is not necessary). Fill each ramekin with the Panna Cotta mixture and refrigerate for 4 hours or until completely set.
5. To make the caramel sauce: add sugar and water into a heavy bottom pot. Once the water has combined with the sugar, place it over medium heat to caramelize. It will take 10 to 15 minutes, depending on the size of the pot. During this time, you shouldn't touch or stir the caramel. If the sides begin to crystalize, it is a good trick to use a wet brush to gently toss that sugar to combine with the rest of the caramel.
The color that you'll be looking for is an amber caramel, neither too light brown nor dark. Be careful that it doesn't burn. With this recipe, you'll need to be next to the pot, just staring at it as it could burn easily if you're distracted. Once you achieve this nice amber color, remove it from heat. Add the heavy cream and whisk to combine; some steam will be released due to the temperature shock, so using the cream at room temperature will minimize it. Then, add the butter and combine.
Place the pot over the stove one more time, simmer until you see the caramel making some bubbles (1 to 2 minutes). Remove from heat, add vanilla extract and combine.
Let the caramel chill before using.
6. Once set, serve the Panna Cotta with the homemade caramel sauce and some whipped cream on top.