This pumpkin cream pie is no ordinary Thanksgiving pie!
It is light and fluffy with the creamiest pumpkin filling.
When you are ready to break with tradition, then give this pie a try!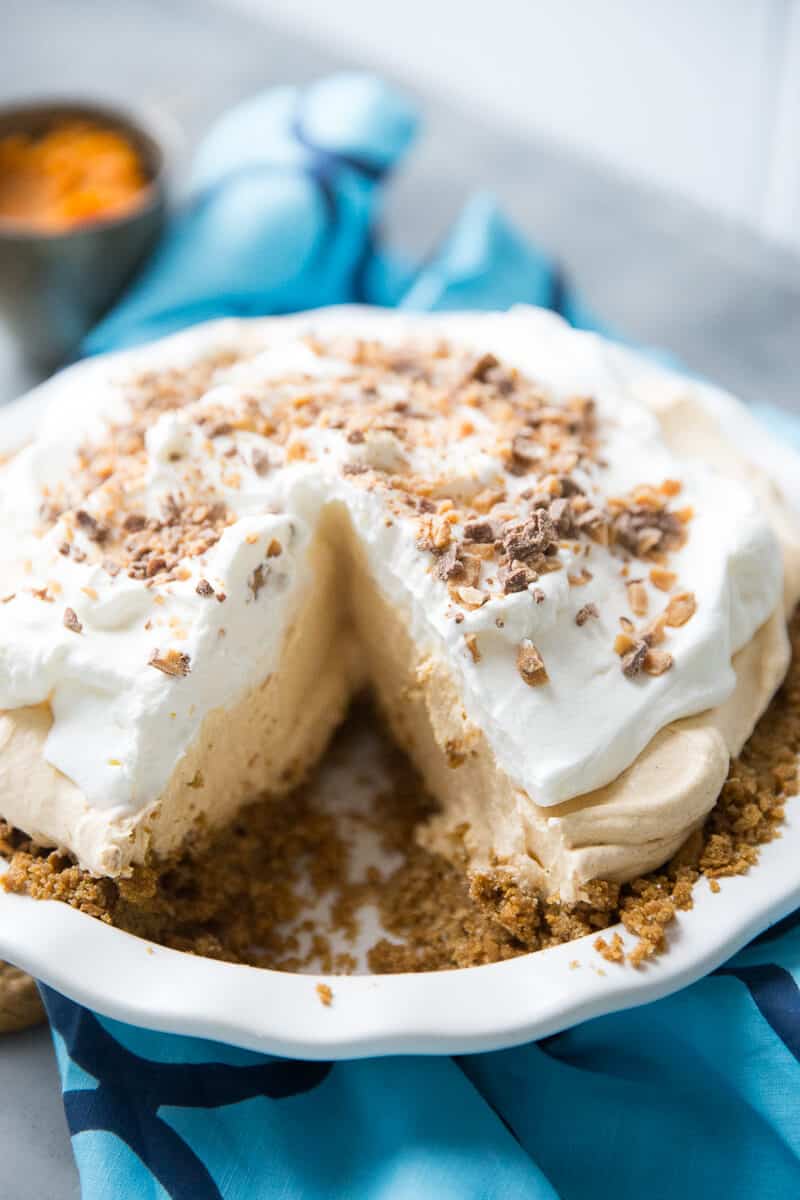 This pumpkin cream pie has changed the way I look at pumpkin pie.  Plain old pumpkin pie is dull and boring and has the most lack-luster texture a pie can have.  I make a face every time I eat it.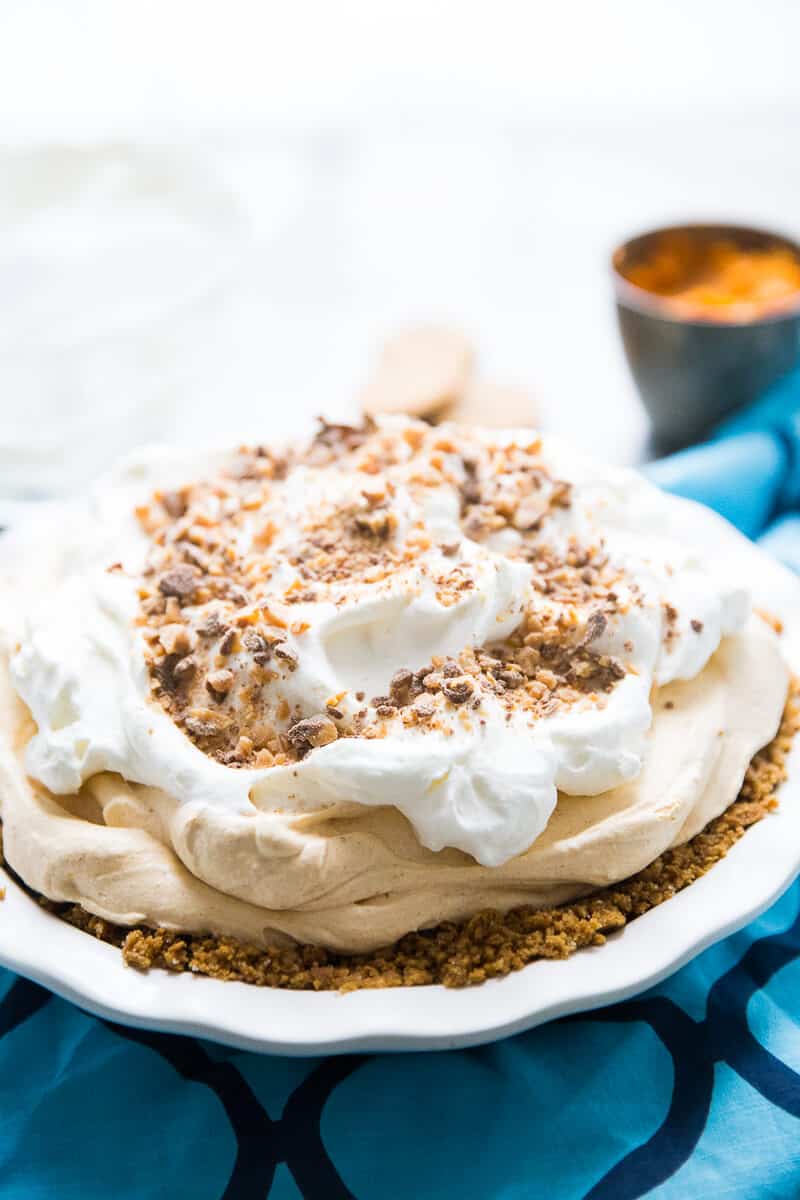 Let me digress a moment to tell you a story.  Once, when we were visiting the giraffes at the zoo, we paid $1 to feed a cracker to the giraffe.  My son was 5 or 6 at the time and did not realize what the cracker was for, so instead of feeding the cracker to the giraffe, he ate it.  He ate it like he was eating cardboard.  Bits of of stiff cracker crumbs were tumbling out of his mouth.  The corners of his mouth were turned down and the cracker was rapidly forming a brown, paste that was filling up my son's small mouth.  My son's eyes were open big and wide and tears were swellling in them.  The look of horror and disgust he had on his face is nearly the face I make every time I eat pumpkin pie.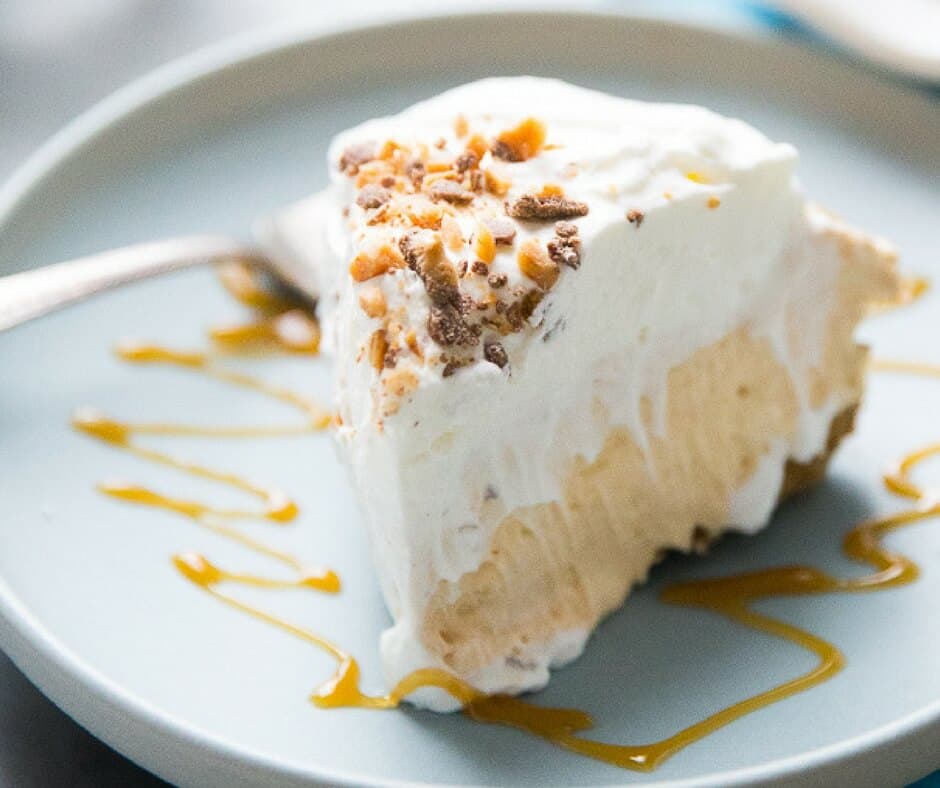 Ok, slight exaggeration, but I am not a fan of pumpkin pie. When it comes to pumpkin, I'd rather eat desserts like the best pumpkin roll recipe ever (the coconut filling is A-mazing), pumpkin ice cream pie, this cookie based snickerdoodle pumpkin pie, fudgy pumpkin brookies, or pumpkin cheesecake brownie pie.   THOSE are the pumpkin desserts I prefer to eat.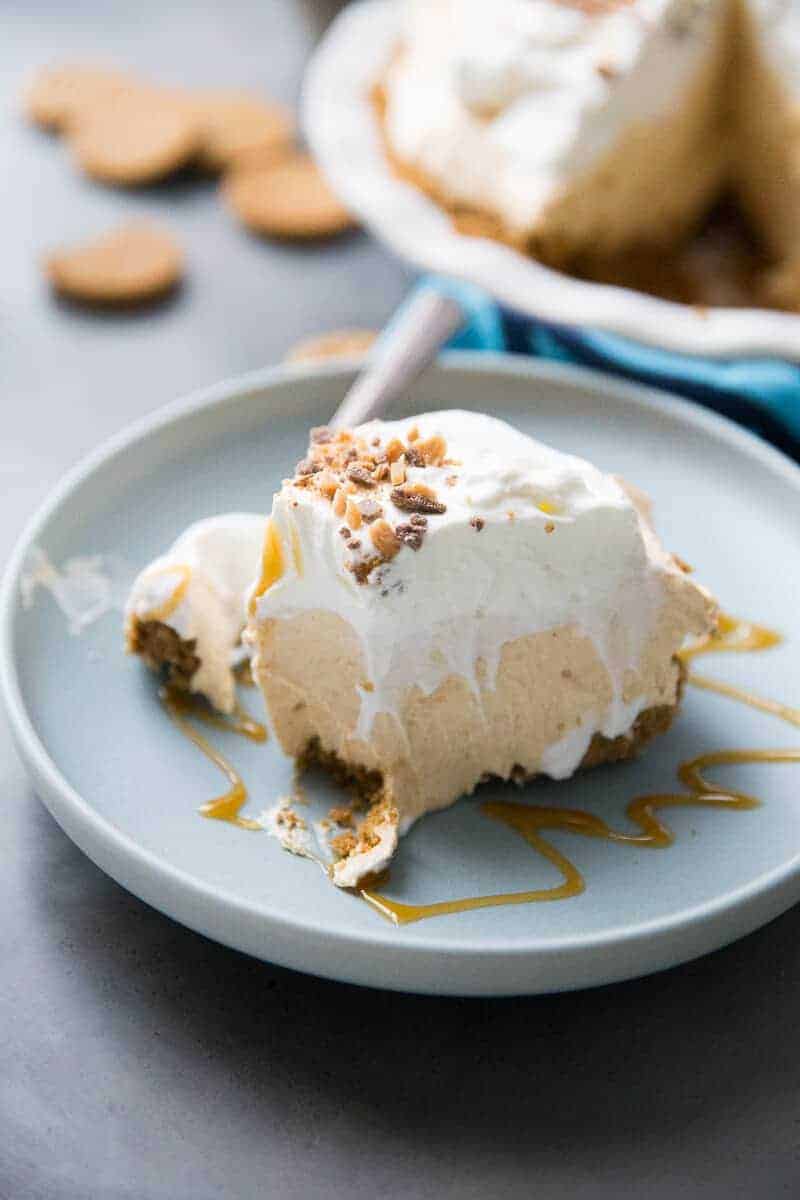 My kids LOVE pumpkin pie, however.  I claimed to make this pie for them, but in reality it was all to please me.  The only similiarities between this pumpkin cream pie and traditional pie is the pumpkin and the spice.  And I suppose the whipped topping.  The pie has a gingersnap crust, is not baked and has both cream cheese and whipped topping IN the pie which makes it especially light and fluffy (hence the name mile-high).  Add more whipped cream on top of the pie and sprinkle toffee bits on top to create a lovely pie that will outshine any other pumpkin pie.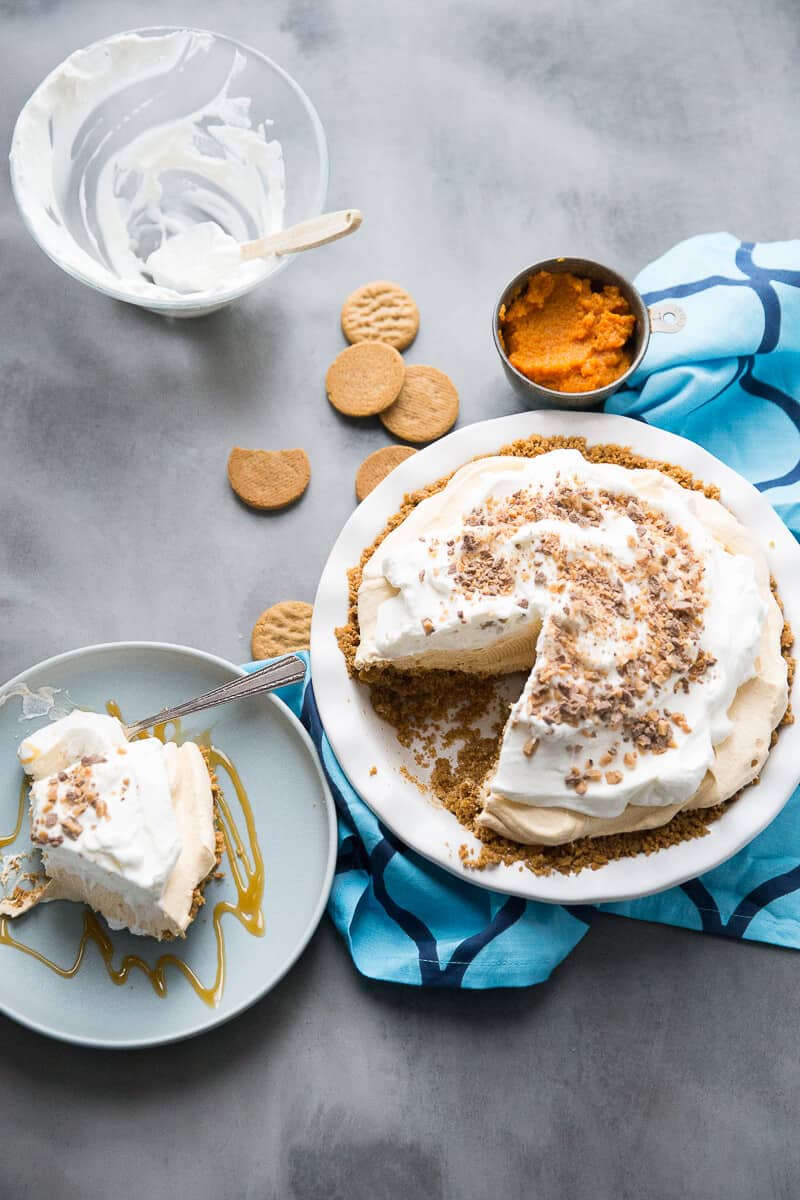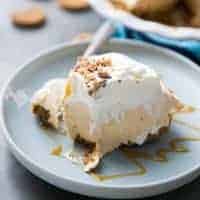 Mile High Pumpkin Cream Pie
Total Time:
2 hours
30 minutes
This pumpkin cream pie is no ordinary Thanksgiving pie! It is light and fluffy with the creamiest pumpkin filling.
Ingredients
2 cups ginger snap cookies
⅓ cup sugar
⅓ cup butter, melted
2 8oz packages softened cream cheese
1 cup pumpkin
1 teaspoon pumpkin pie spice
1 teaspoon vanilla
1 ¼ cup powdered sugar
1 8oz container frozen whipped topping, thawed
1 cup heavy cream,
2 tablespoons sugar
⅓ cup Toffee bits
Instructions
Pulse ginger snap cookies in a food processor until fine crumbs form. Combine crumbs, sugar, and butter and stir just until combined. Press mixture into a pie plate and freeze the crust while you prepare the filling.
For the filling, beat the cream cheese until creamy. Mix in the pumpkin and the pumpkin pie spice until combined. Stir in vanilla. Add powdered sugar a little at a time until blended. Fold in the whipped topping until it is fully incorporated. Pour filling into the pepared pie crust and refrigerate for at least 2 hours.
Before serving, whip the heavy cream with a whisk attachment in a chilled bowl. Slowly add sugar, and continue to beat until stiff peaks form. Top the pie with the whipped cream and sprinkle with toffee bits.
Notes
With the exception of the toffee bits, I used all Kroger store brand products for this recipe.
Nutrition Information
Amount Per Serving
Calories

0
Total Fat

0g
Saturated Fat

0g
Cholesterol

0mg
Sodium

0mg
Fiber

0g
Sugar

0g
Protein

0g