Light and airy meringue cookies with a hint of cherry flavor!  
Each crisp little meringue  is dipped in decadent dark chocolate to make these an extra special treat!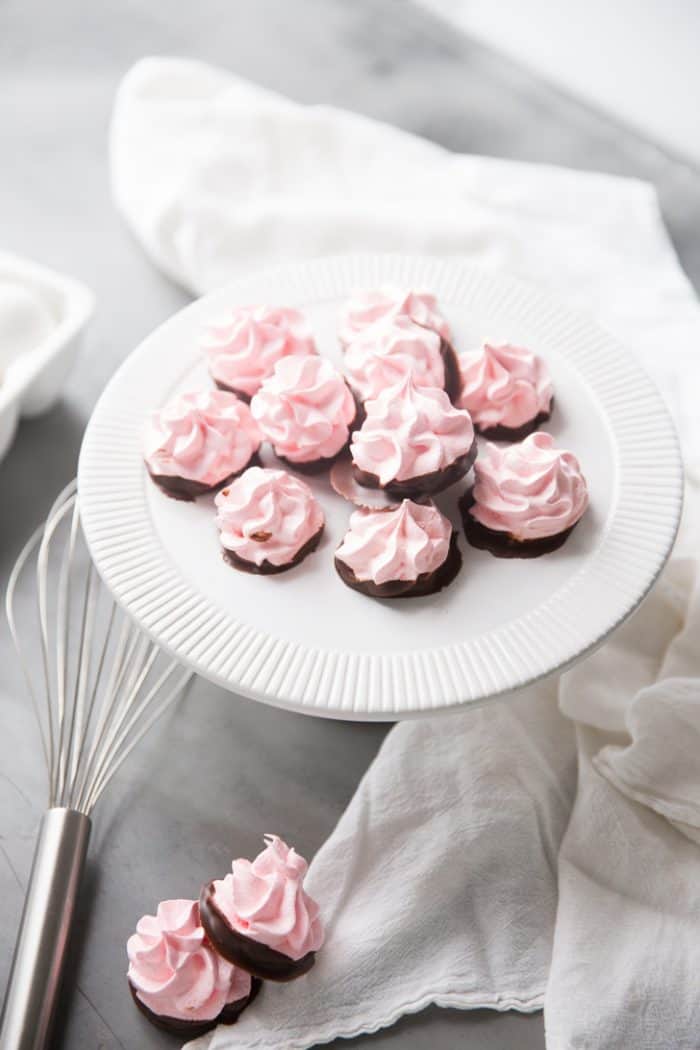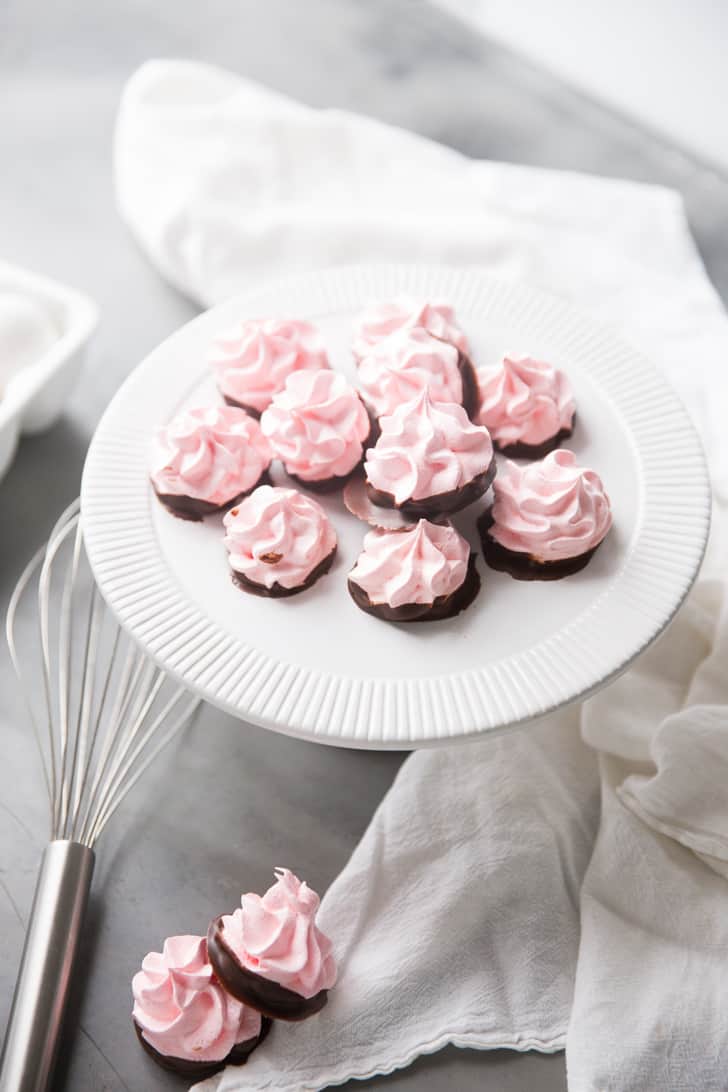 The kids of today have no idea how lucky they are.  They have the best birthday parties.  With a simple phone call (and a chunk of money) your child, along with his closest friends can be indulged and entertained in any manner you choose.  They can bounce in inflatables, they can shoot each other with laser beams, paint pottery pieces, attend baseball games, have a princess party in a magical wonderland,  have tea parties, have basketball parties, have gymnastics parties and have ballet parties.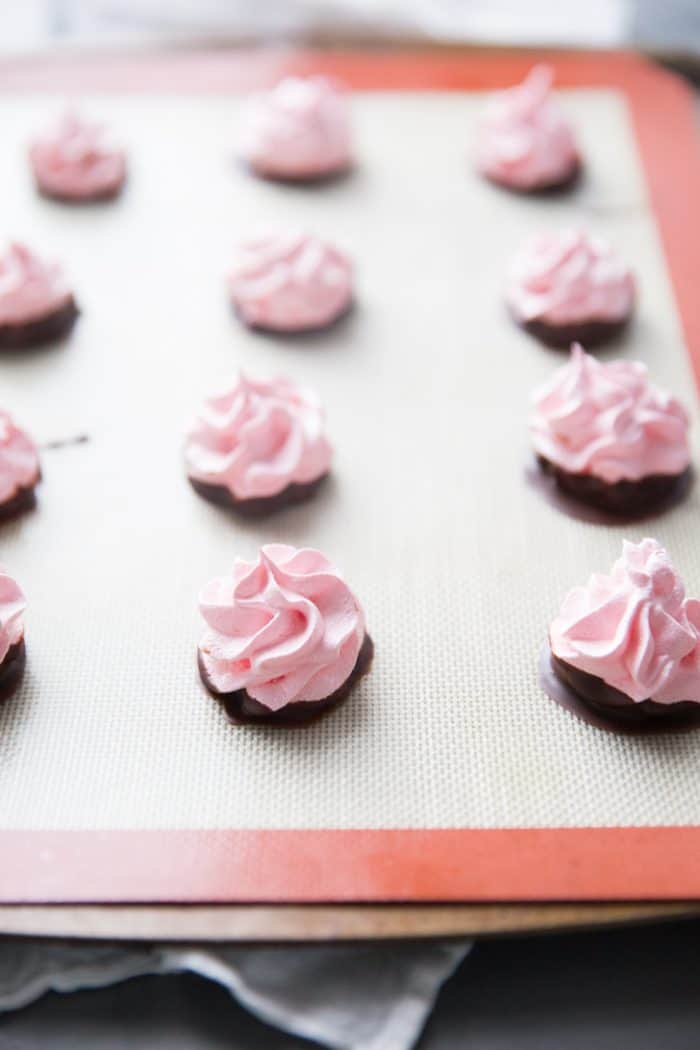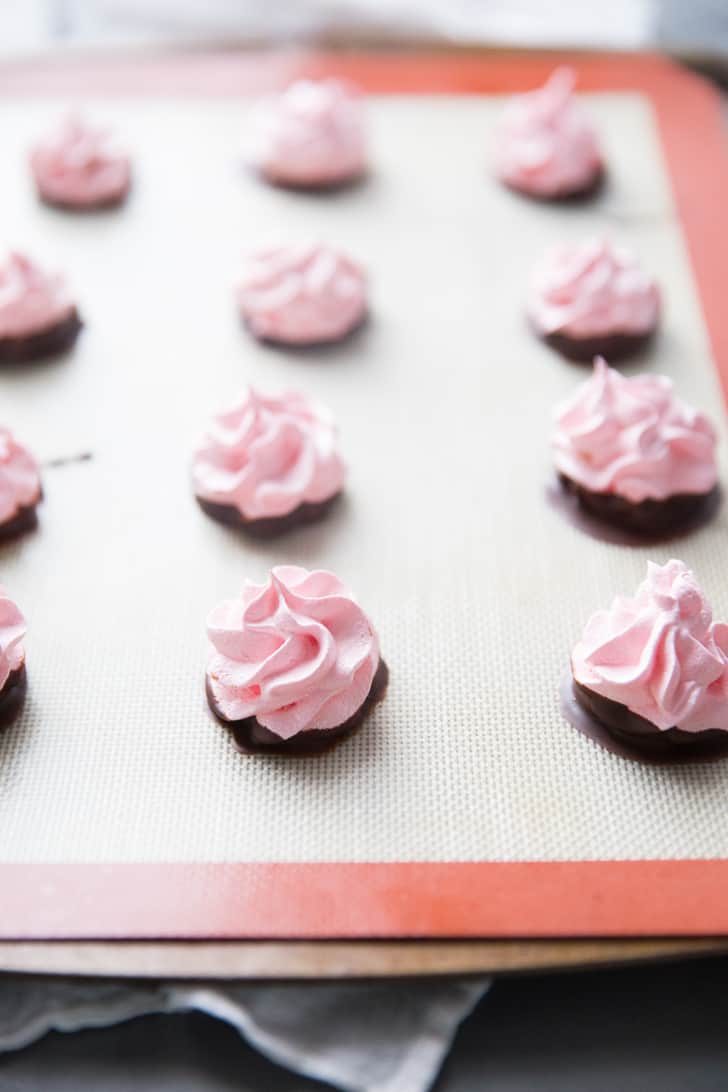 When I was a little kid, we didn't have "birthday parties on steroids".  If you were lucky, you had a McDonald's party.  I was never lucky.  I was in a perpetual state of envy.  If you were fortunate enough to have a party at McDonald's, you were treated to a sectioned off part of the restaurant.  McDonald's paper goods, McDonald's food, and a little white cake with a glorious yellow and orange border and Ronald McDonald's face in the center of the cake.  The birthday child got a to keep a souvenir glass.  That's right, a GLASS!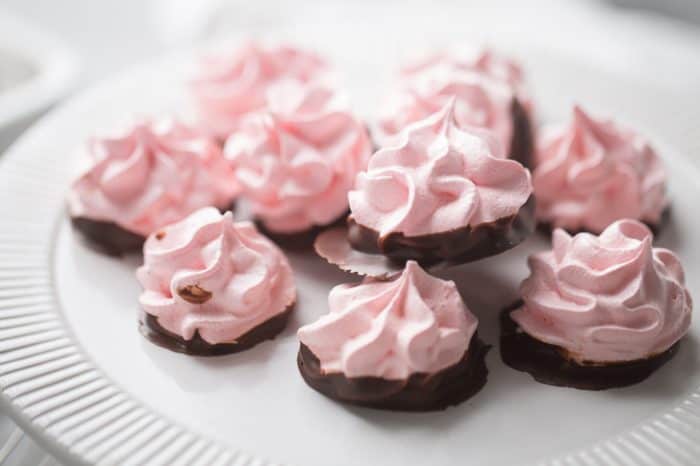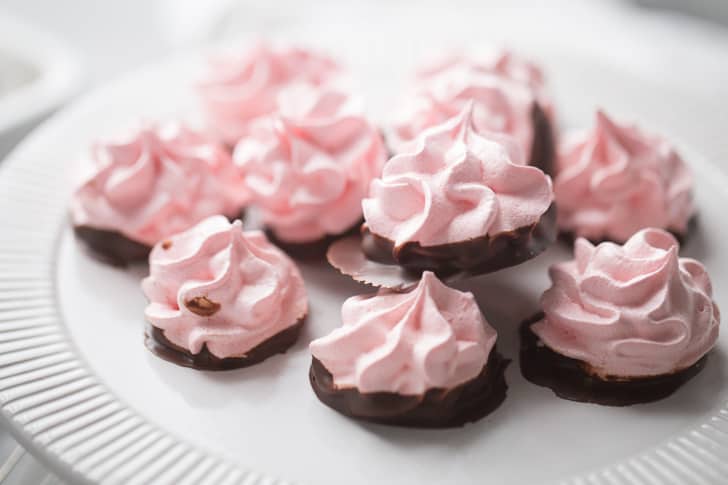 I had exactly one kid birthday party.  It was at my house.   There were 4 girls.   There wasn't a whole lot of fuss.   We ate snacks, we played musical chairs, I opened gifts and then we had cake.  I never asked for another party, and my parents never offered to host another party.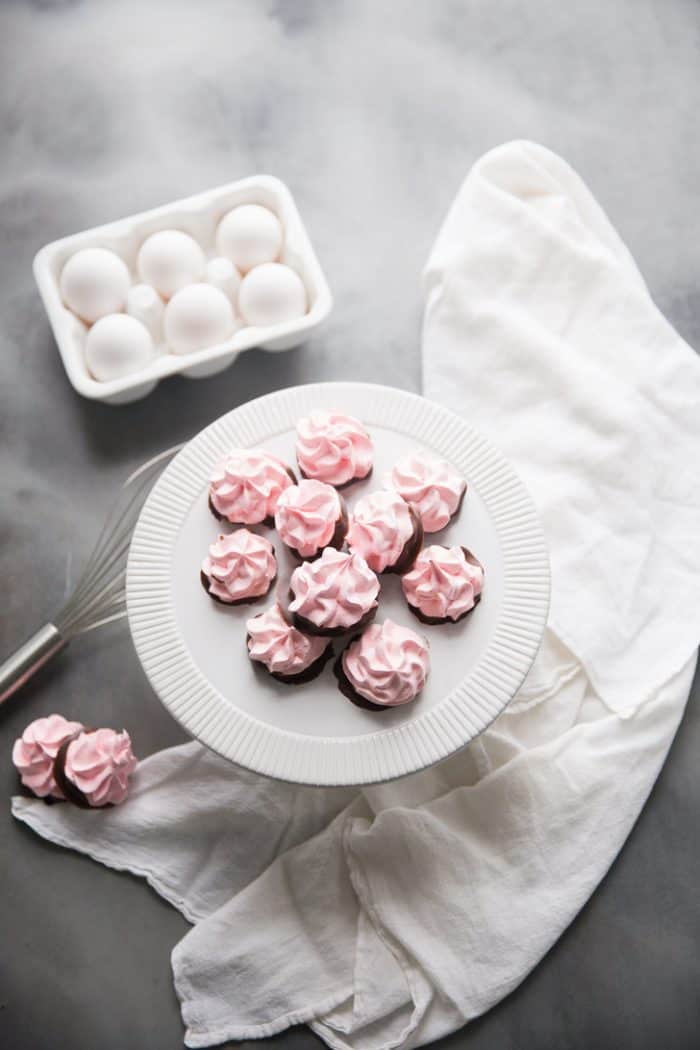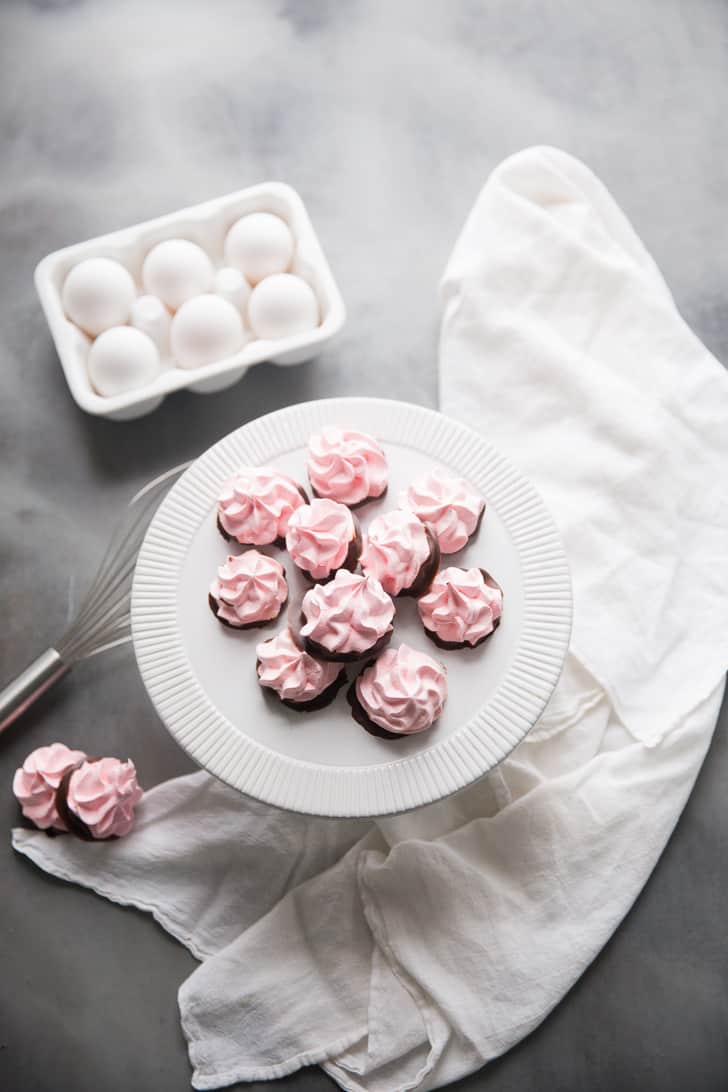 One of my favorite places to go for my own birthday as an adult is this fantastic bakery that serves a special tea luncheon.  We eat finger sandwiches, scones, muffins, whoopie pies, macarons and meringues.  I love those little meringues.  They are light and airy.  They are crisp when you bite into them, but then they instantly melt into your mouth.  These meringues are sweetened with maraschino cherry juice; which is something I love using in desserts like this Black Bottom Cherry Pie  or these Cherry Lime Cookies.  The meringues are finished off by a dip in dark chocolate.    A perfectly sweet ending to any meal!
Watch How To Make Meringues
The key to making meringues:
Always add your sugar in just a little bit at a time, and make sugar sugar is dissolved before adding more.  You will be able to see the sugar crystals if it is not dissolved.
Always work with your mixer on high speed, this ensures enough air is incorporated into the meringue.
Meringues are ready when the batter is glossy and stiff.
The dryer the day the better, humidity can deflate your meringue.
Be sure to keep all egg yolks out of the batter.  Even a tiny amount of yolk will prevent the batter from beating properly.
Allow your eggs to come to room temperature before you use them.
Store meringues in an airtight container with parchment paper layered in between.  If meringues lose their crispiness, bake in a 200 degree oven for 20 minutes.
Chocolate Dipped Cherry Meringues
Ingredients
4

egg whites

1/2

teaspoon cream of tartar

1/2

teaspoon salt

1 1/3

cup sugar

1

teaspoon maraschino cherry juice

6

drops of pink food coloring

1/2

cup dark chocolate chips, melted

1/2

teaspoon shortening
Instructions
Allow egg whites to come to room temperature in a large mixing bowl (about 30 minutes). Preheat oven to 225. Line two large baking sheets with parchment paper and set aside. Add cream of tartar and salt to egg whites. Beat on high until soft peaks form. Gradually add sugar to egg whites, 1 tablespoon at a time. Continue to beat on high speed until egg whites are glossy and have become stiff. Beat in cherry juice and enough food coloring until the meringues have the desired color.
Carefully scoop mixture into a piping bag fitted with a ½ inch star tip opening. Pipe meringue about 1 inch apart onto lined baking sheets.
Bake cookies for 60 minutes or until meringues are dry and firm to the touch. Turn the oven off and let meringues sit in the oven with the door closed for another hour or until completely cooled.
In a small microwave safe bowl, melt chocolate and shorting until smooth. Carefully dip bottoms of meringues into chocolate, allowing excess chocolate to drip down. Place meringues on baking sheet and allow chocolate to set completely.
Store meringues in an airtight container.