Sweet little lemon meringue whoopie pies have delicate swiss meringue buttercream
and tart lemon curd sandwiched between two tender little cakes.
The perfect summer time treat!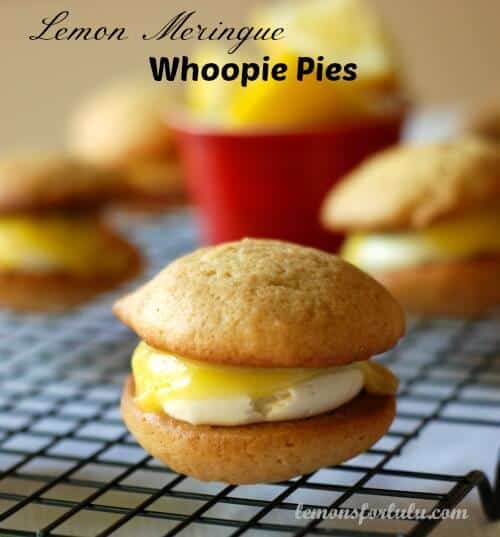 Every summer my kids and I all look forward to the week they spend at art camp.  They love it because it gives them the chance to unleash their inner creative genius.  They mold, sculpt, assemble, design and paint with unabashed glee.  I love it because it allows me to rid the house of all the extraneous and miscellaneous junk that the kids have collected since last year's art camp!!  It's a productive week all around!
This purging is an absolute necessity  since my kids seem to be unable to part with any object no matter how small or trivial.  This year, I filled garbage bags full of paper airplanes, half-finished drawings, dried up markers, plastic rings with missing "jewels", fabric, sticker books with no stickers, deflated balls, broken toys, nappy headed Barbie dolls and ponies,  dress up shoes with no pair, dried up nail polish, feathers, rocks and shells.  It felt as therapeutic as a day at the spa.  An uncluttered house is such bliss.  The best part was no one noticed anything was amiss.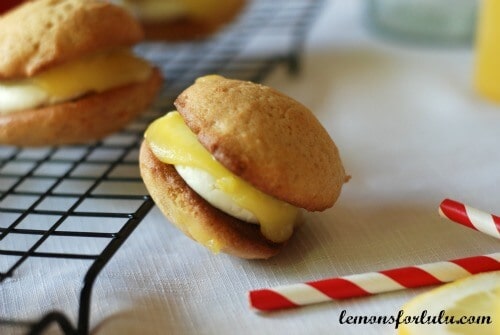 Paper airplanes are not the worst thing my kids could collect.  I once knew a person whose niece collected boogers and "stored" them on her bed sheet.  She would break down and  weep when her mother washed them away.  I suppose I should be incredibly grateful that although our kids collect an inordinate amount of  junk, it is at least sanitary junk.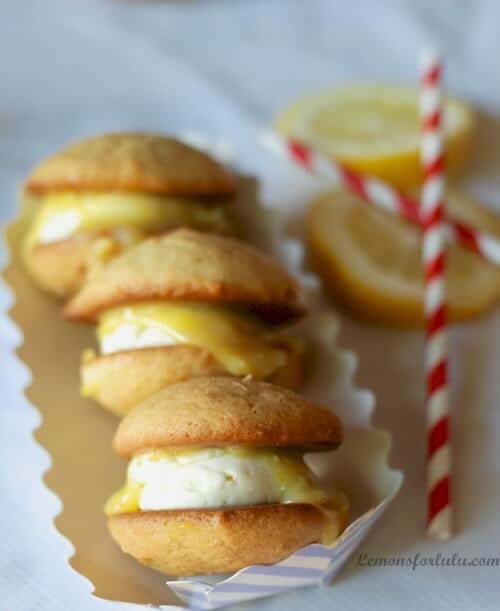 Collections are not exclusive to children.  Some people collect stamps, some collect wine bottles and some people collect sports team memorabilia.  Me: I collect cookbooks.  A perfectly practical and useful thing to collect if you ask me.   I have all sorts of cookbooks, but one of my favorites is a little book all about Whoopie Pies written by Sarah Billingsly and Amy Treadwell.  I've had a hankering for lemon desserts lately.  While I love lemon cookies and lemon monkey bread, those just weren't exactly what I wanted to shove into my pie hole!  Somehow lemon meringue came to mind and then that's ALL I could think about!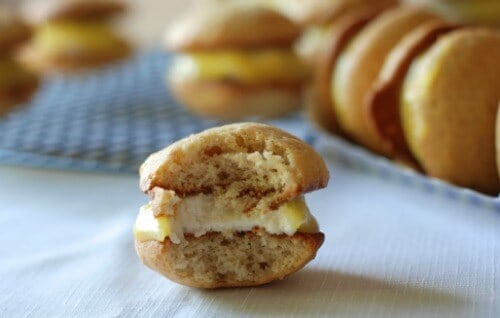 I did NOT want pie however, I wanted whoopie pies.  Lucky for me, my Whoopie Pie cookbook has the best lemon whoopie pie recipe!  To get the lemon meringue taste I was so craving, I filled these puppies with light and creamy Swiss Meringue Buttercream and luscious homemade lemon curd!  These did not disappoint!  Each tart little bite chipped away at my lemon craving until I was completely satisfied!  This was my first attempt at Swiss Meringue.  While it took a little longer than I expected I was exceptionally pleased with the end result!  In fact, I may make a batch just to eat with a spoon!  If you love lemon meringue, you will be smitten with this twist on the classic pie!
MORE FILLED TREATS: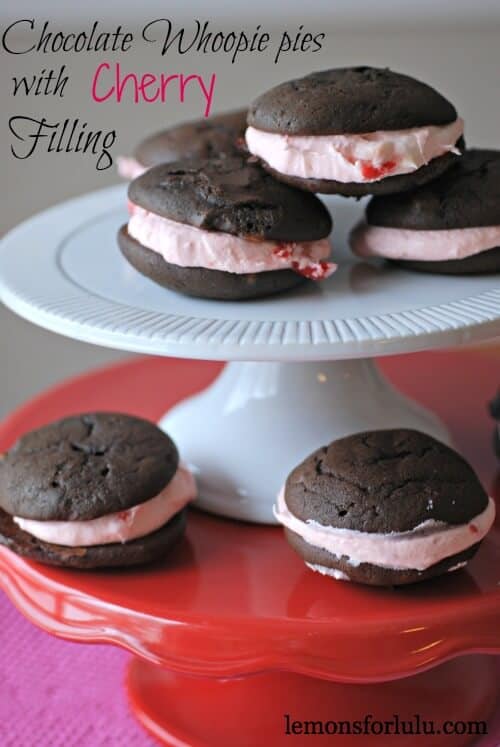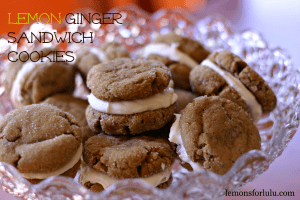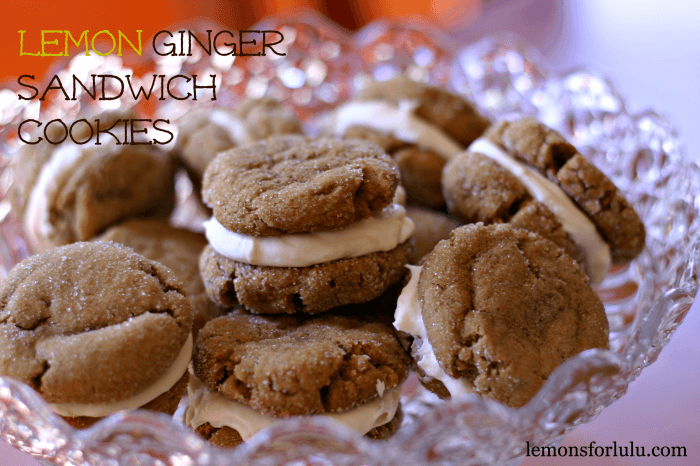 NEVER MISS A RECIPE!  SIGN UP FOR MY EMAILS TODAY!
FOLLOW ME:
FACEBOOK | RSS | TWITTER | GOOGLE + | BLOGLOVIN | INSTAGRAM
Lemon Meringue Whoopie Pies
Ingredients
2 1/4

cup flour

1 1/2

teaspoon baking powder

1

teaspoon baking soda

1/2

teaspoon salt

4

tablespoon unsalted butter, softened

4

tablespoons shortening

1/2

cup sugar

1/2

cup brown sugar

2

eggs

1/2

cup buttermilk

1

lemon, zested

2

tablespoon lemon juice

1/2

teaspoons vanilla

Swiss Meringue Buttercream (Martha Stewart)

5

large egg whites

1

cup plus 2 tablespoons granulated sugar

pinch of salt

1

lb unsalted room temperature butter, cut into tablespoons

1 1/2

teaspoons vanilla

1/4

cup butter, melted

1/2

cup sugar

2

eggs

1

lemon zested

1/2

cup fresh lemon juice
Instructions
Position oven rack in the center and preheat oven to 375. Line two sheets with parchment paper and set aside.
In the bowl of mixer, combine butter, shortening, and sugars until smooth creamy. Beat in eggs and the buttermilk until fully combined.
Add the lemon zest, the lemon juice and the vanilla and beat until well mixed.
Combine the flour, baking powder, baking soda and salt. Carefully beat in the flour mixture, a little at a time until fully incorporated.
Drop dough by tablespoons onto lined baking sheets, leaving 2 inches between pies. Bake for 12 minutes or until edges are golden. Remove and let cool on baking sheet for 5 minutes before removing to a cooling rack.
While pies are baking prepare frosting.
For the frosting, combine egg whites, sugar and pinch of salt in a heatproof stand mixer bowl that has been set over a pan of simmering water. Whisk mixture constantly until the sugar has dissolved and is completely smooth.
Attach bowl to mixer and using the whisk attachment, whisk on low to start. Gradually increase the mixer speed to medium high until stiff peaks begin to form. Continue mixing on medium high until mixture is light, fluffy and shiny. Bowl should be cool to the touch. This should take about 10-15 minutes.
Return mixer speed to low and add the butter a few tablespoons at a time, mixing well after each addition. When butter has been incorporated, add in vanilla. Switch to your paddle attachment and continue beating a low to remove all the air bubbles. Scrape bowl and continue beating until buttercream is smooth. Keep at room temperature until ready to use.
For the lemon curd, whisk together eggs and sugar. Stir in lemon zest and lemon juice. Stir in melted butter. Cook mixture in microwave in 1 minute intervals until curd has thickened. About 2-4 minutes.
To assemble:
Pipe a small amount of buttercream on one whoopie pie. Spoon a spoonful of lemon curd over frosting. Top with another whoopie pie.
Makes 24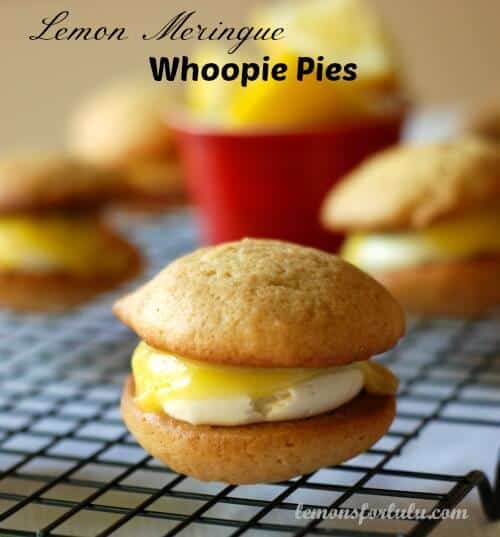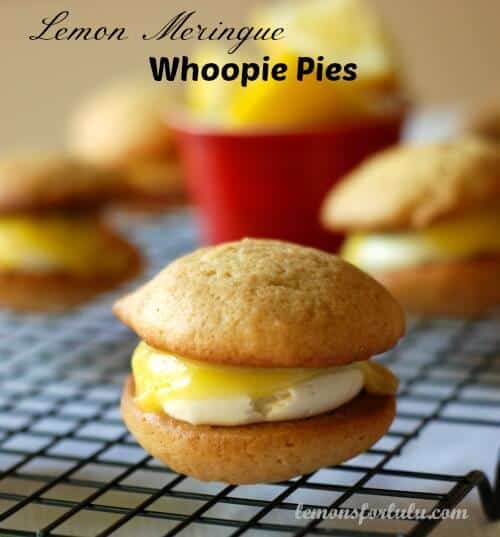 Swiss Meringue Buttercream adapted from Martha Stewart