Caramel Apple Whoopie Pies are essential for fall but delicious all year long! Tender little cinnamon cakes are filled with caramel buttercream and apple pie filling!
This post has been sponsored by Minerva Dairy, all opinions are my own.
Baking is one of my favorite things to do. I will take every reason and every occasion as an excuse to bake. It eases my mind, it satisfies my need to be creative and it brings me joy. Plus I have an enormous sweet tooth.
While I bake all year long, fall is one of my favorite times to bake. I love the fall flavors; cinnamon and spice, or pumpkins and apples. They are comforting, especially fragrant and a tad nostalgic.
Some of my favorite fall recipes include pumpkin crumb cakes, apple oatmeal cookies, and peanut butter snickerdoodles. Each of these recipes represents a quintessential fall ingredient and I can't get enough of them!
These apple pie whoopie pies completely embody the season! The cakes have a hint of cinnamon, the frosting has luscious caramel and the filling is a favorite; apples!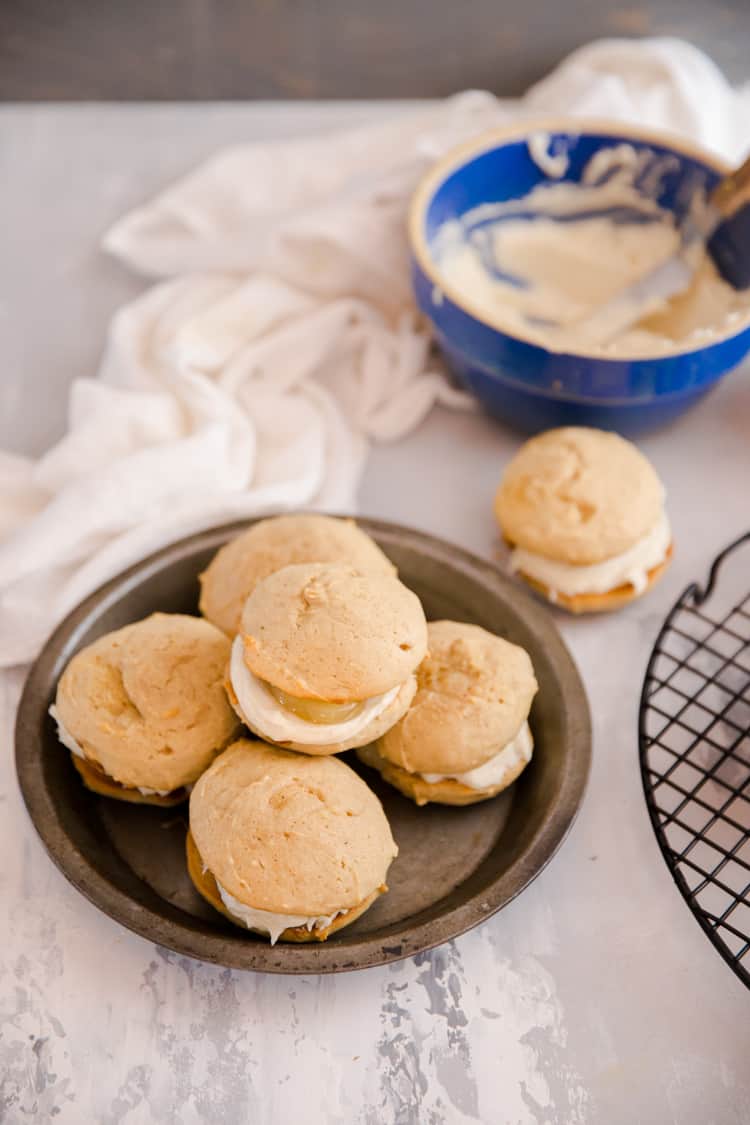 Where Do Whoopie Pies Come From?
Whoopie pies are said to have originated in the Amish region of Pennsylvania although they have roots in New England as well. In some of these regions, they are also known as Chocolate Gobs. Recipes for Whoopie Pies have no doubt been handed down from generation to generation as they are an iconic staple in parts of the country. They have deep roots and a solid tradition.
What Is A Whoopie Pie?
A whoopie pie is made up of two soft, cake-like cookies surrounding a creamy filling. Whoopie pies are most often made with chocolate cookies and a vanilla filling (typically made with marshmallow fluff).
Whoopie pies can be made into any flavor. Pumpkin is popular as is gingerbread, but you will also see vanilla whoopie pies as well as oatmeal cream pies.
I have tried Snickerdoodle Whoopie Pies Lemon Meringue Whoopie pies and Mint Chocolate Chip Whoopie pies with huge success.
How To Make Caramel Apple Whoopie Pies
This whoopie pie recipe is very simple to make; it is a great recipe for any skill level!
This recipe starts by creaming together Minerva Dairy Sea Salt Butter and sugar. I love the touch of salt in the butter, it balances out the sweetness and works well with the caramel.
Minerva Dairy is Heavenly! Once you try Minerva's butter, you won't go back to anything else. It is smooth, creamy and a dream to bake with. The butter is high-quality and made with 85% butterfat, so you know you are going to get fabulous results!
Minerva Dairy is America's oldest family-owned creamery and their butter is made from pasture-raised cow milk. It is lusciously delicious and quite possibly the best butter you ever tasted!
A note on the sugar, I used brown sugar for this recipe, it adds the right flavor and color to my whoopie pies. All-purpose flour, baking powder, baking soda, salt, and cinnamon are mixed into the batter alternately with milk.
I like to use a cookie scoop so that my "pies" are all uniform. Scoop the batter and place your gobs onto prepared baking sheets.
The pies will only take about 15 minutes to bake. Allow the pies to cool completely on wire racks before filling.
How To Make The Whoopie Pie Filling
The filling is a basic buttercream recipe but with caramel flavoring.
I used the same Minerva Dairy Sea Salt Butter for the filling. Again, the salted butter does a great job balancing out the sweetness from the caramel, plus it is super creamy. Butter is combined with powdered sugar until it is light and fluffy. Then your favorite caramel sauce is swirled right in.
I used caramel ice cream topping for the buttercream. You could use caramel extract or melted caramels instead of the ice cream topping.
Add milk to thin your buttercream to make it spreadable. Half and half or whipping cream can be used in place of the milk. Use what you have at hand as you don't need much. If you happen to have caramel coffee creamer, then use that to cream your frosting, it will add more caramel flavor as well!,
When your cakes have cooled, spread the filling on the bottoms of half of your cakes. Apple pie filling from a can will make up the rest of the filling. Top the buttercream with a few apple slices and place the remaining cakes over the apples to form your whoopie pies.
How do Long Will Whoopie Pies keep?
Store your whoopie pies in an airtight container for a week. I find that it is best if these are kept refrigerated. Bring them to room temperature before serving.
Yield: 18
Caramel Apple Whoopie Pies
Caramel Apple Whoopie Pies are essential for fall but delicious all year long! Tender little cinnamon cakes are filled with caramel buttercream and apple pie filling!
Ingredients
1/2 cup Minerva Dairy Sea Salt Butter
1 cup packed brown sugar
1 large egg
1 teaspoon vanilla extract
2 1/2 cups All-Purpose Flour
1 teaspoon baking powder
1 teaspoon baking soda
1 teaspoon salt
1 teaspoon ground cinnamon
1 cup milk
1 stick butter Minerva Dairy Sea Salt Butter
1-2 cups powdered sugar
½ teaspoon vanilla
2 tablespoons caramel ice cream topping
2-3 tablespoons milk
Apple Pie filling
Instructions
Preheat the oven to 350 degrees.
In a mixing bowl, cream together the butter and brown sugar. Beat in the egg and vanilla.
Combine the flour, baking powder, baking, soda, salt and cinnamon in a bowl. Mix the dry ingredients into the batter alternately with the milk, beat until combined.
Place cookies on lined baking sheets and bake for 10-13 minutes. Remove from the oven and cool completely.
Combine the butter and powdered sugar in a mixing bowl. Cream together until smooth. Mix in vanilla and ice cream topping. Add enough milk until the frosting is a spreadable consistency.
Fill pairs of cookies with the frosting and apple slices.
Store whoopie pies in an airtight container.
Nutrition Information
Yield
18
Serving Size
1
Amount Per Serving
Calories

232
Total Fat

7g
Saturated Fat

4g
Trans Fat

0g
Unsaturated Fat

2g
Cholesterol

29mg
Sodium

3463mg
Carbohydrates

39g
Fiber

1g
Sugar

24g
Protein

3g